It is rare and infrequent that I travel for pleasure and not along with some form of work.
So when Bear and Blitz and I took to the skies in July, it was a real treat to fly to Calgary, play around Alberta; cross the border and bask in the glory of Glacier National Park in Montana; and cross again through the canola fields, back home to real life.
The license plates in Alberta reference its being the home of the wild rose, or the prickly rose, and when our whole trip went askew from the get-go, we took to calling ourselves the Boned Roses because of it. Four days without luggage or camping gear or contacts or underpants did not deter us from having a ball.
Our first few days were spent hovering within drivable distance of the Calgary Airport so that – once our bags finally arrived – we'd be able to blow out like petals across the high prairie. Watch us go! . . .
– – – – – – – – – – – – – – – – – – – – – – – – – – – – – – – – – – – – – – – – – – – – – – – – – – – – – – – – – – – – – – – – – – – – – – – – –
(6/30/2017)
8:34p EST: PHL – As we flew through security at the Philly airport and entered the terminal, a blond toddler saw us, double pointed at us with arms outstretched completely in a "BRO – YOUUUUU" kind of way, and smiled with glee. I waved. In the moment, I thought it boded well for us, but that was six hours ago, and we're still at Phila, parked on the tarmac, watching dark dusky clouds arrive as we try to leave, while it was clear all day while we waited. Toronto will be our last stop tonight, and we won't make it to Calgary till we lie in the voluptuous arms of the Sheraton at the Toronto airport once we miss our connecting flight. I spent a lot of money at the airport bar.
(7/1/2016)
8:53a: Airspace over central PA after a grueling 10 hours plus deplaning at the Philly airport – . . . TAKE 2. Our airplans got derailed and so now we head all the way to San Francisco just to come back another three hours to Calgary. C'est la vie, je suppose. A day late and a lot of dollars short after sleeping in a new hotel outside PHL when we never even made it to Toronto. This flight is tricky as I head to sleep, but my historically finicky body-brain knows it is daytime and is rebelling against a good zonk-out. 
8:58a: We are now over at 30,000 feet and will be somewhere over Cleveland in 20 mins.
11:42a: Over the brown grid of the western midwest – I like to take the return aisle walk slowly back from the bathroom, agilely picking my way past elbows and toes and purse straps. I like to linger over what the middle-aged man in 20D is watching (firefighter scene – man's silhouette in flames) or what book the Annie Leibowitz lookalike in 11E will read once she uncrosses her folder arms, spotlit from the overhead bulb, opening her eyes and closing her jaw in sudden wakefulness as I pass.
1:23p PST: SFO. Full belly. Need the loo. Forgot I even had a final destination, we've been traveling so long.
4:03p PST: Somewhere over the US/Canada border – The black arrows on the white wing outside my window seem to point my wandering eyes to specific views: deep snow on shadowed mountains; a snaking silver ribbon of river, like Christmas ribbon on dark carpet; the burnt-brown valleys of a land between places. I hope it stays wild forever. Everyone keeps saying my hair is getting red, and – with the direct sunlight through the plane window shining on its unkempt strands – I finally noticed its newish coppery hue. With my chin in my left hand, right hand around my left wrist, my dominant thumb pressed just the spot where my erratic pulse throbbed with thoughts and slowed with the vision of a metallic mirror lake through the clouds below.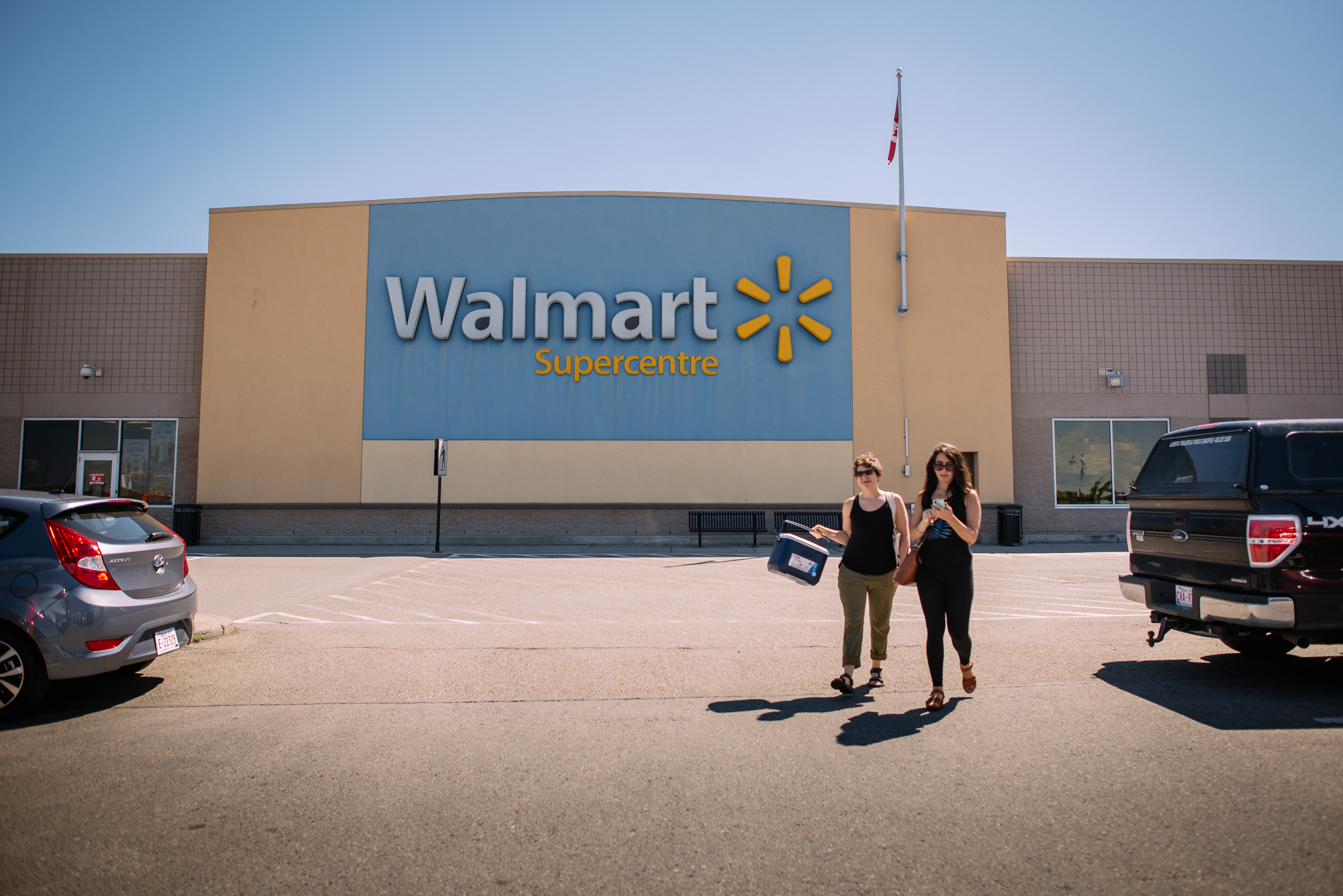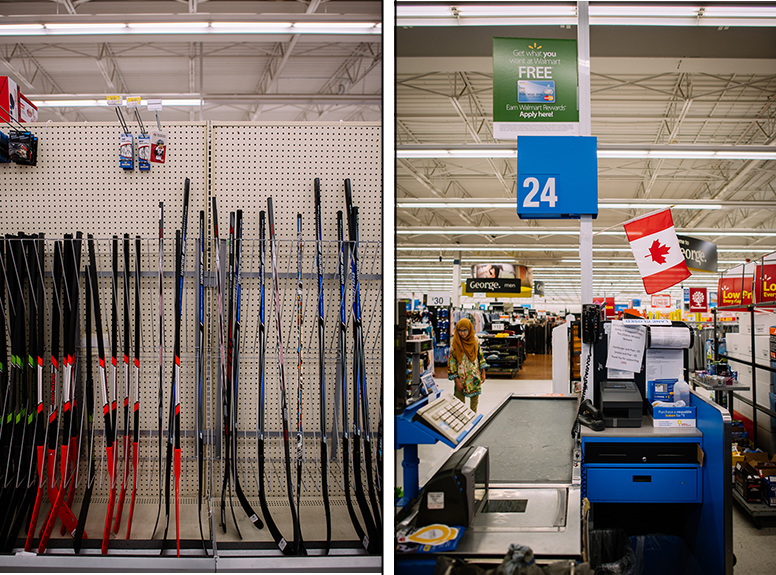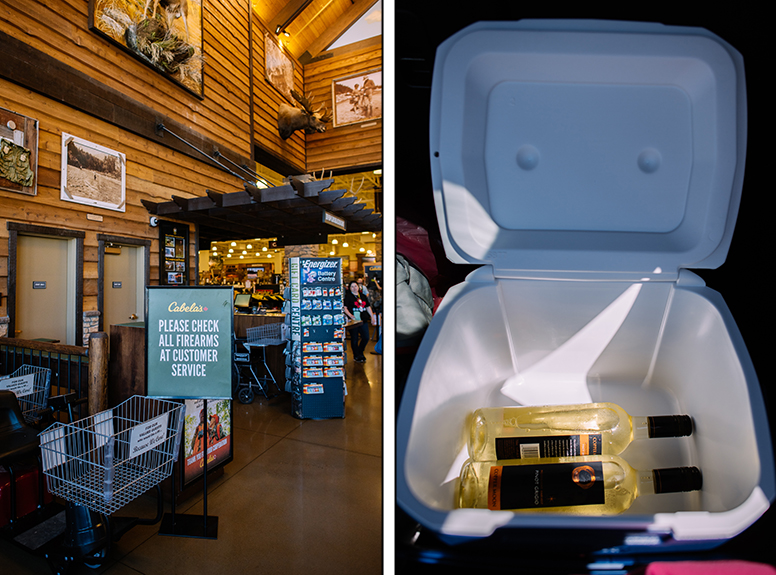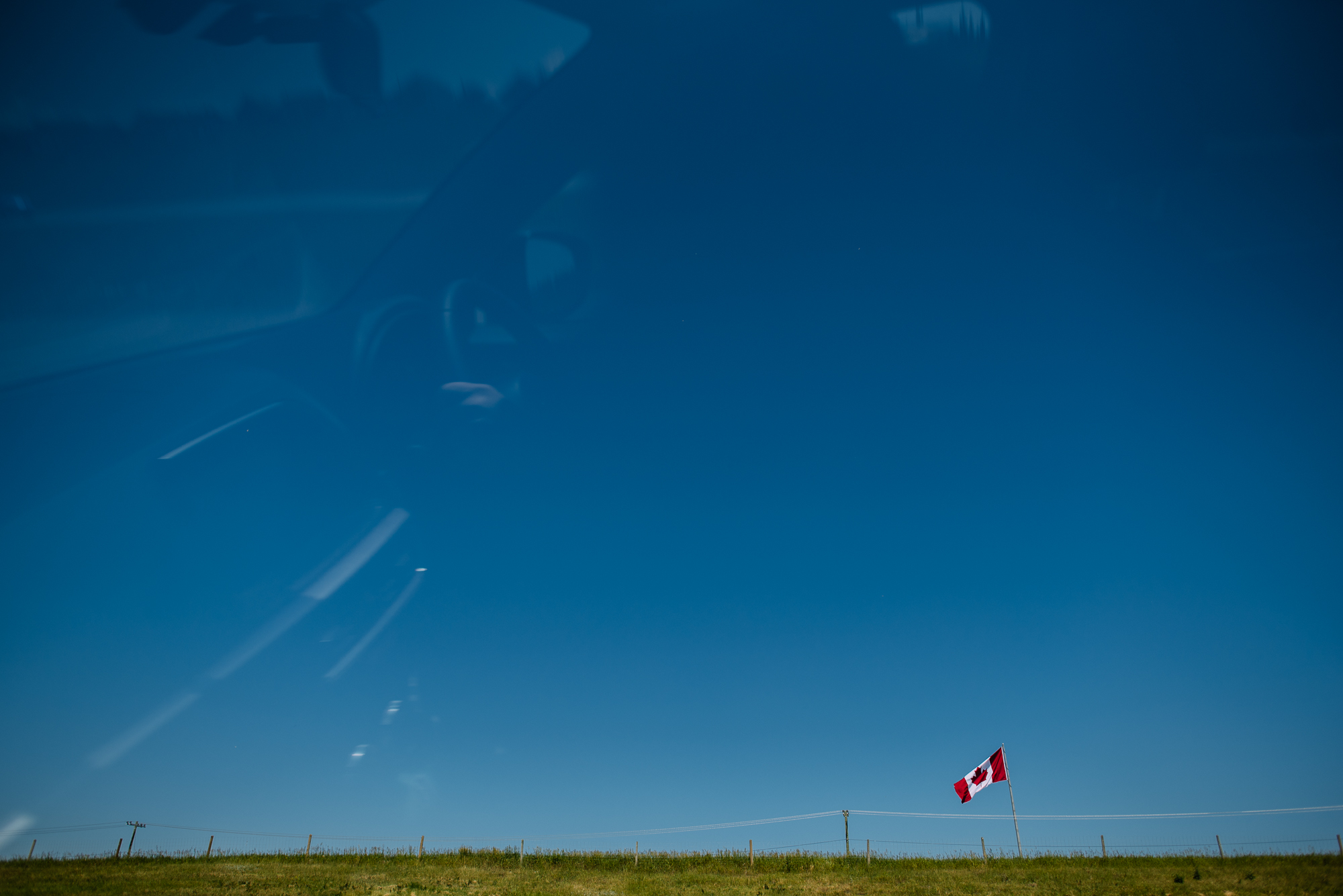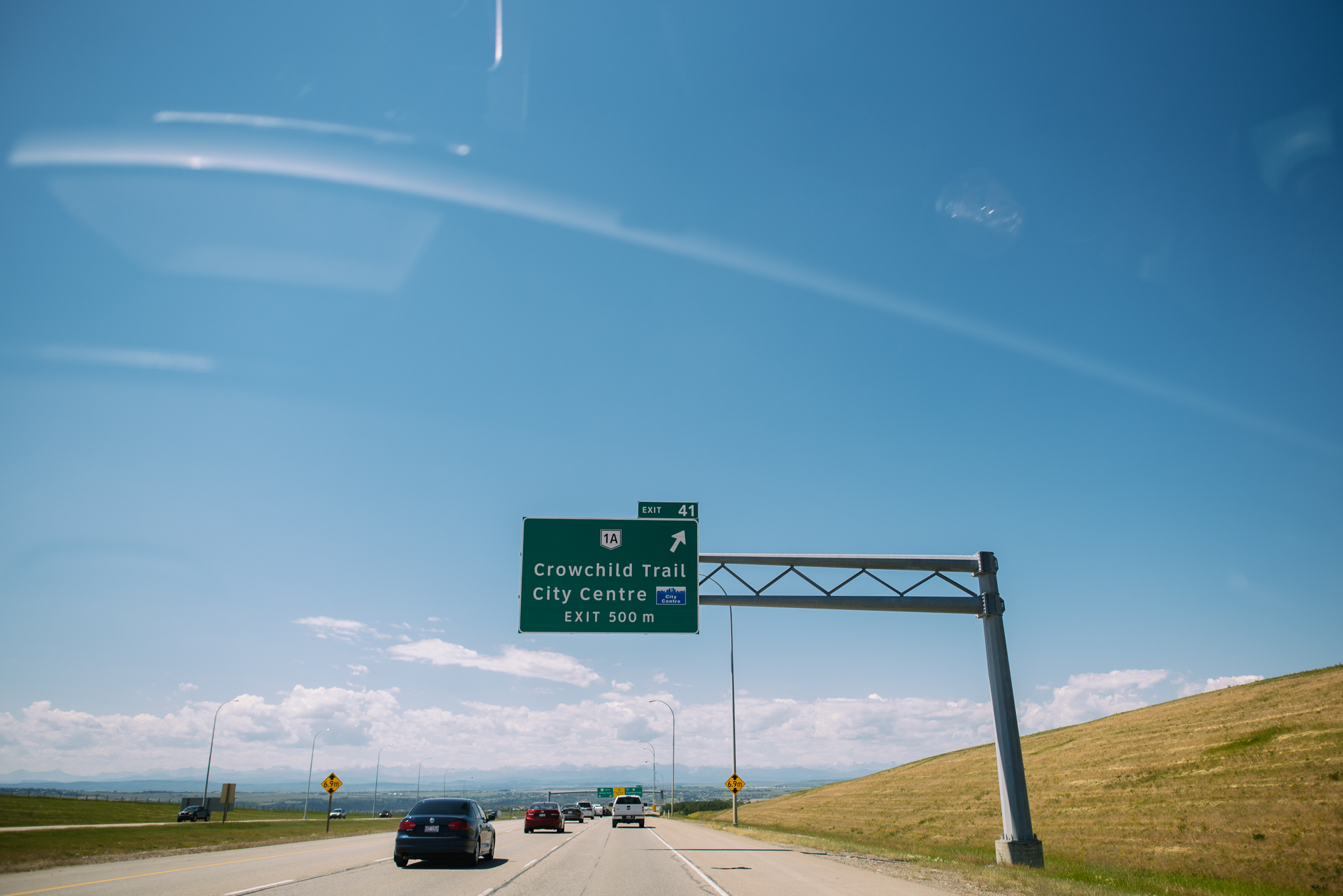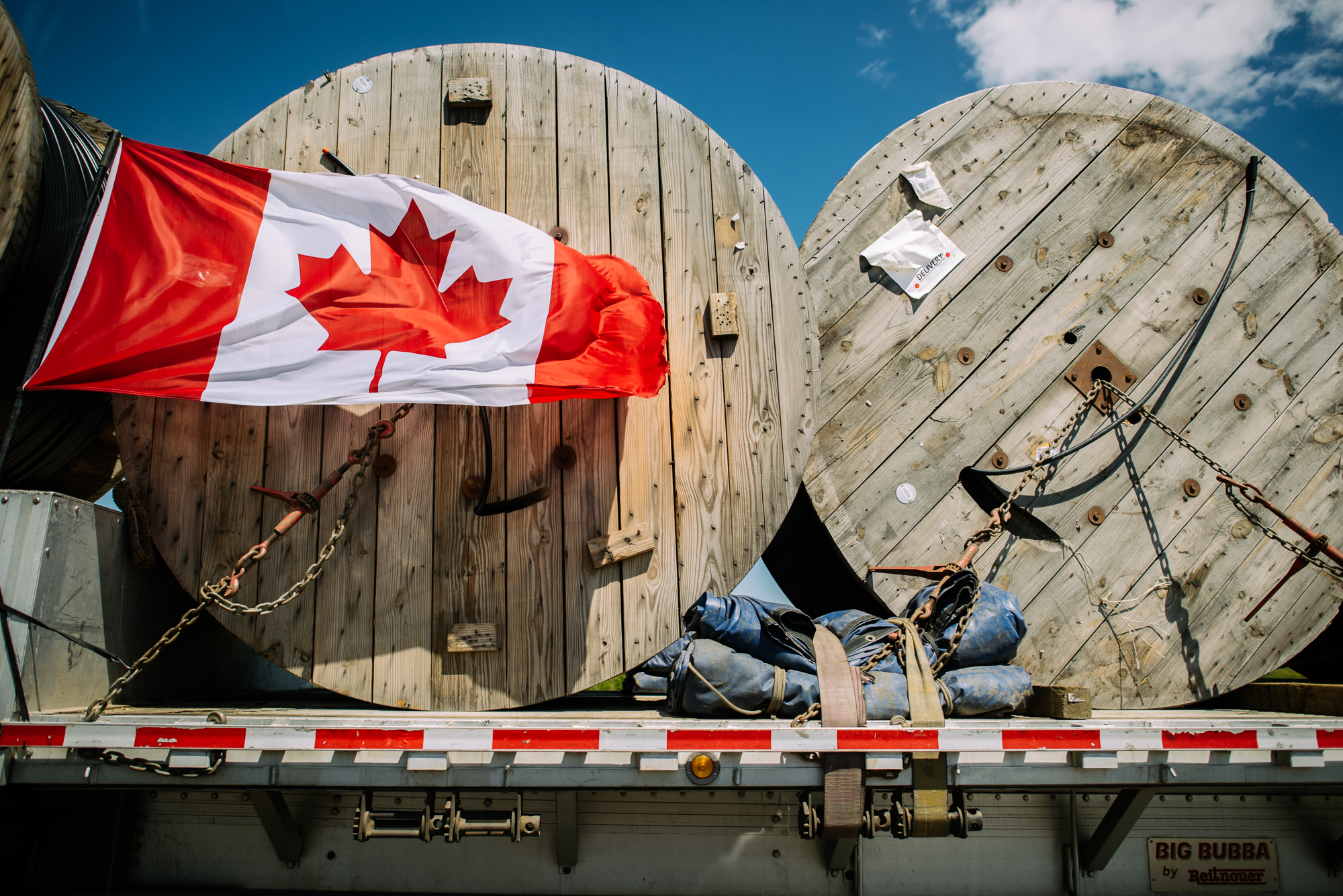 (7/3/17)
12:07a: The Drake Inn, Canmore, Alberta – After spending the better part of the morning and early afternoon on the phone with various customer service reps or tracking down new necessary incidentals stuck within our lost luggage, we finally made it outside. Before that was only sad Mexican food, Olivia and Justin on the phone, too many crowds, and an angry afternoon. We hiked the nonchalant Grassi Lakes Trail, did not see the bear that everyone warned us of, and then had a lovely, pleasant night in downtown Canmore – once everyone else went to bed. The sleepy Sunday night finally darkened after 10:30p. It makes winding down tricky, but hiking till 8:30p so simple. There is blue lingering light everywhere.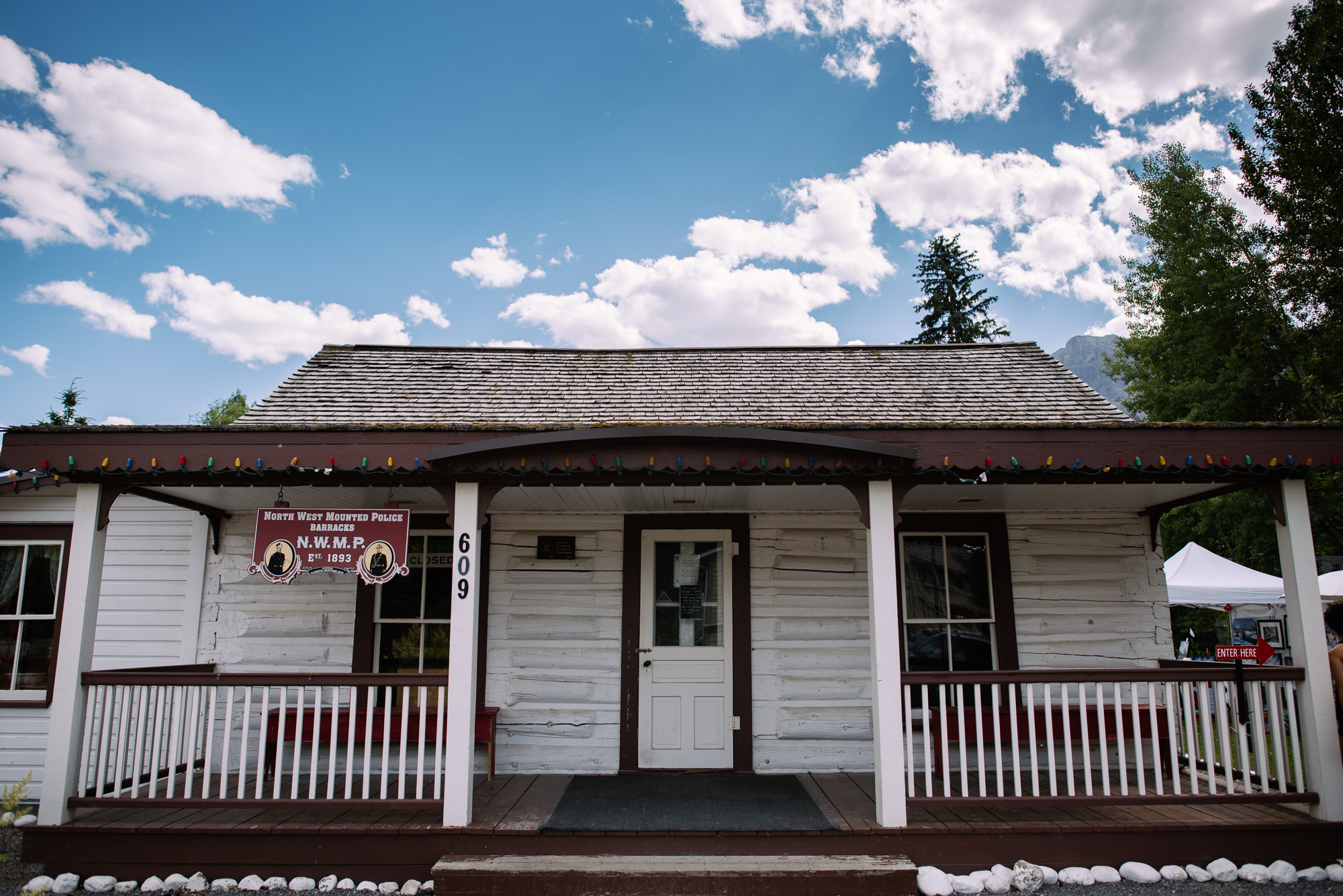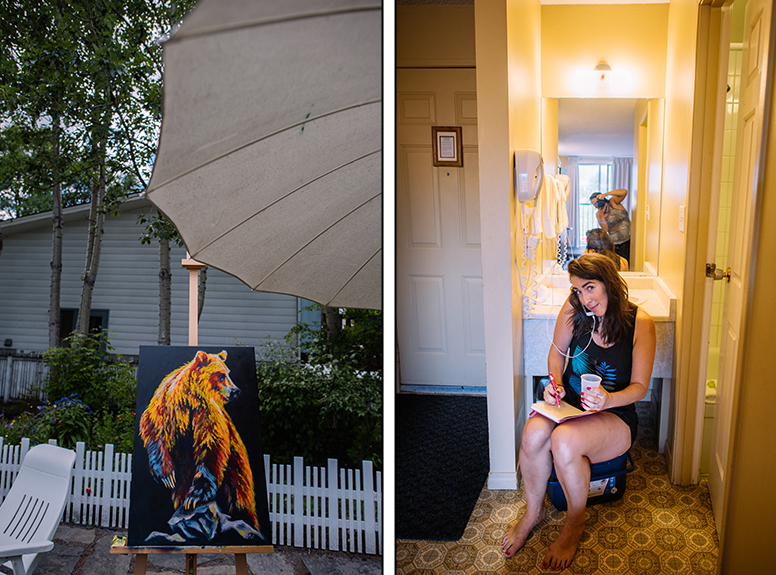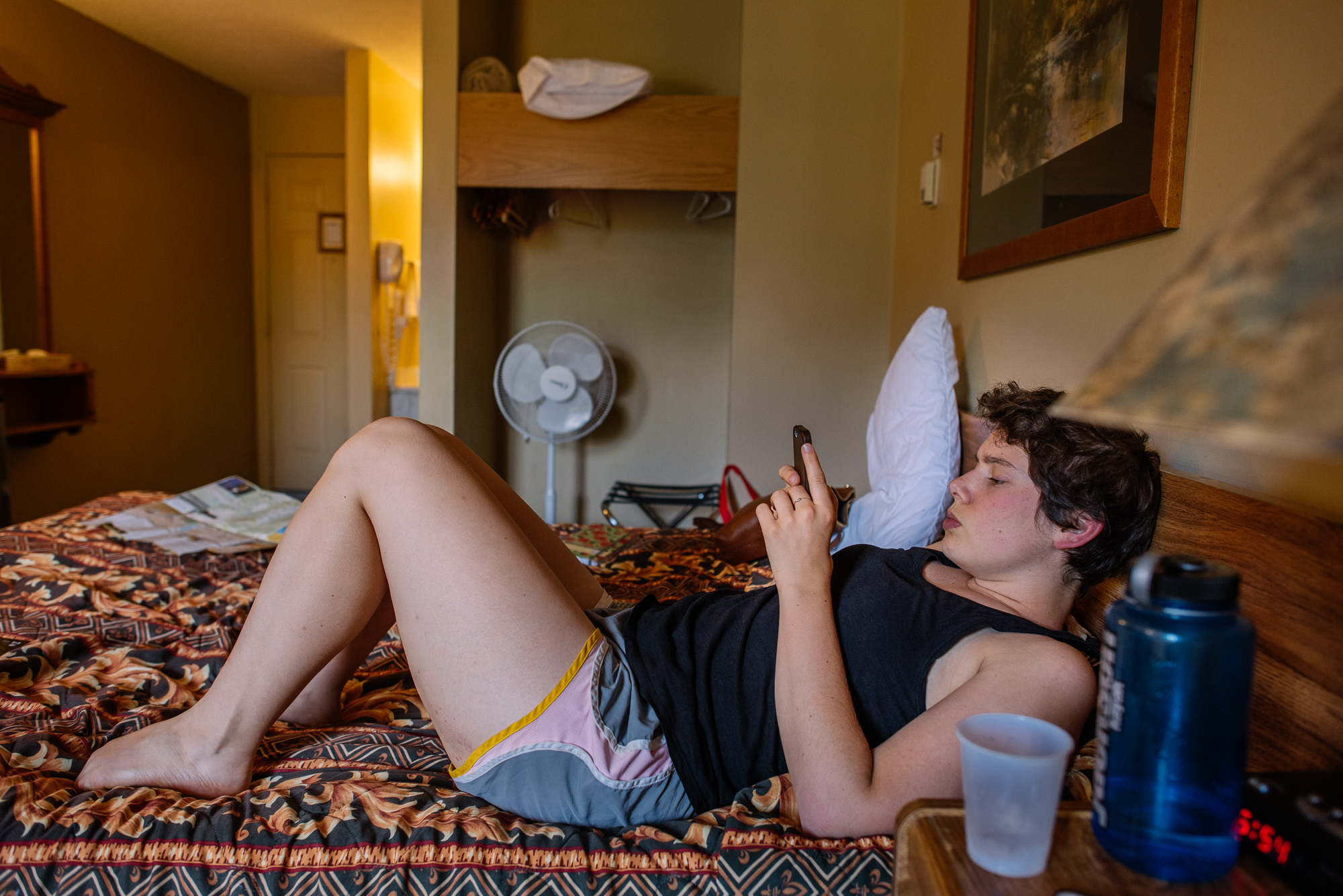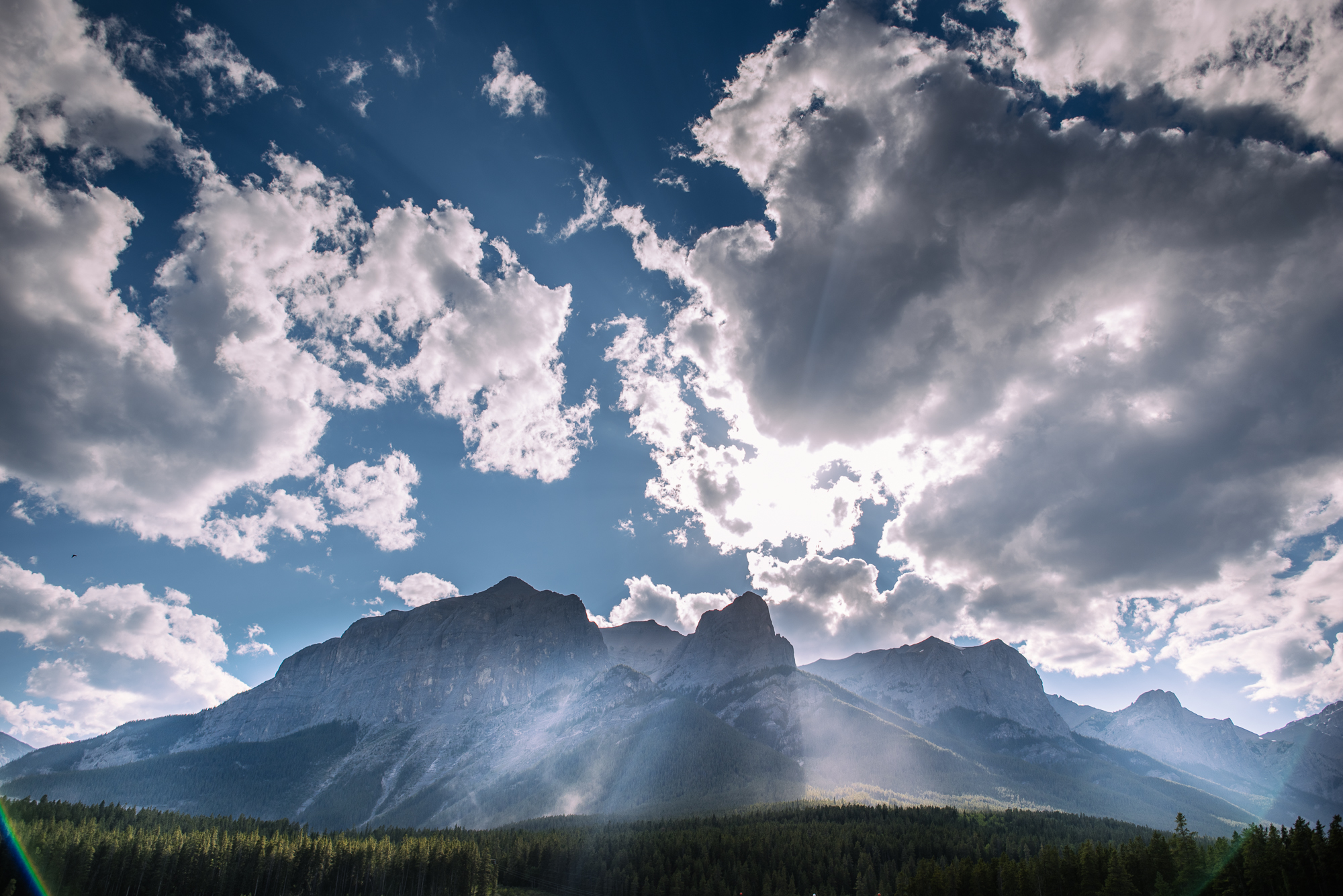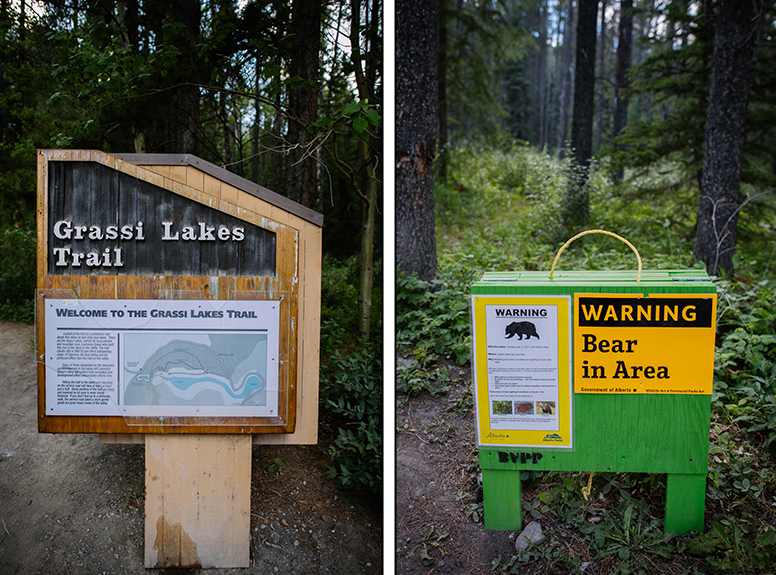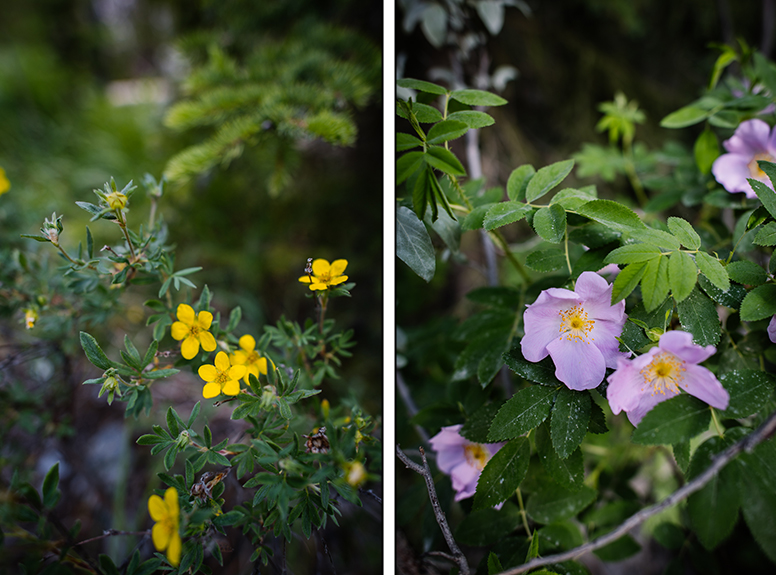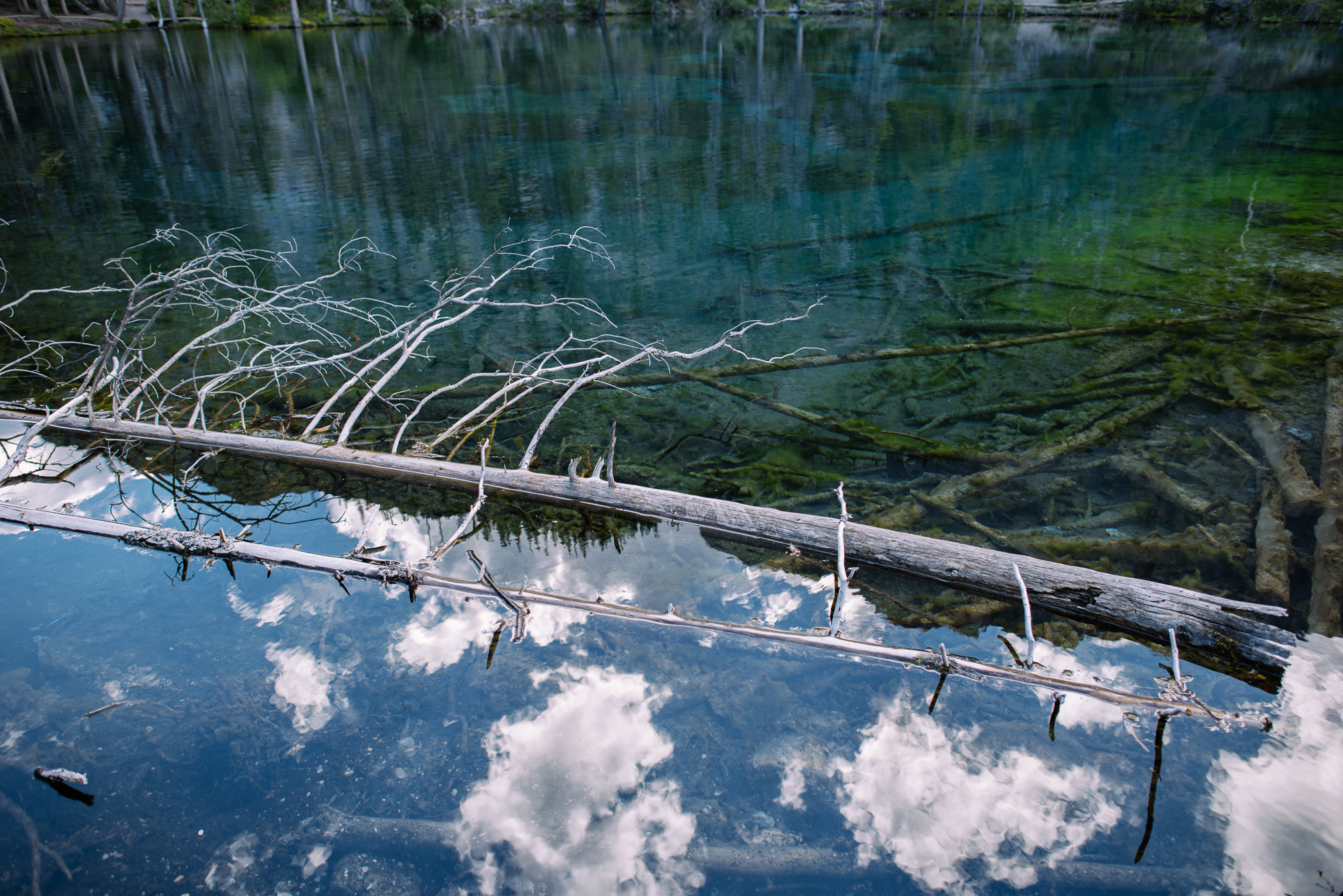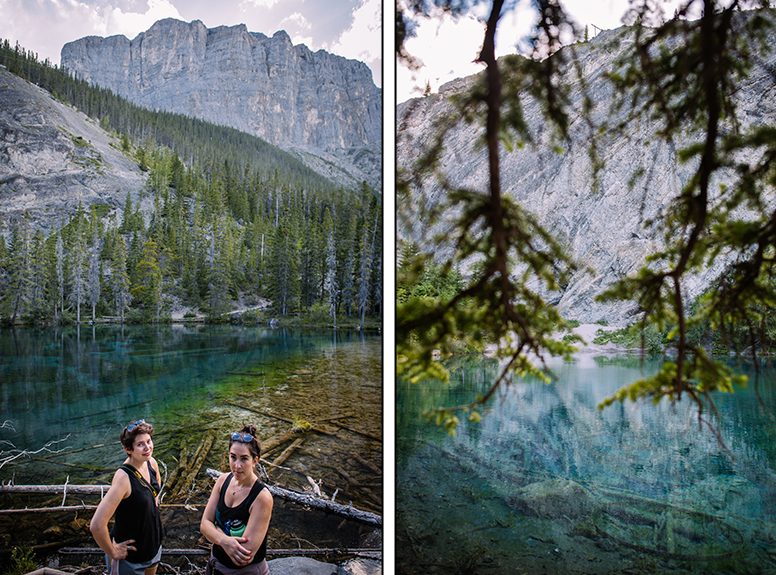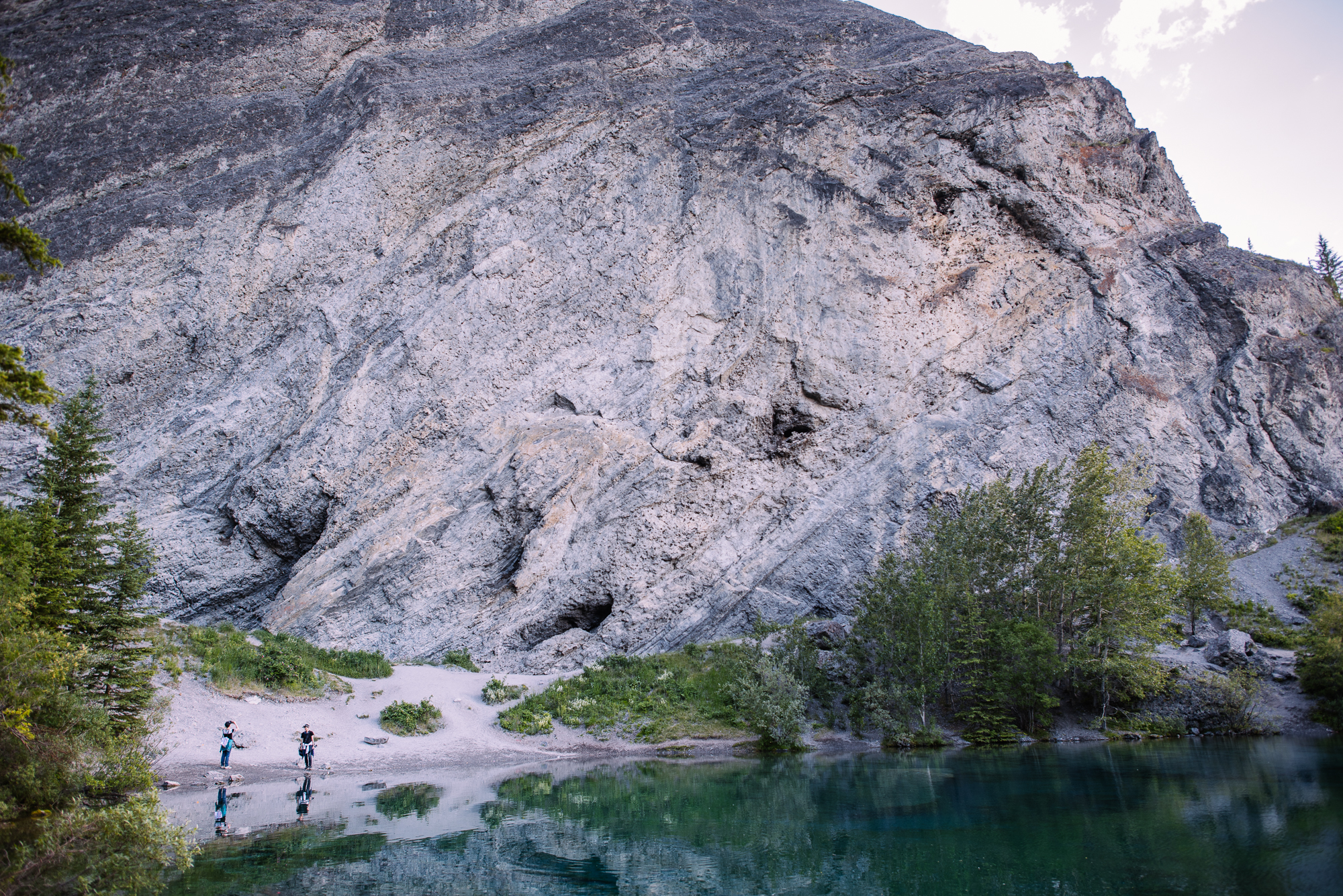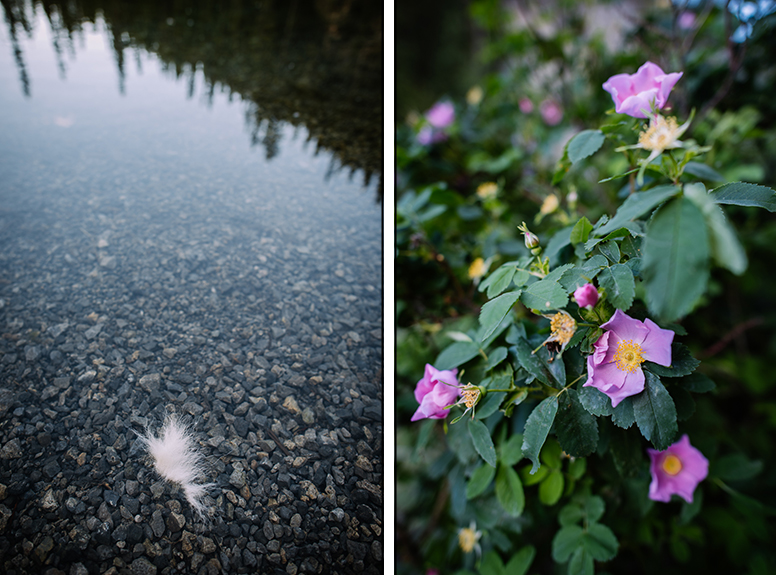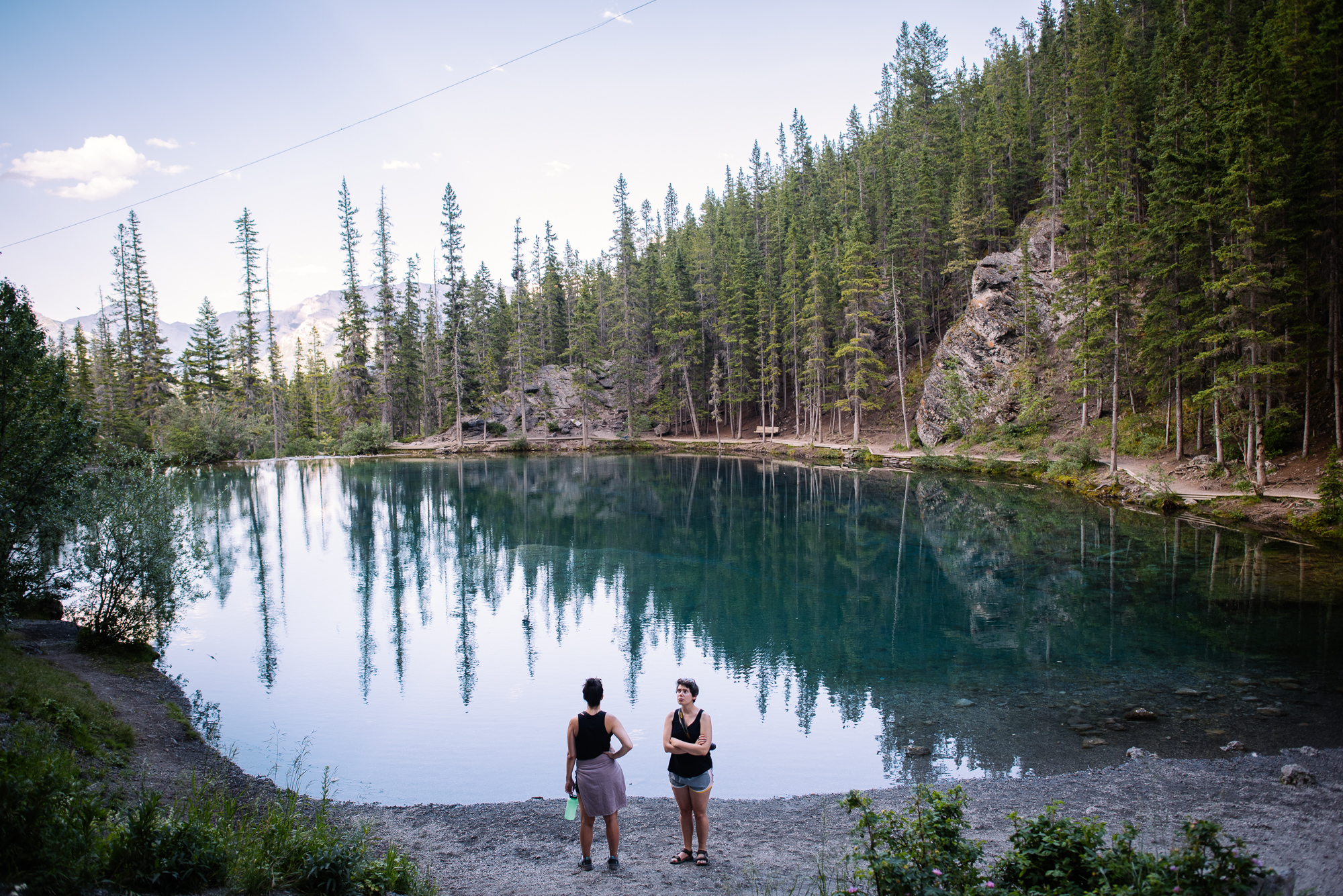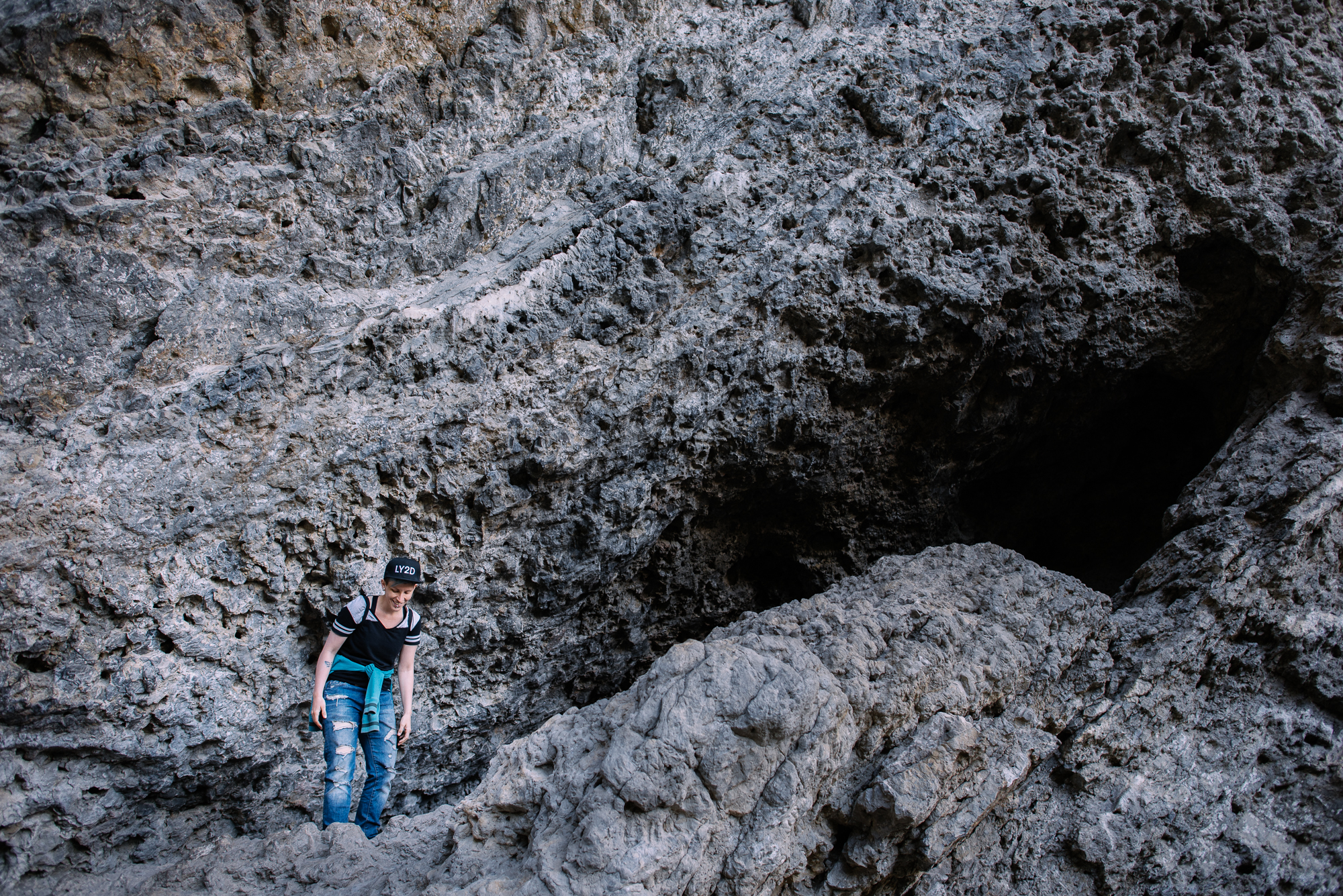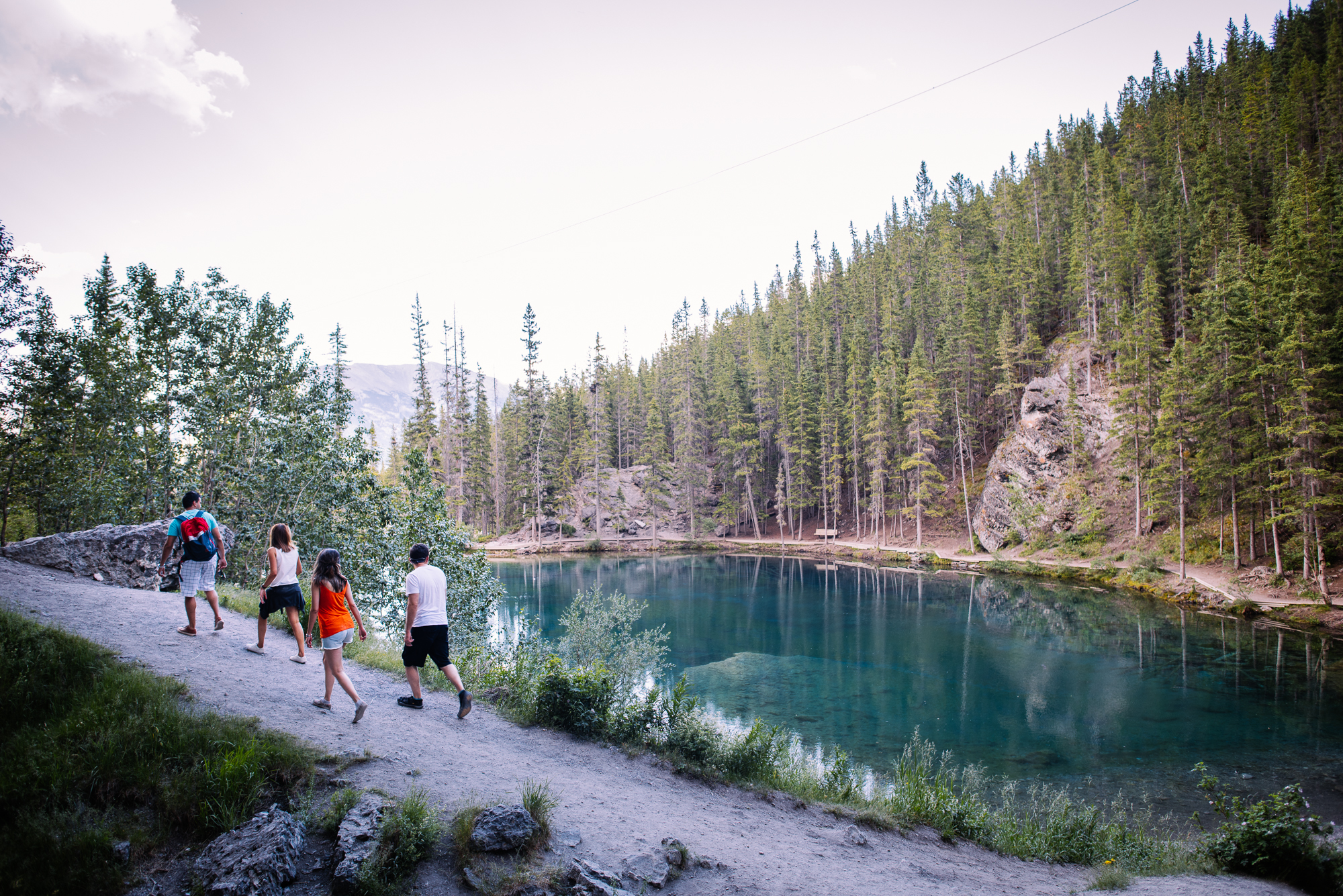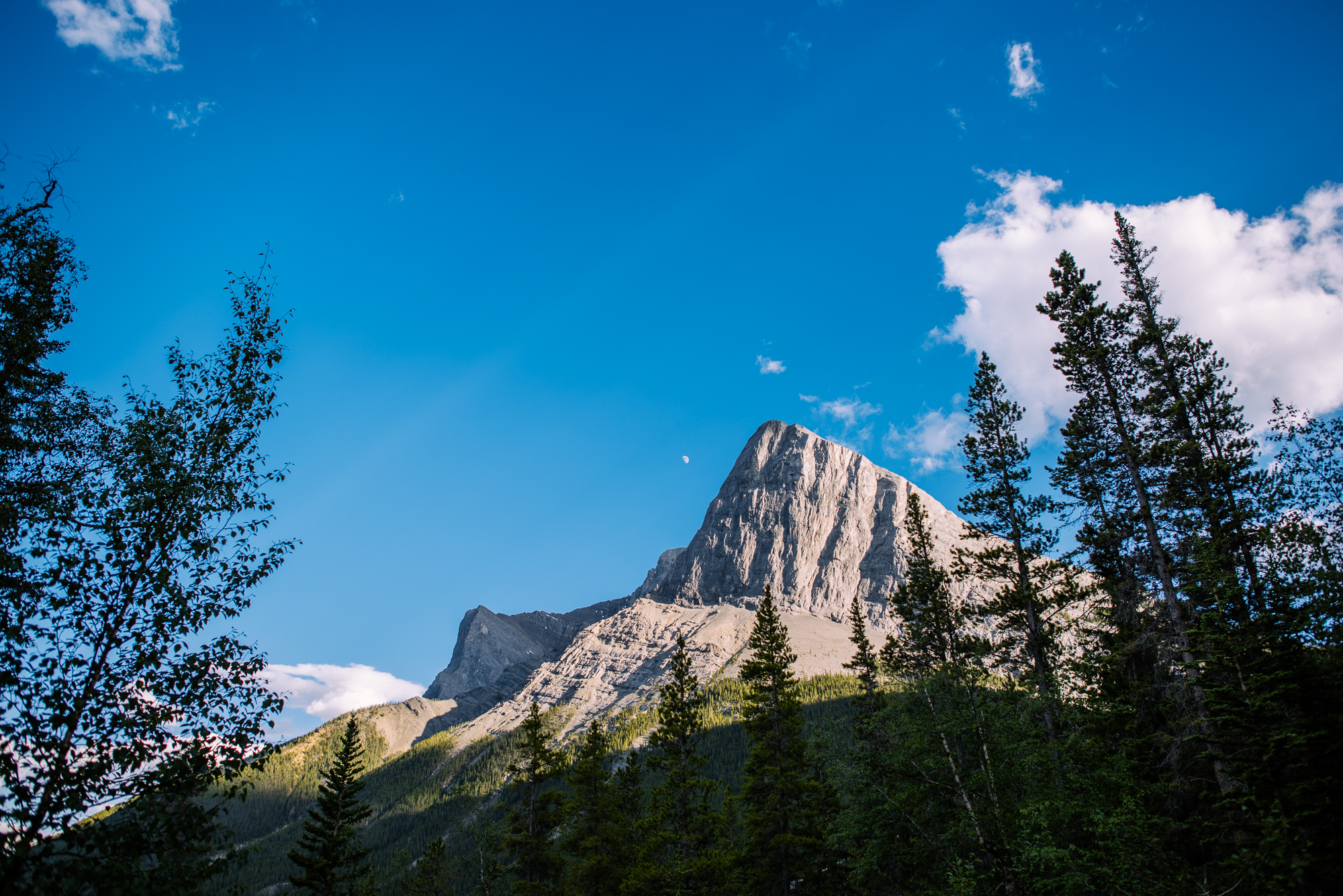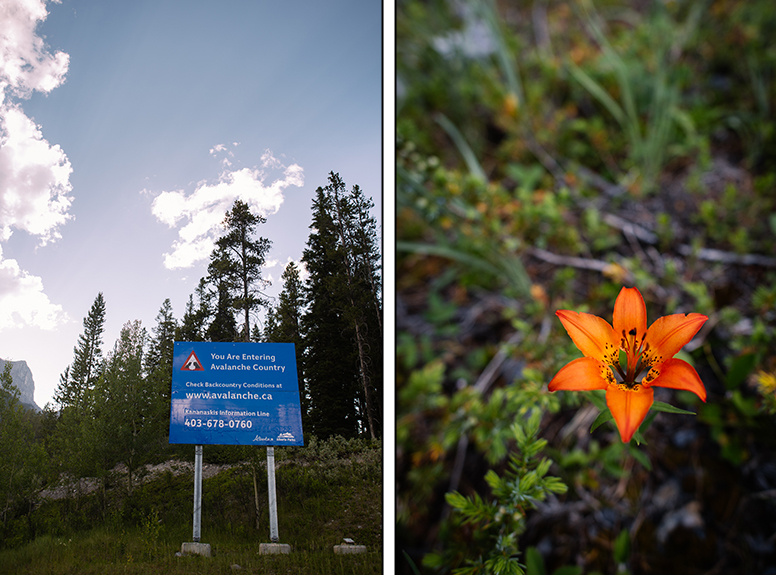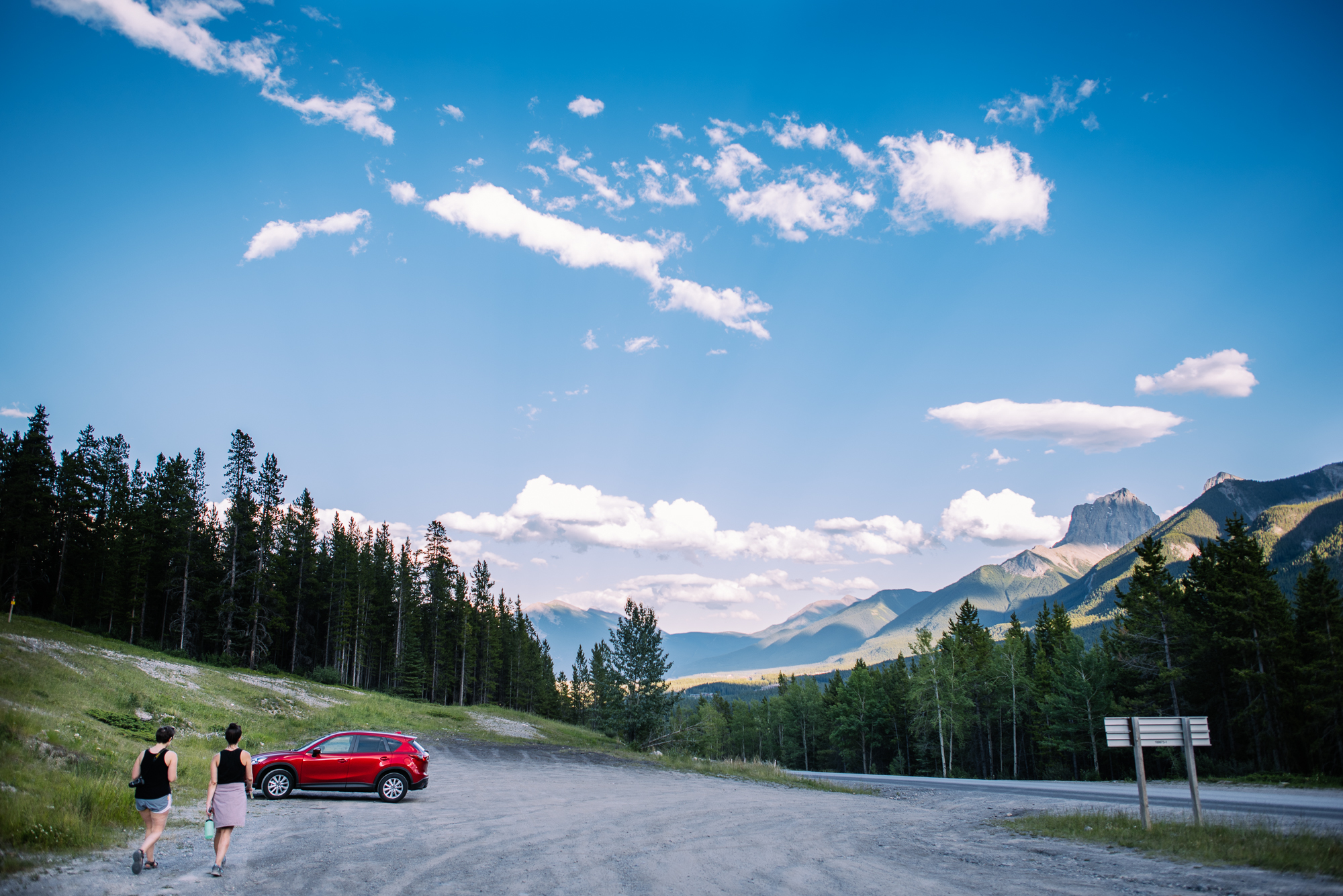 2:31p: Icefields Parkway – Forced onto the bus towards Moraine Lake, we ambled the lakeshore for two hours, futilely trying to capture the accurate color of the water. It was sunny, and depending on which way you looked and where, its gradation cooled from deep teal to electric seafoam green. Like Gatorade. With every outlook onto the water, my drive to swim got stronger and more inarguable. Finally, as Bear and Blitz sat on a rock, I said, "I'm gonna do it." I stripped down to my undies and bra and got in as far as my thighs before my feet went numb. After a hesitant second, I plunged to my chin, submerging my shoulders and braid. It was frigid, and it literally took my breath away, so much so that I gasped a little in fear and turned around to swim back to the Boned Rose girls, which was difficult, as my limbs didn't work and I was half laughing, half crashing jerkily to them. When I got out, I was shivering frantically and ran up under some dark pines to change. My feet were an incredible red from the cold water. Now we are driving north on the Icefields Parkway (93N), swiveling our heads, like in the Exorcist, trying to catch all the crazy peaks from every angle. The mountains are MASSIVE, huge skulls of rock laced with glaciers and bowls of snow. I keep thinking back to the French dad and son at Tasman Glacier in NZ who kept repeating "Quel impressionant!", trying to explain just how important was all the little boy was seeing. The kid kept responding, "Wow! So blue! So round! So cool." And the dad very seriously said, "Oui. Mais fait attention. This is important. Listen to me. You may never see this again."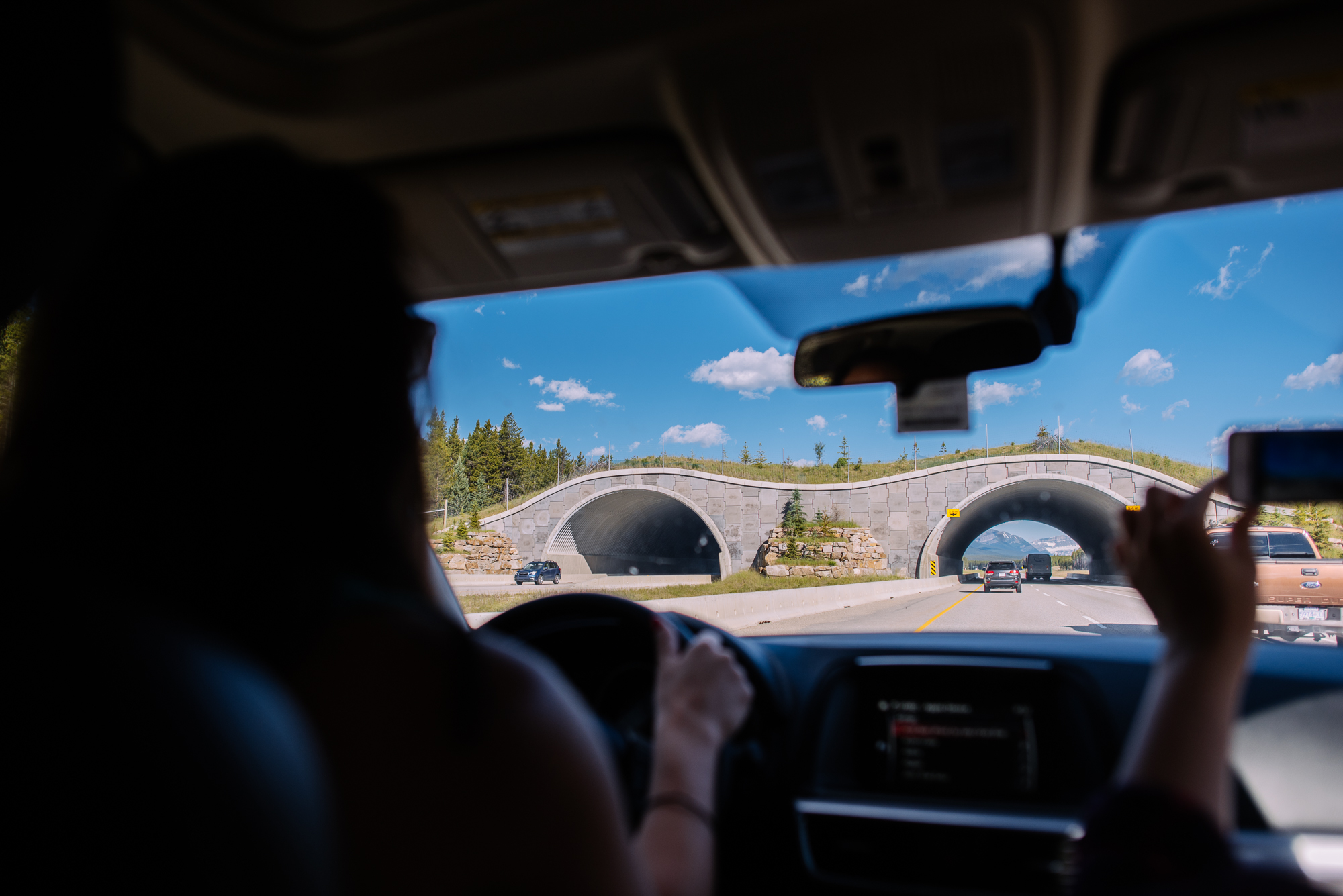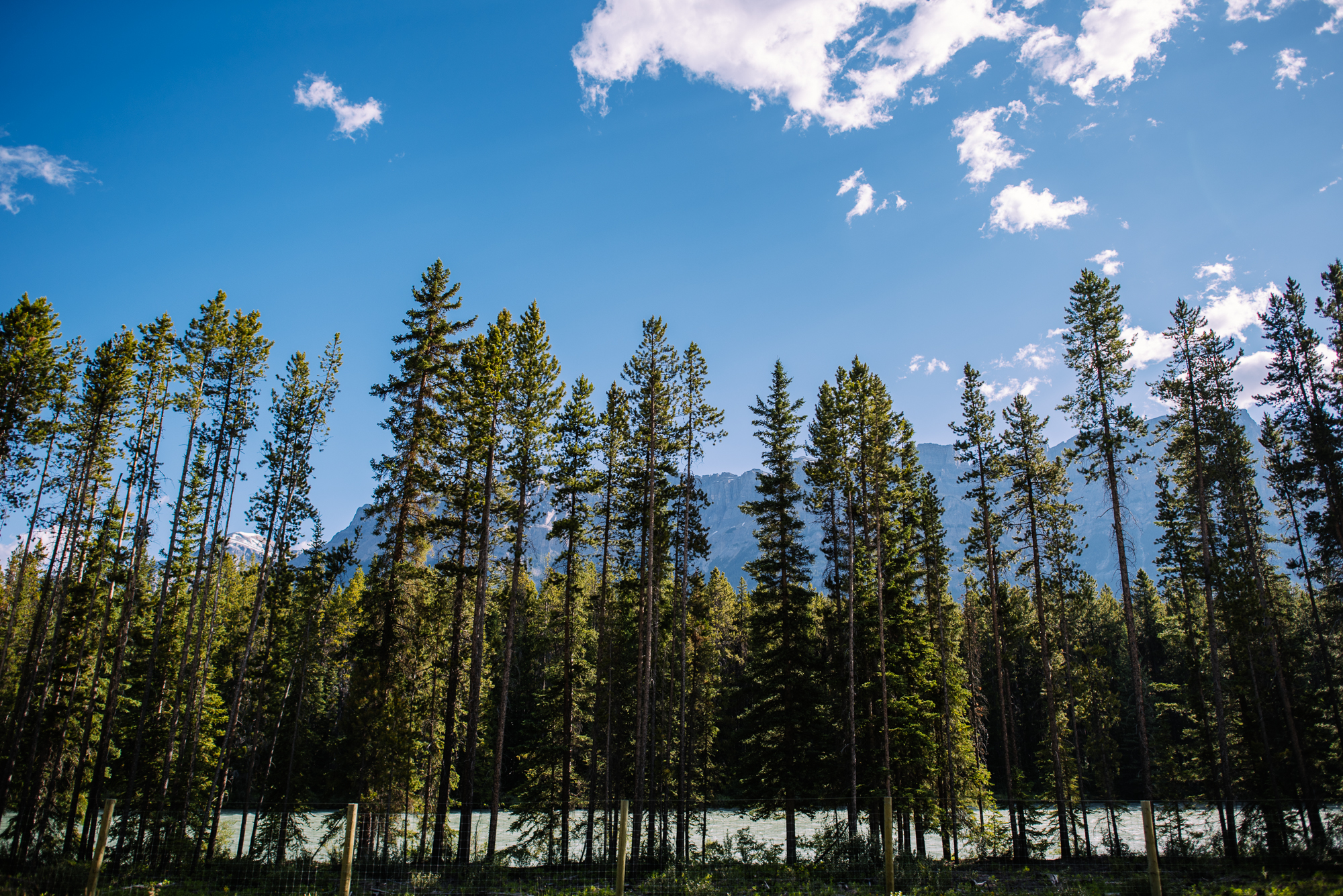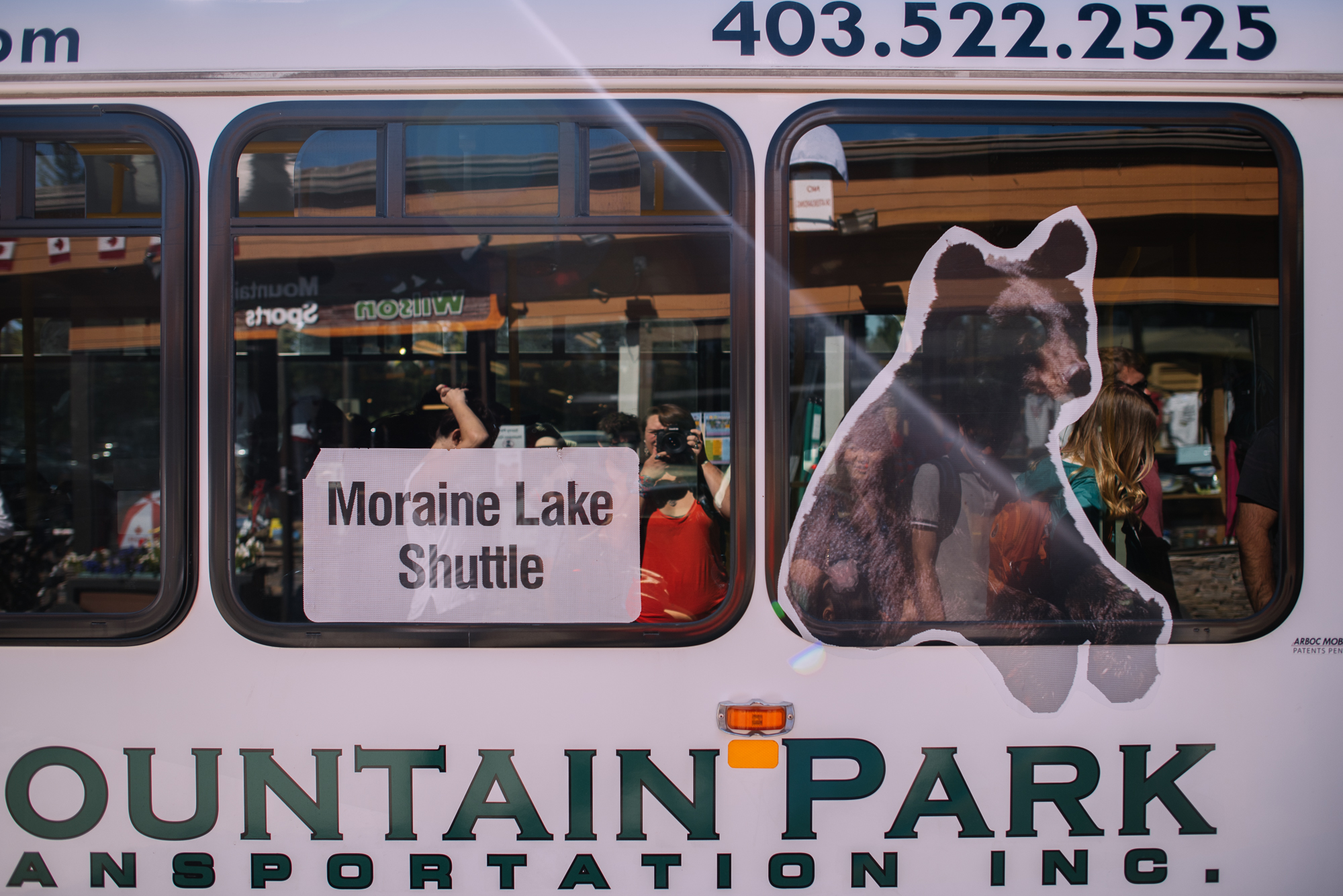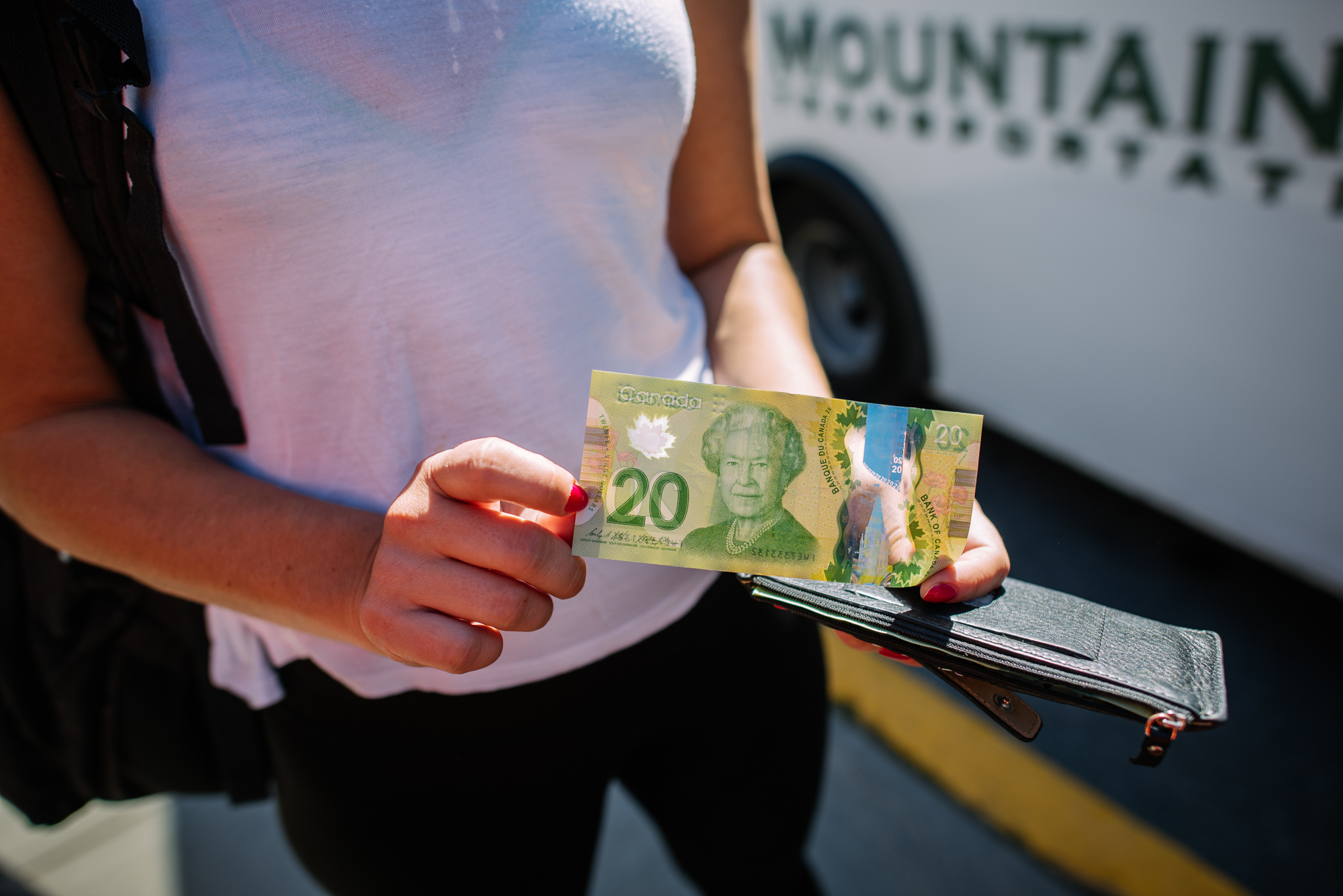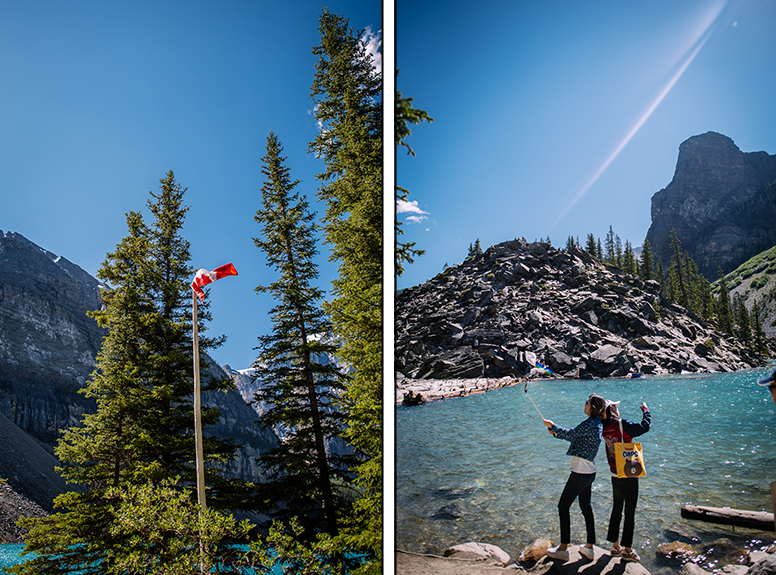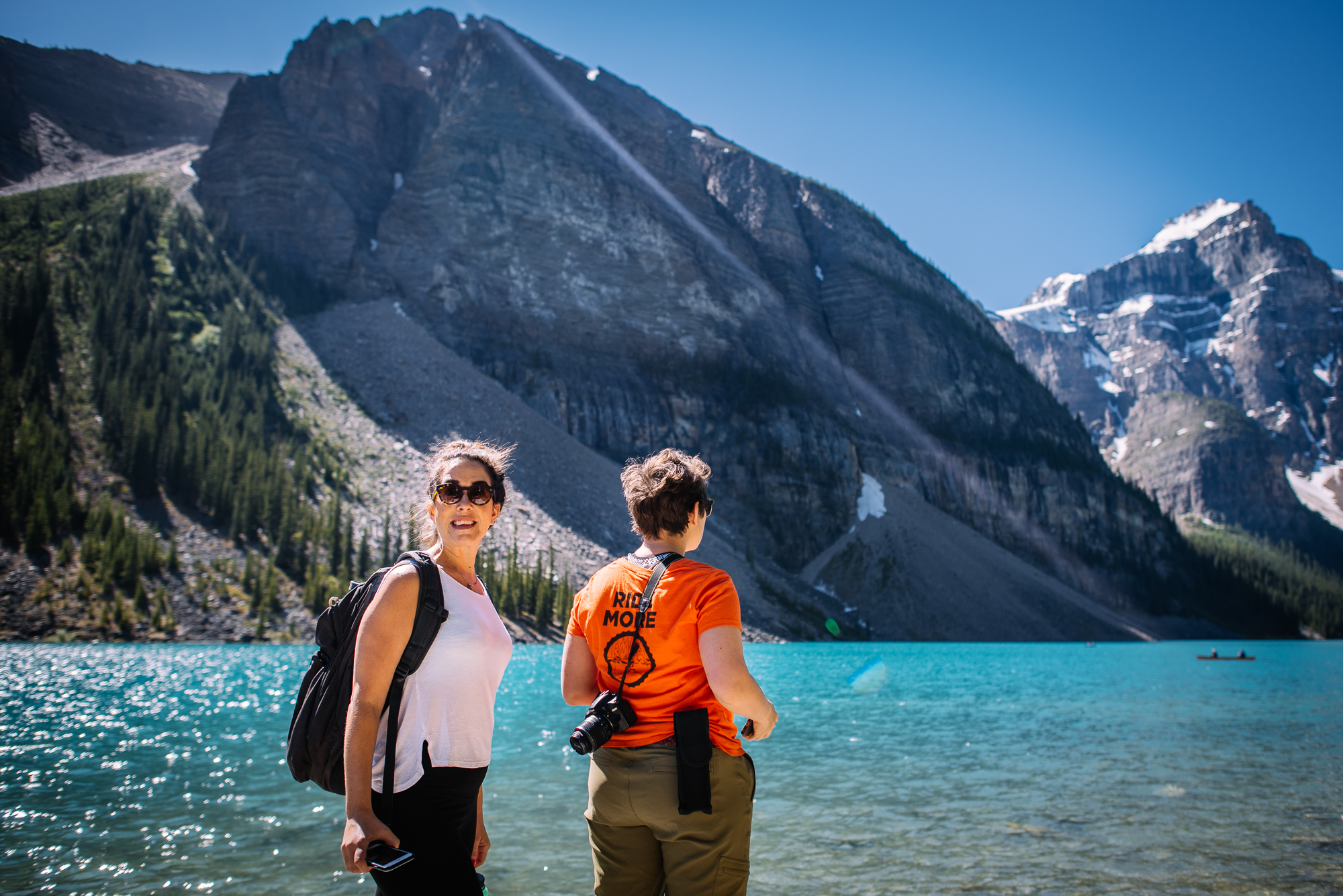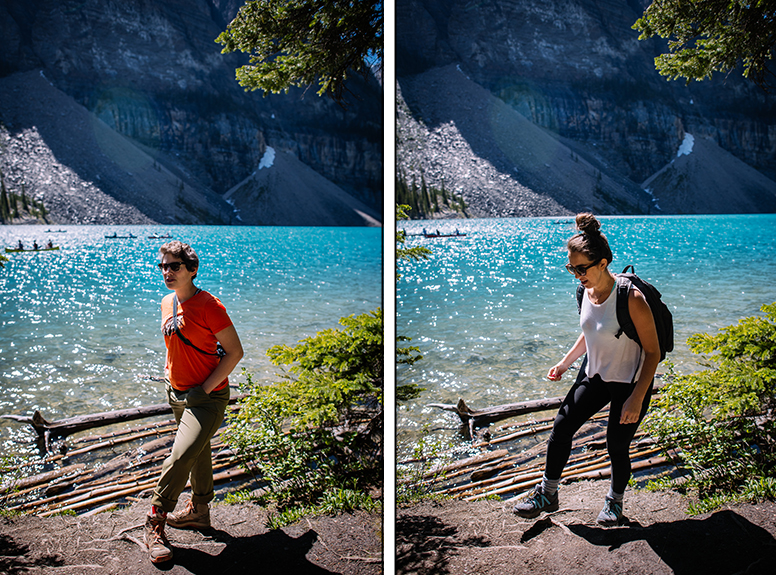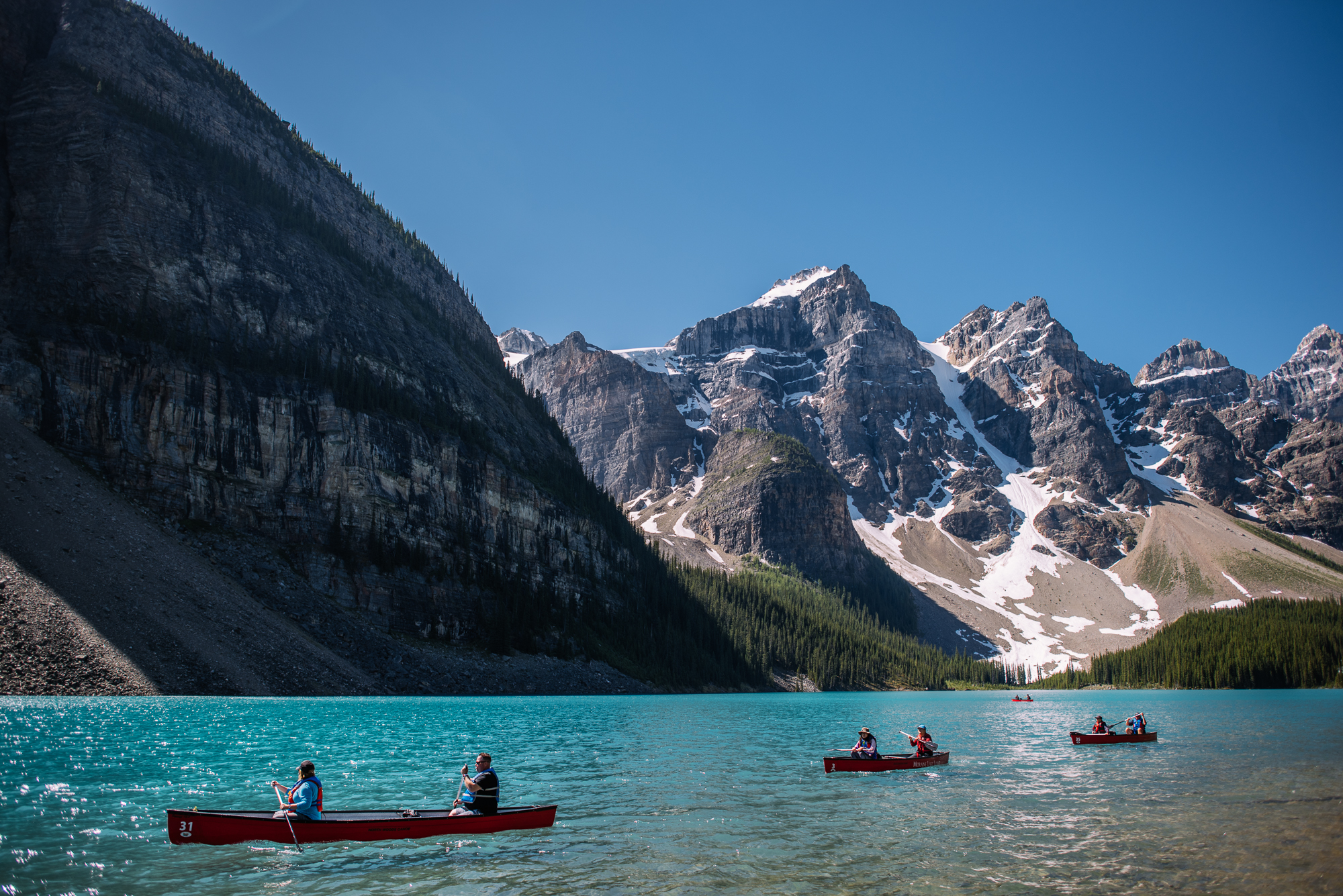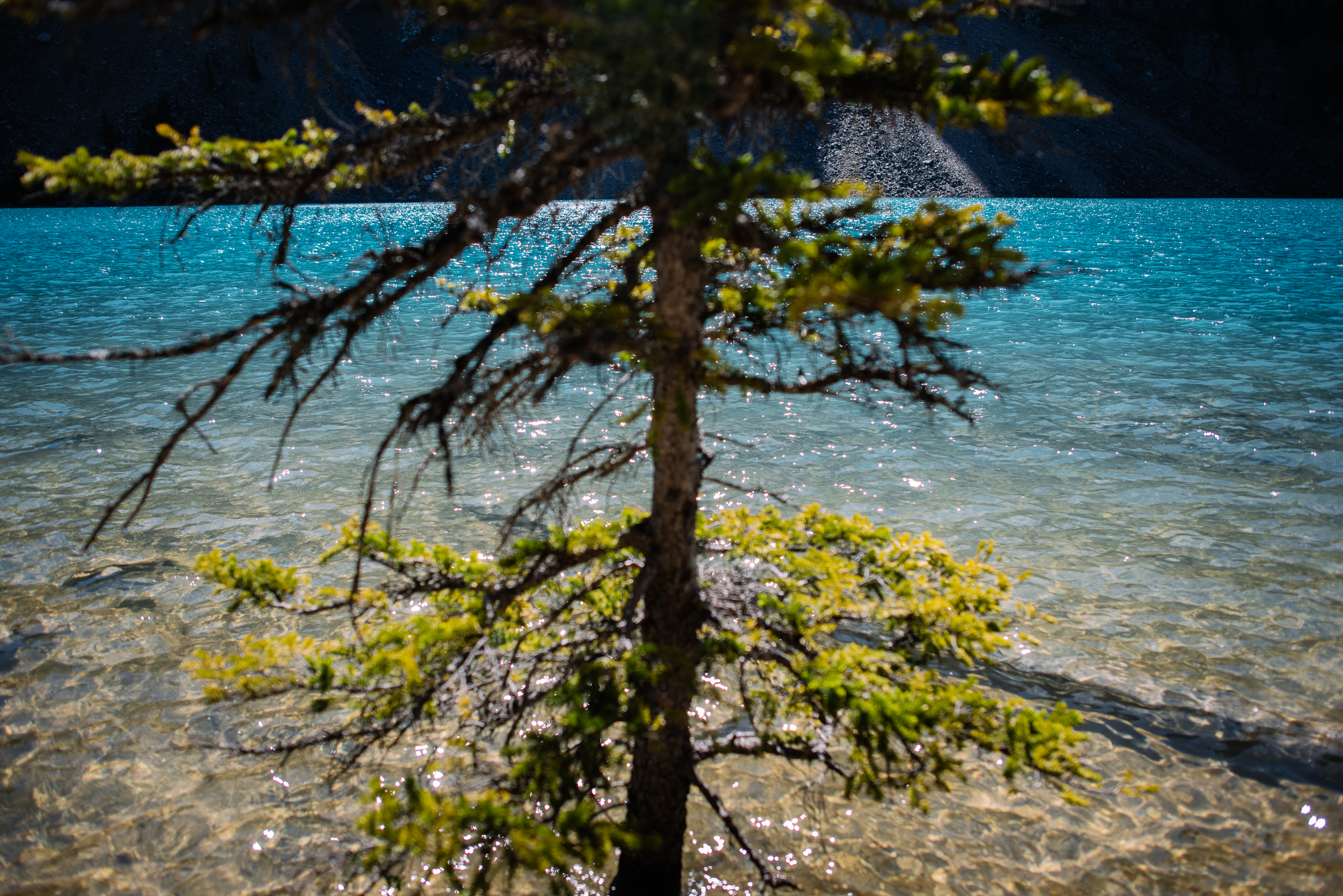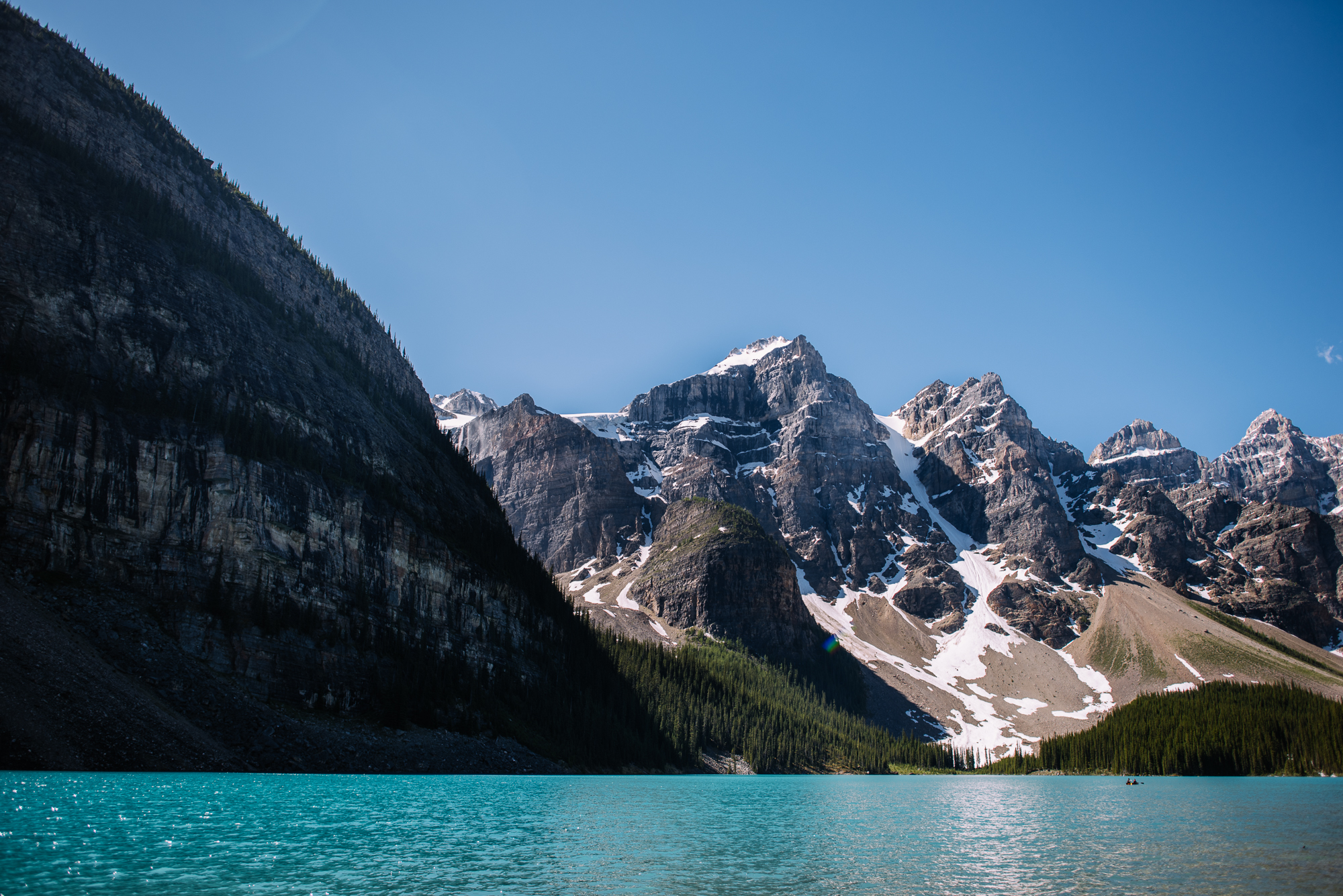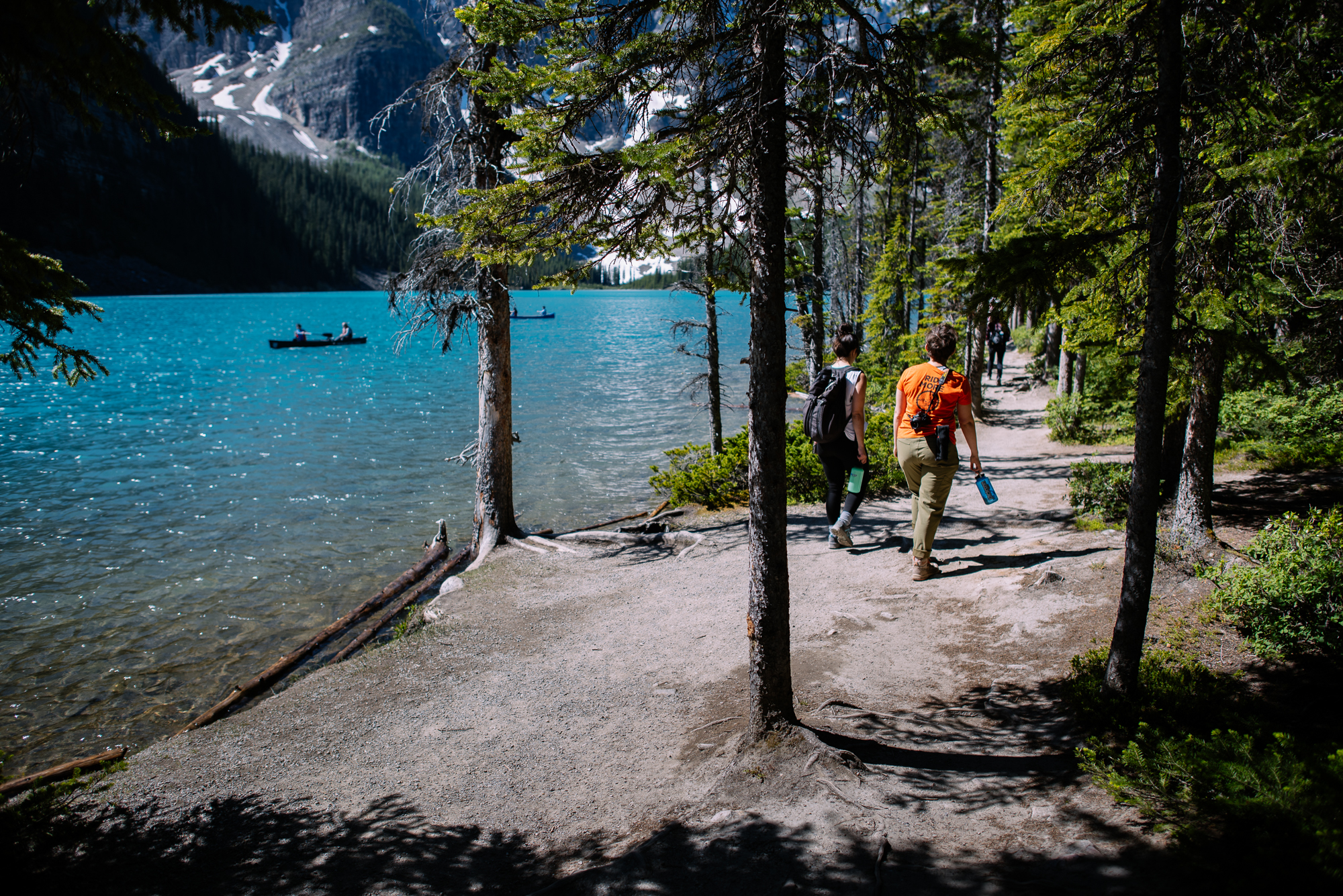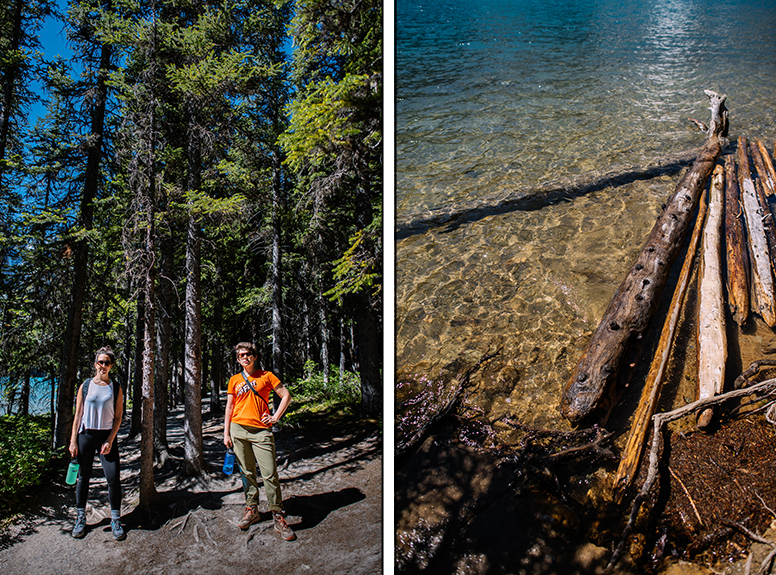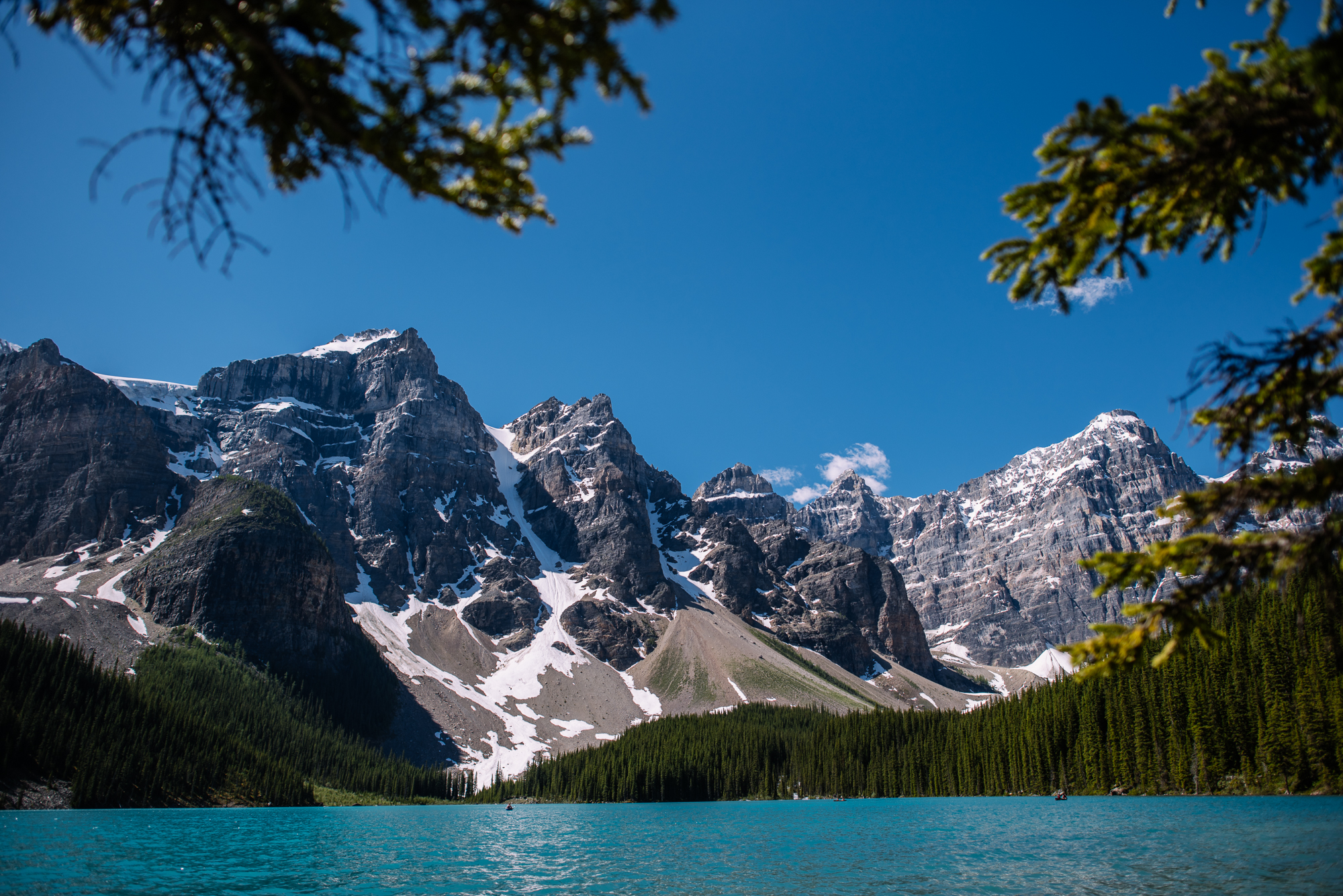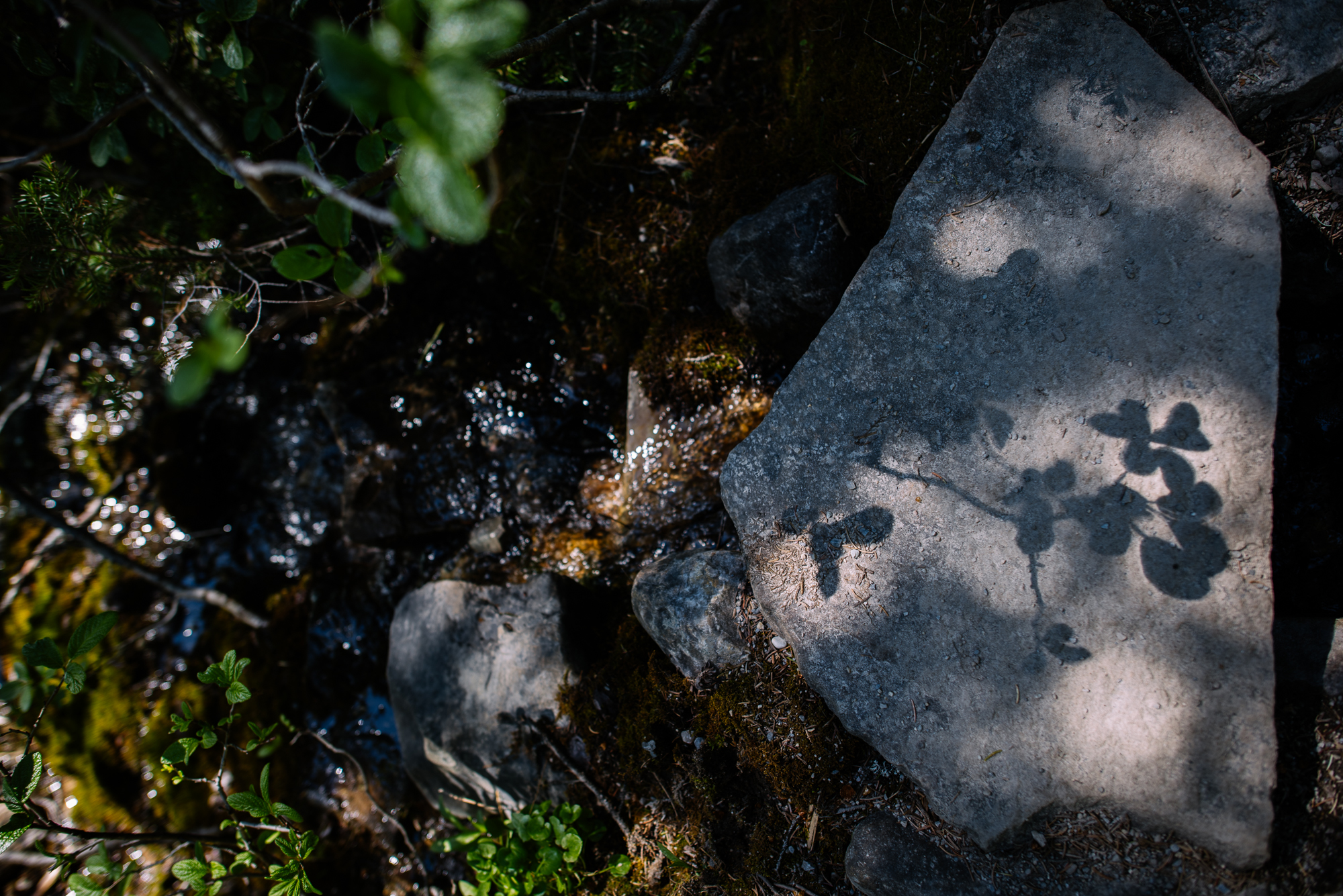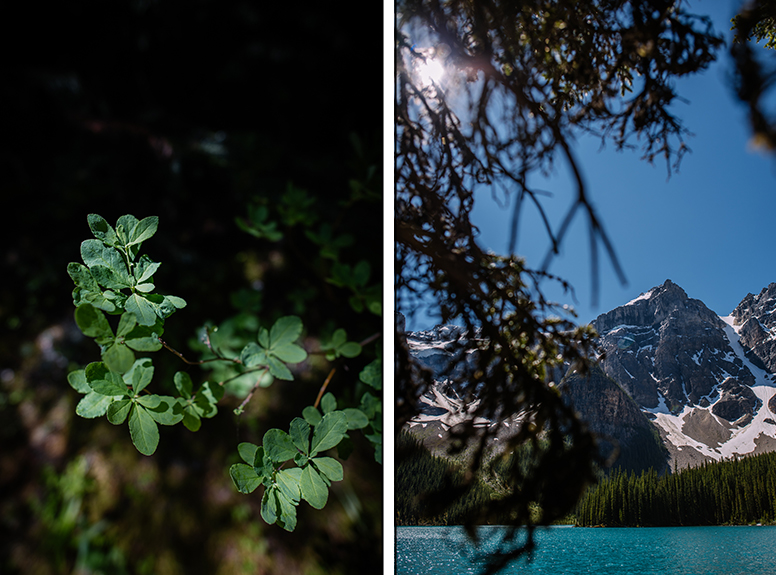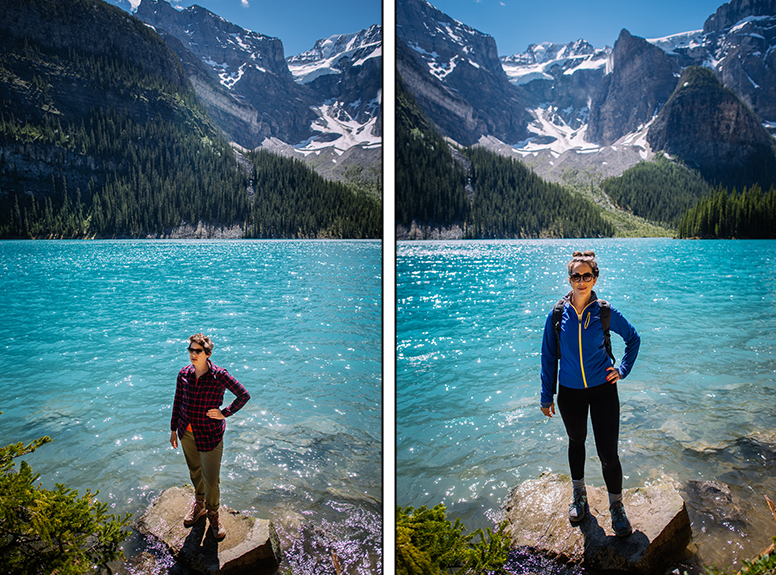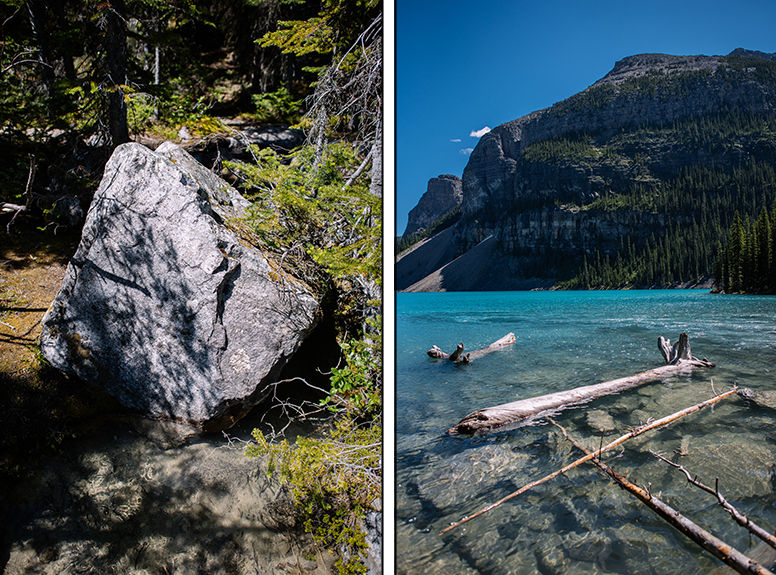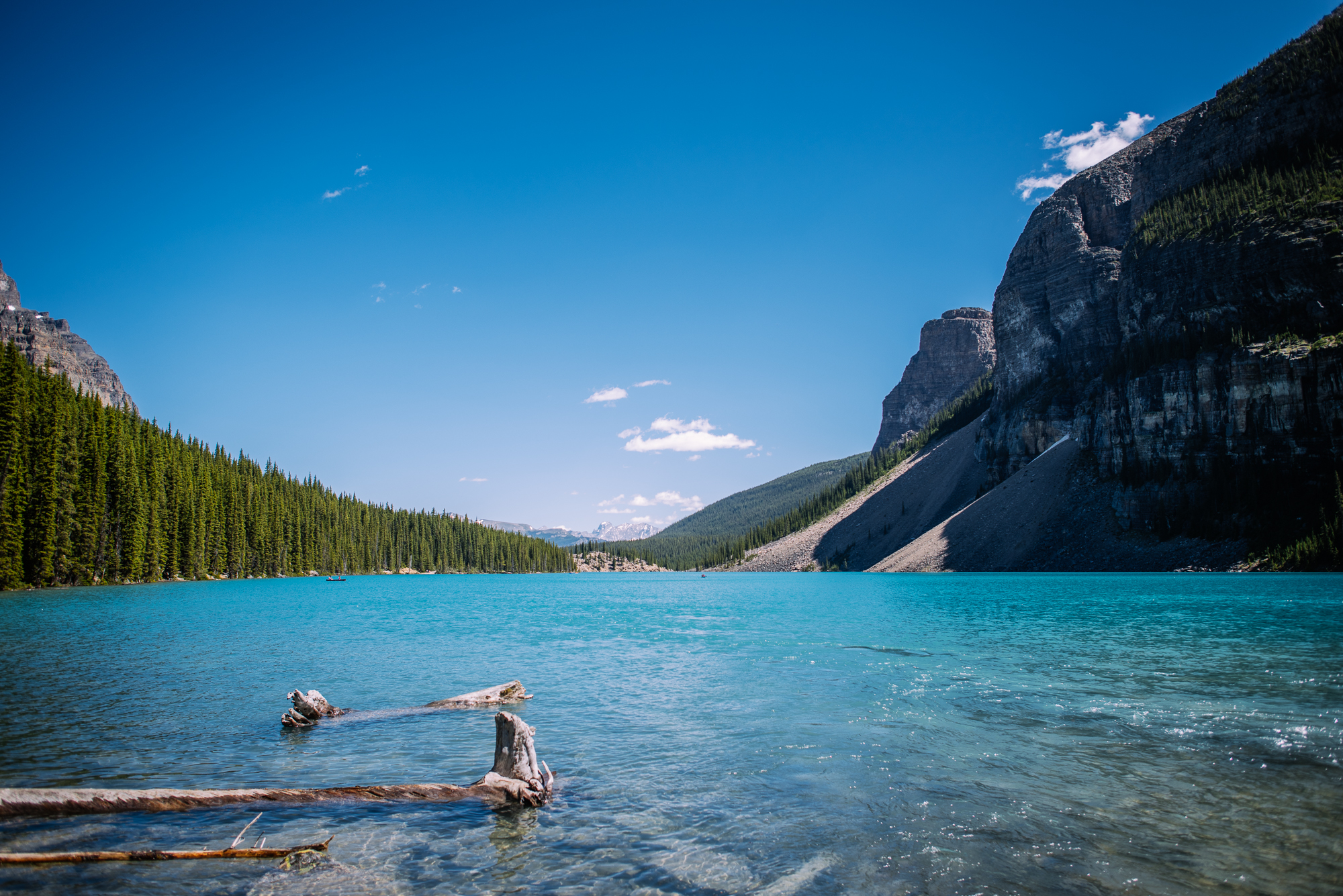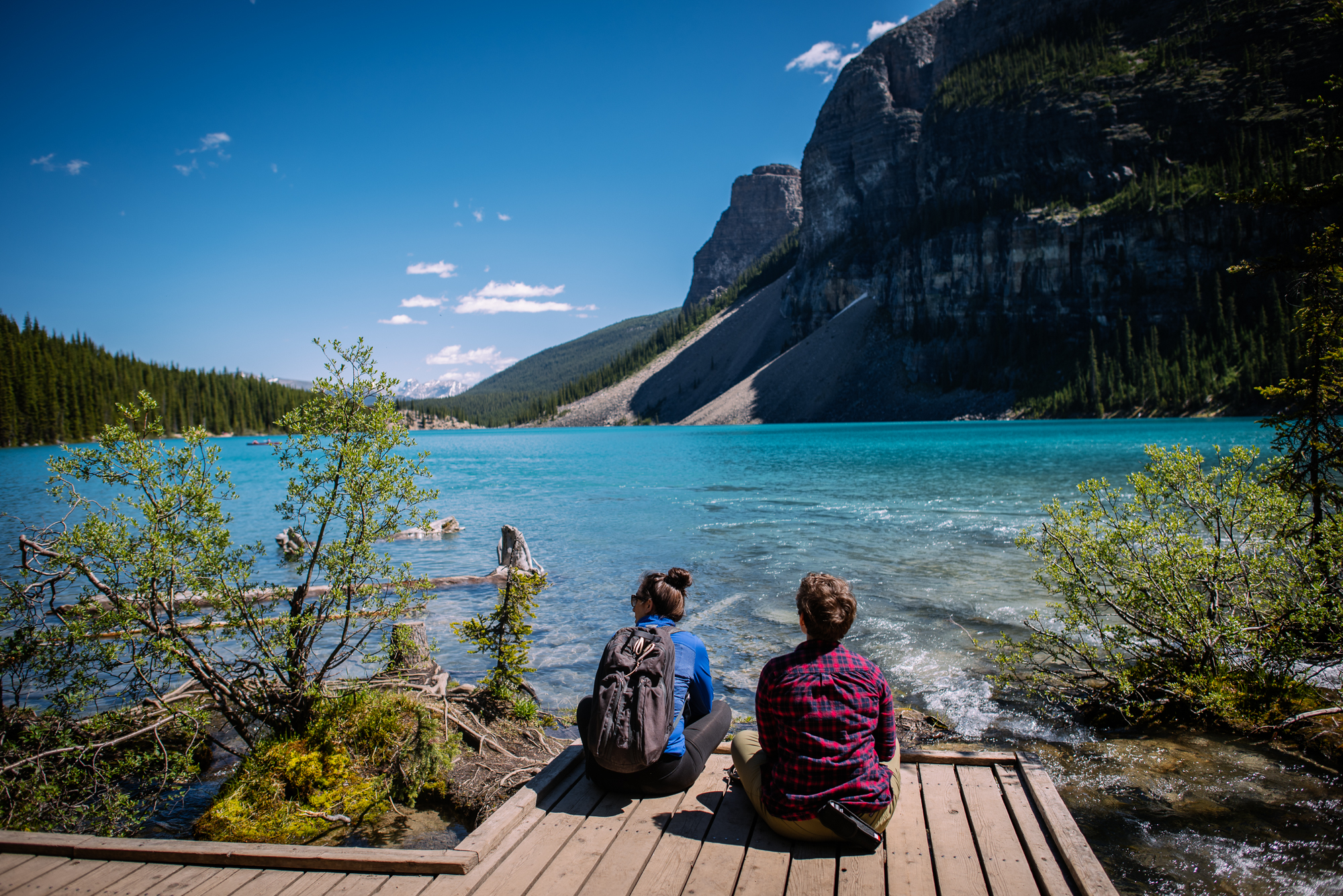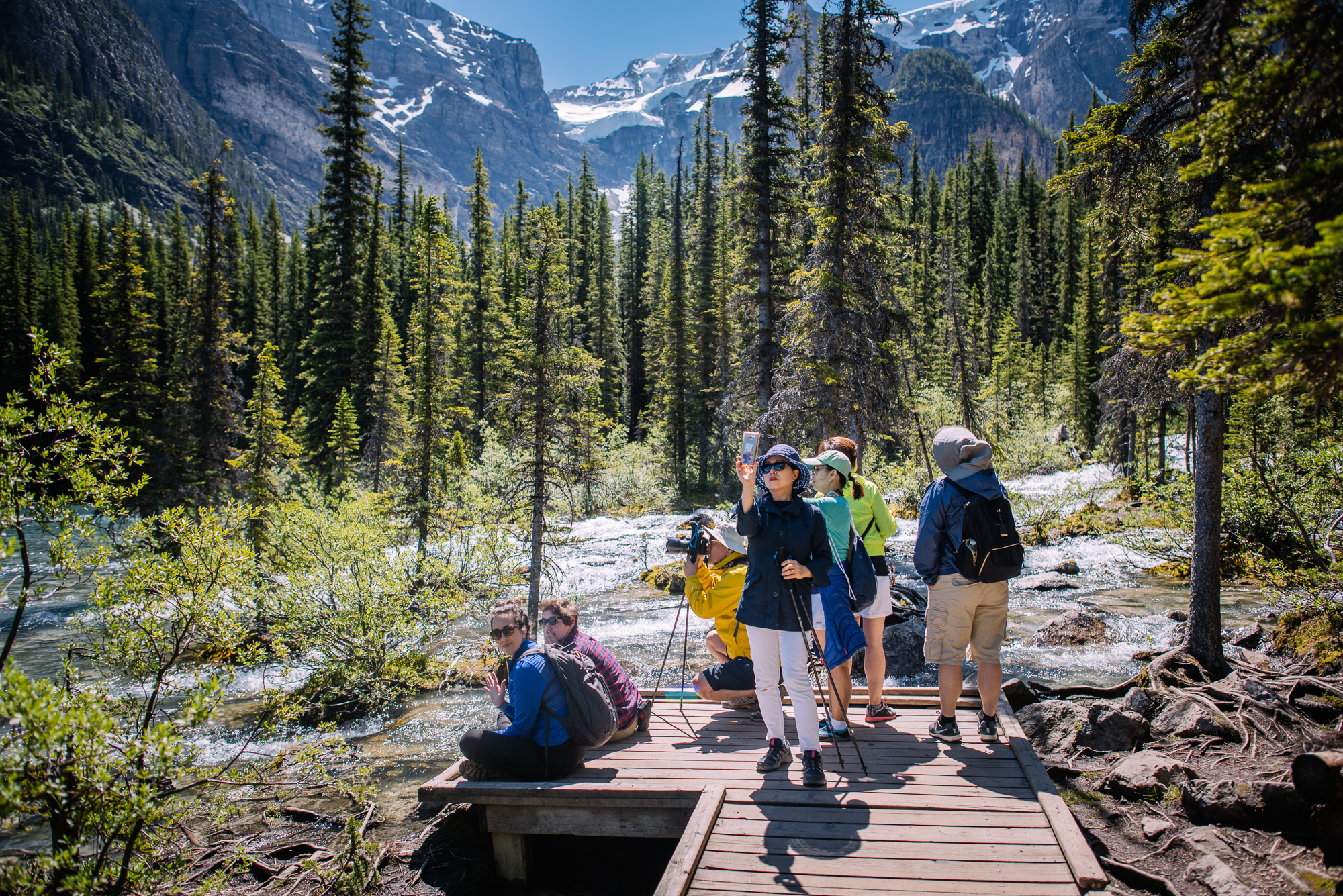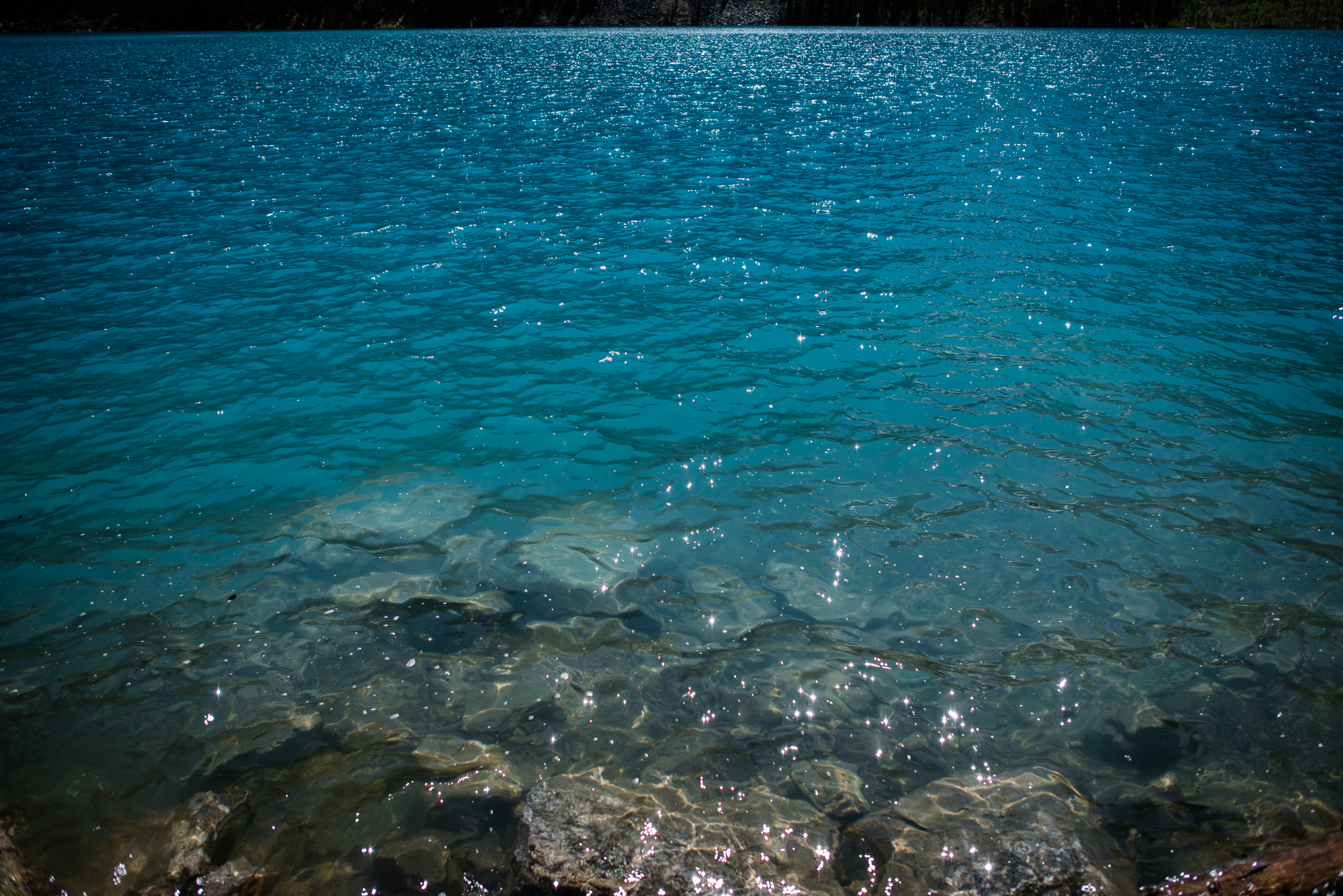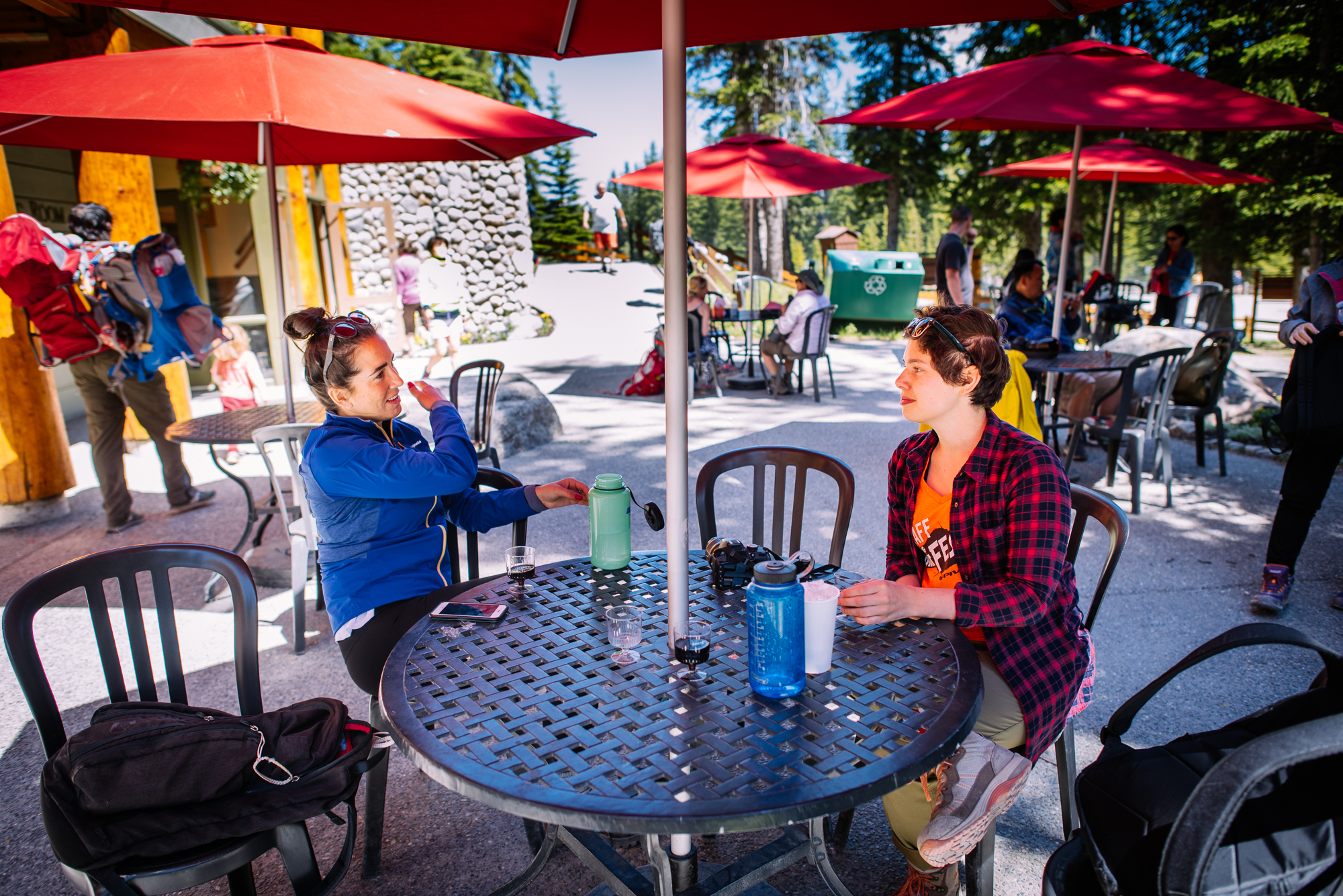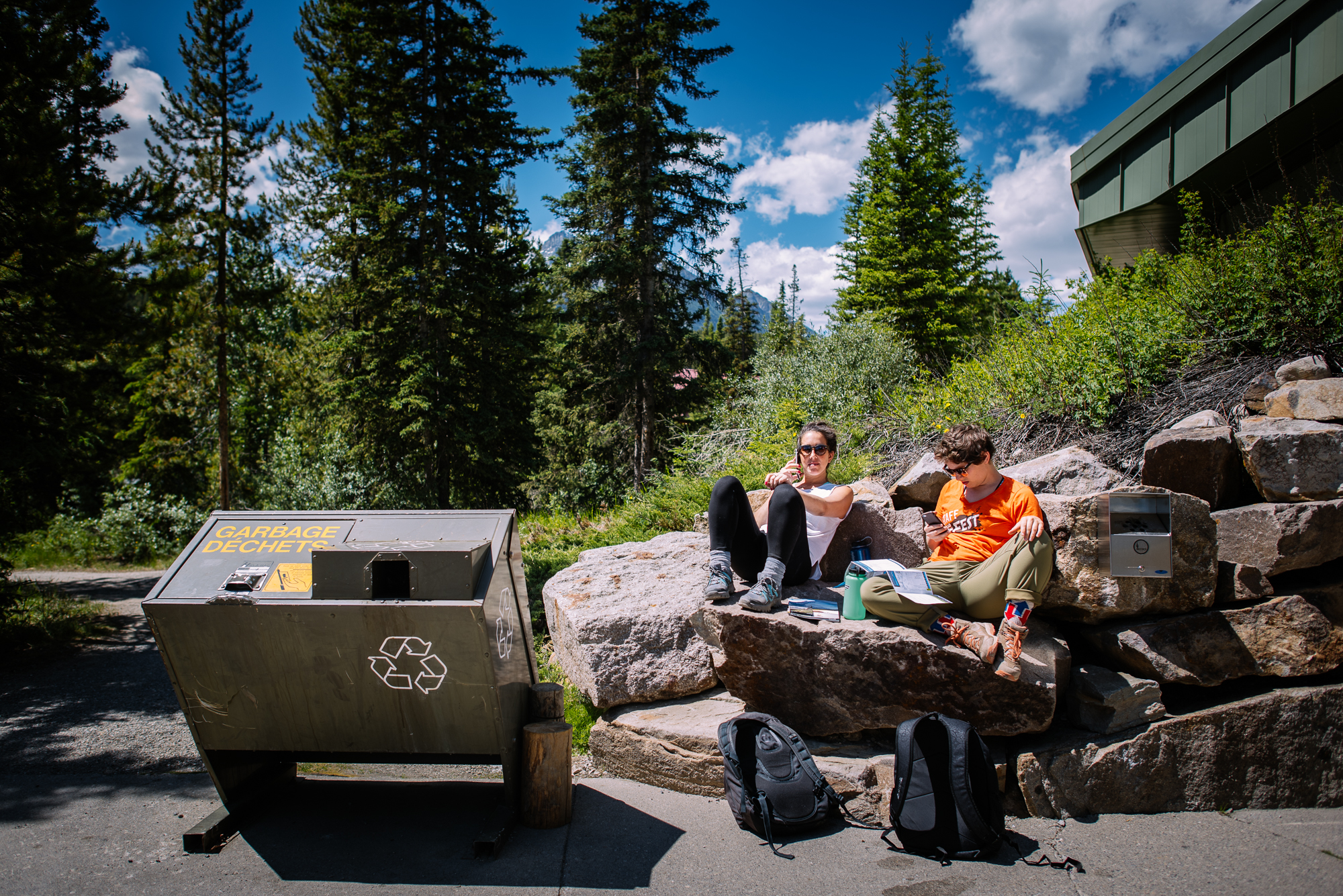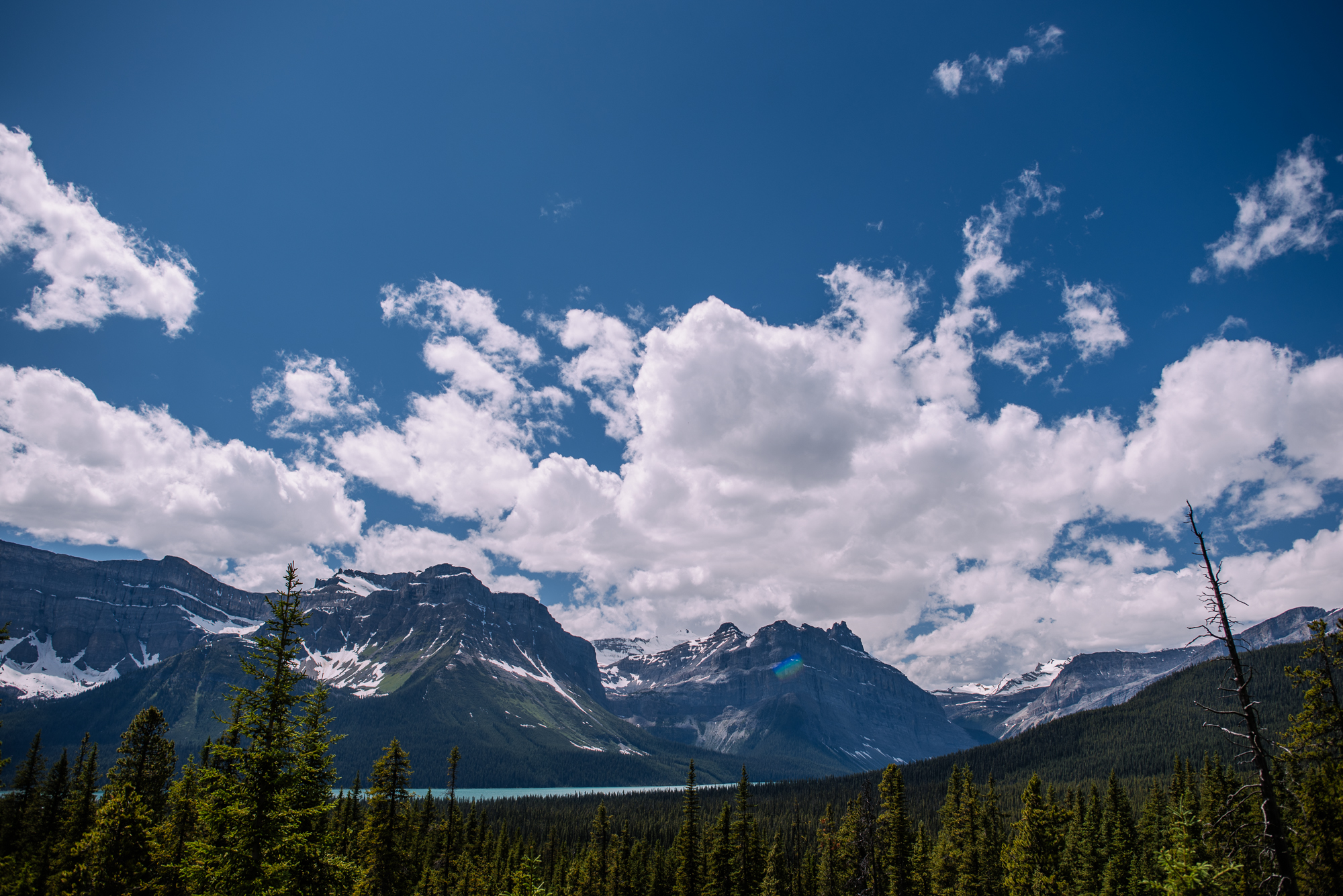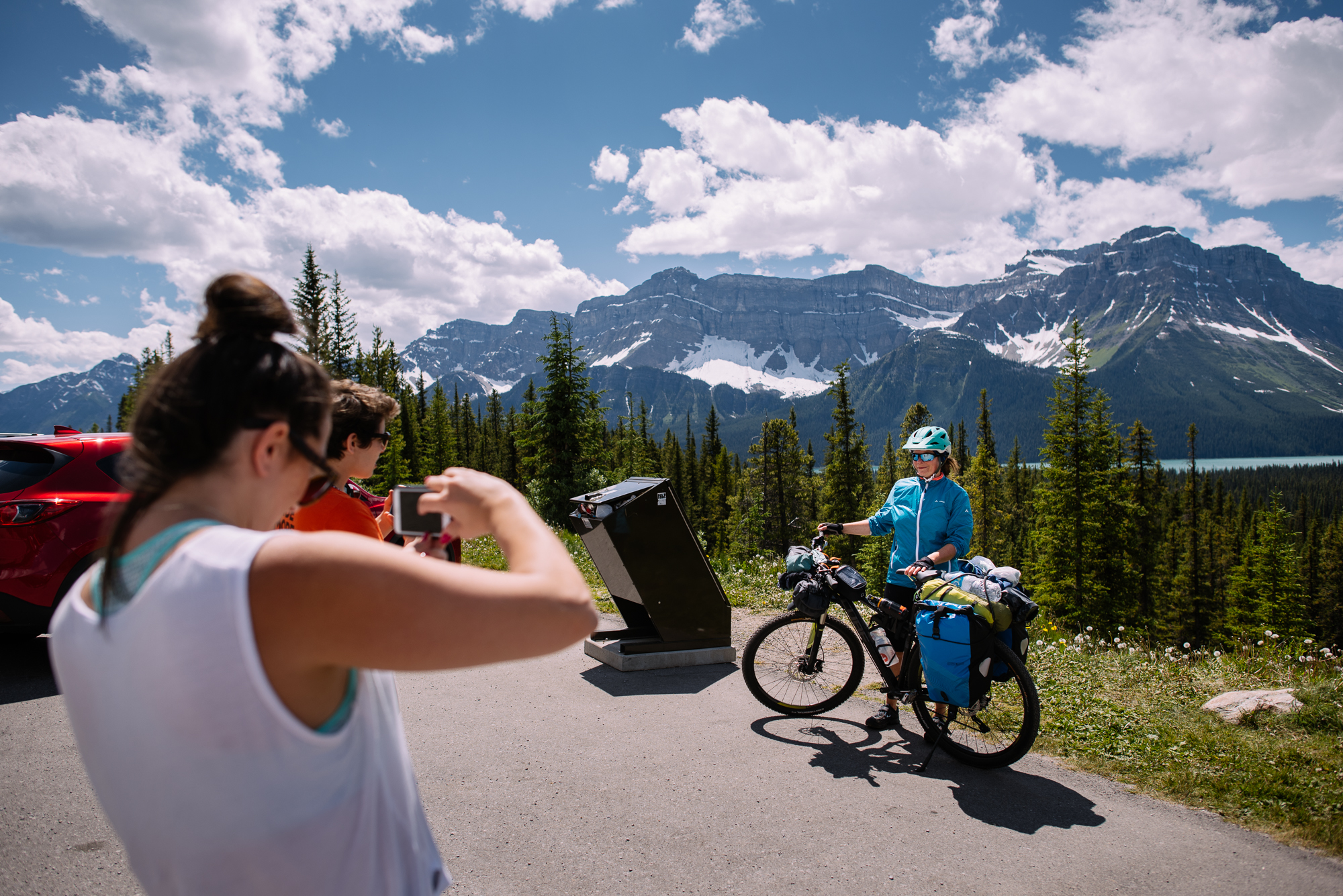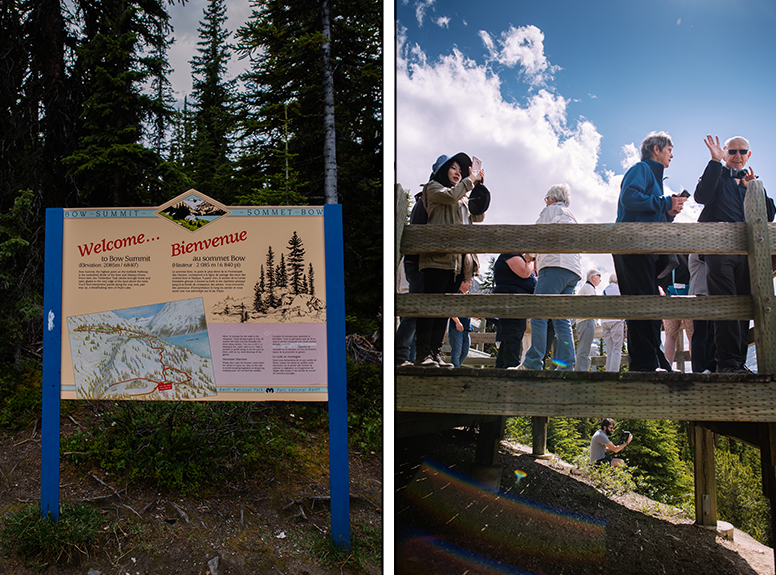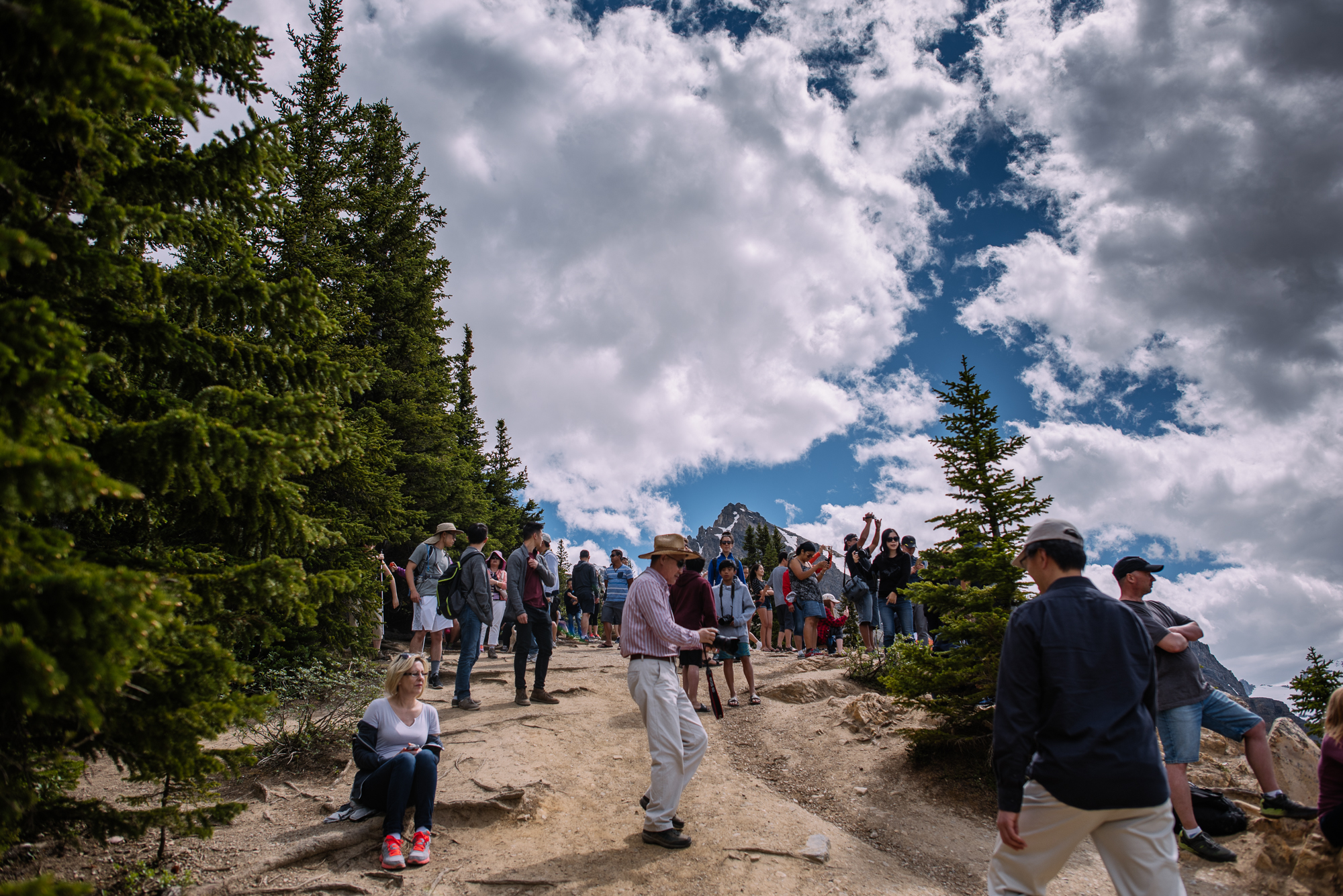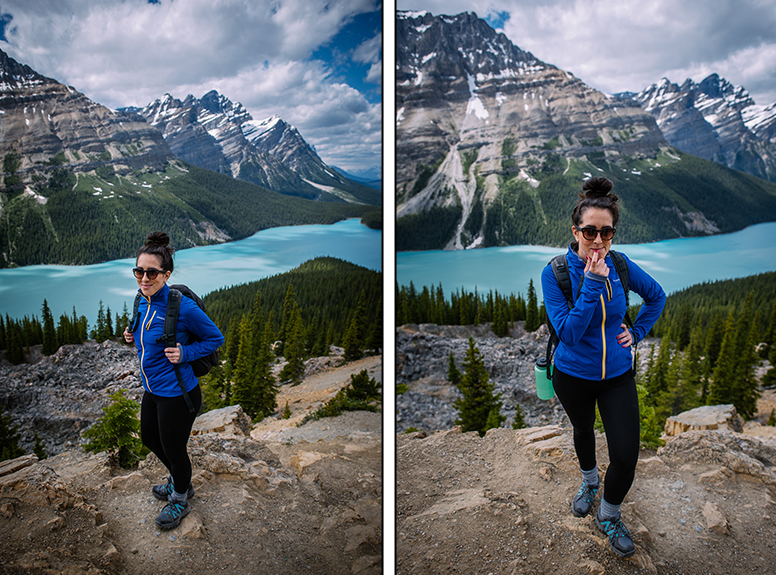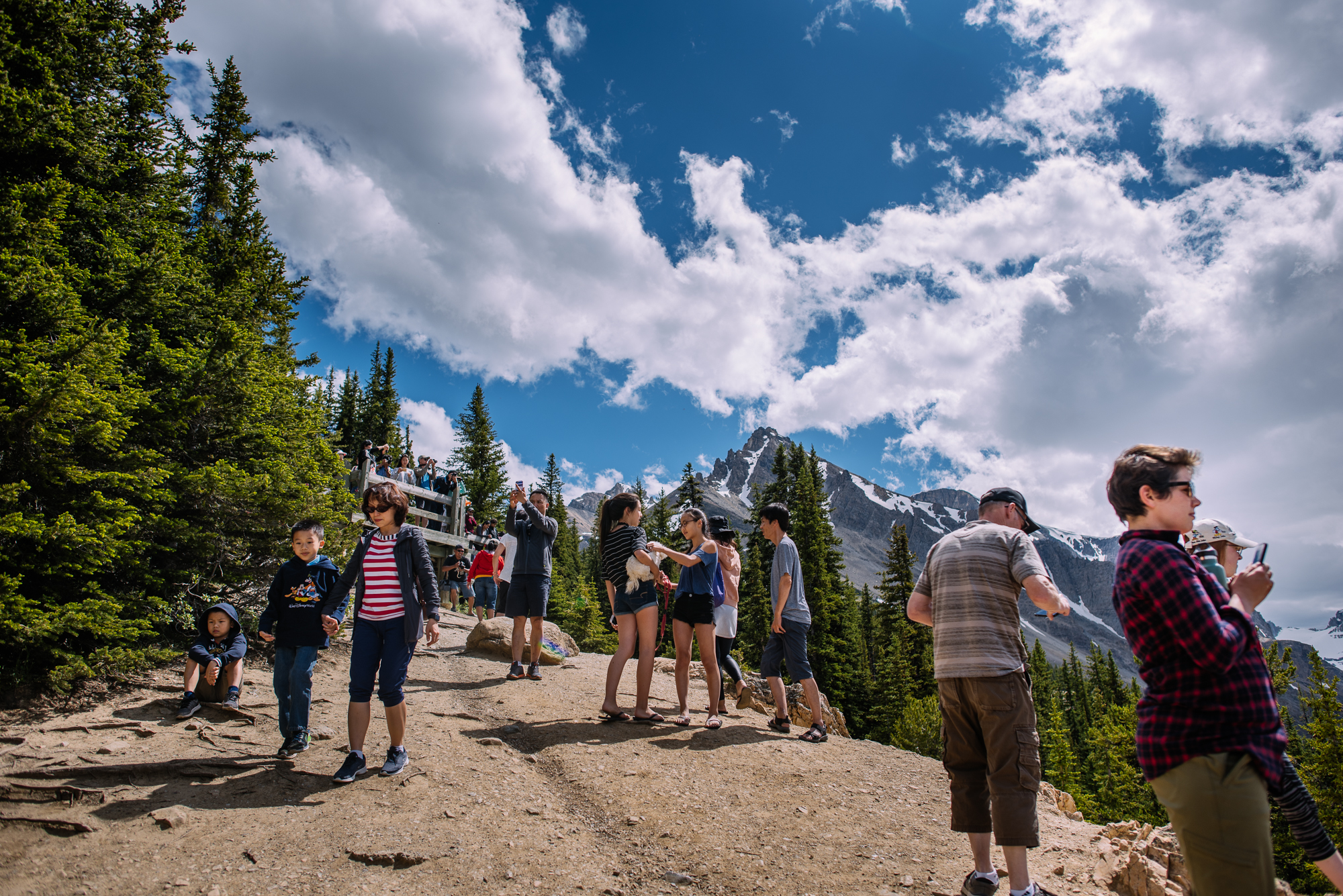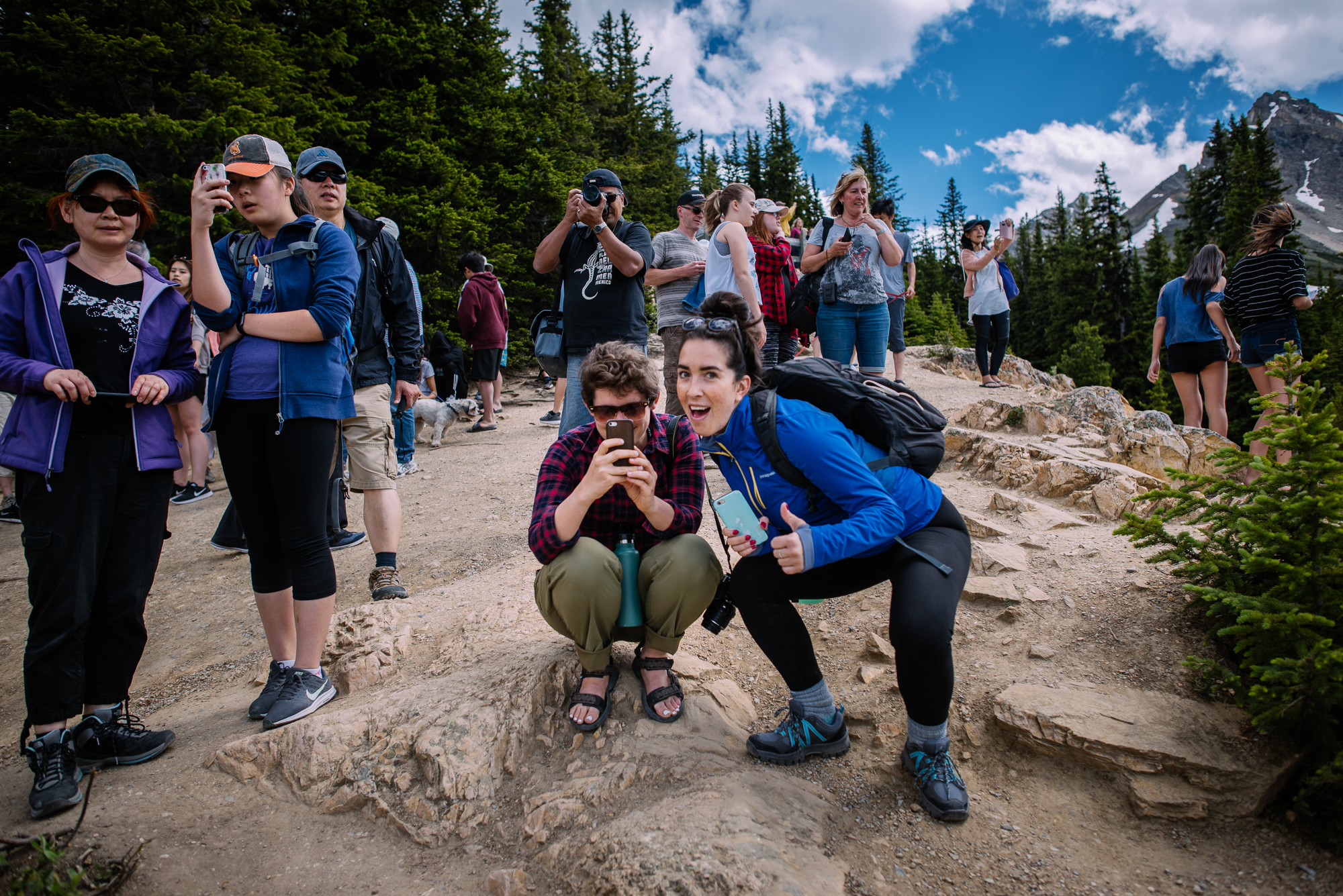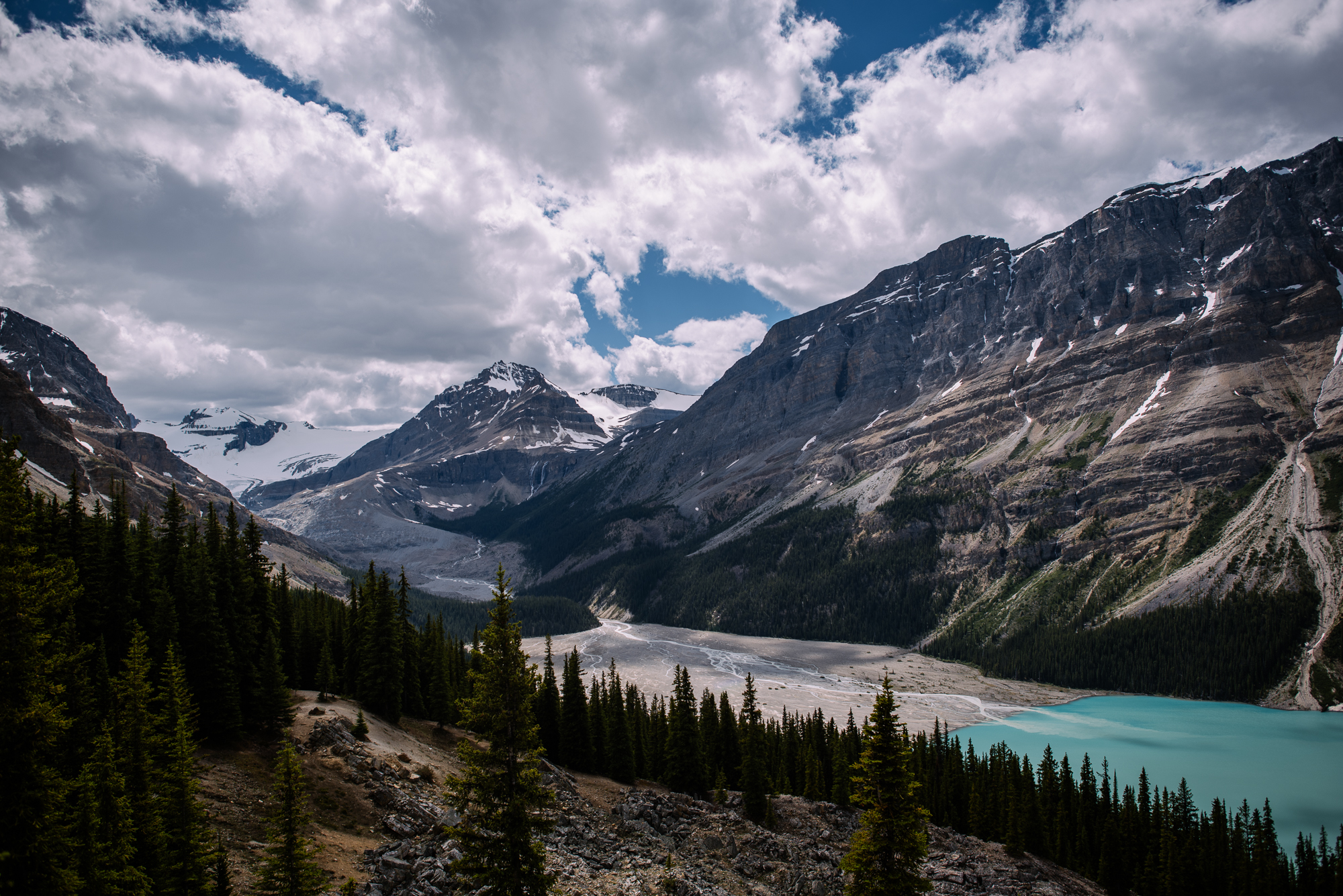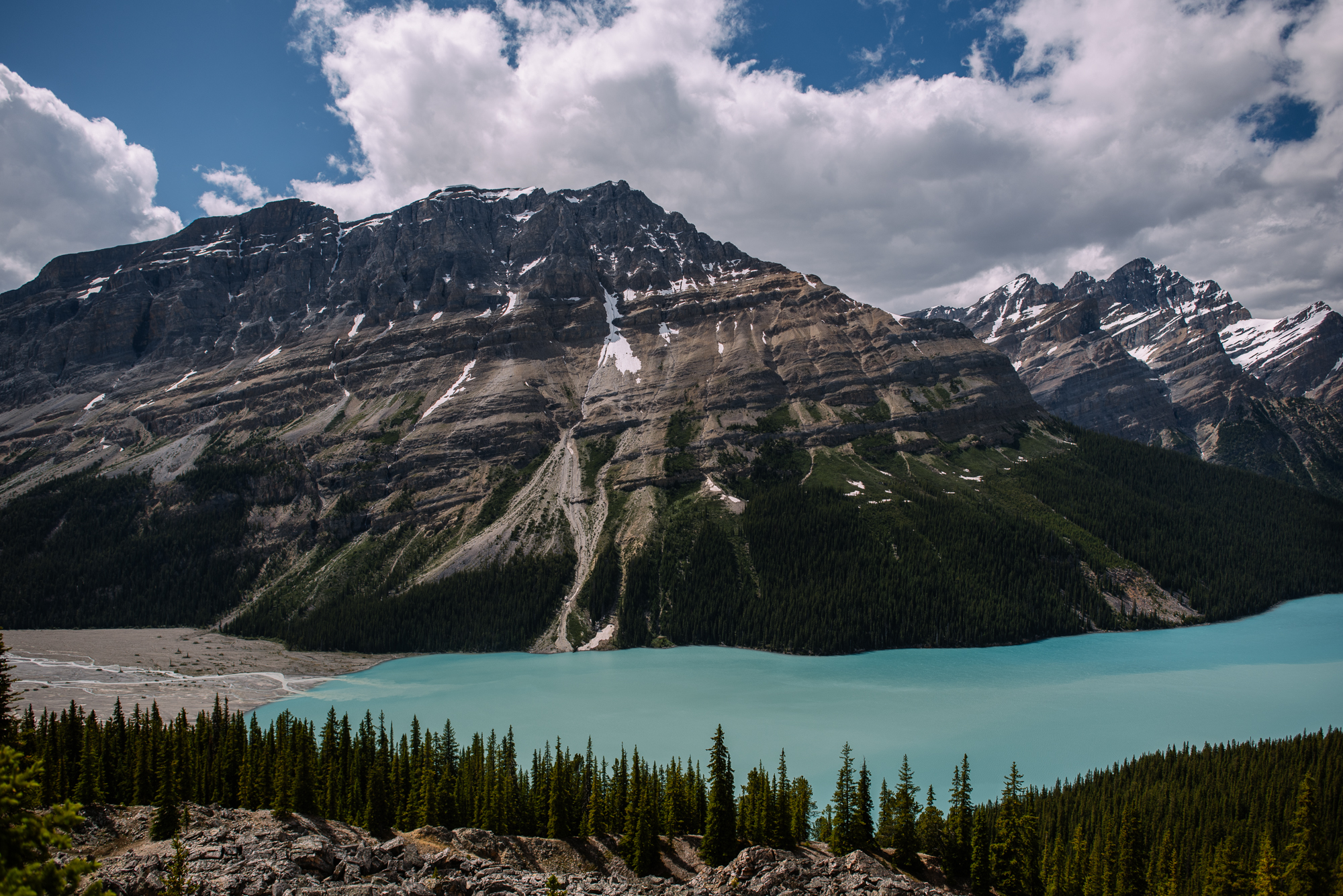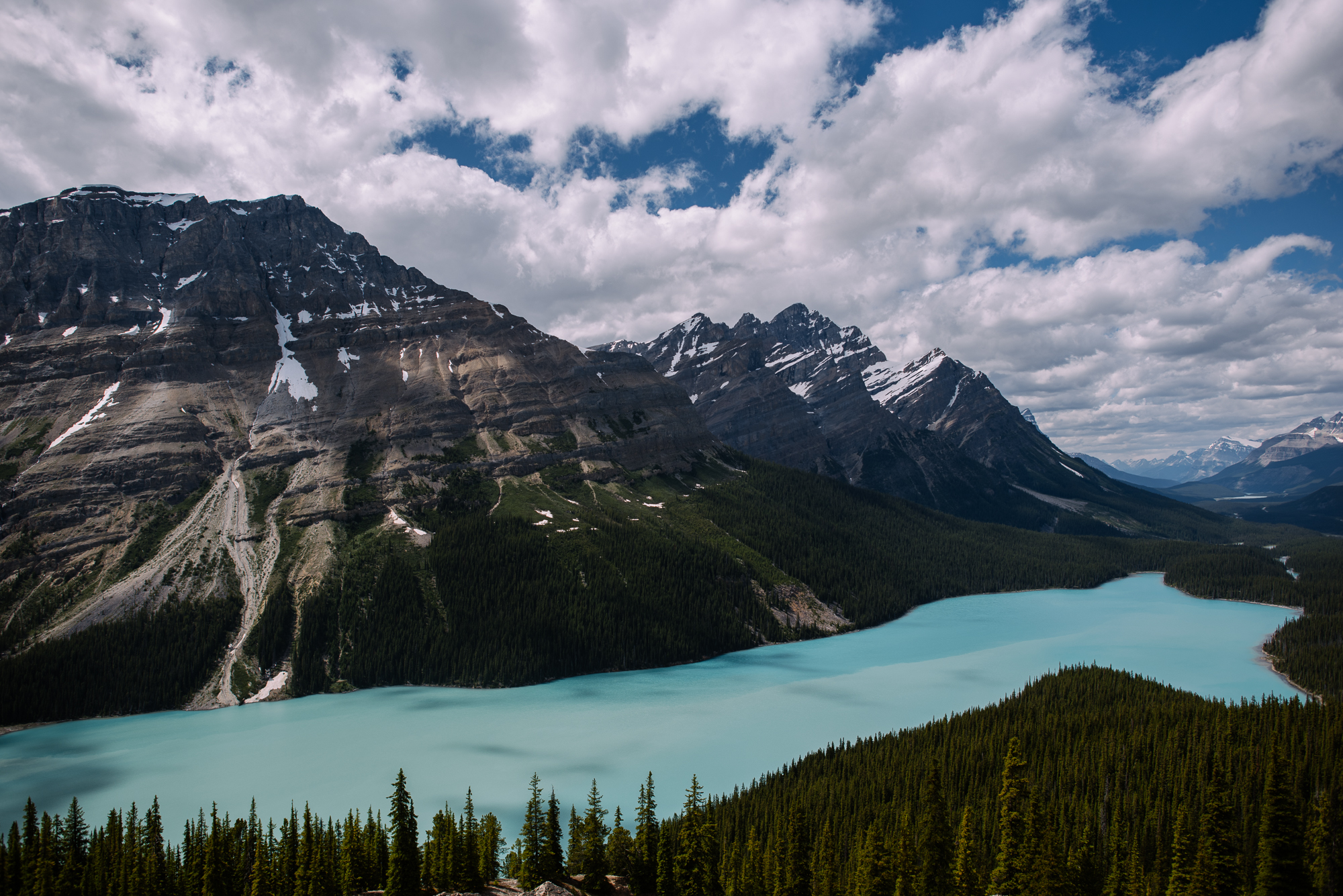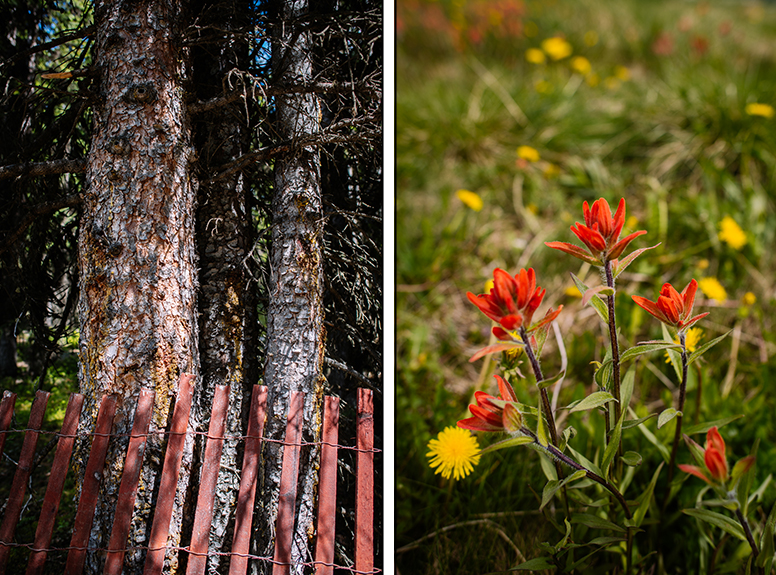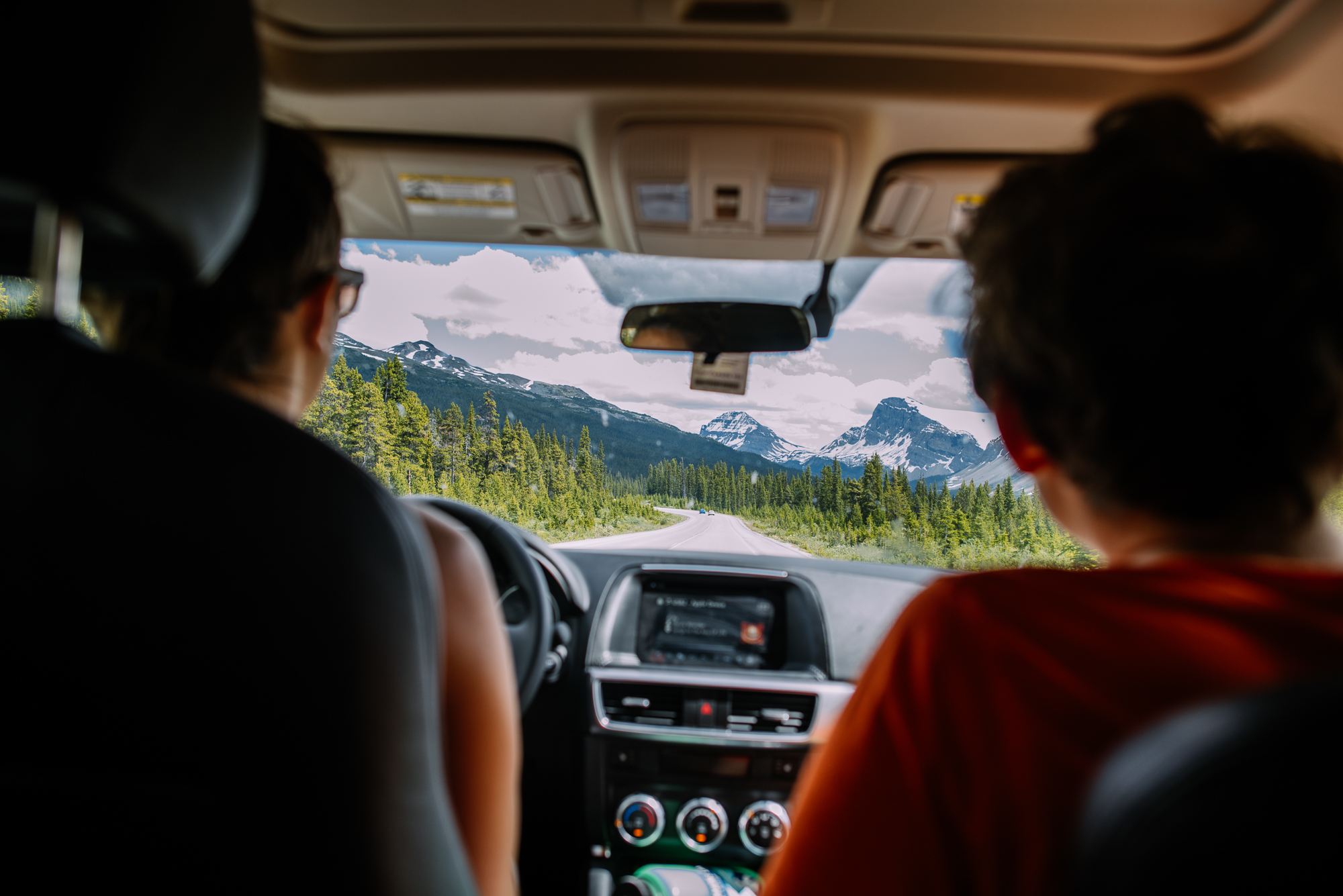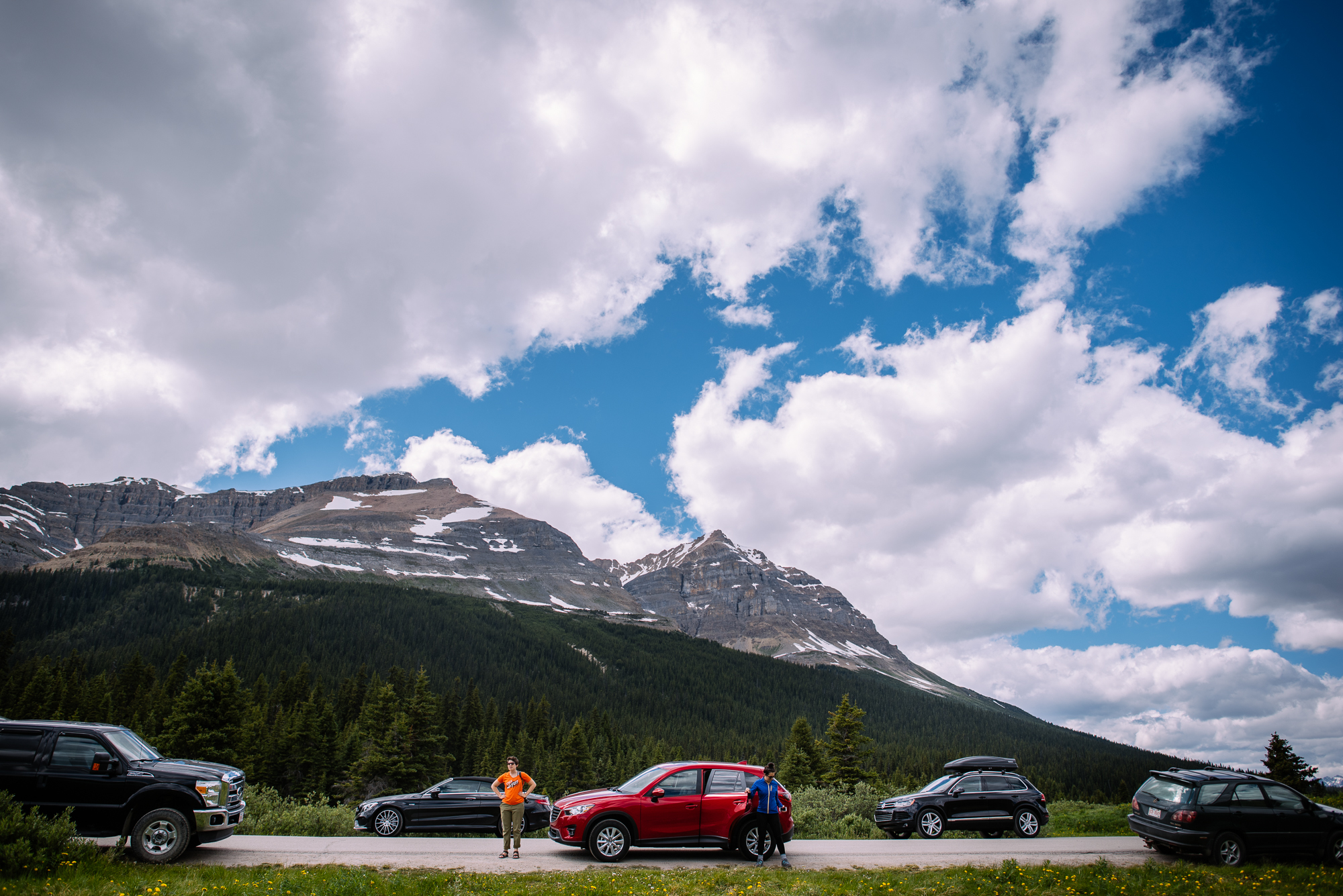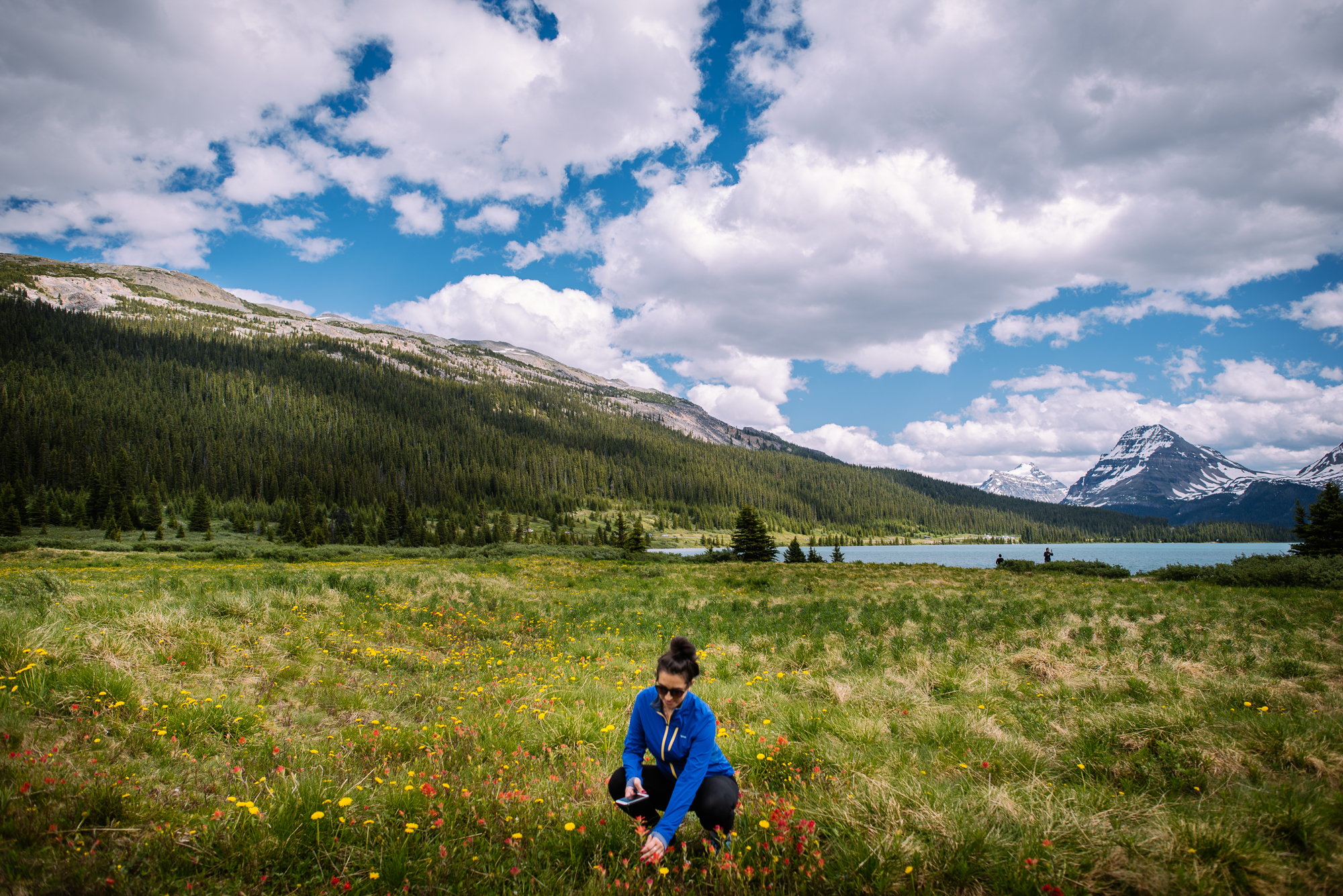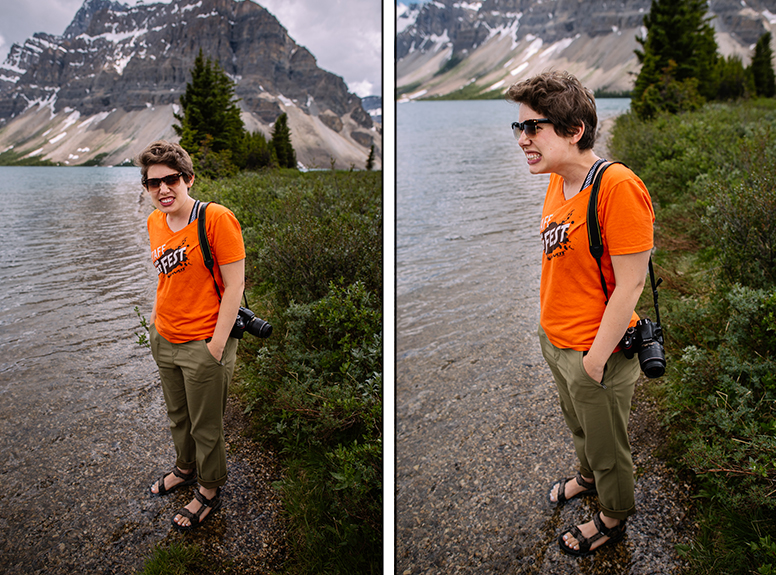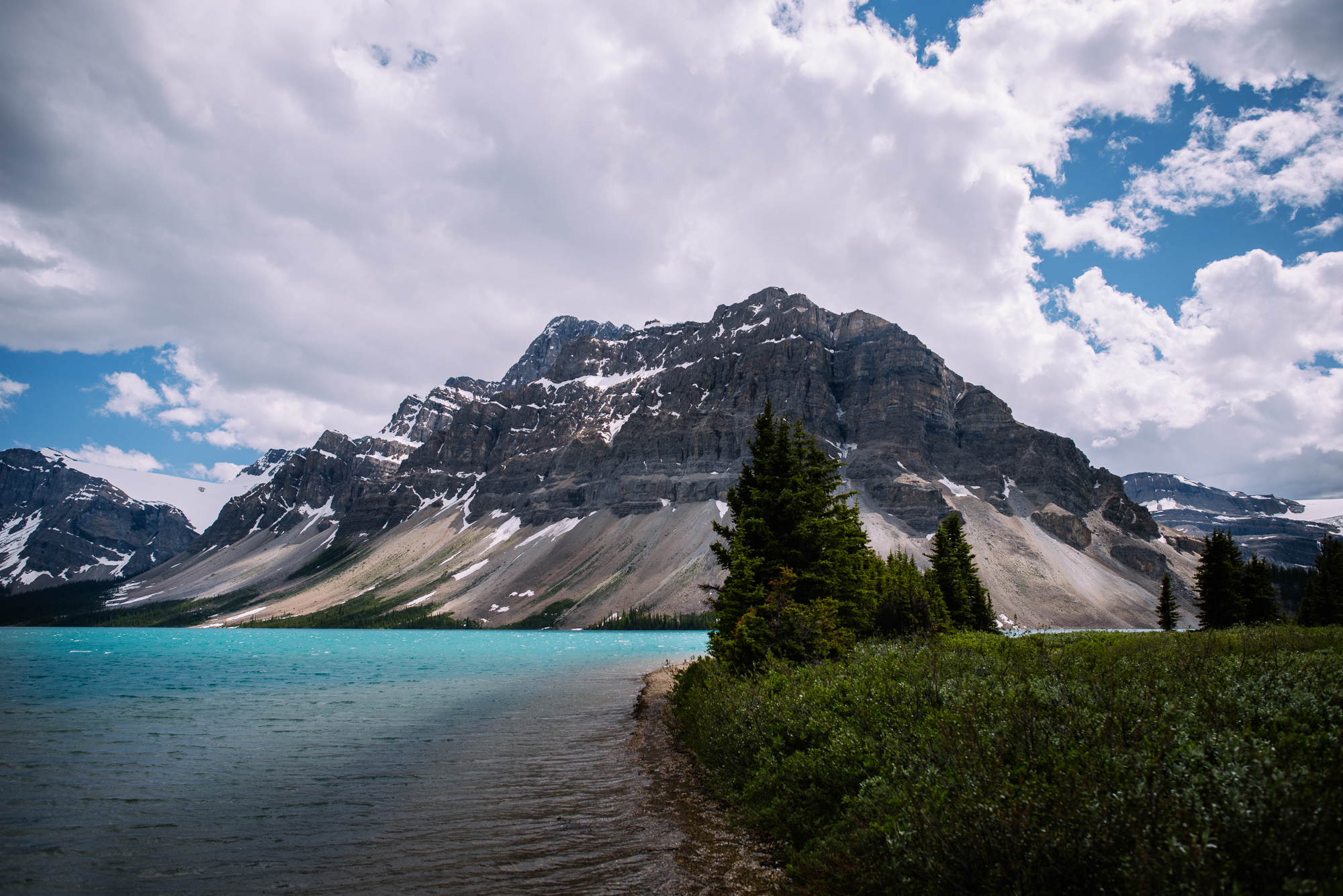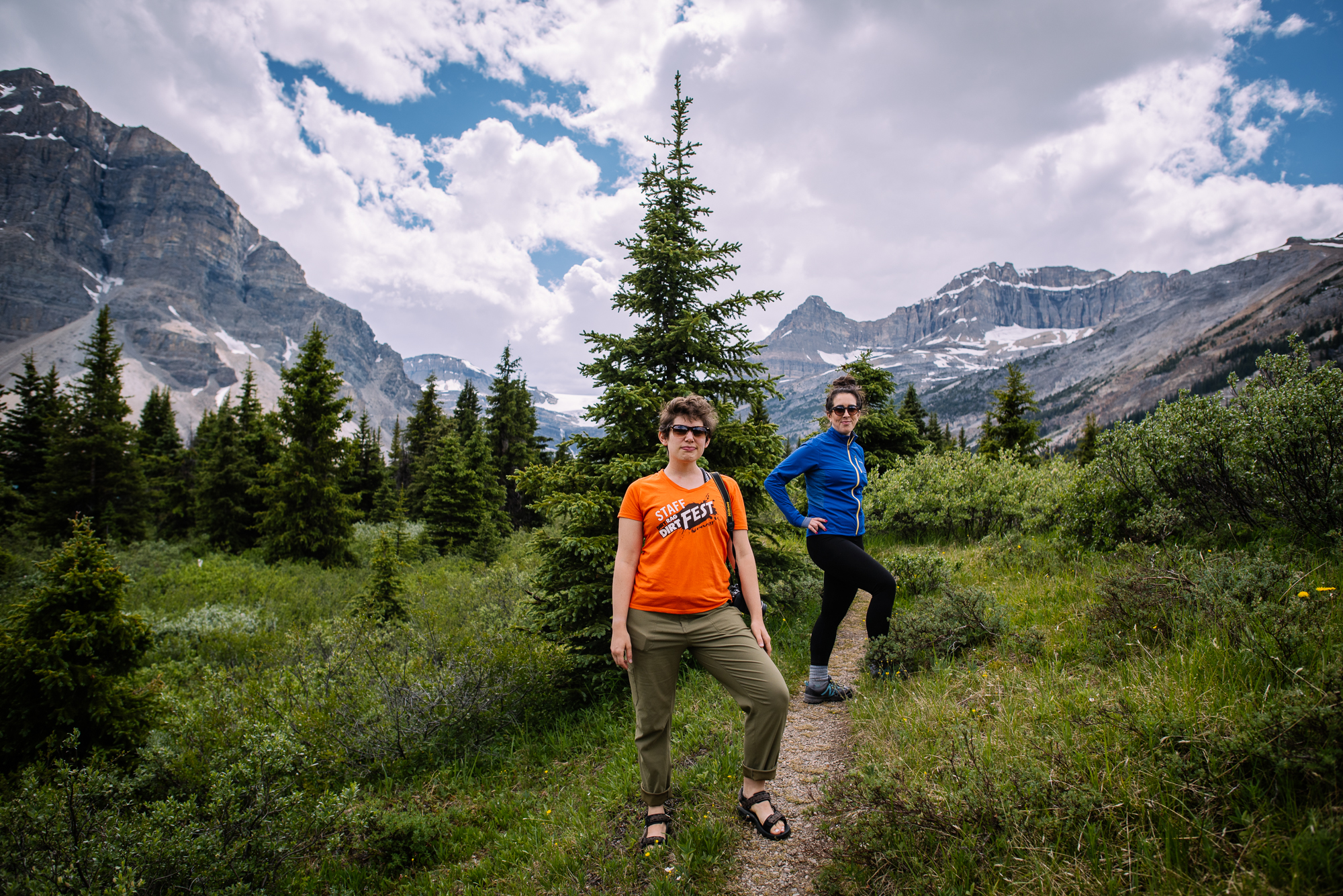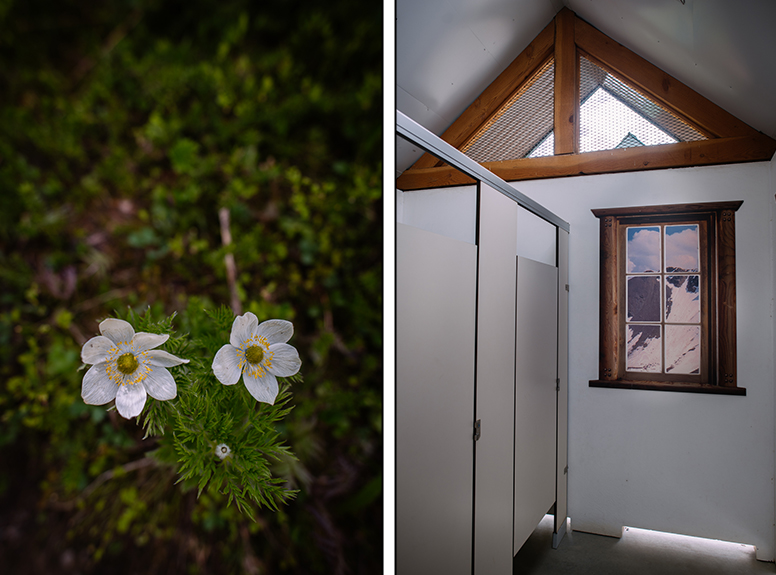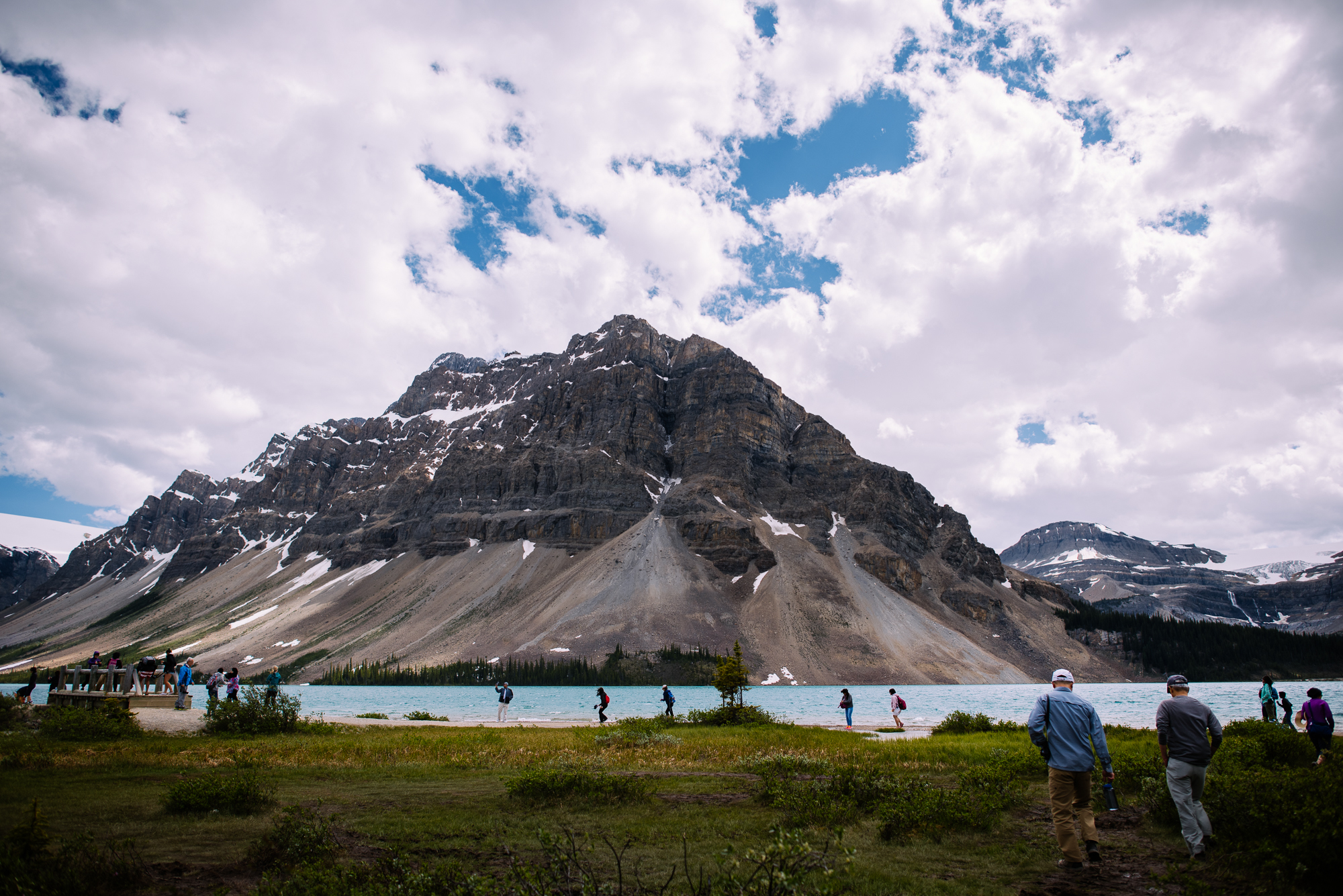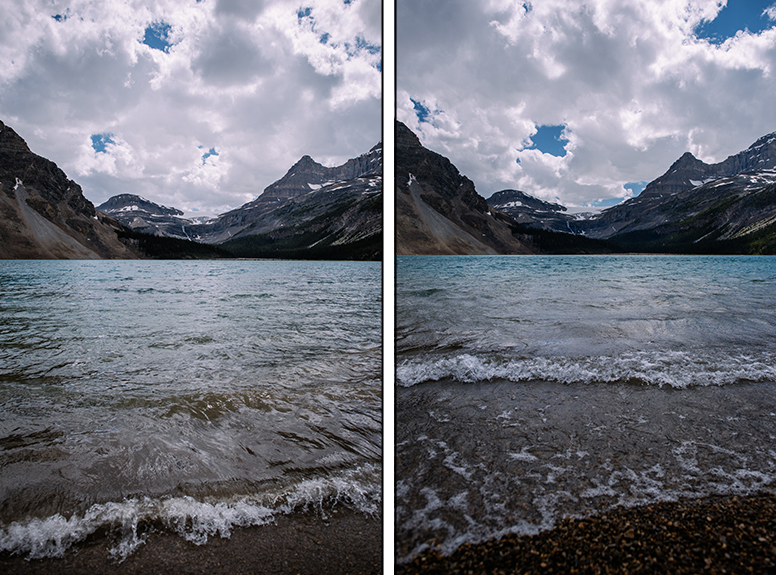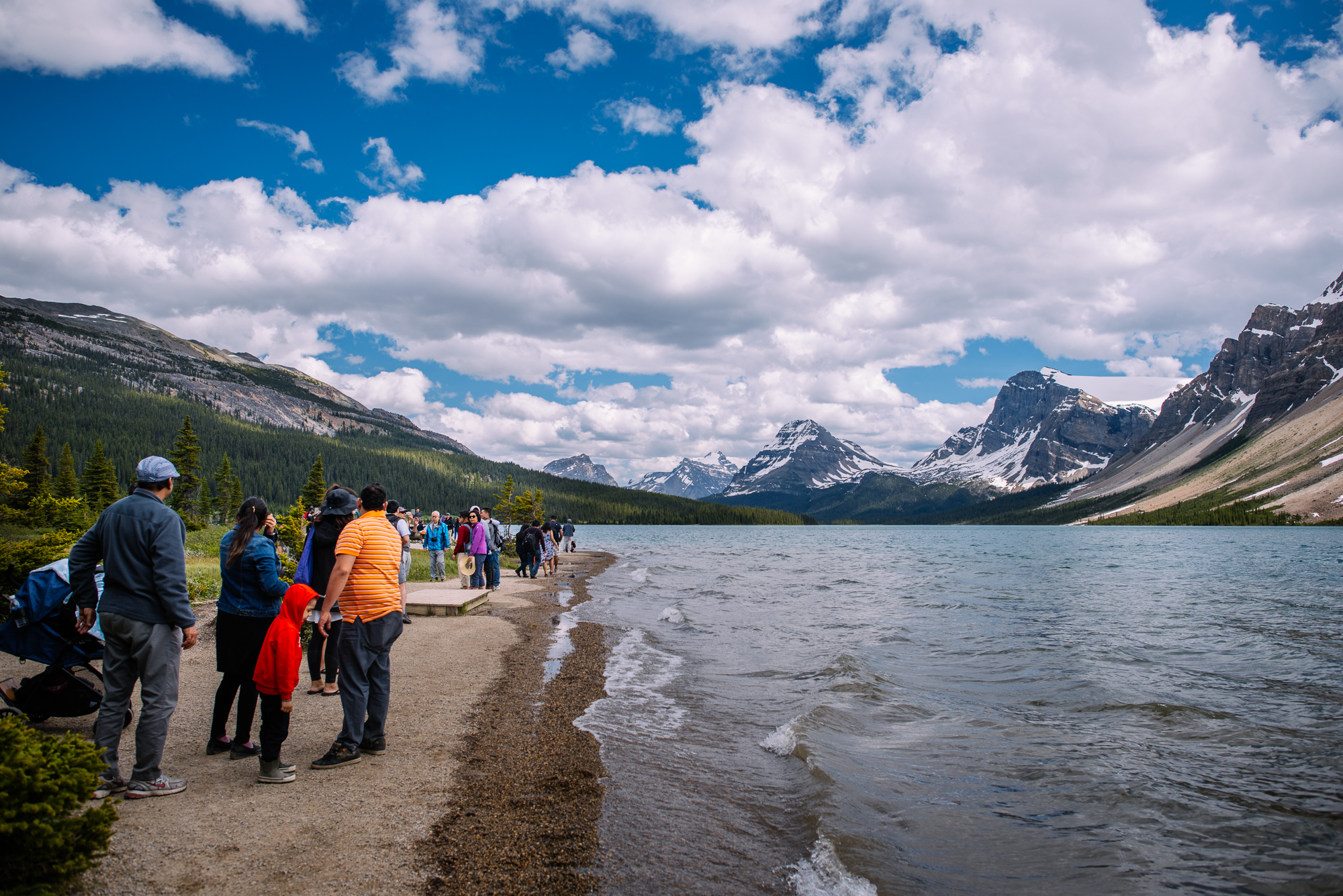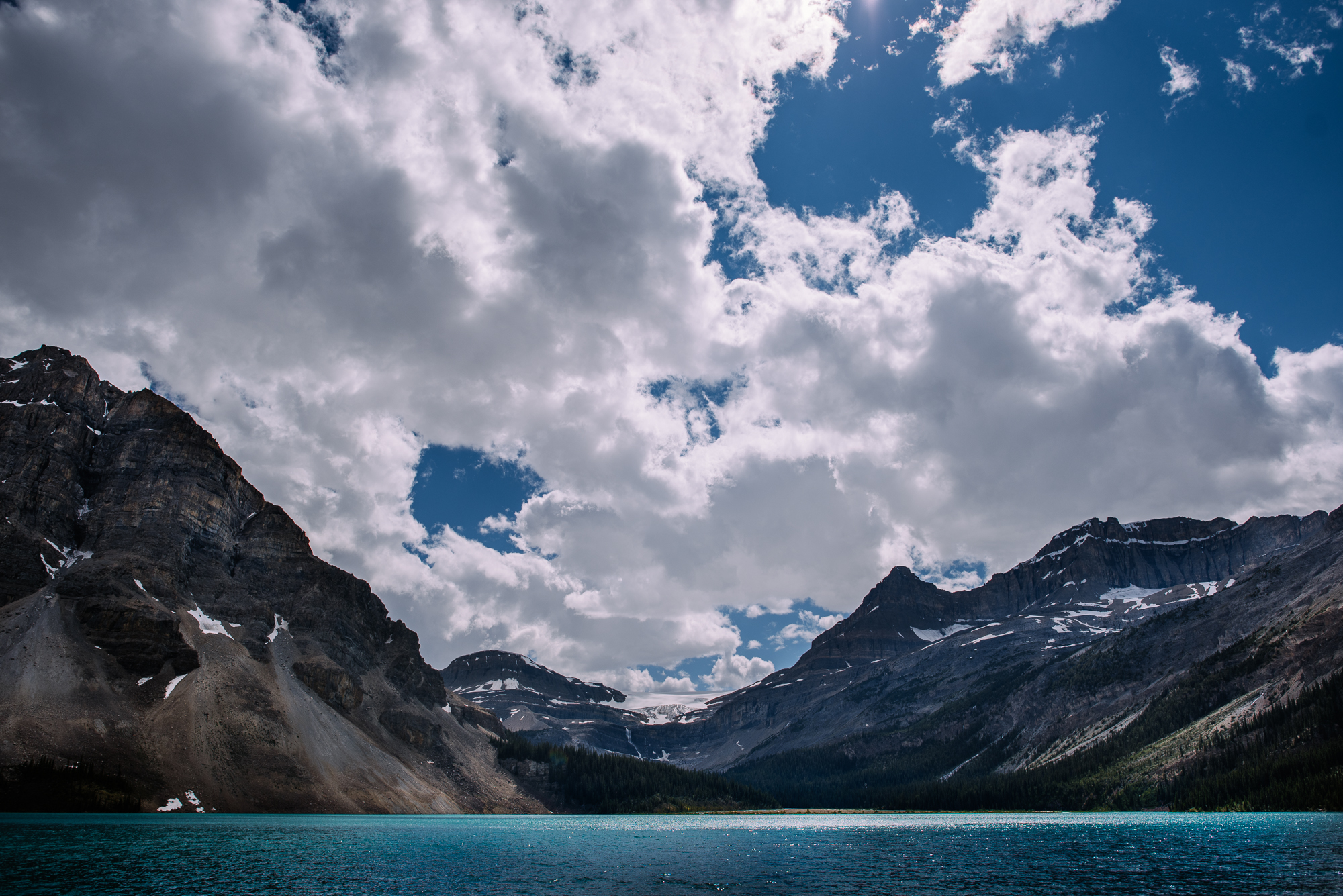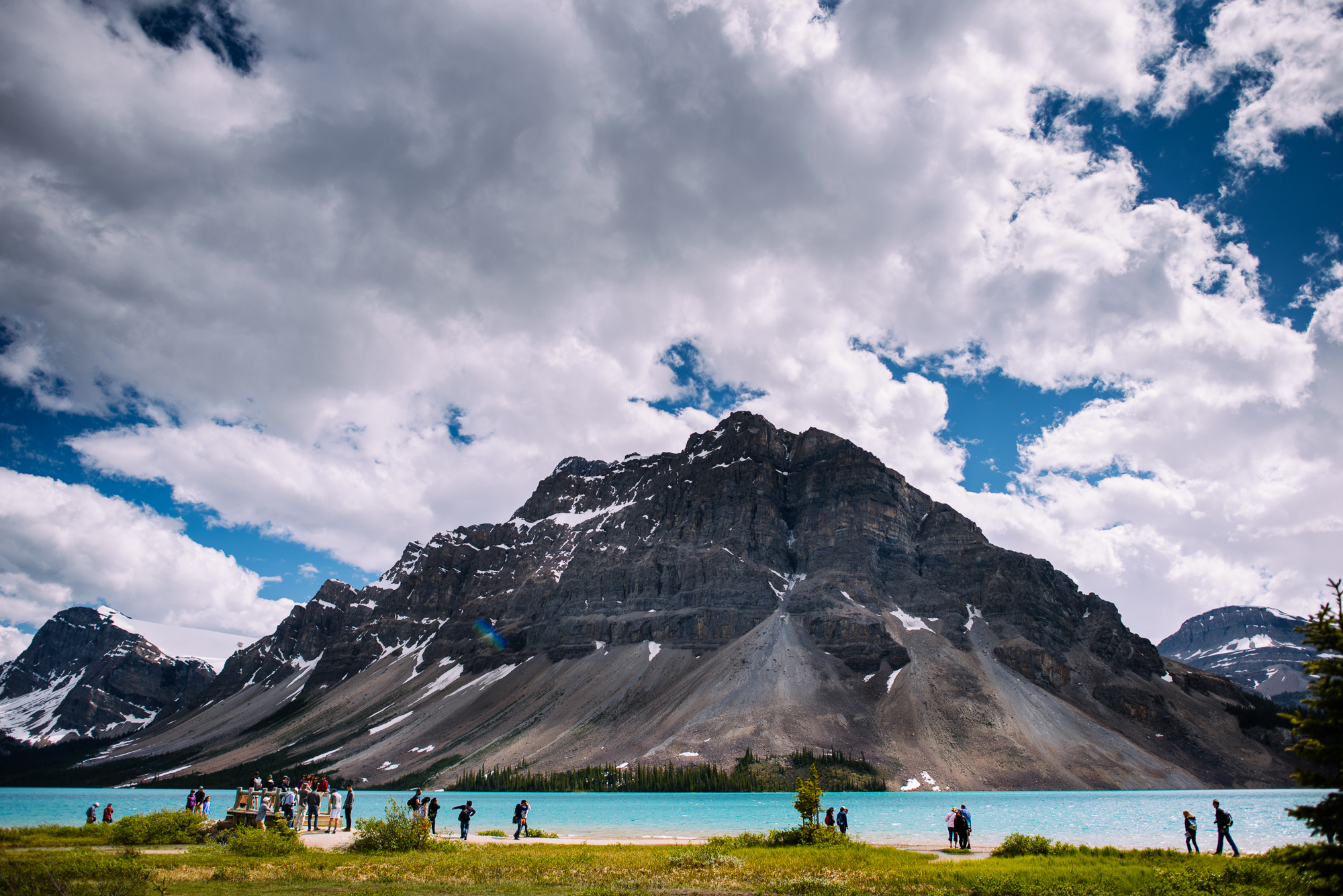 – – – – – – – – – – – – – – – – – – – – – – – – – – – – – – – – – – – – – – – – – – – – – – – – – – – – – – – – – – – – – – – – – – – – – – – – –
Part 2 soon. But first, another weekend of six hundred miles and work work work.
Be well , my loves.