We pick up the roses on their way to America, Montana, and Glacier National Park.
If you're bored of wildflowers – WHATEVER, sorry/not sorry – you try not to photograph them when their faces are as lovely, varied, and knowable as people.
– – – – – – – – – – – – – – – – – – – – – – – – – – – – – – – – – – – – – – – – – – – – – – – – – – – – – – – – – – – – – – – – – – – – – – – – –
(7/4/17)
Outskirts of Calgary, heading to Montana – This morning, I awoke just before 10a after a horrendously emotional night-coaster of revisiting the airport, finally (and accidentally) being reunited with our bags, and eating Denny's in an overwhelmed stupor at midnight in our hotel beds. But when I awoke, gravelly and exhausted, but smiling, I had "Vacation – all I ever wanted" in my head. It finally feels like a trip! We are on our way to Glacier National Park, to America! – on July 4th, Insurrection Day. I feel like we've been stuck drowning in some kind of shit vortex, stirred maniacally by American Airlines. Is it even ironic that Canada and West Jet have been our empathetic supporters through this when our own patriotic airline blew raspberries and flipped us off so hard?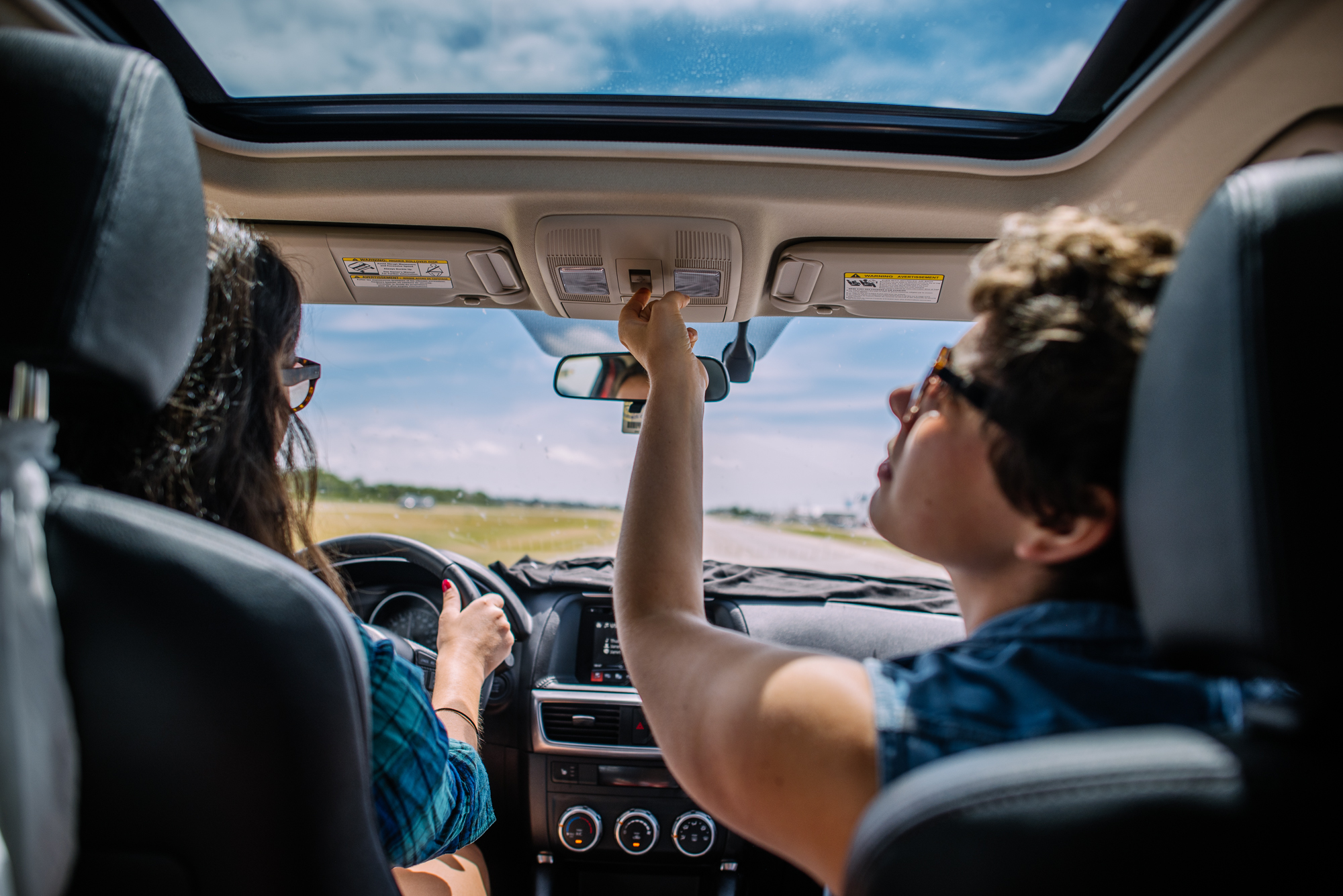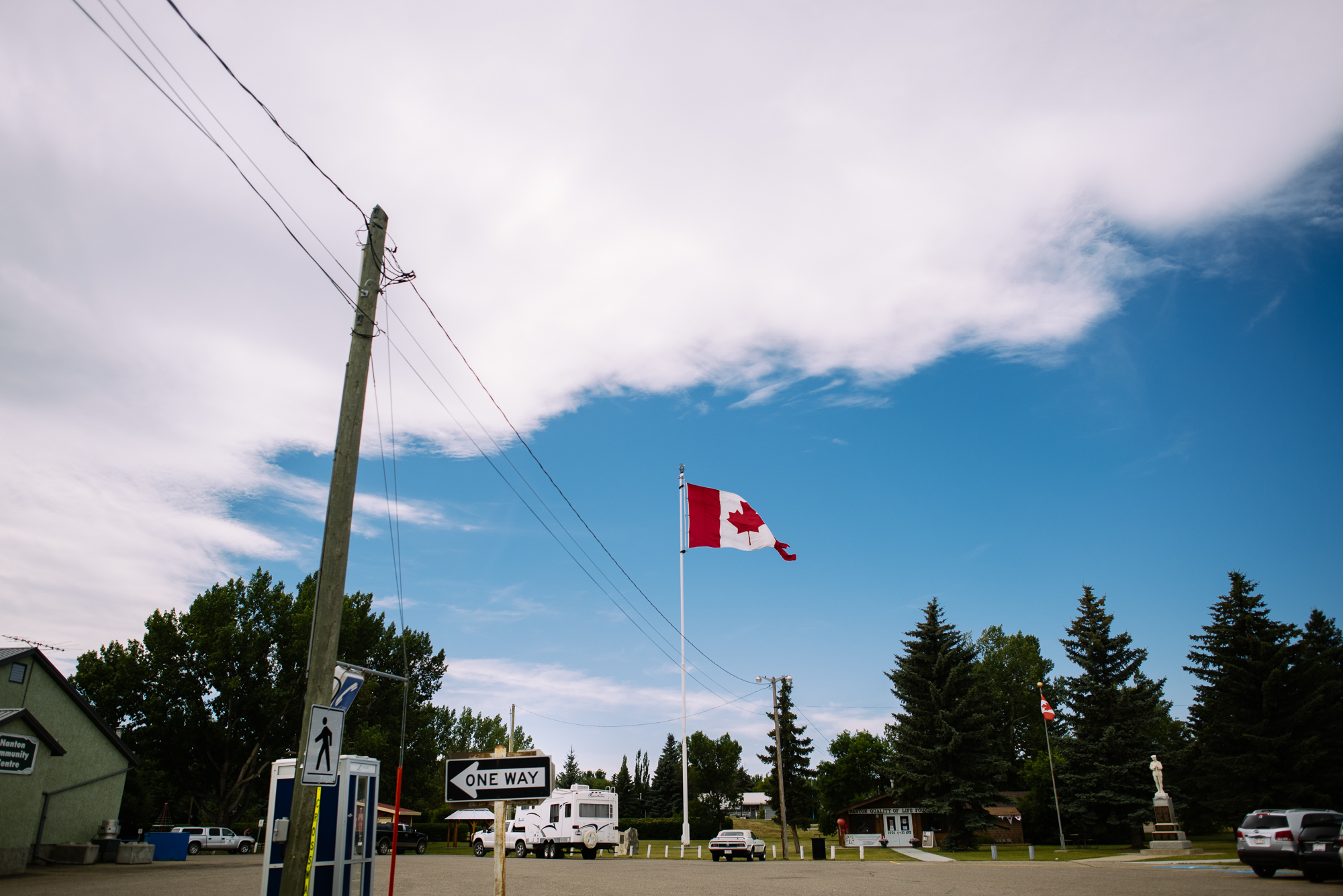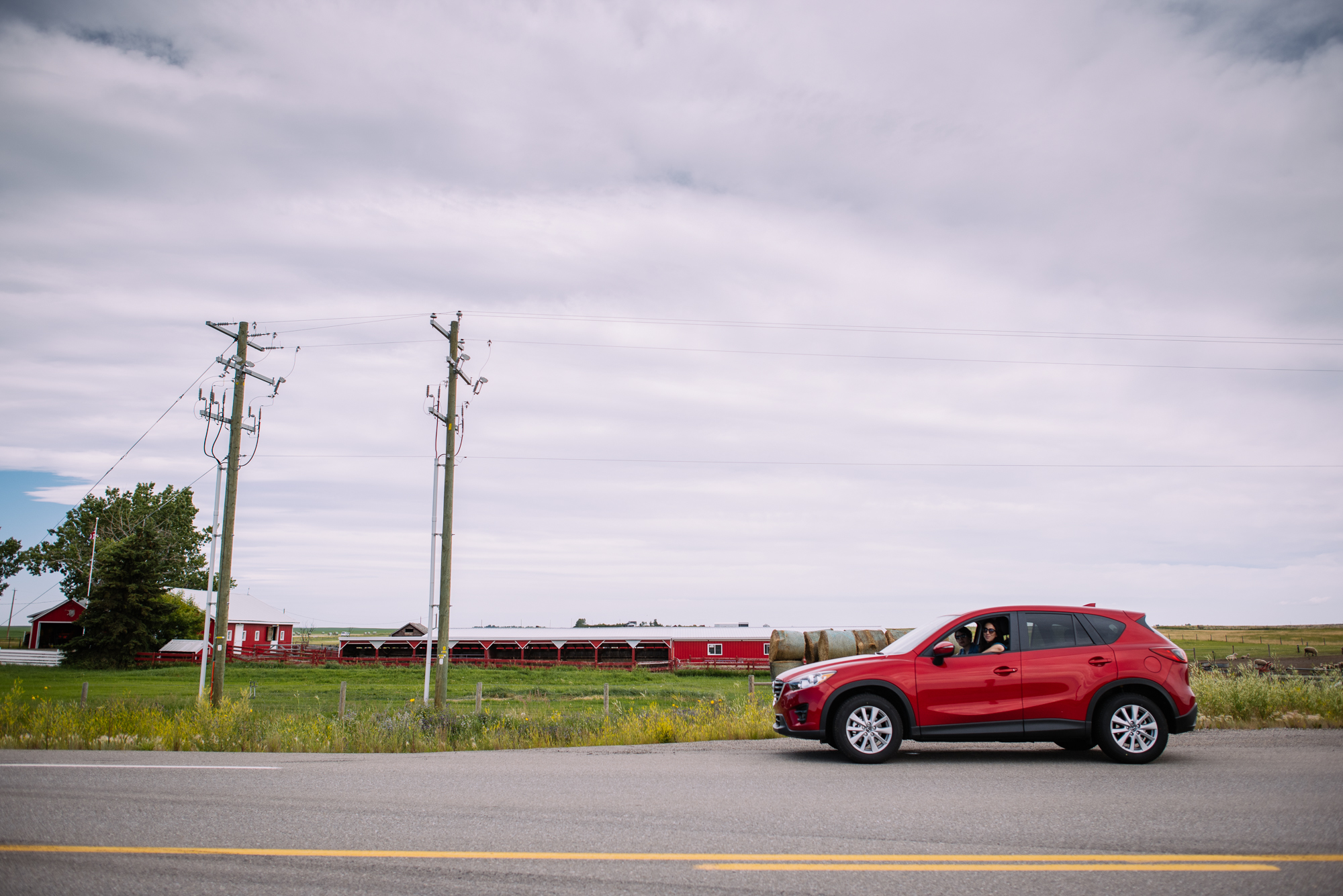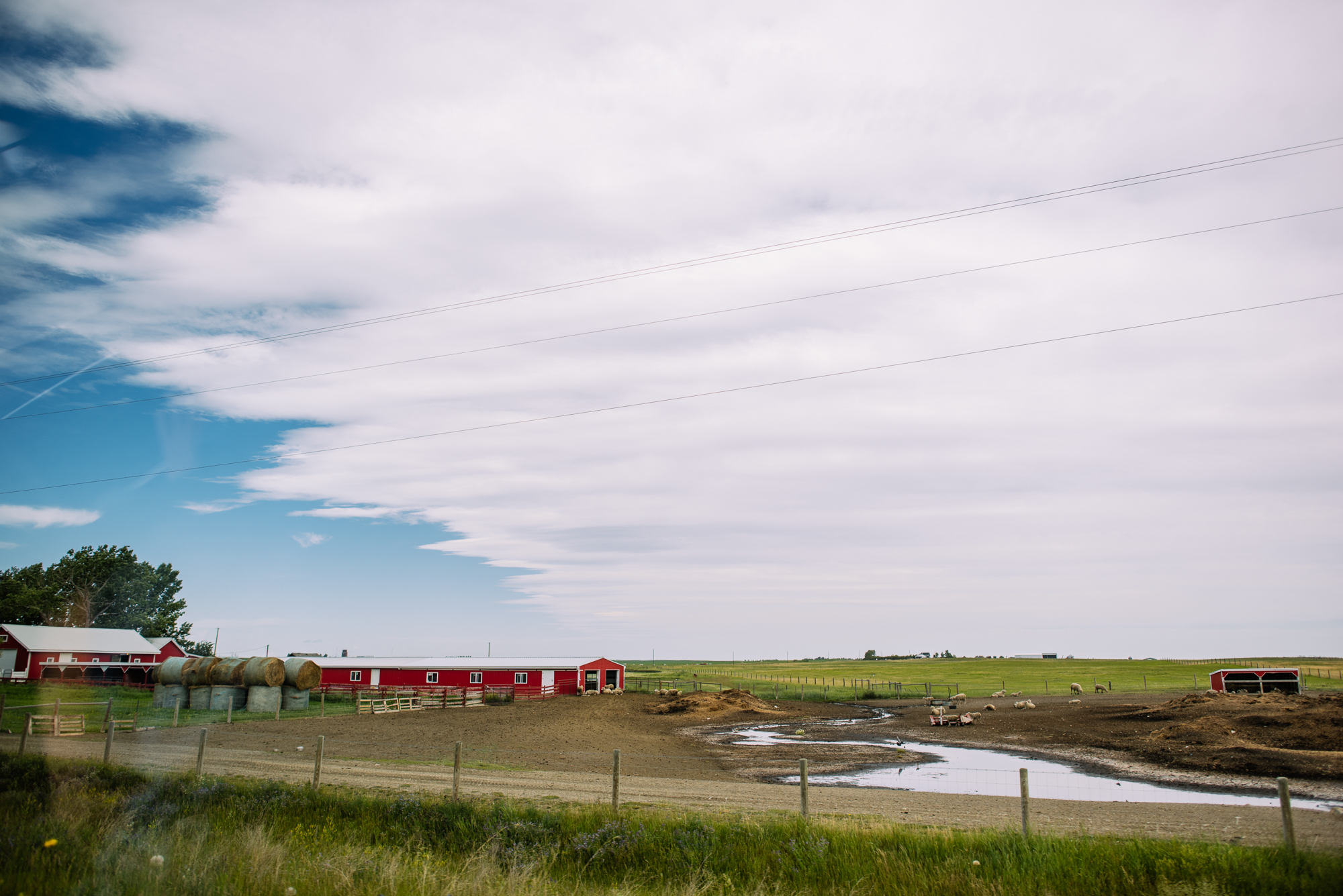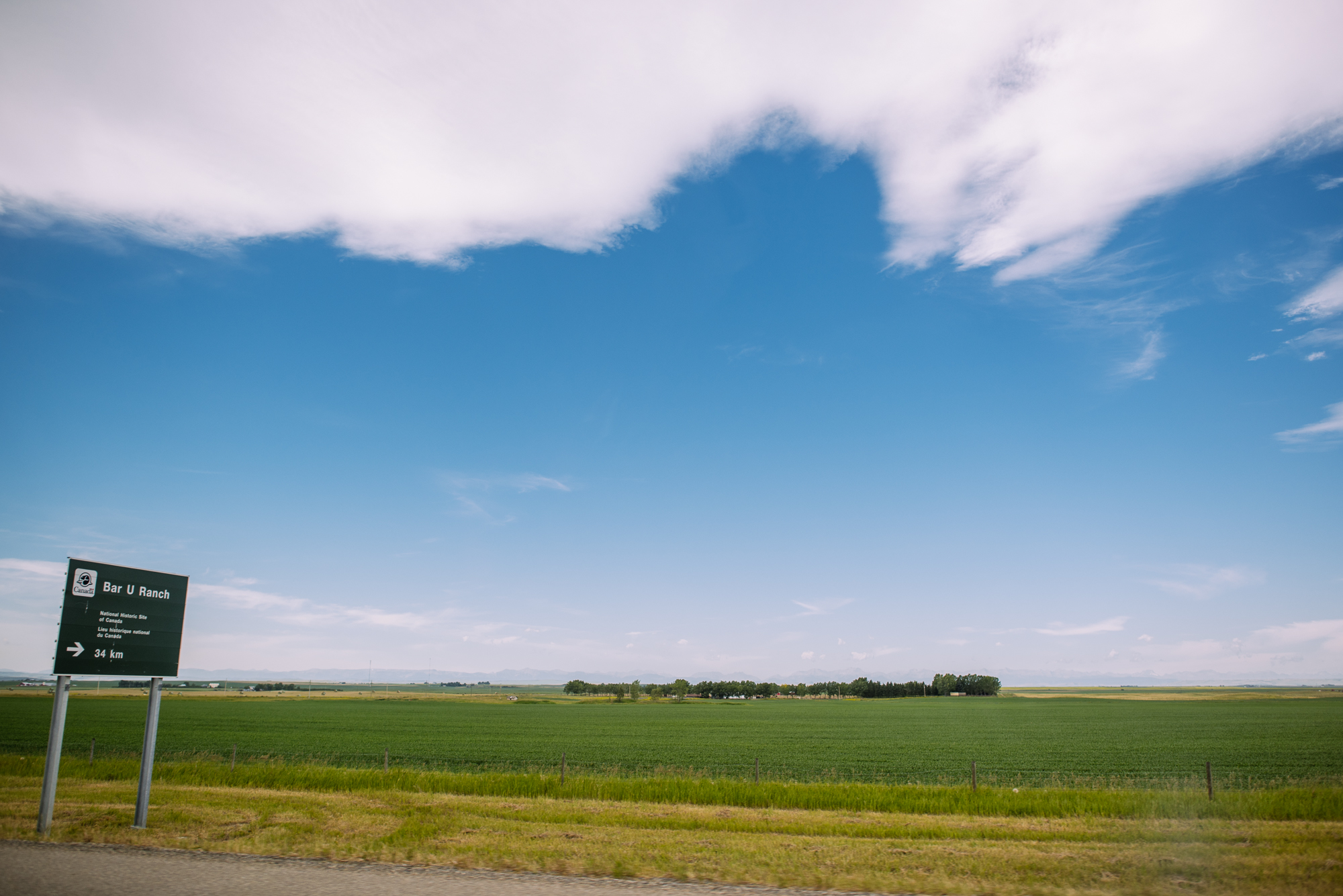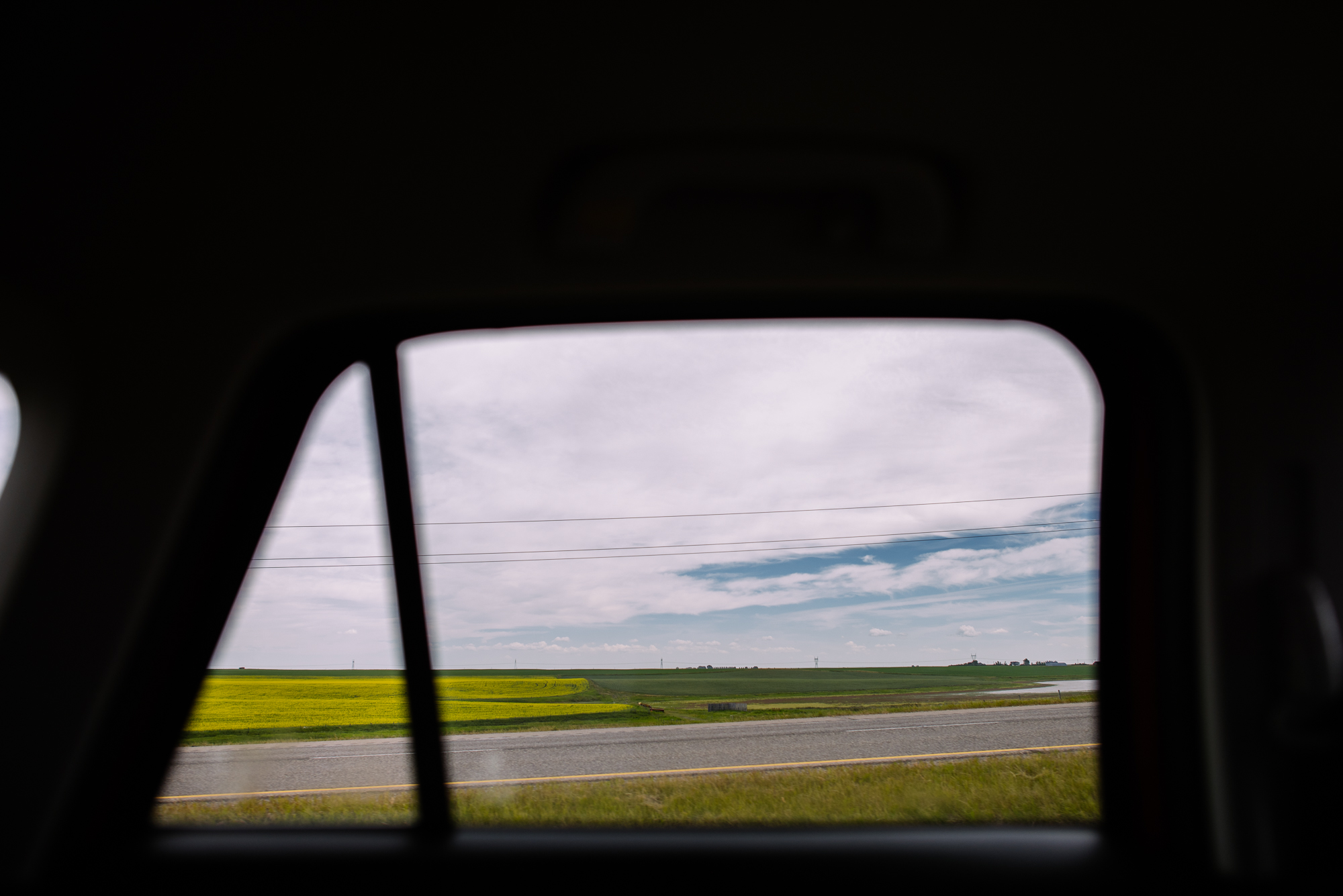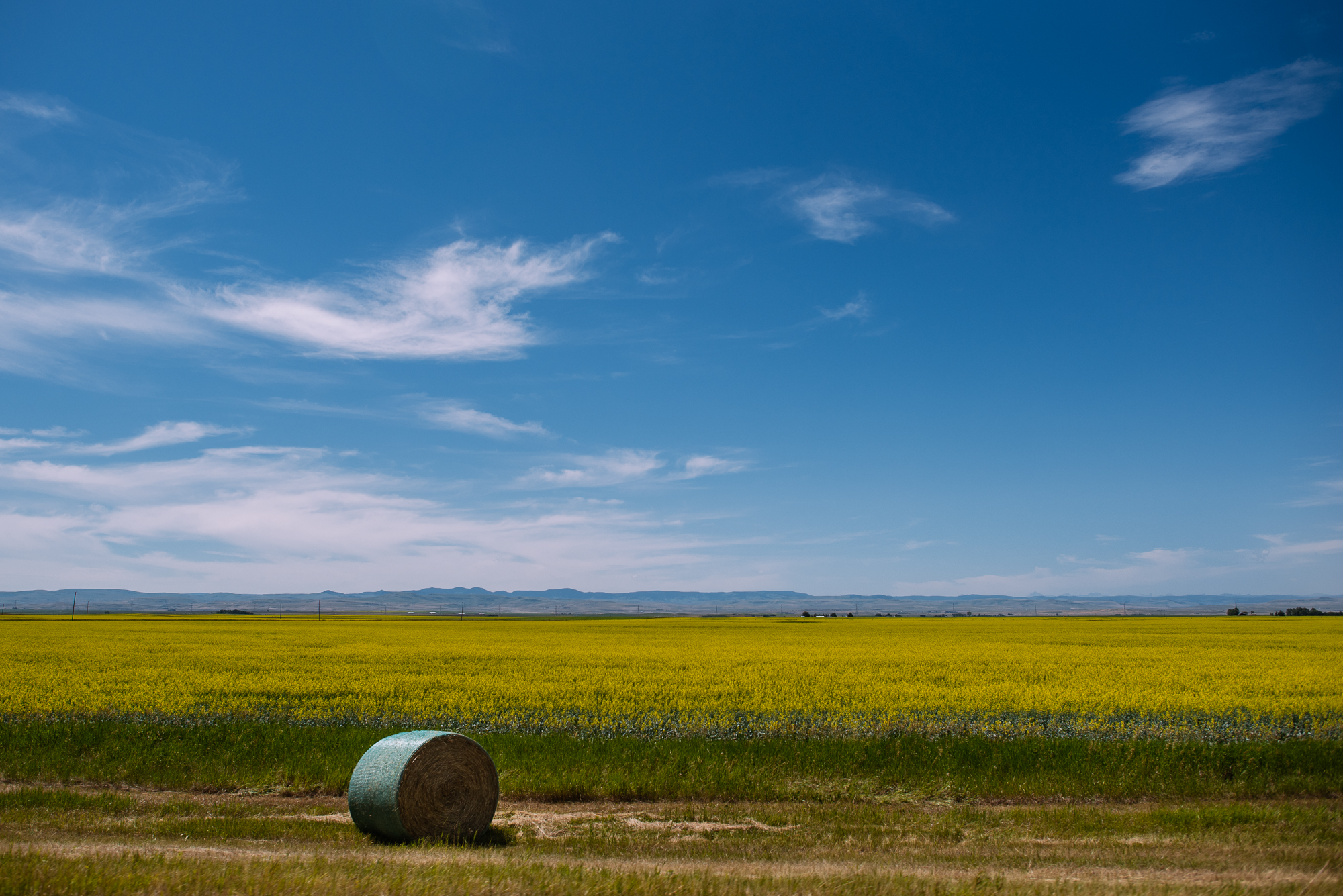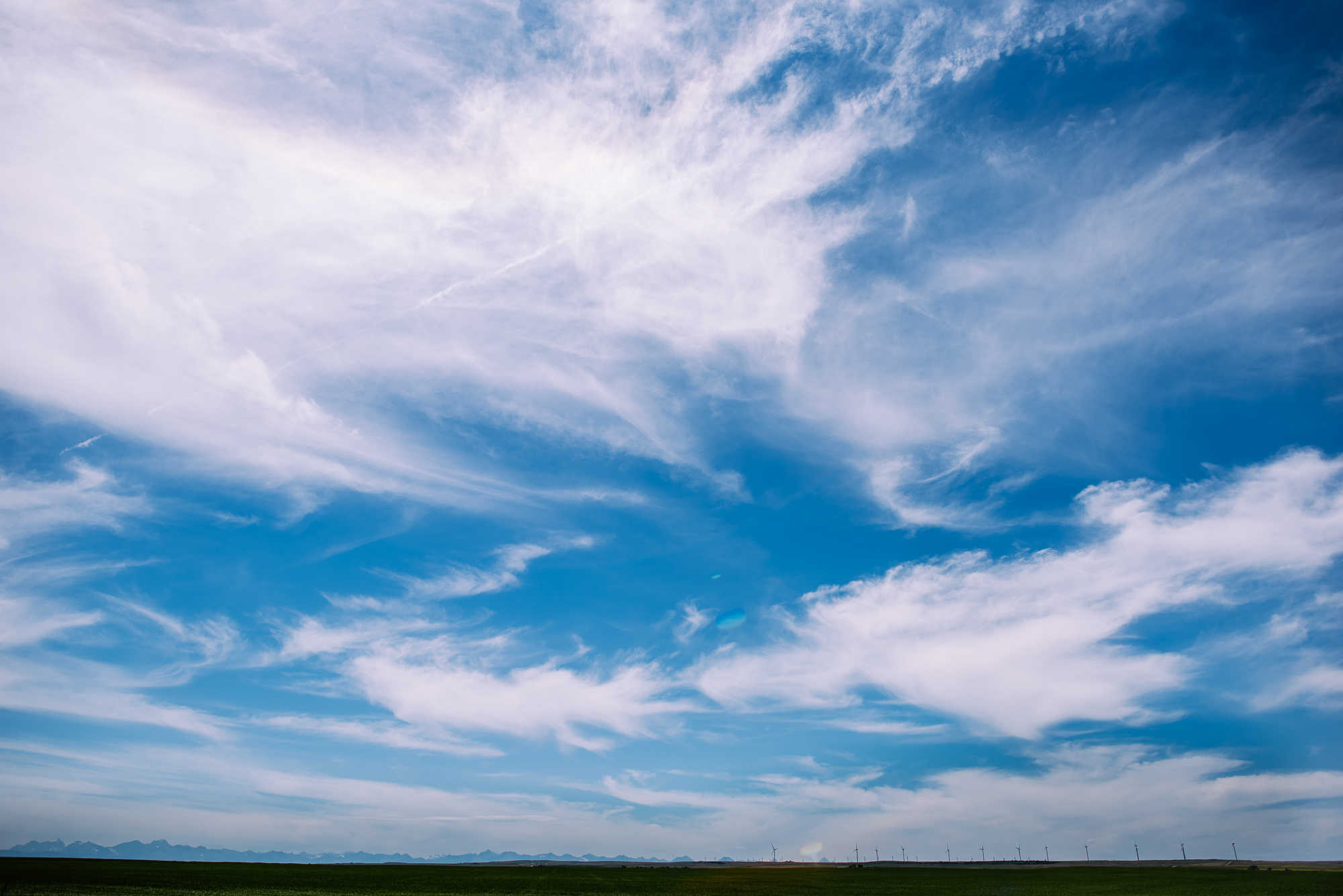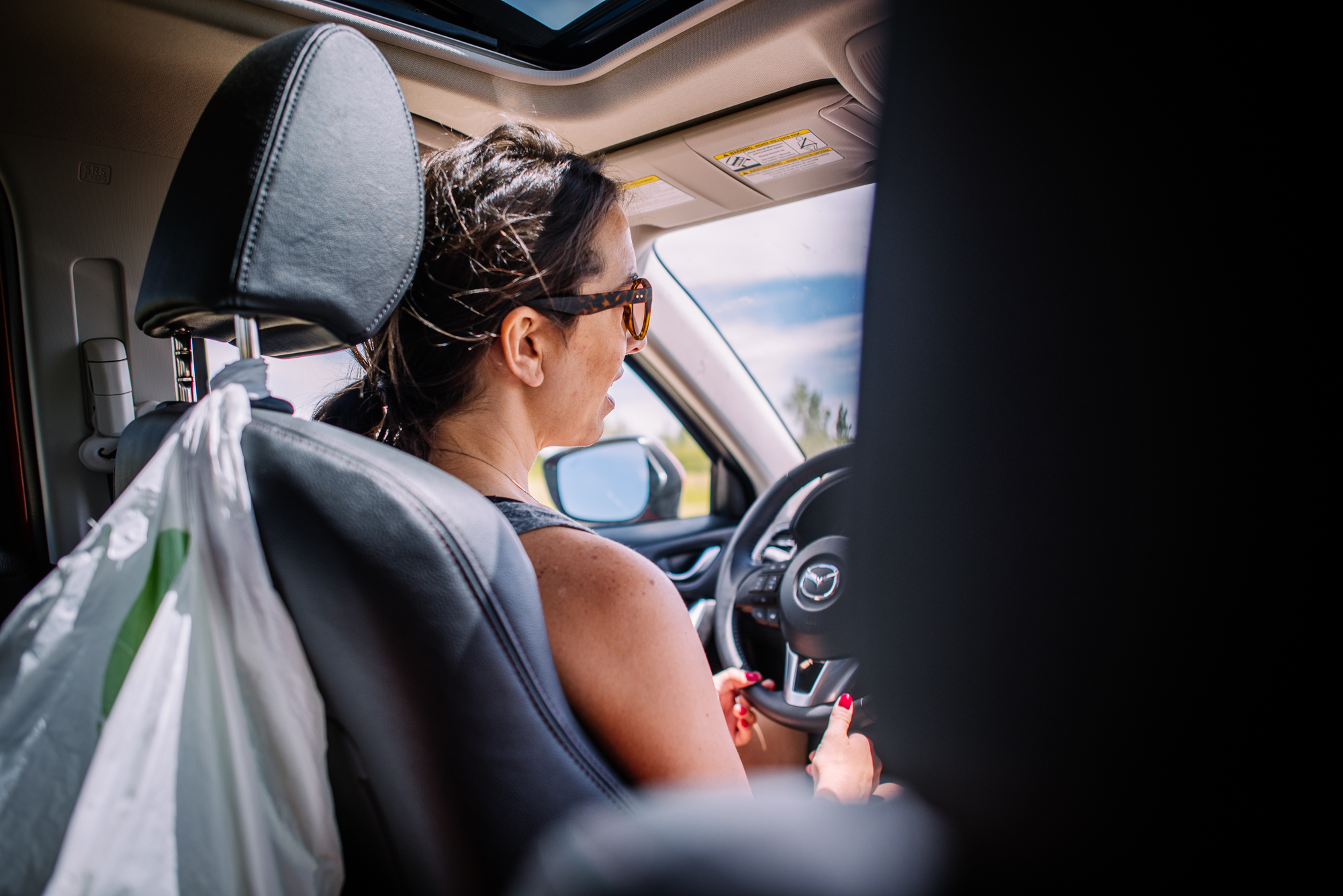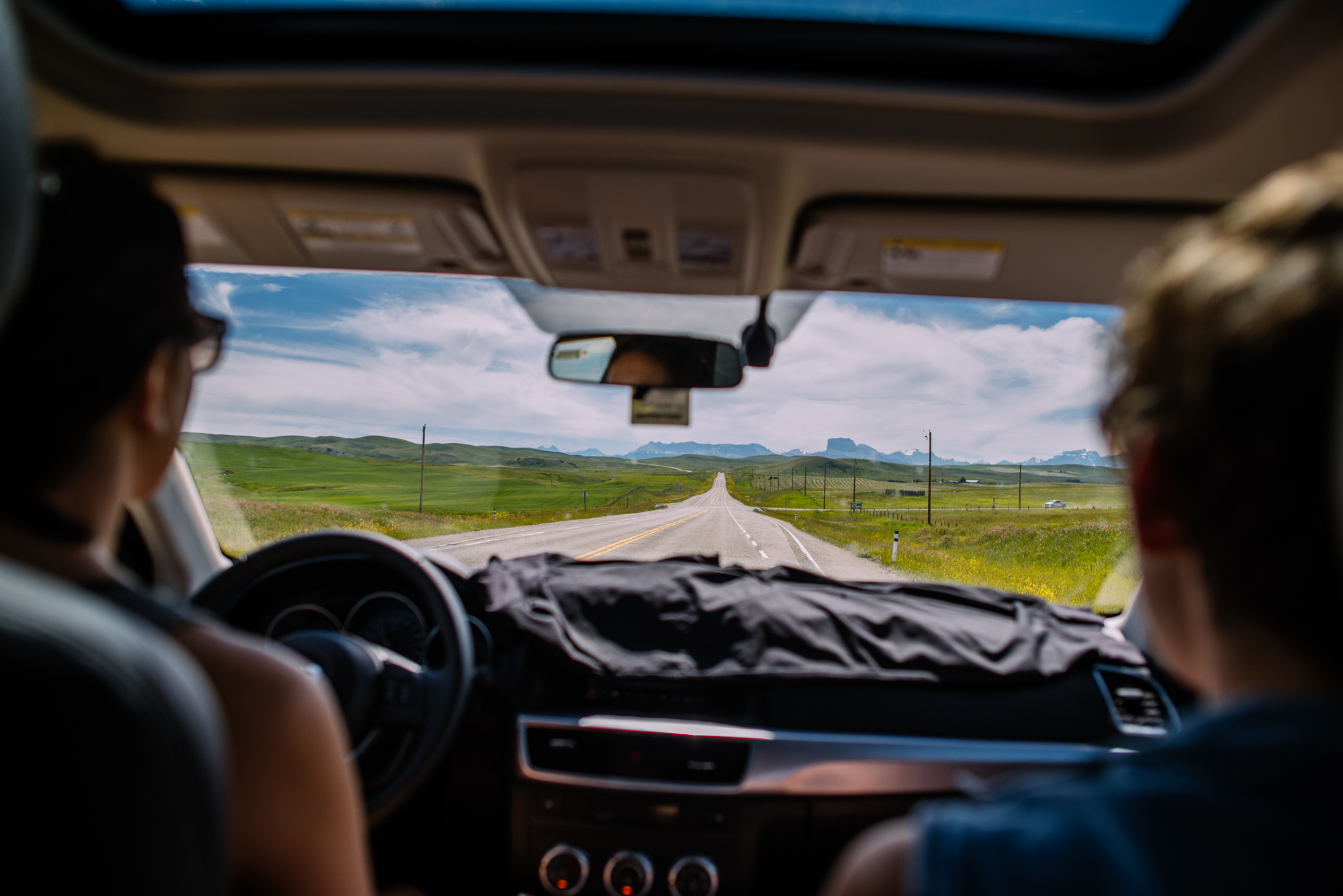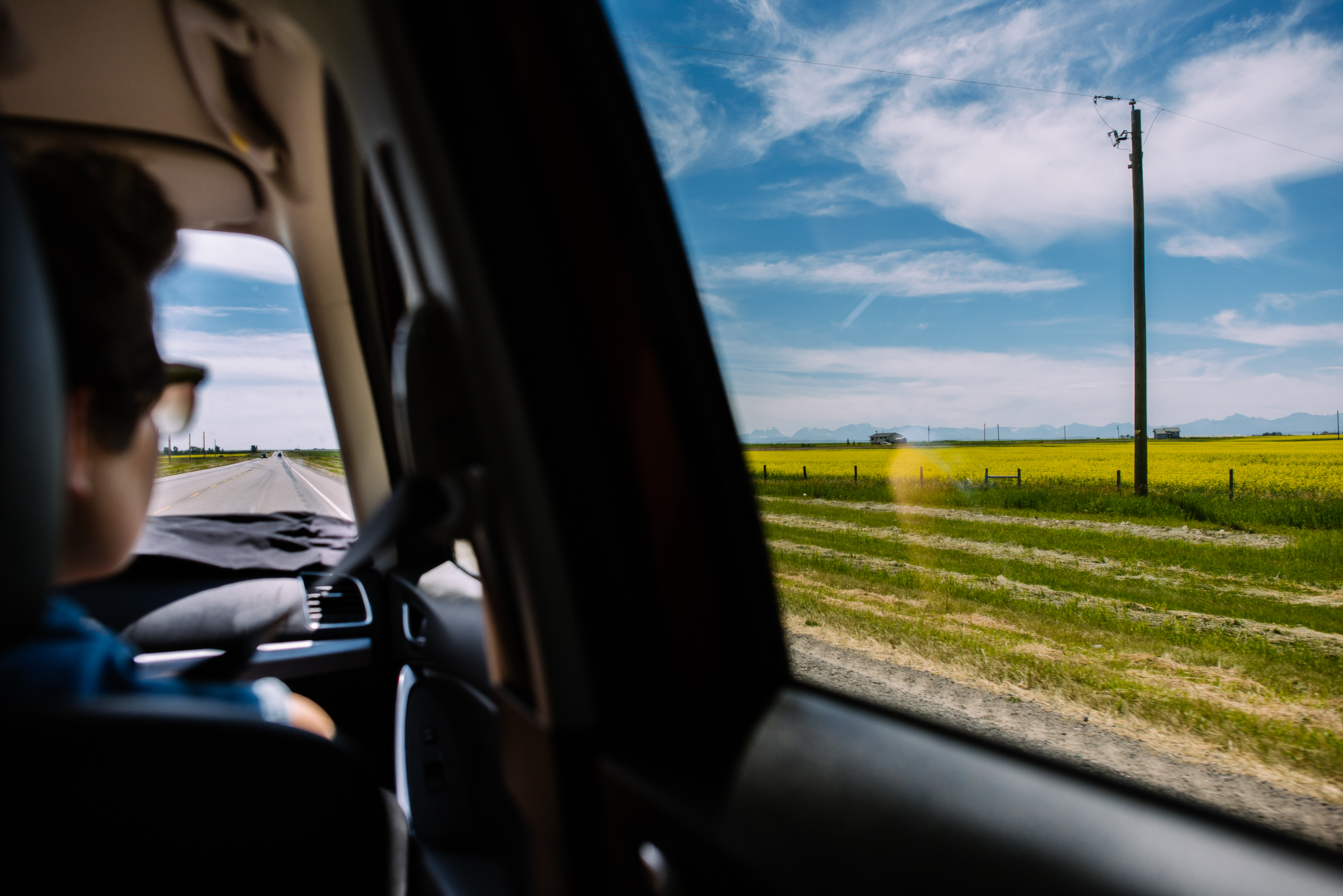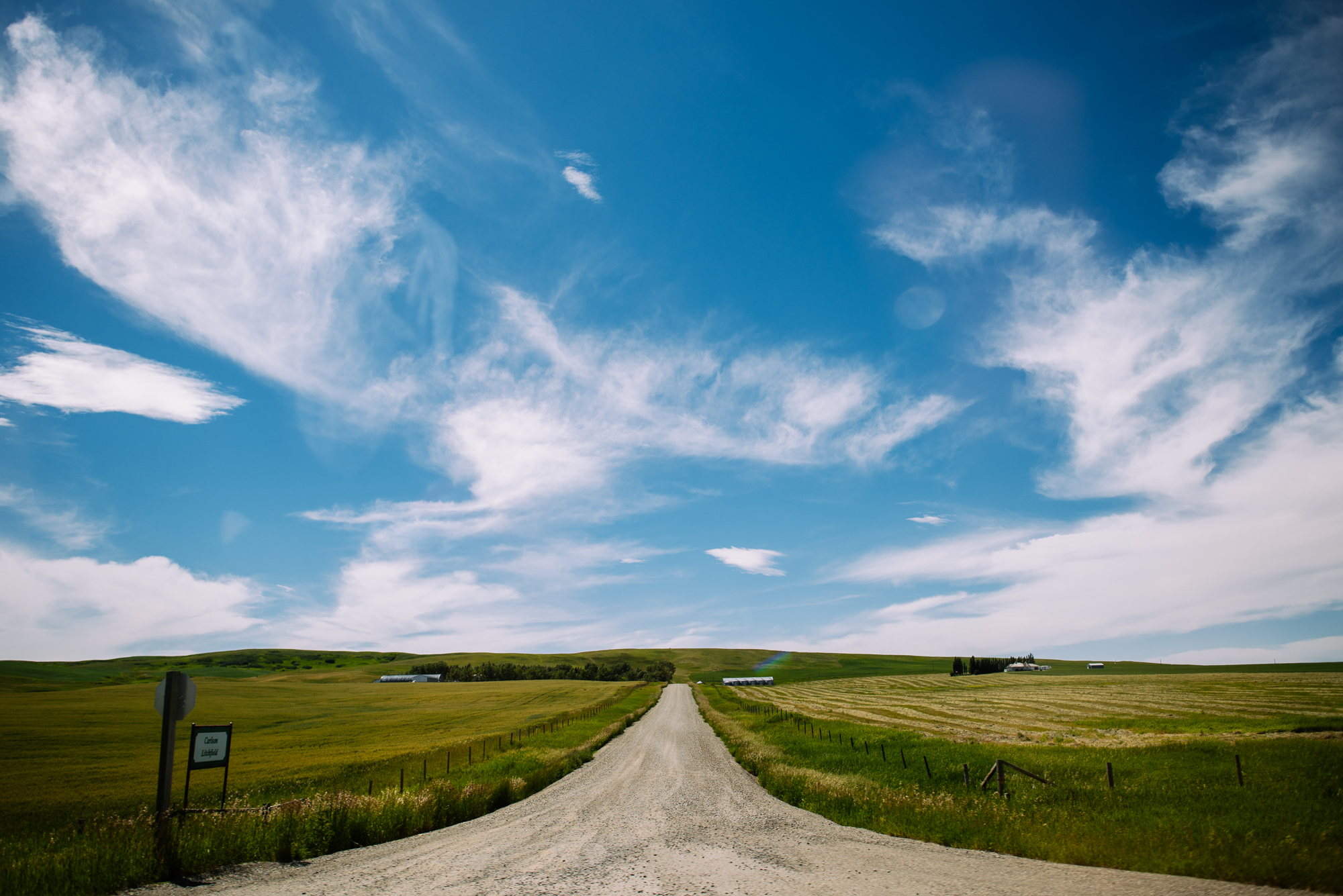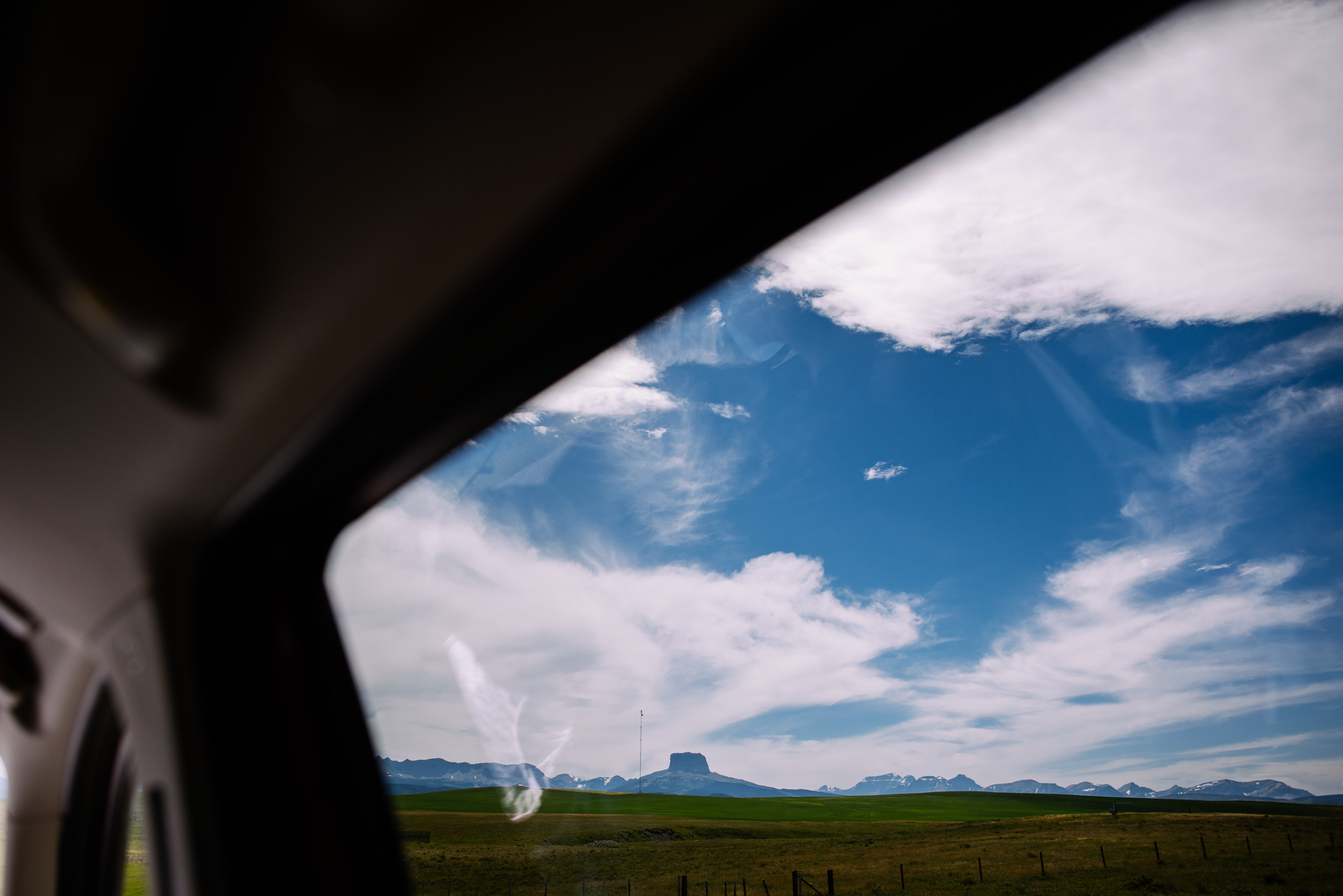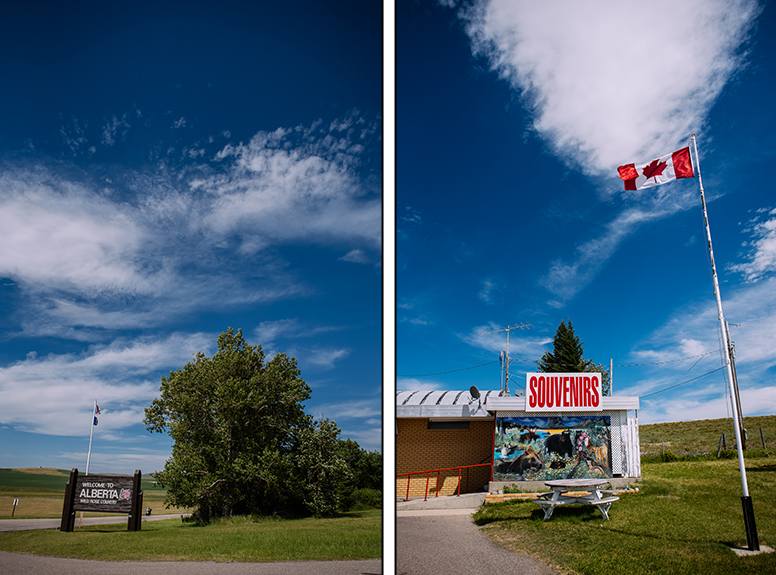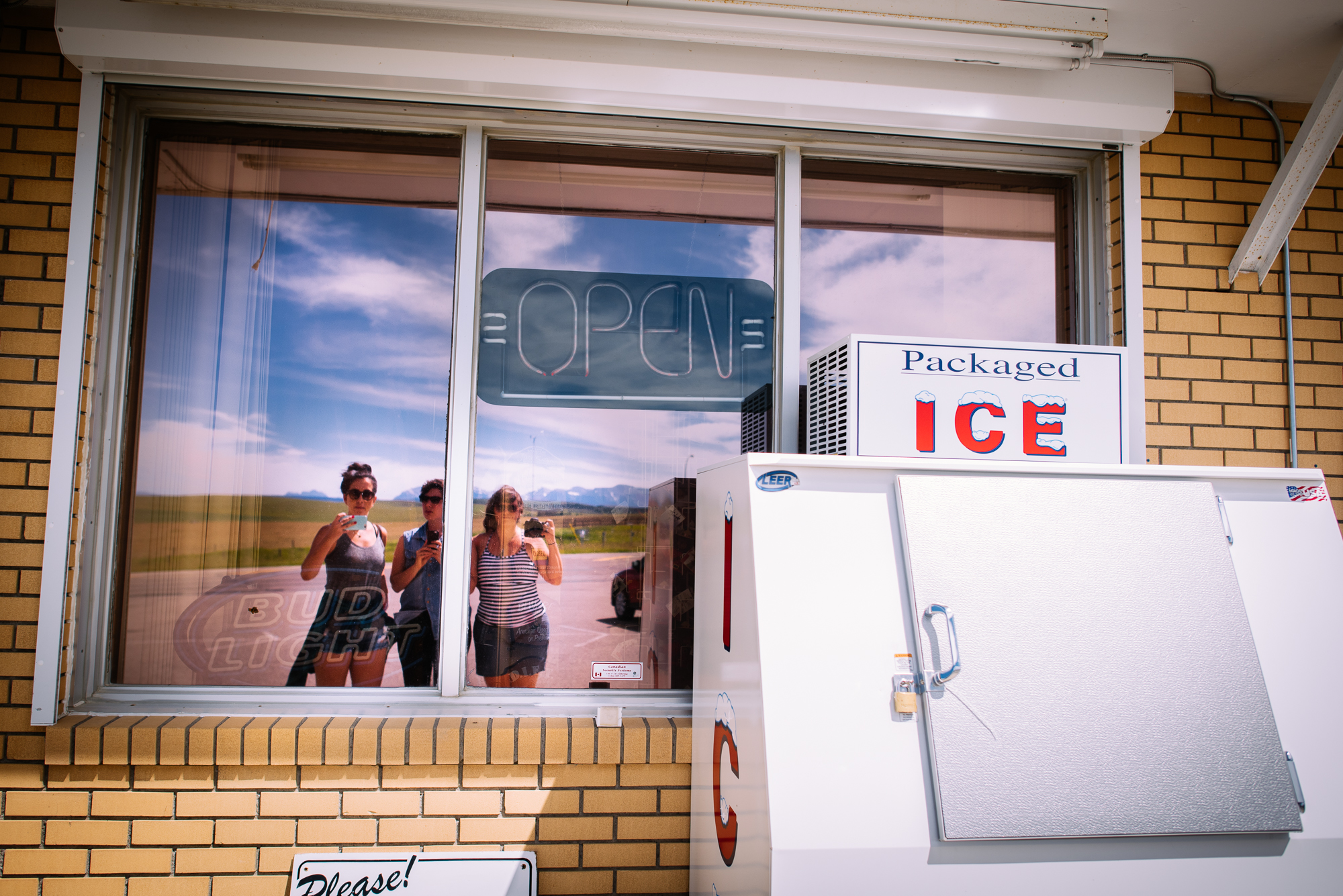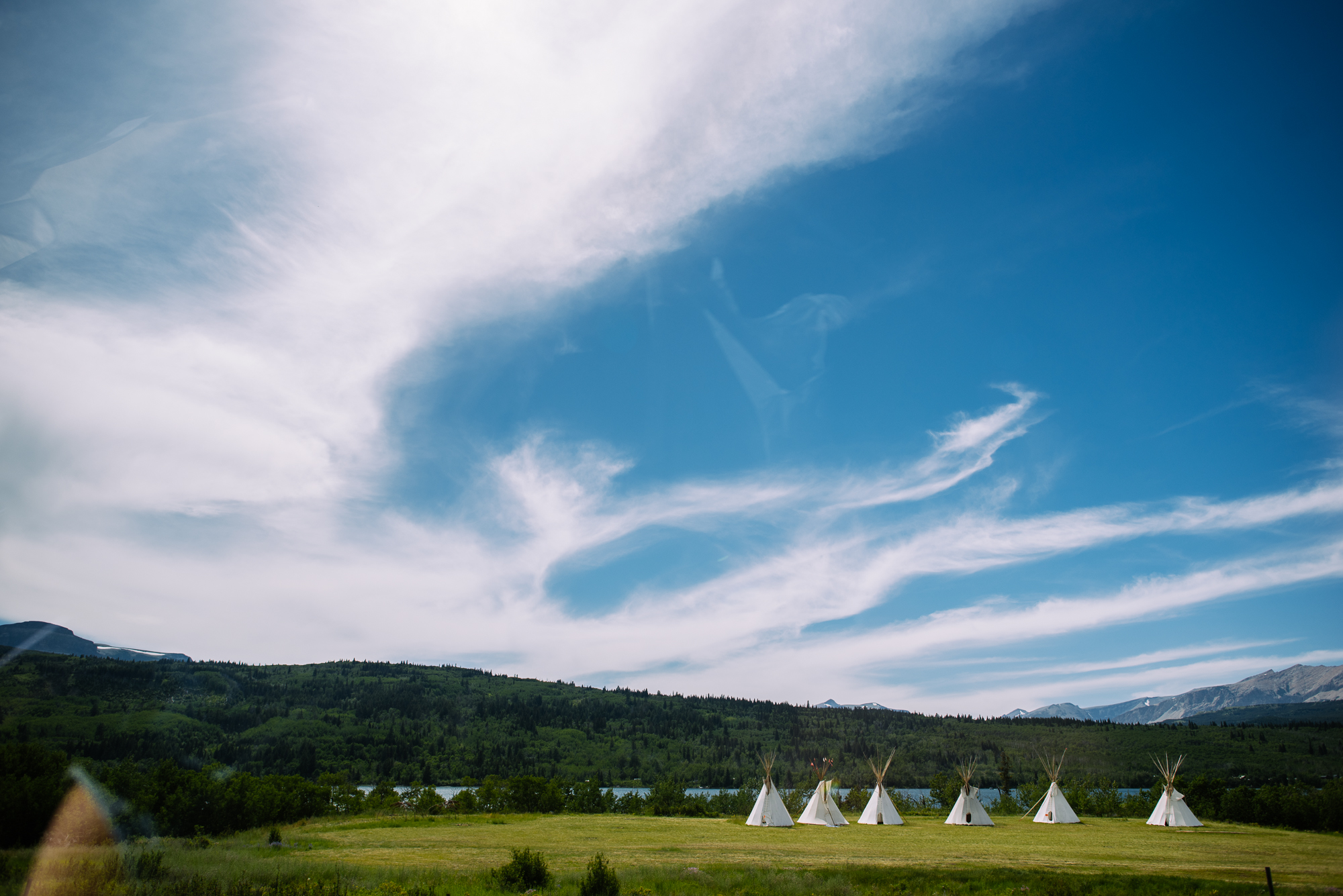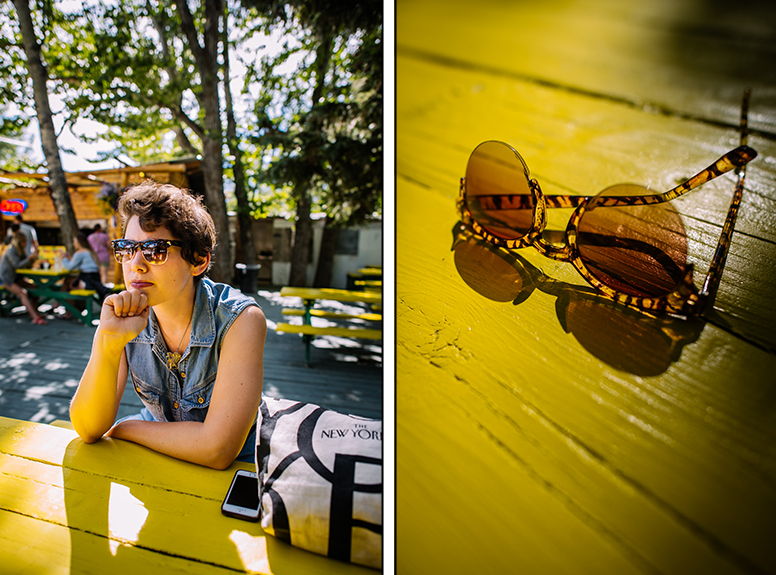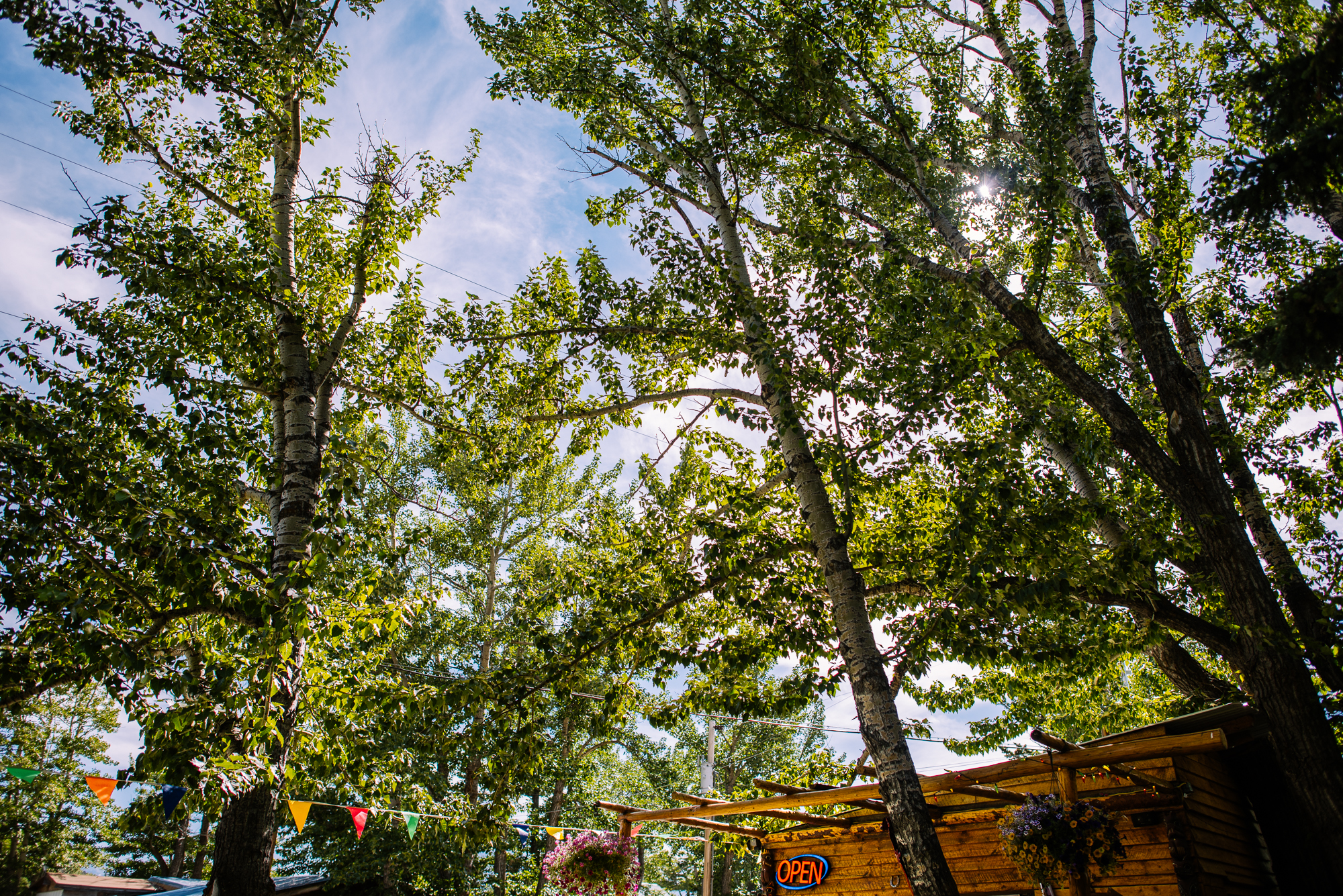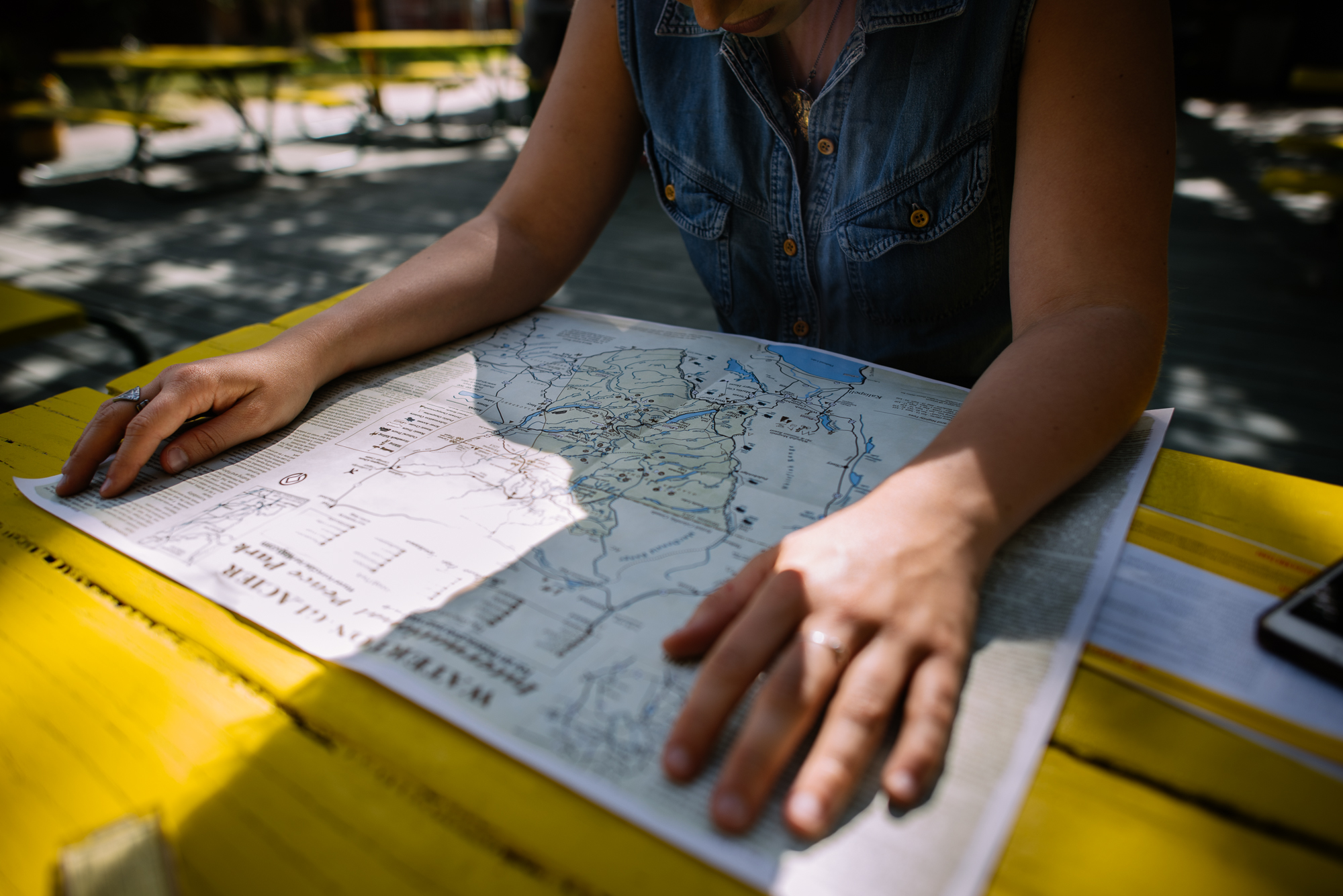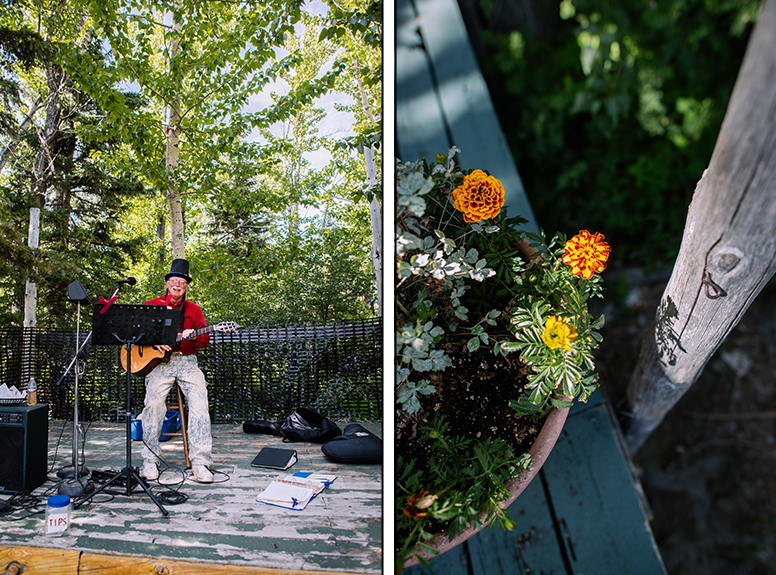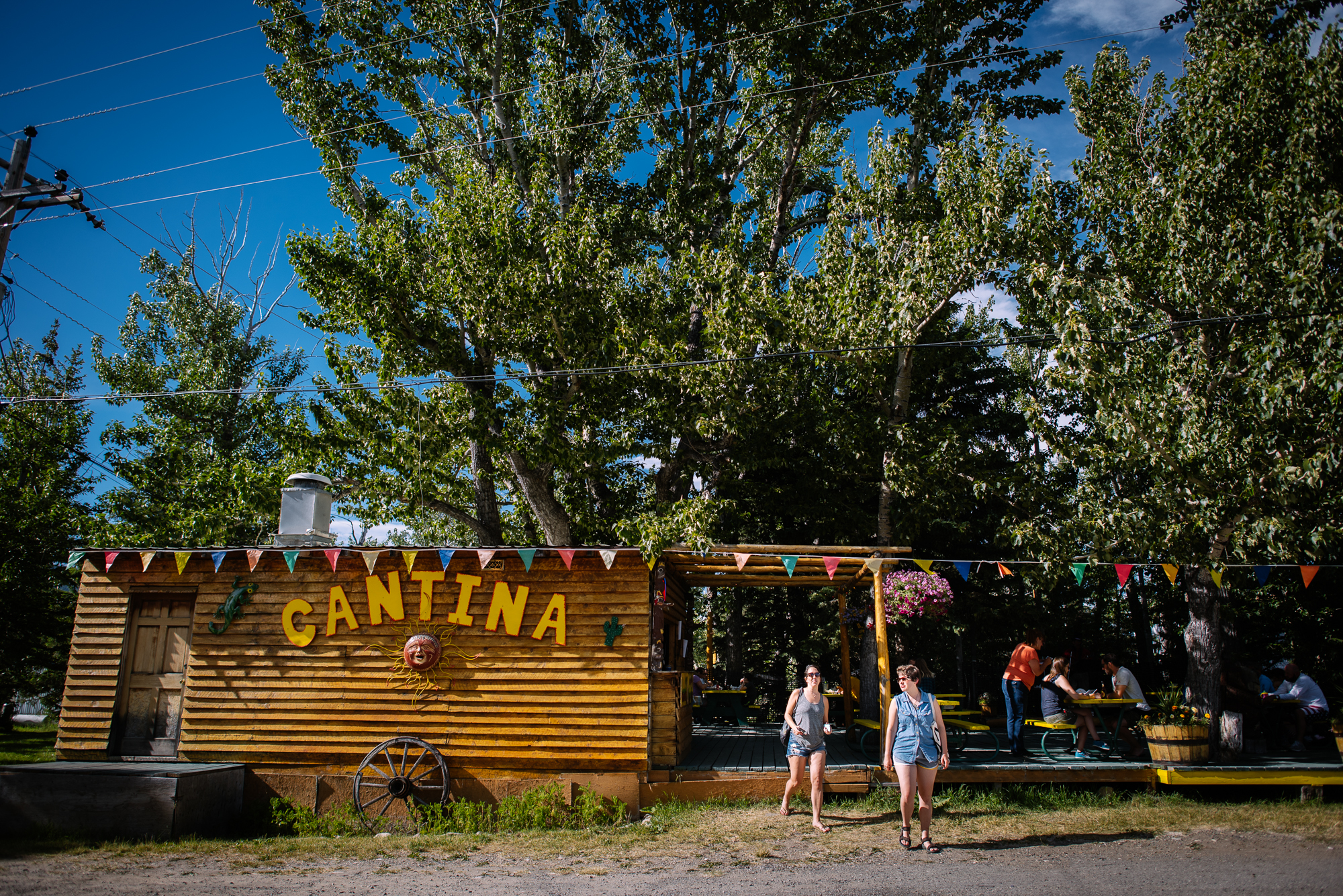 9:07p: Glacier National Park – So far, we have seen mountain goats, a hoary marmot, a baby duck that we saved by chasing it off the road, and a big black bear. 
11:52p: KOA St. Mary's – Today was a good one, strange at parts. The Going-to-the-Sun Road was astoundingly spectacular.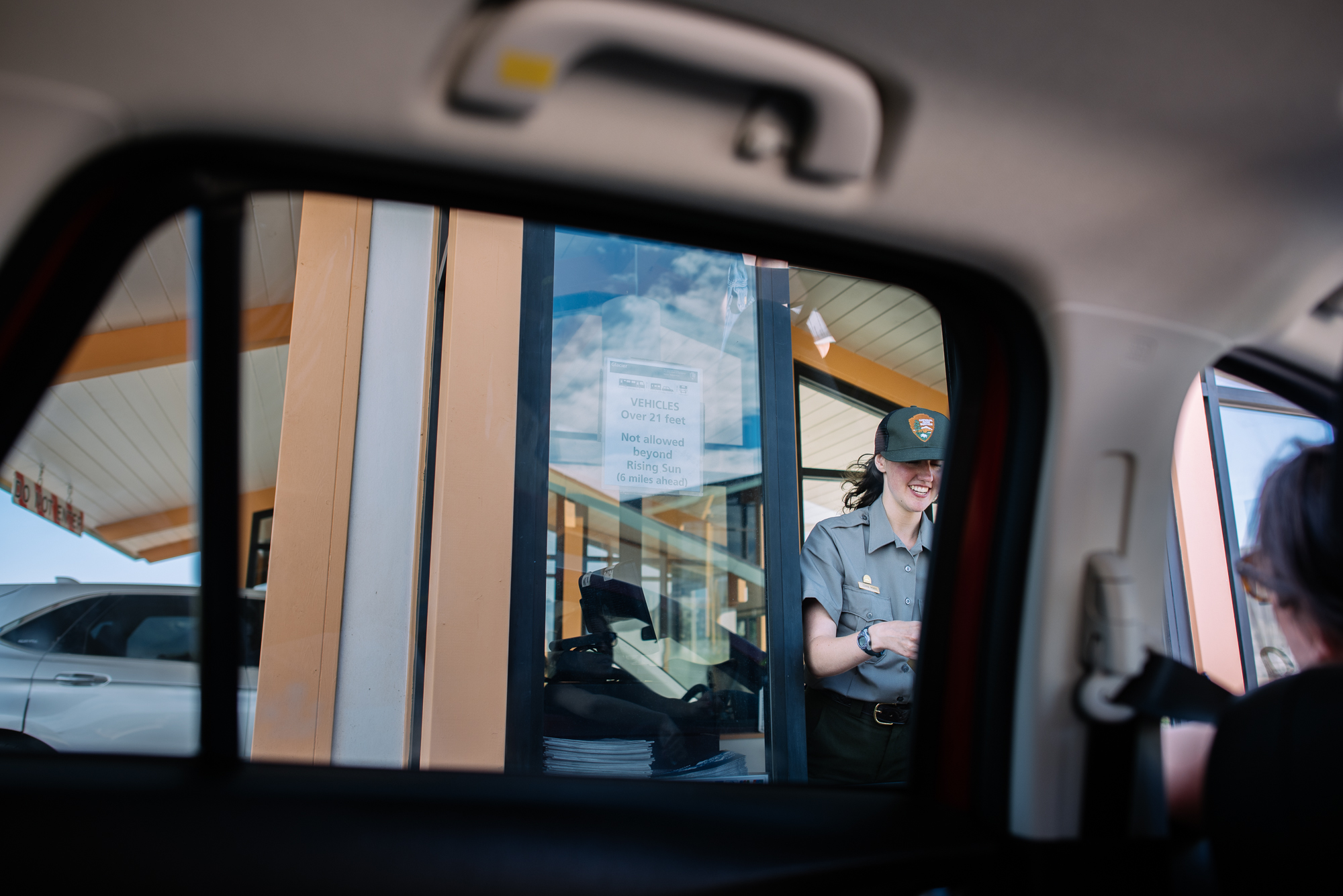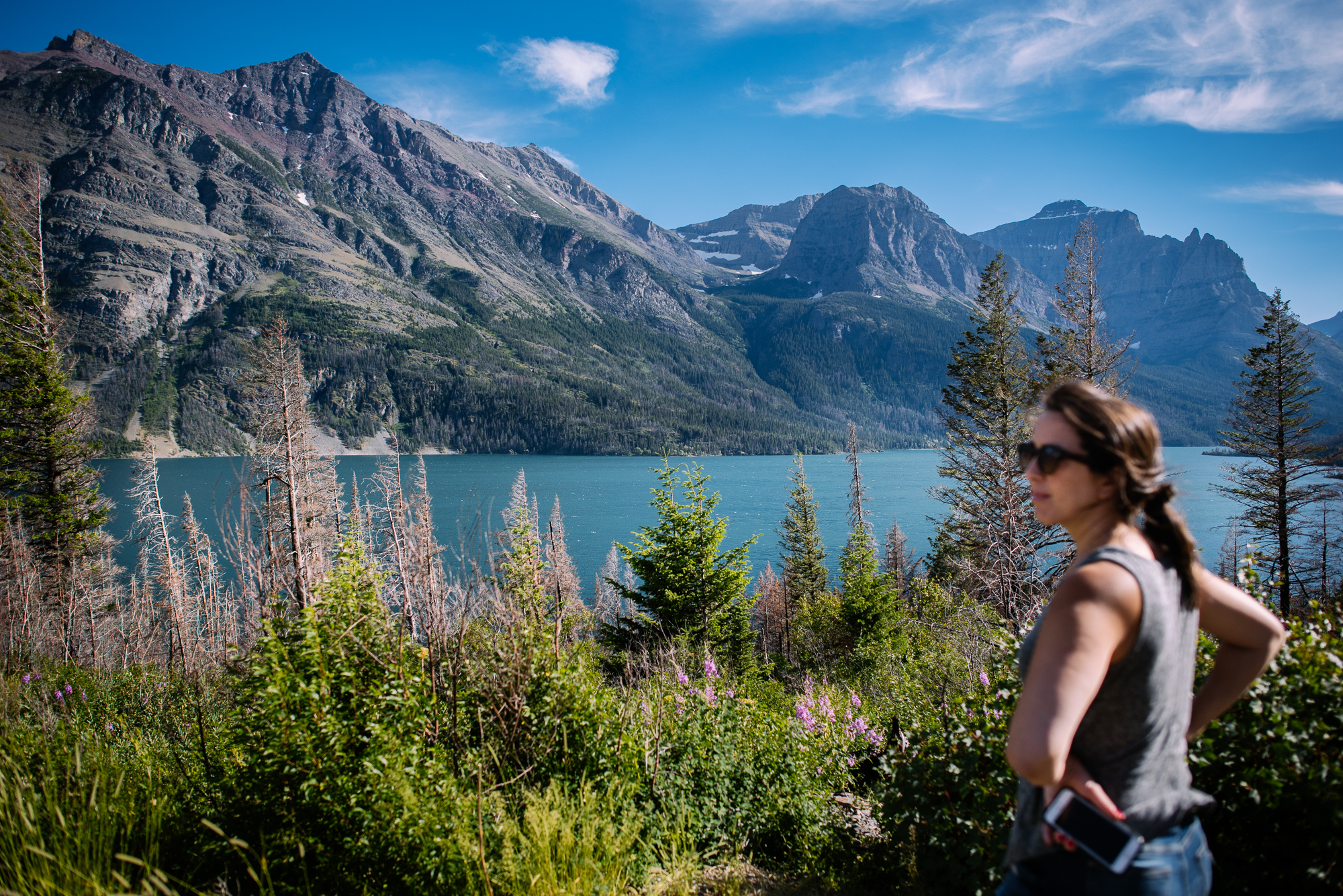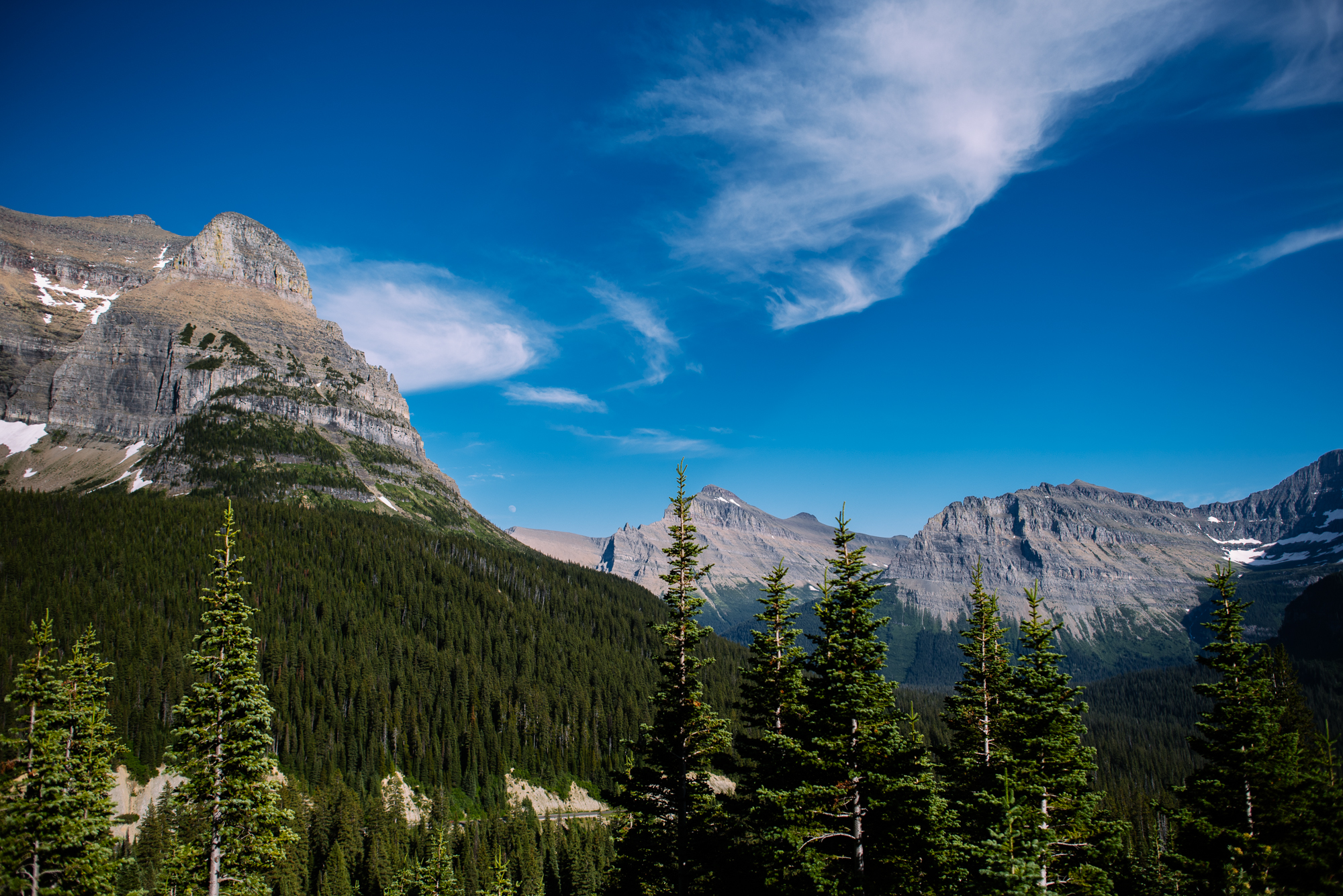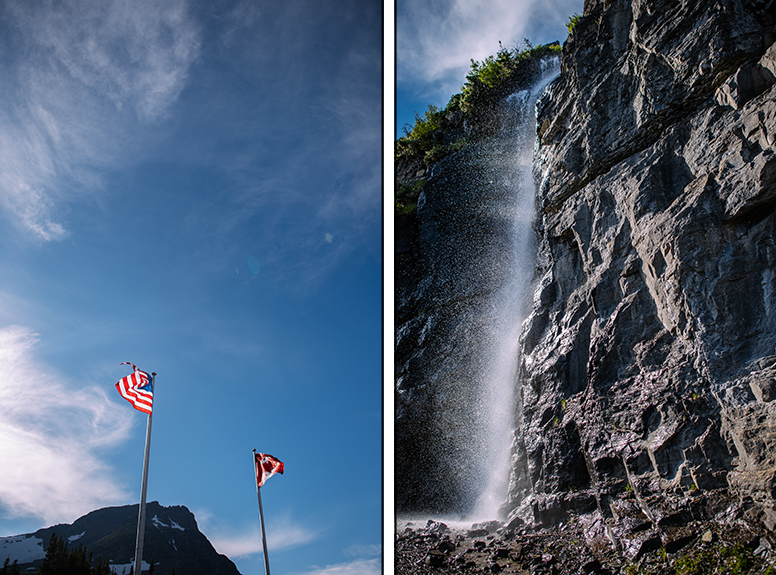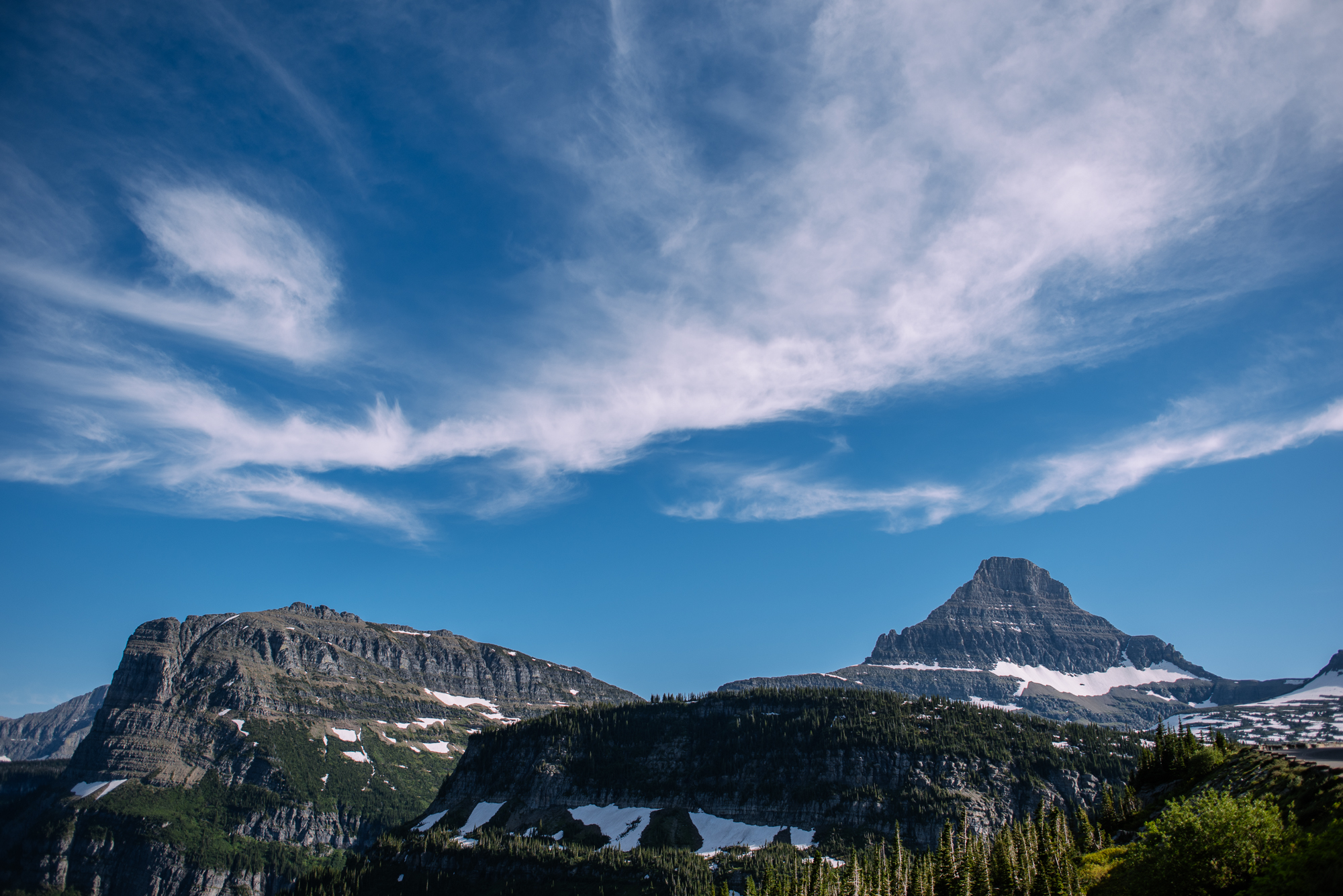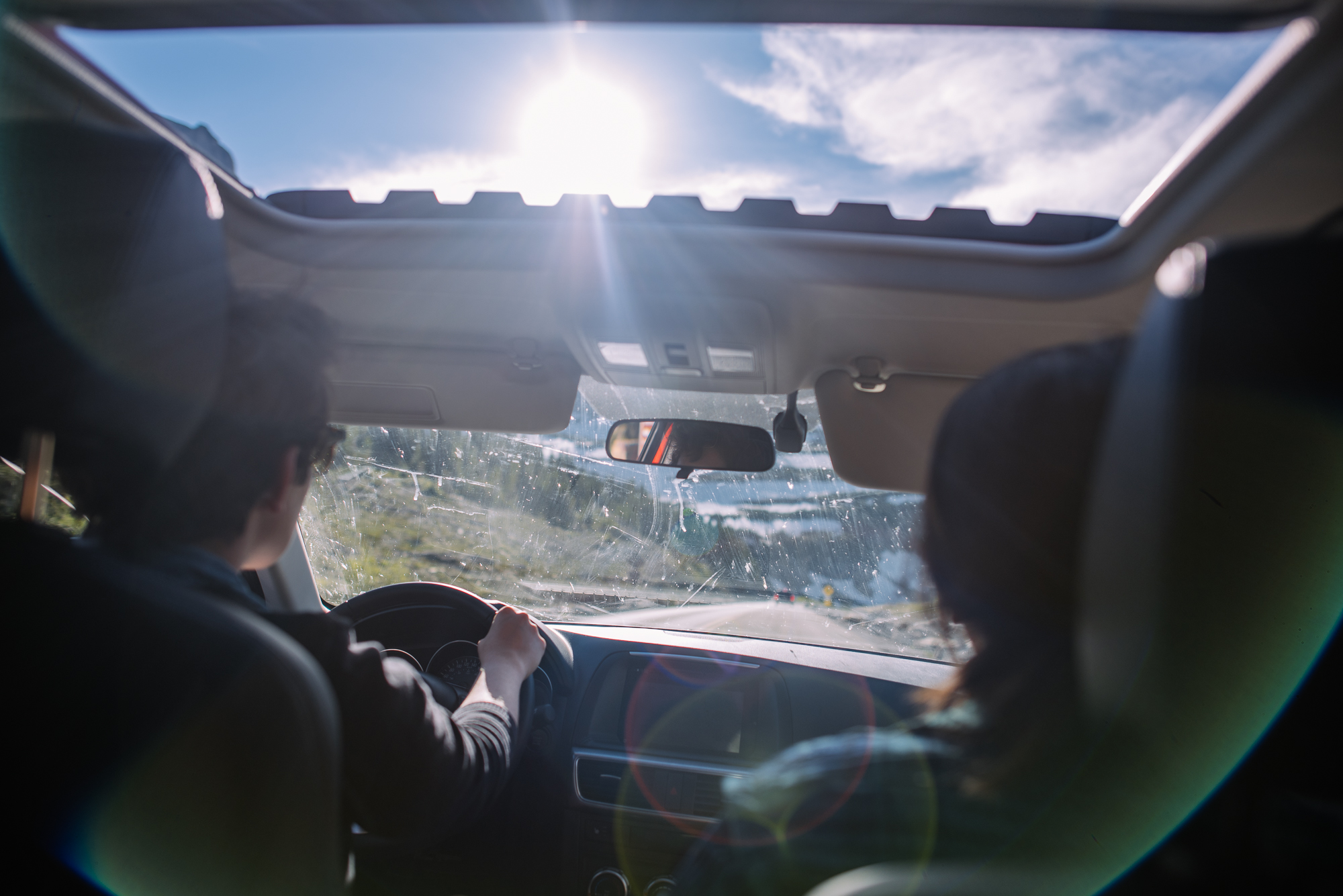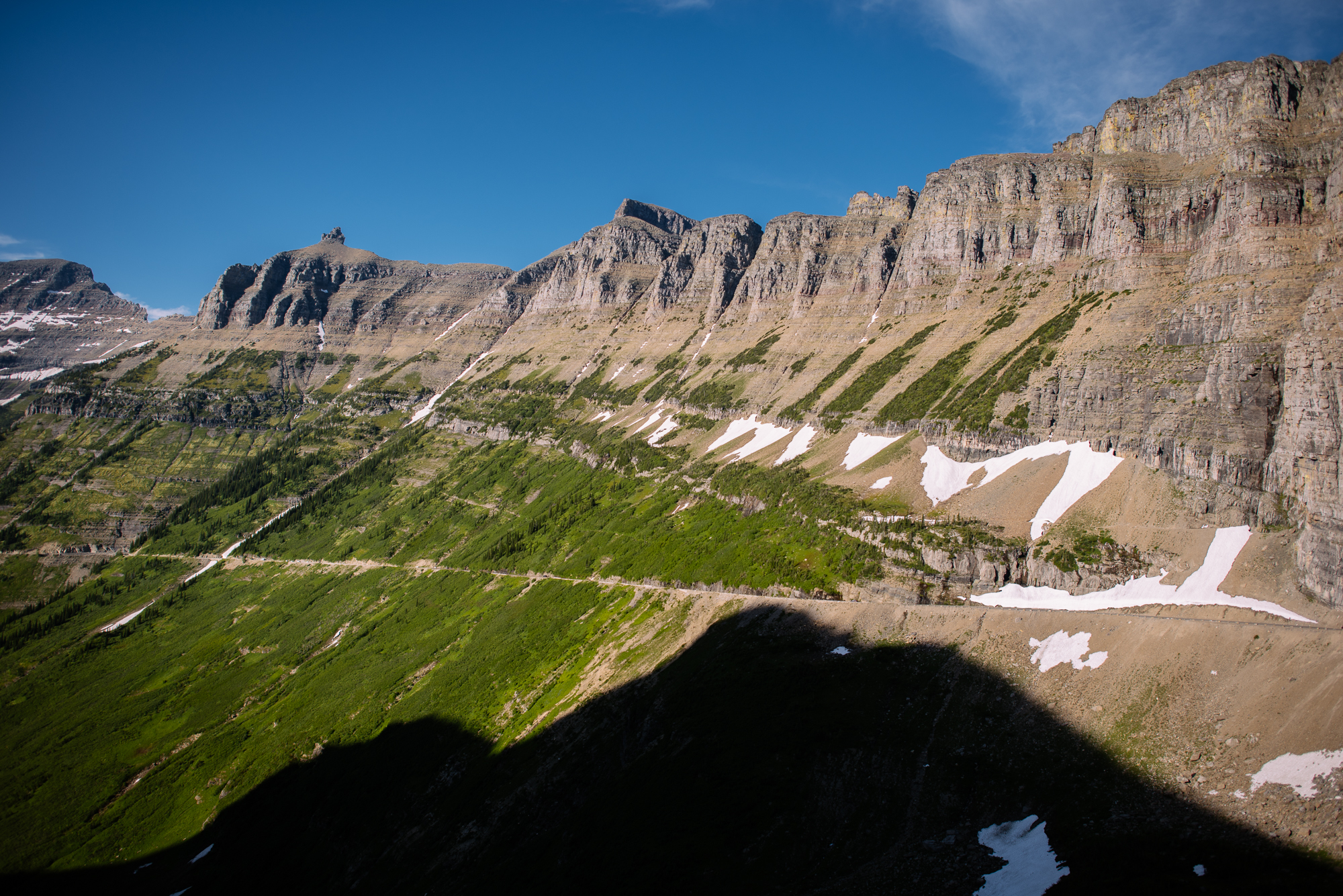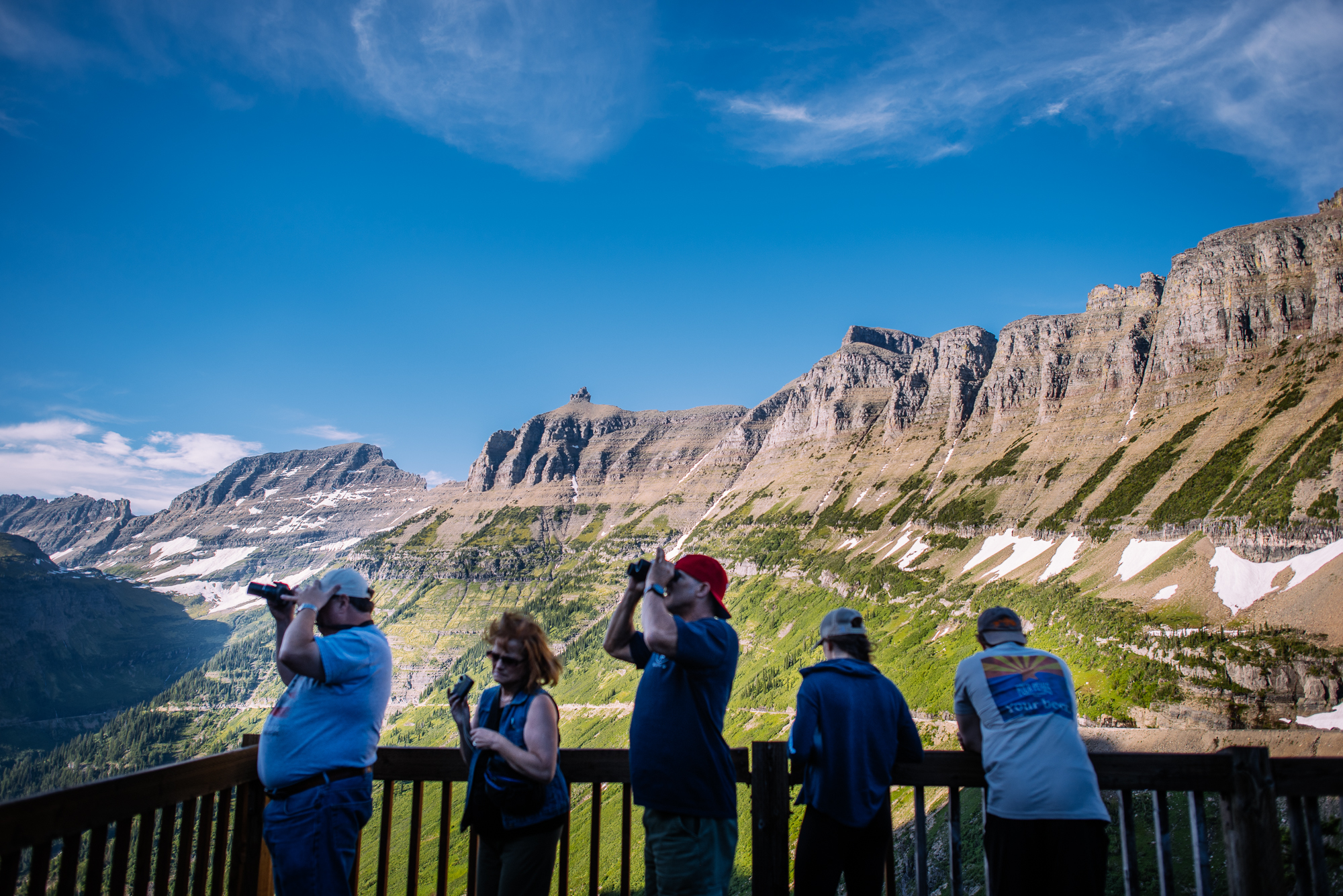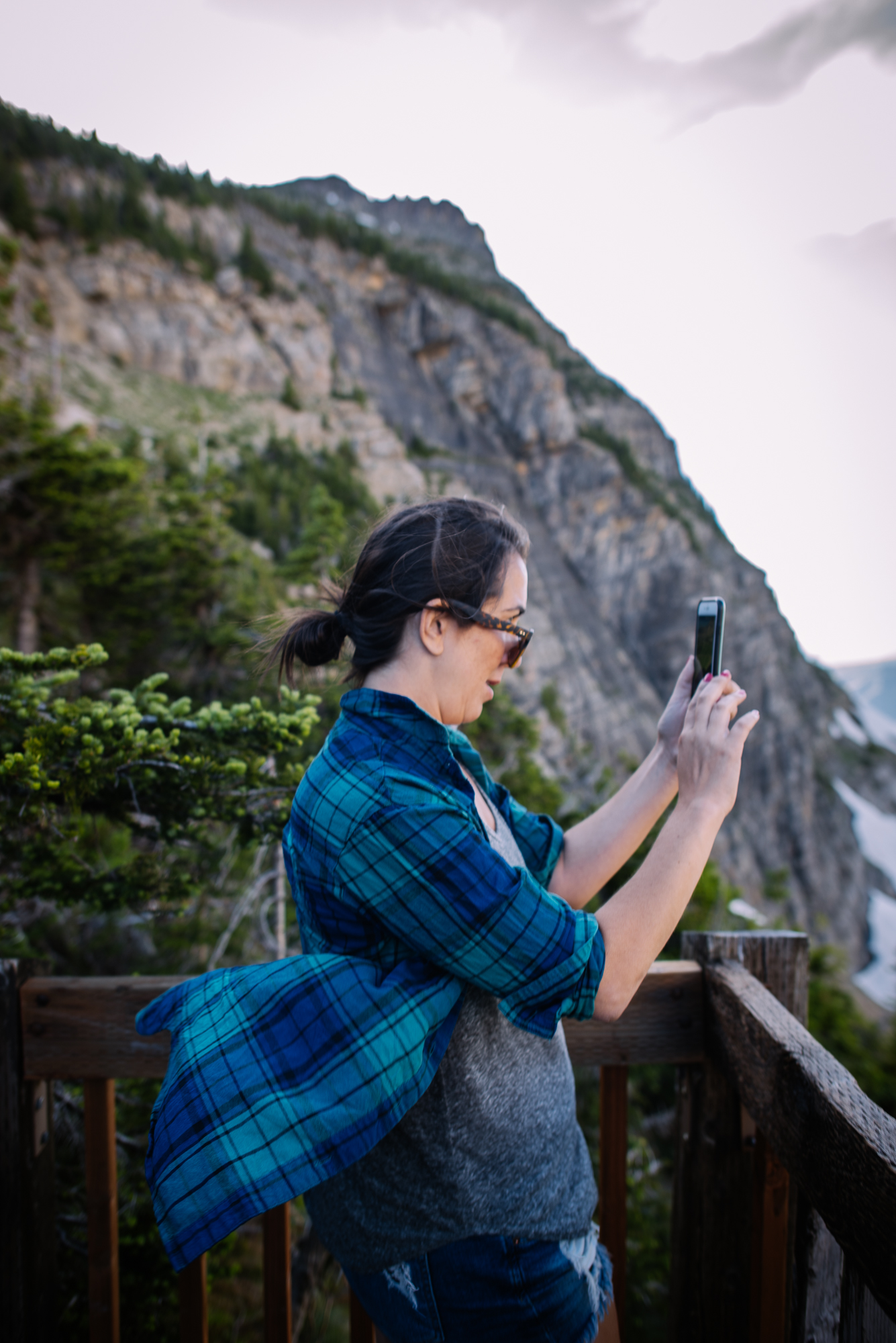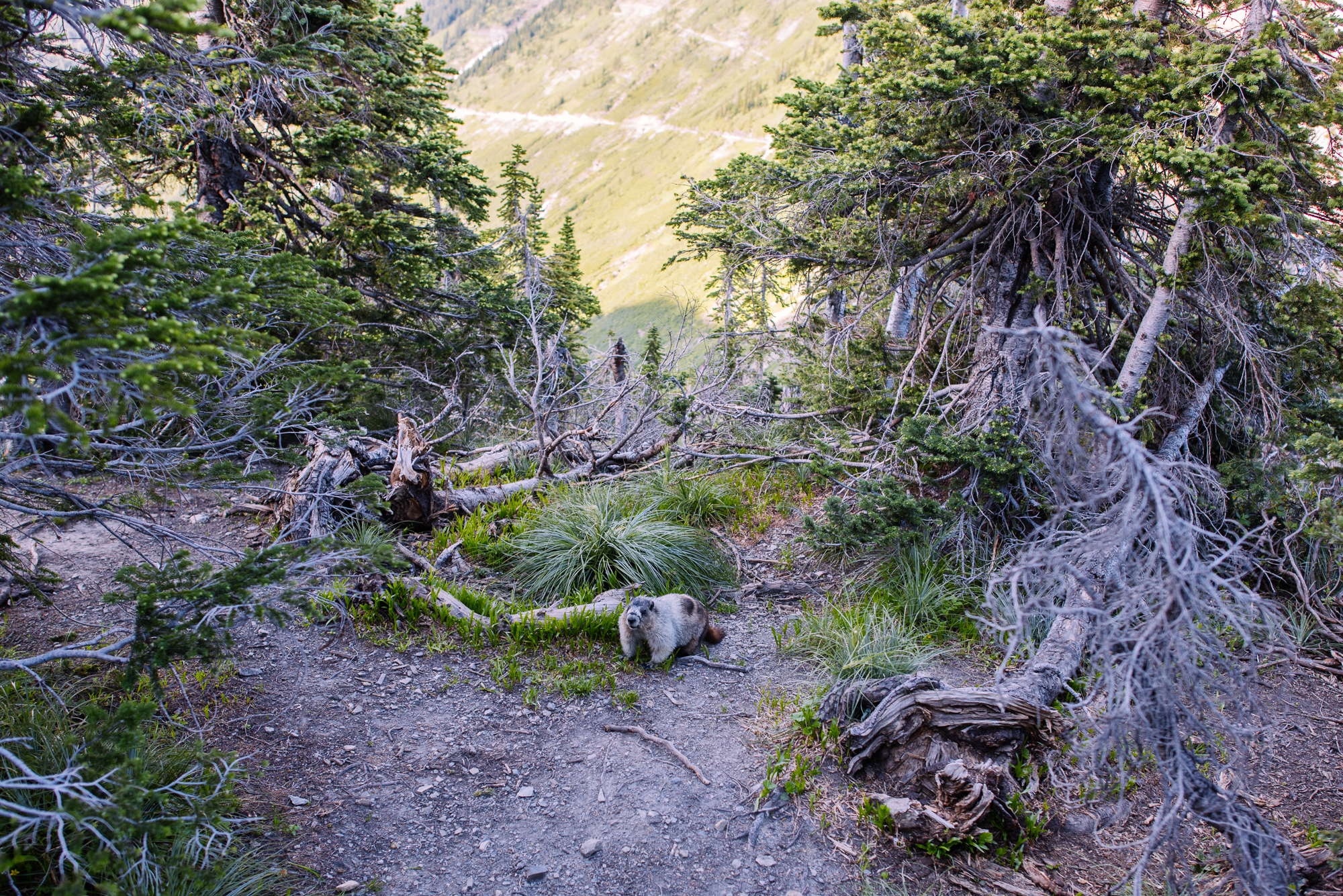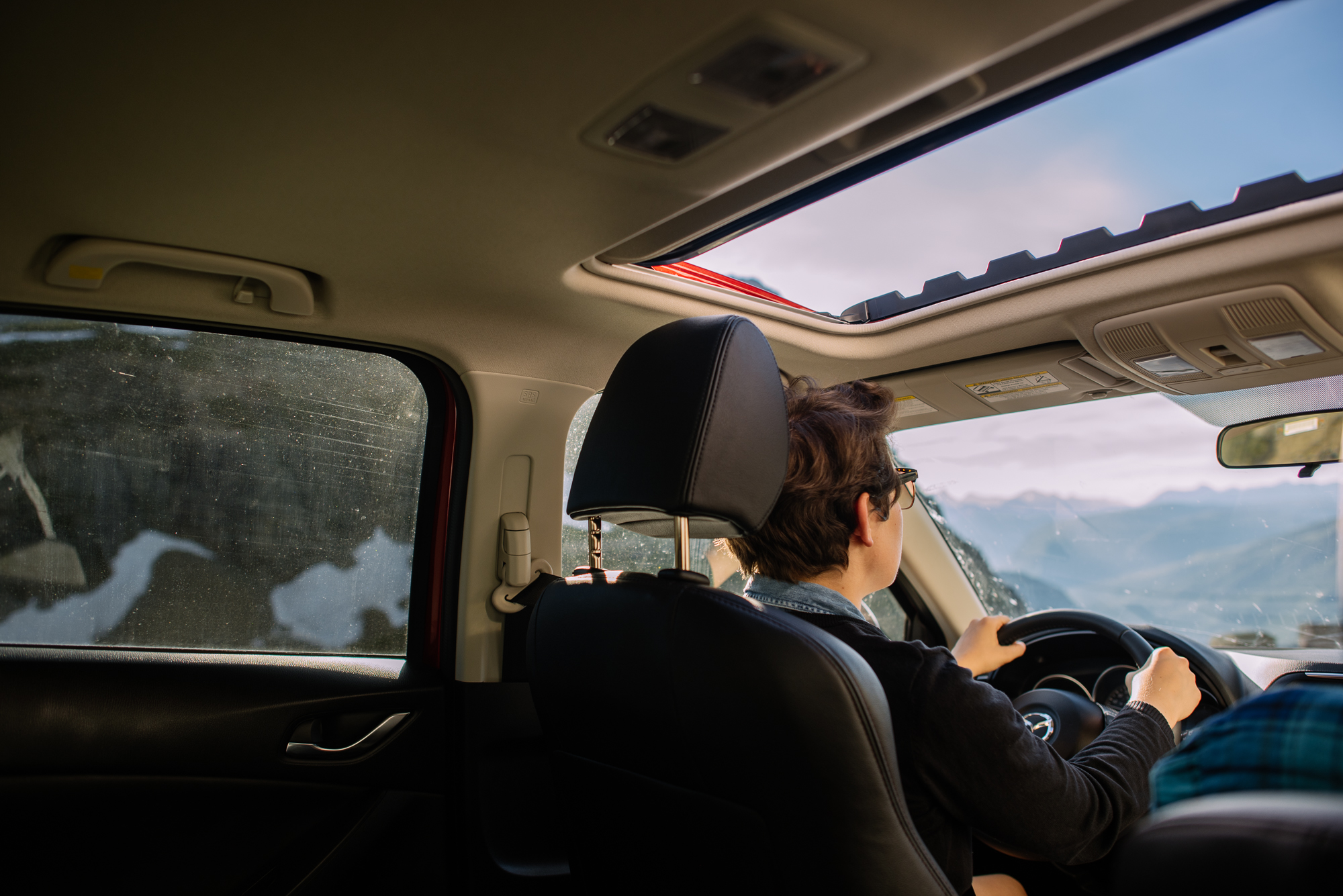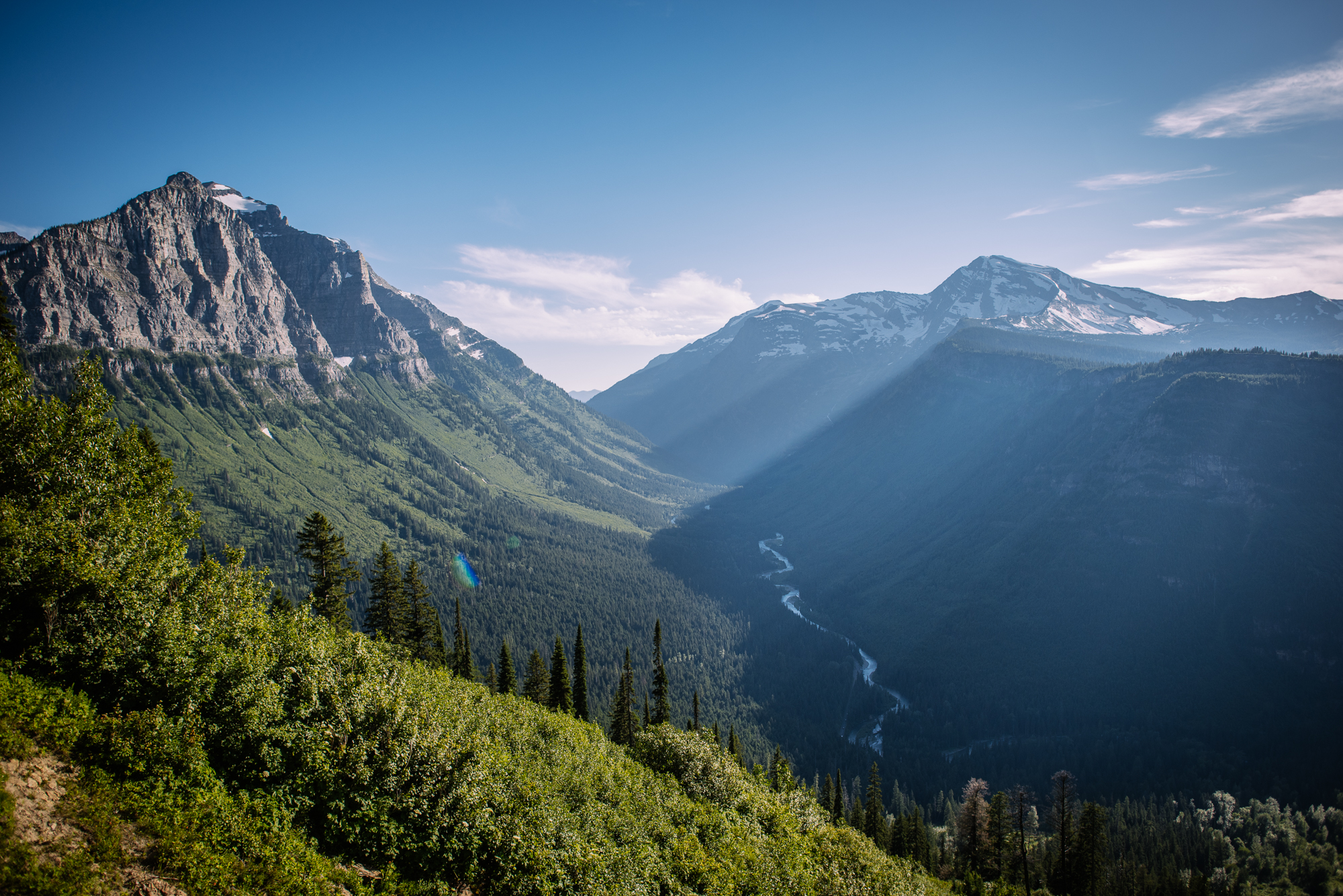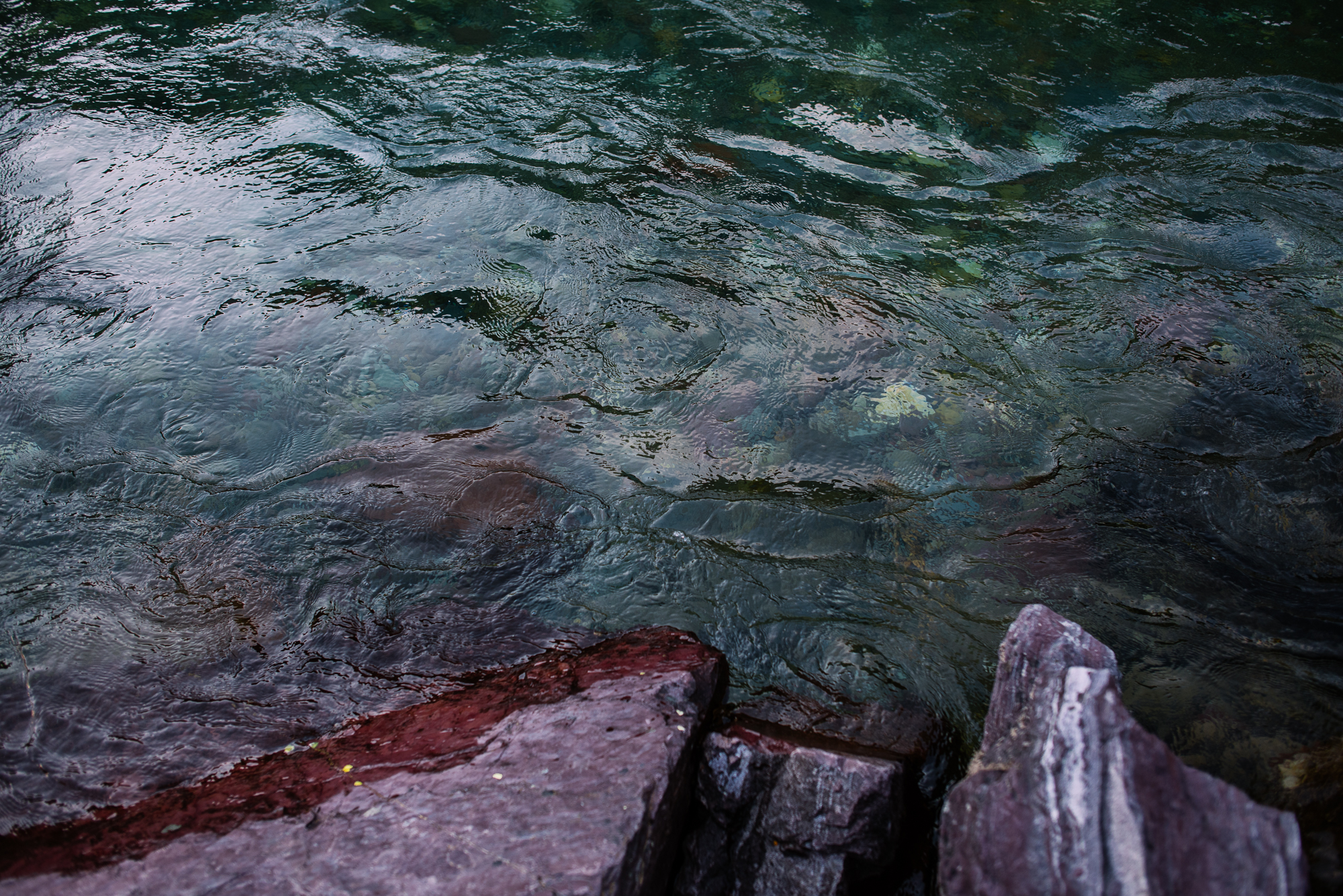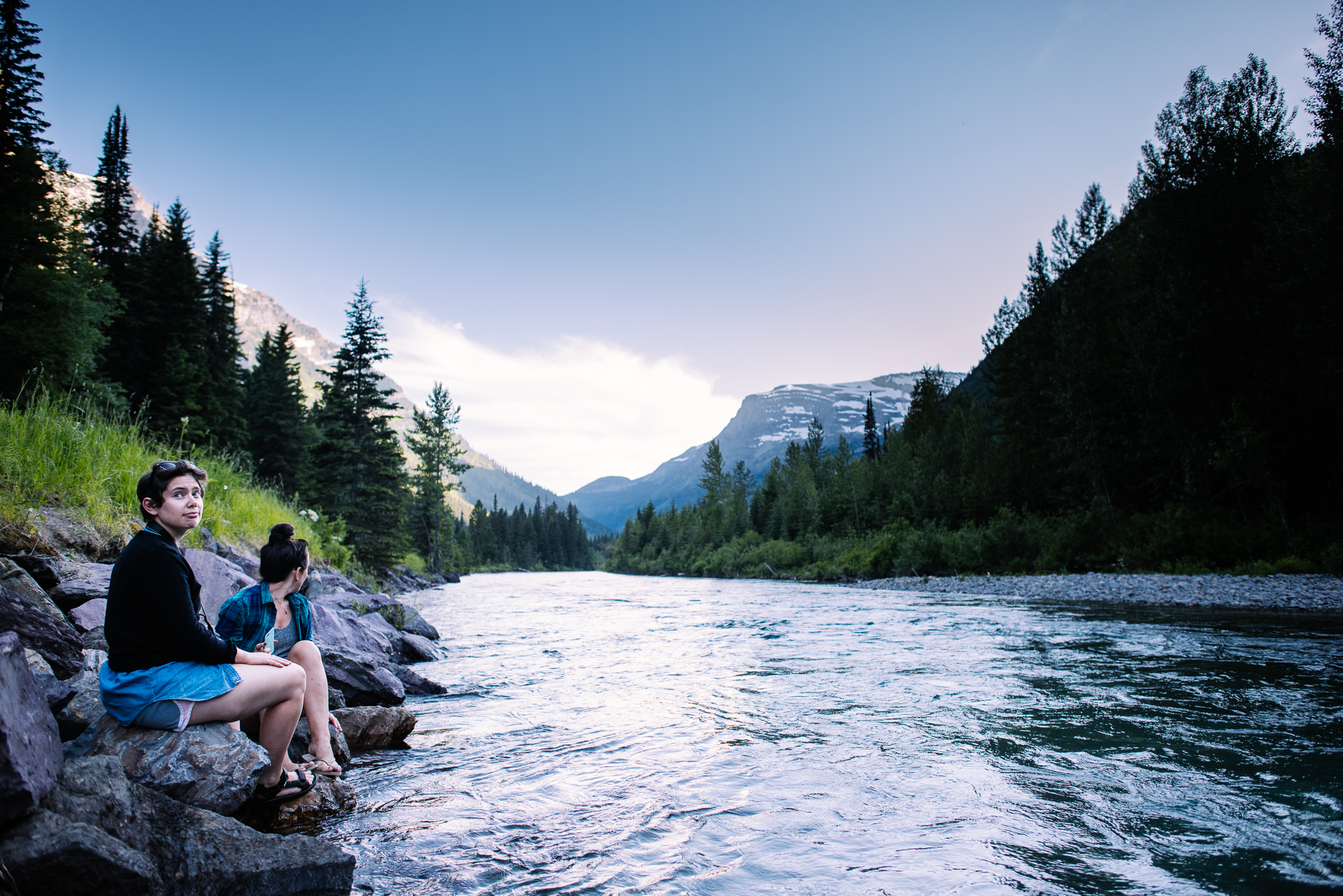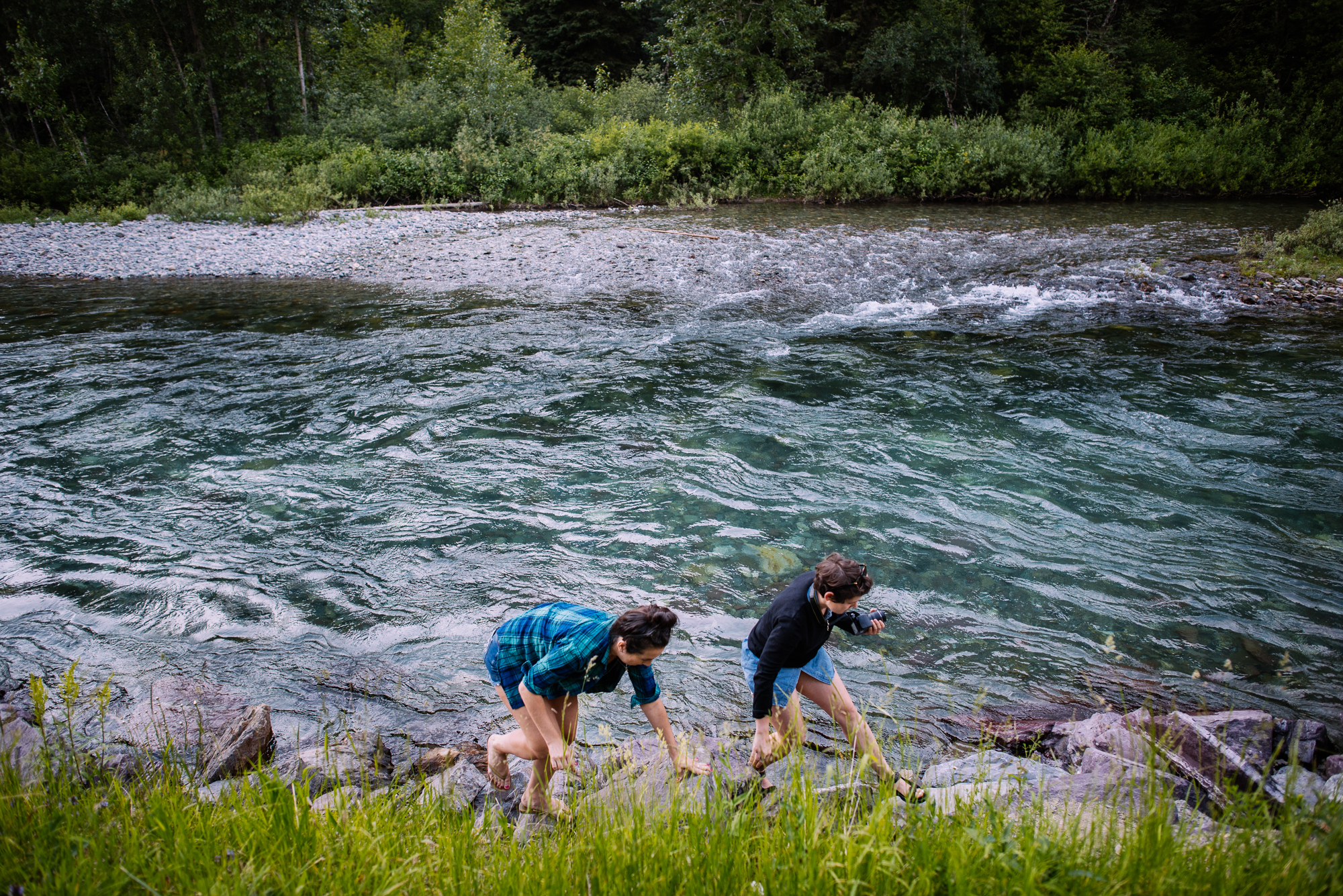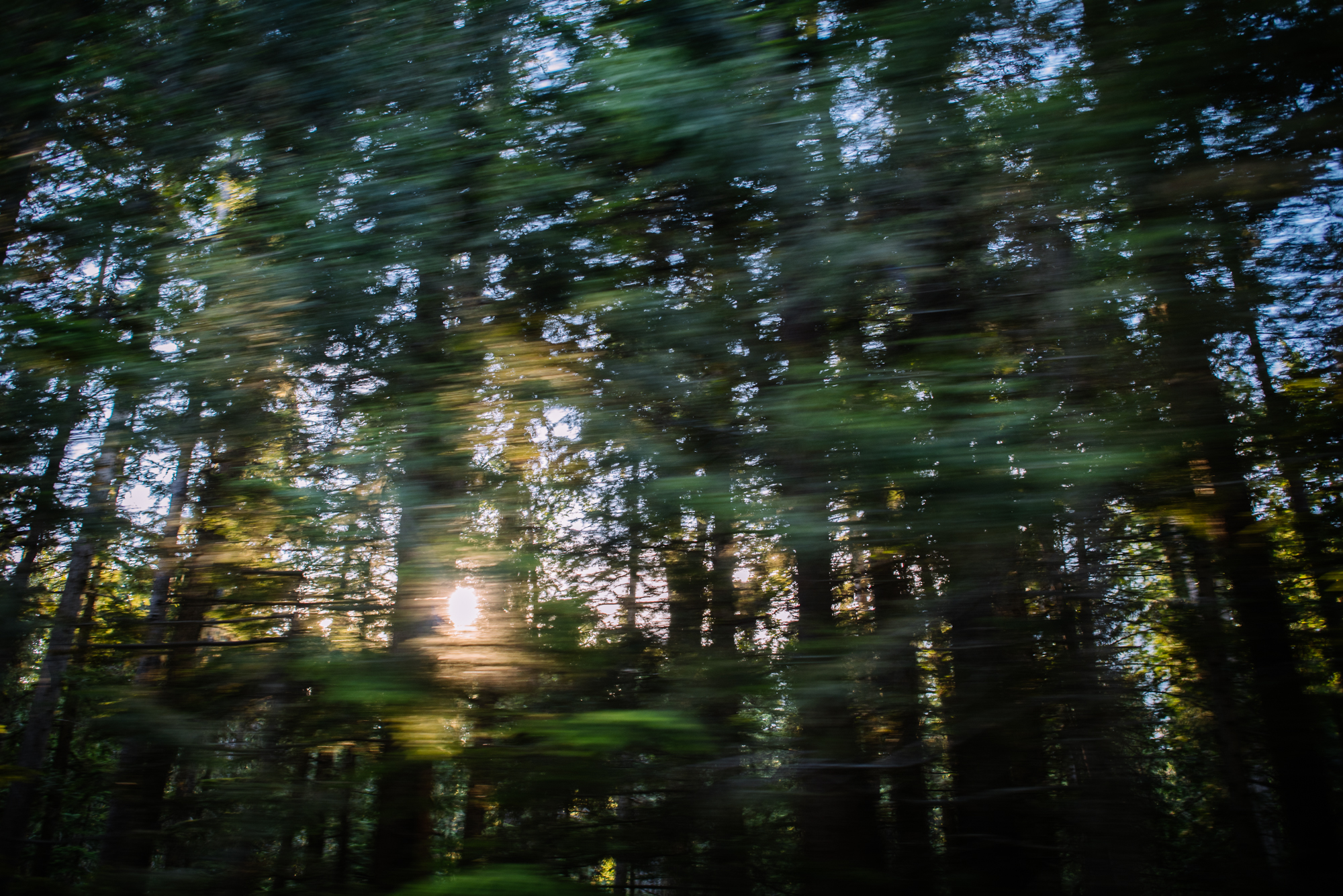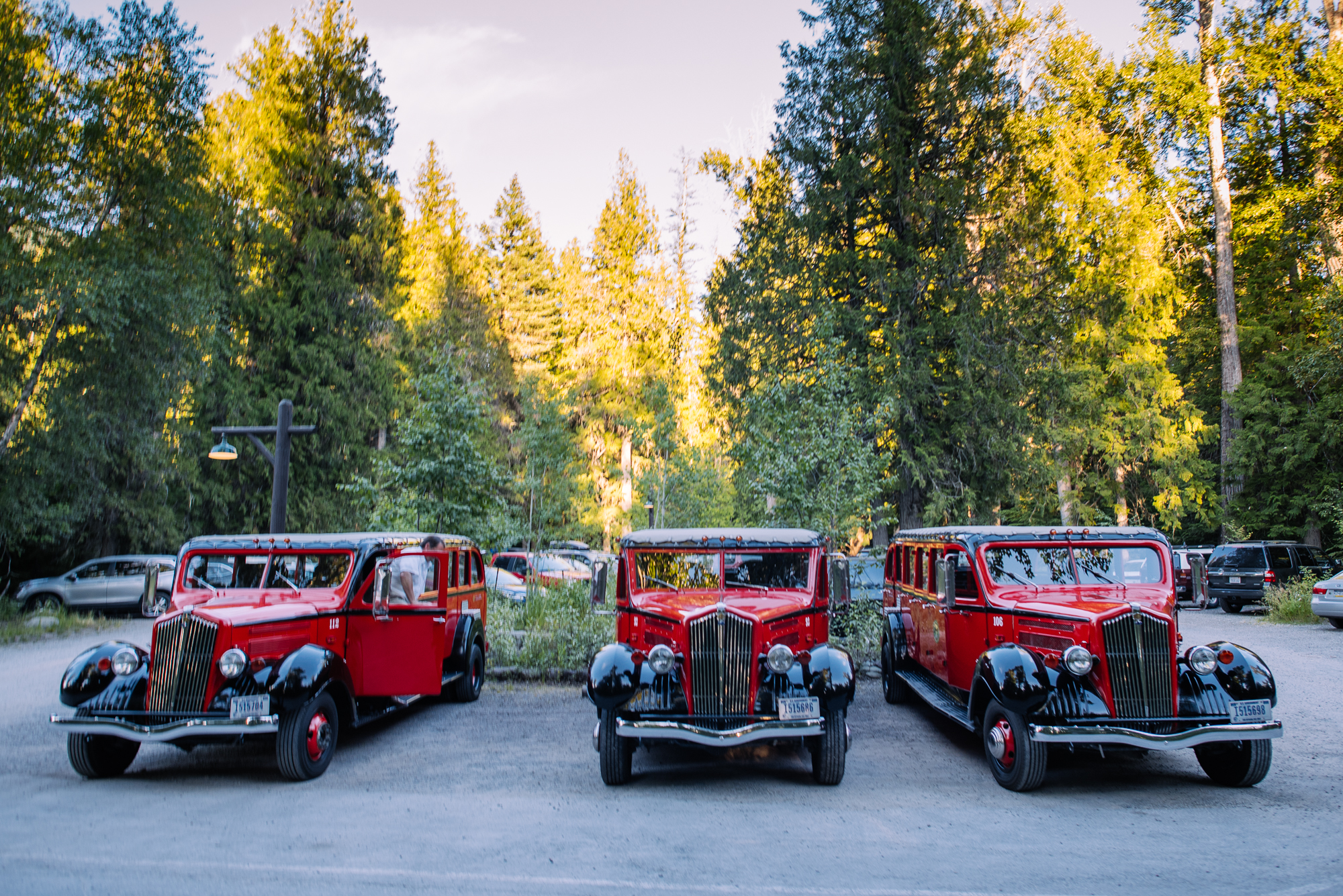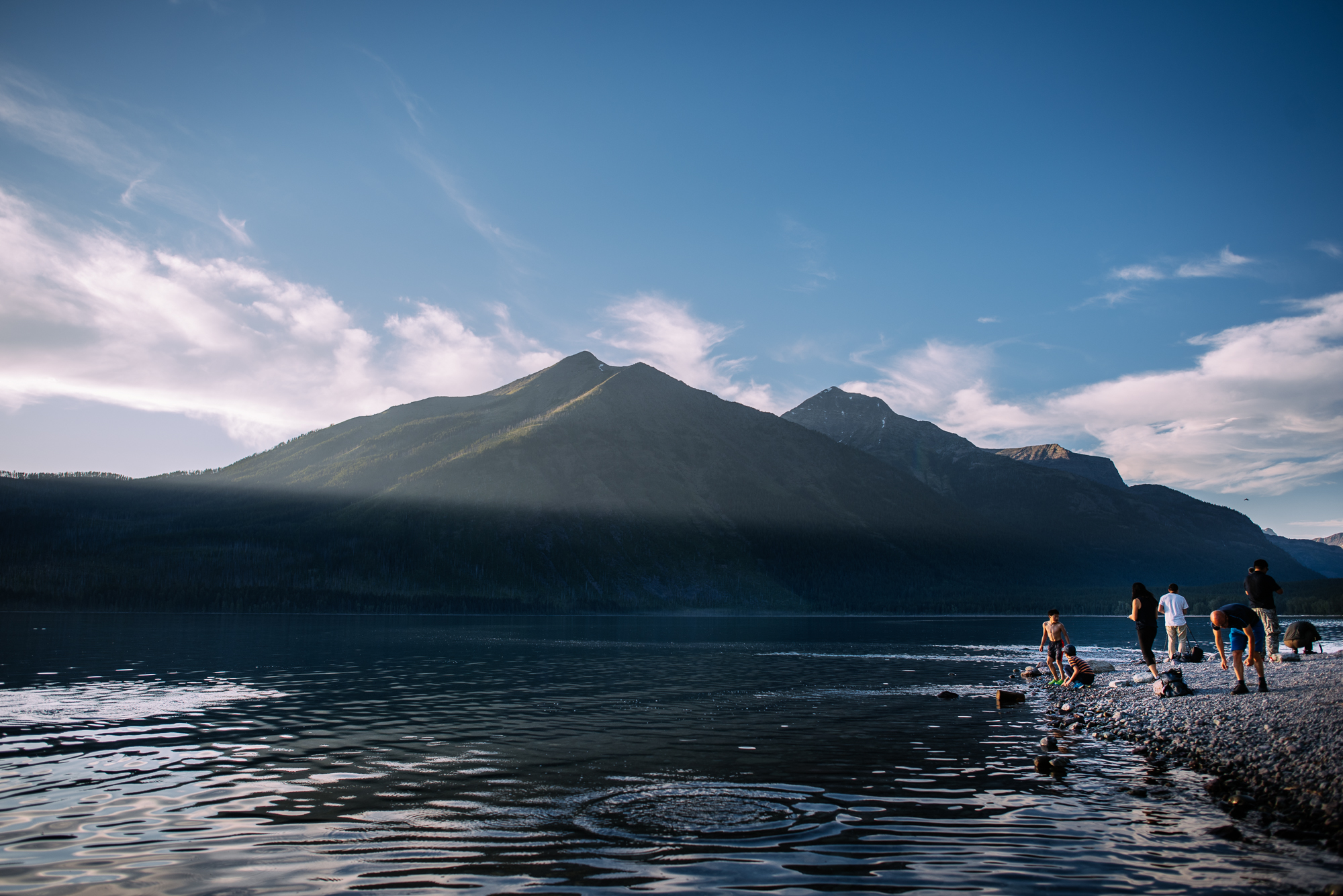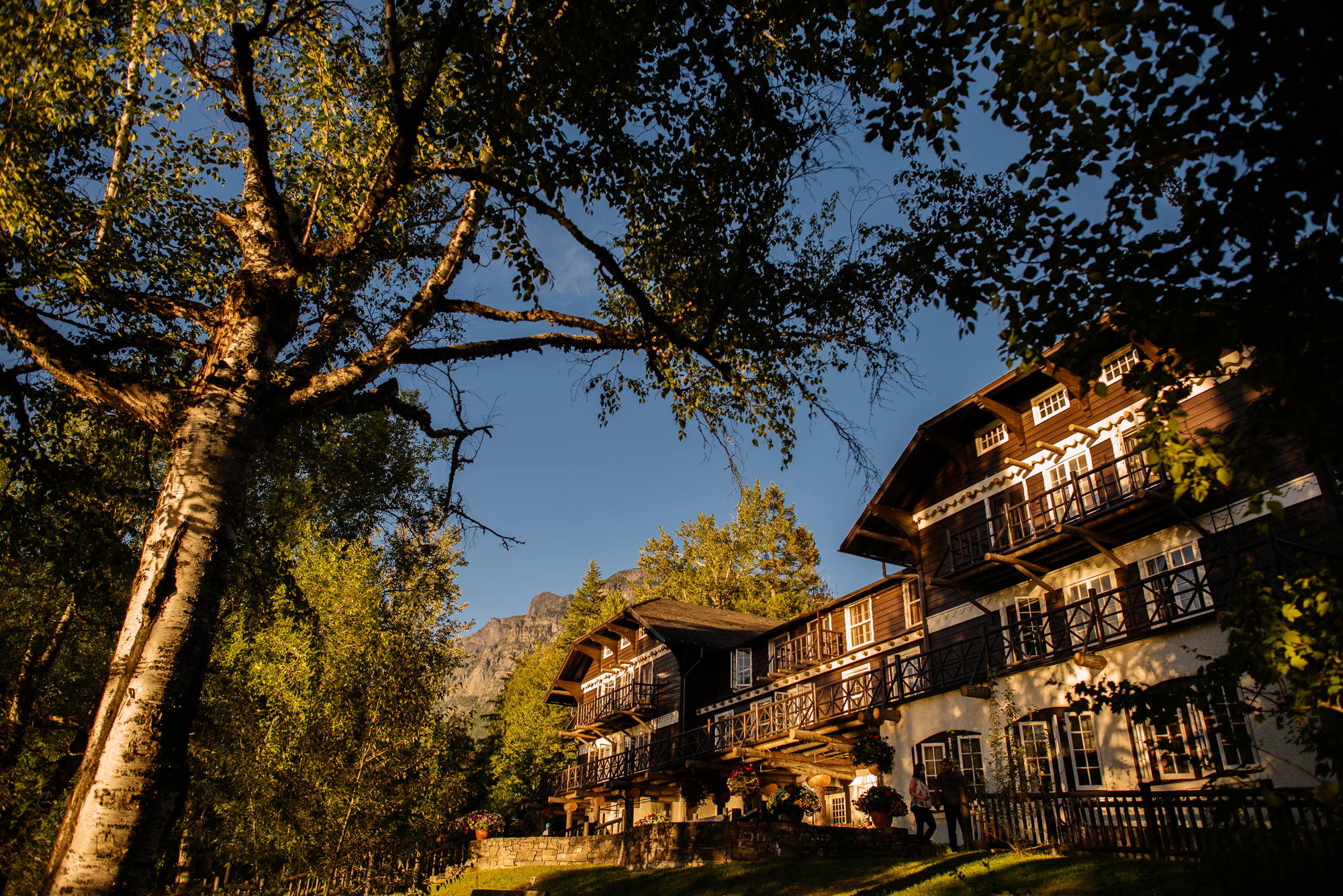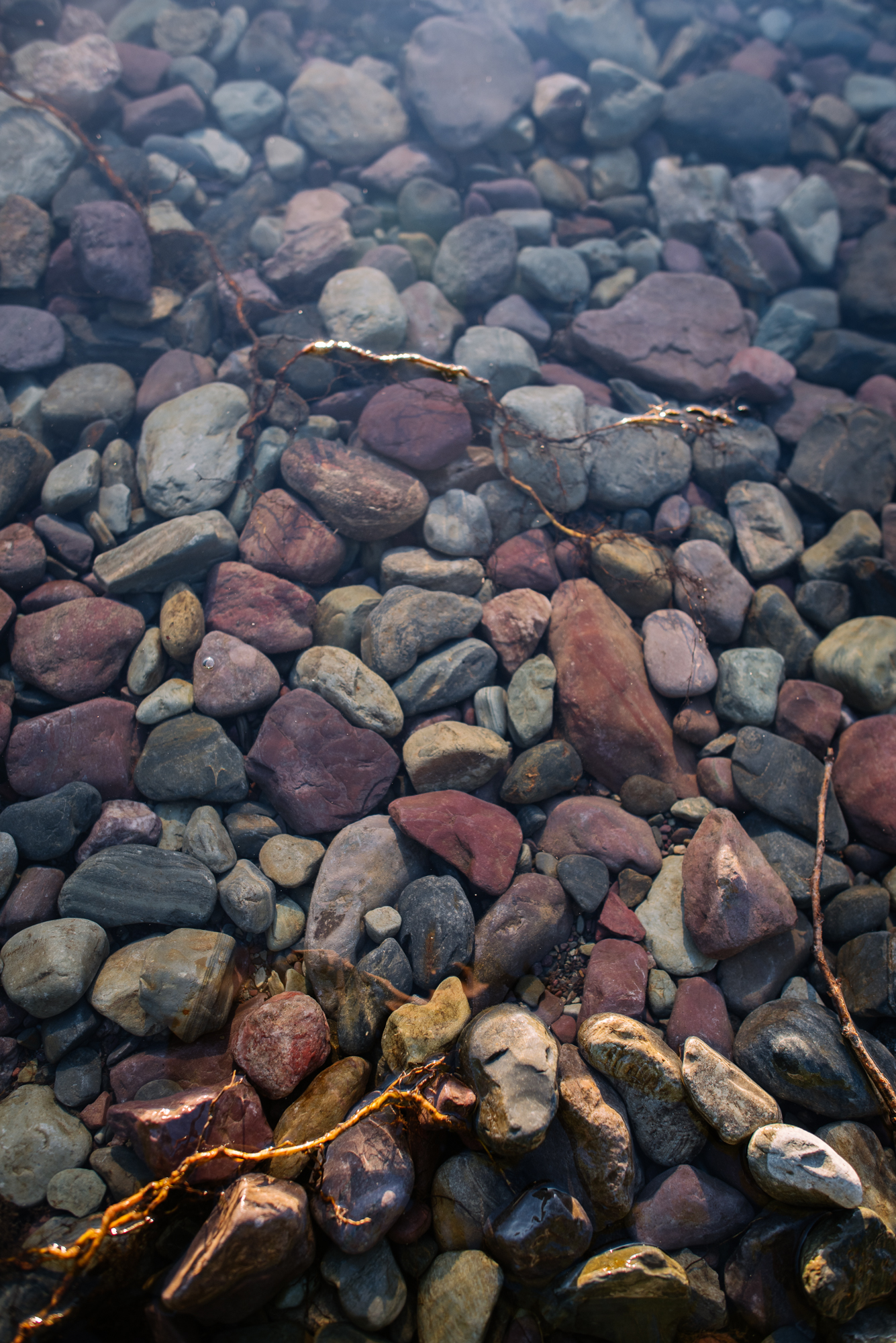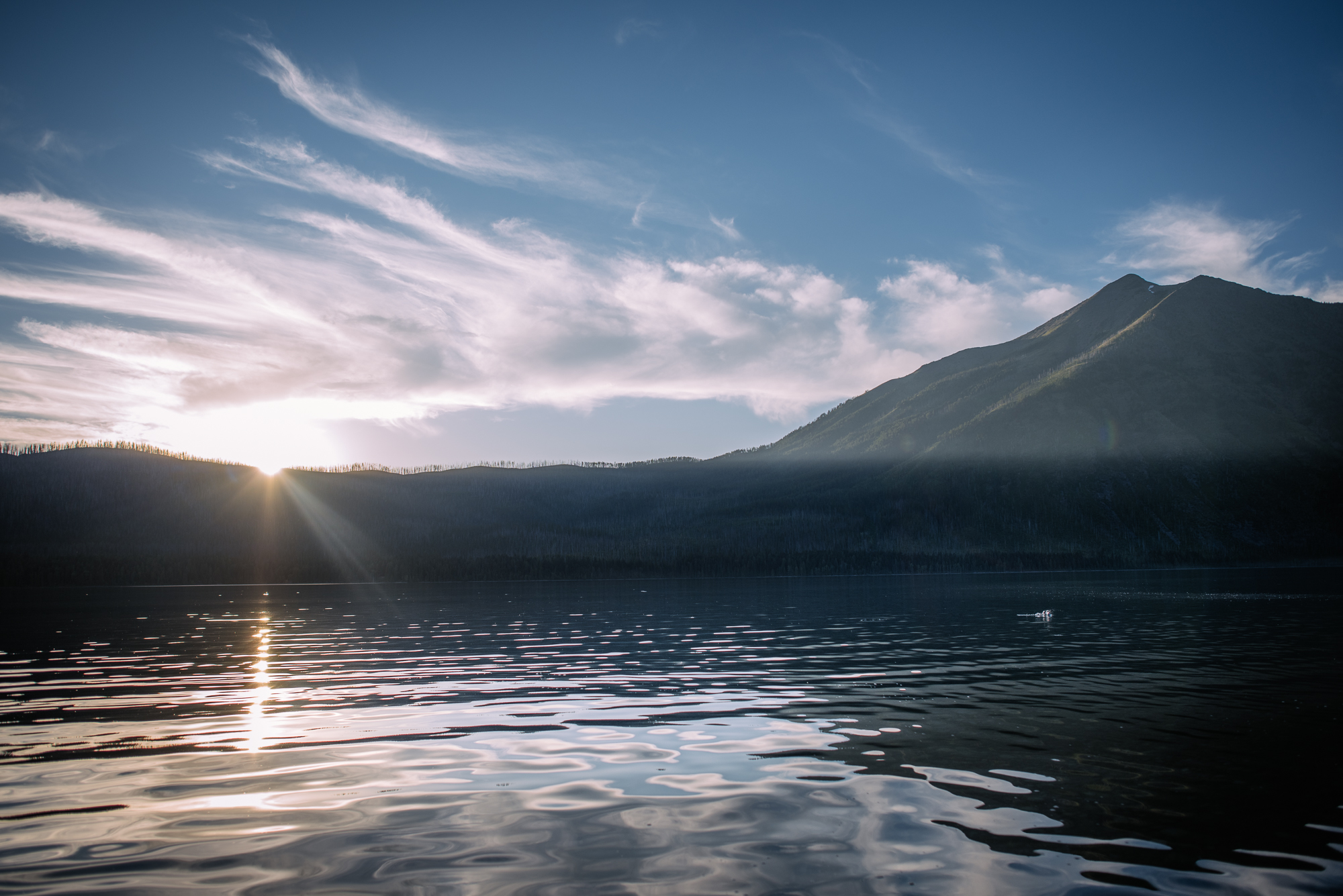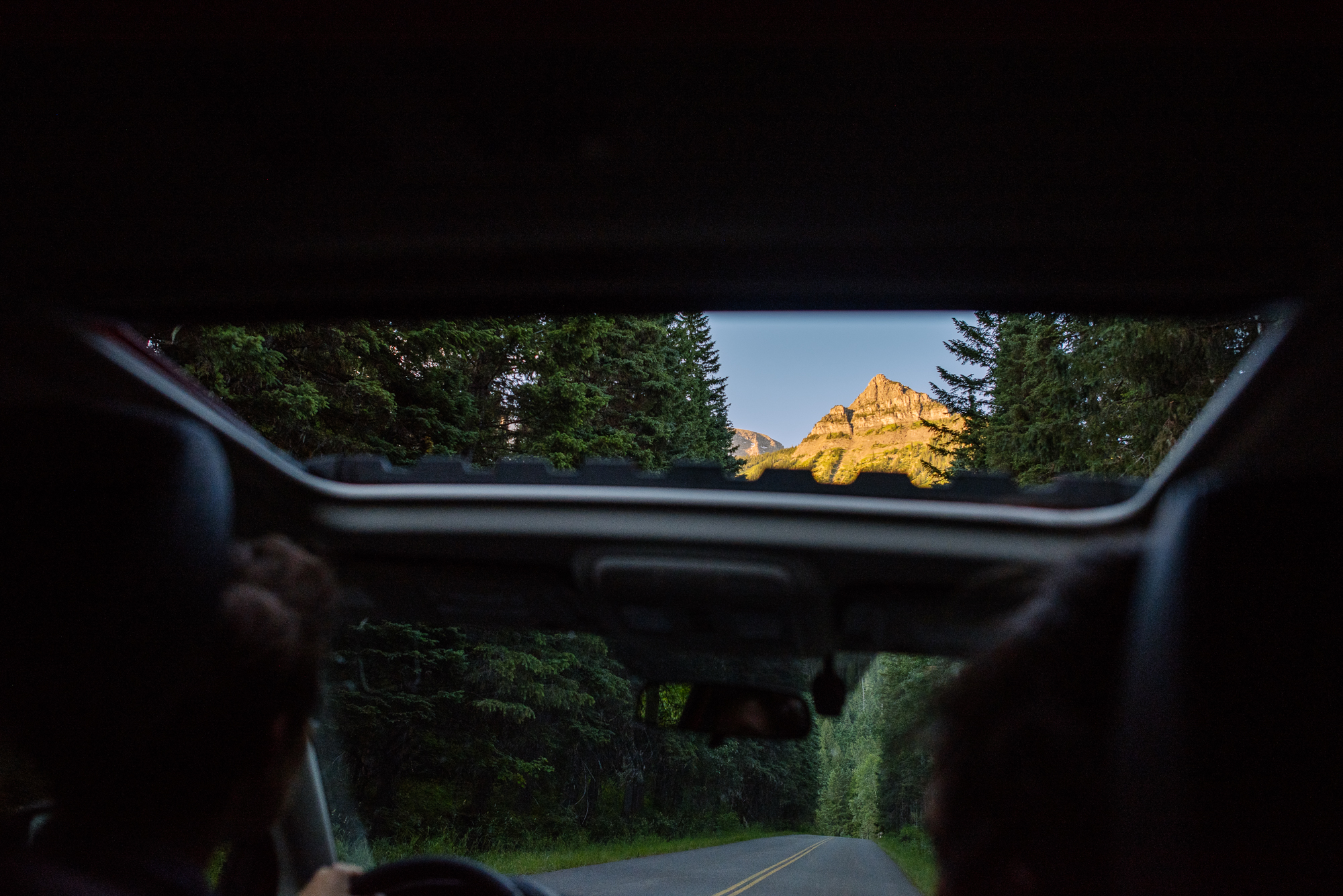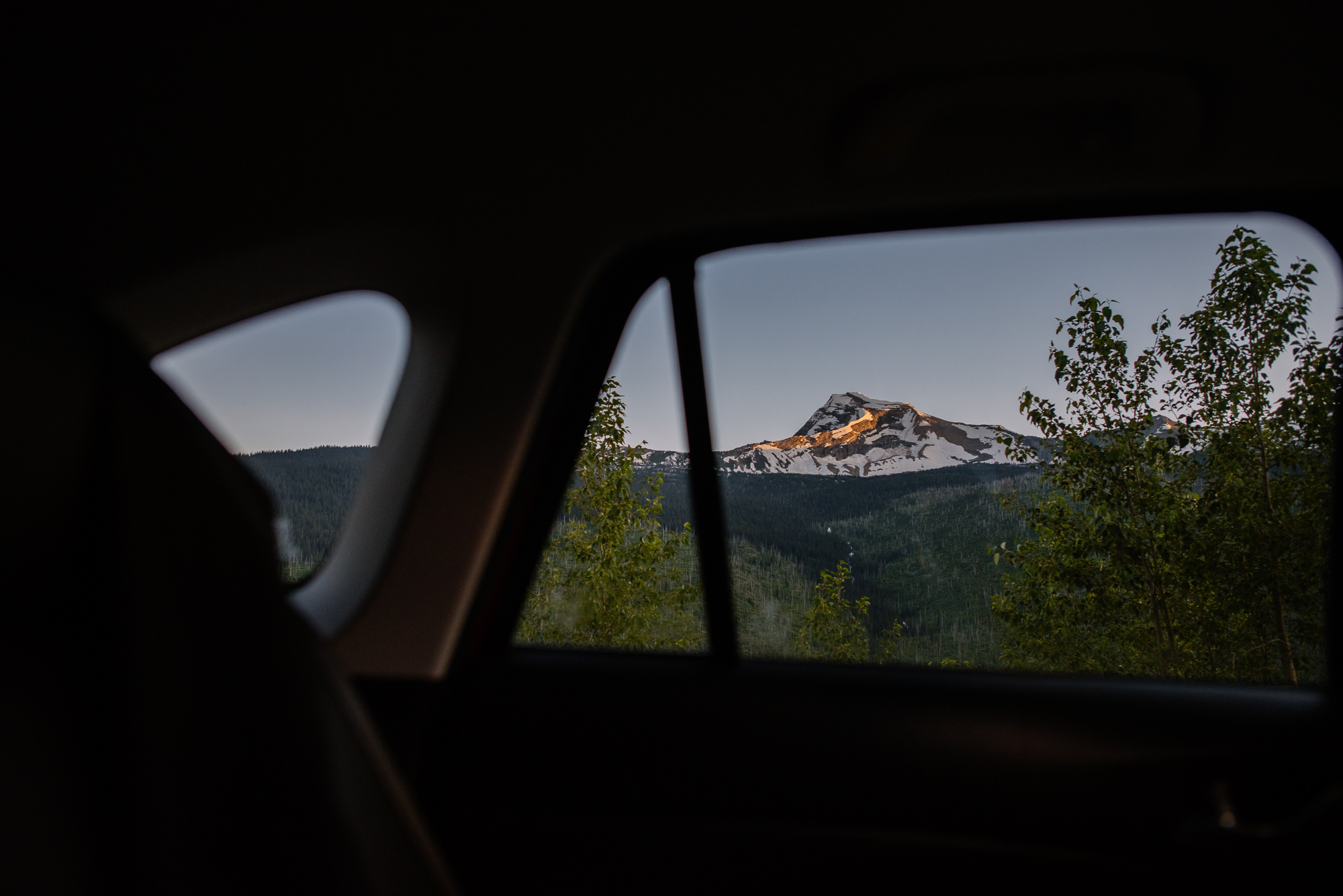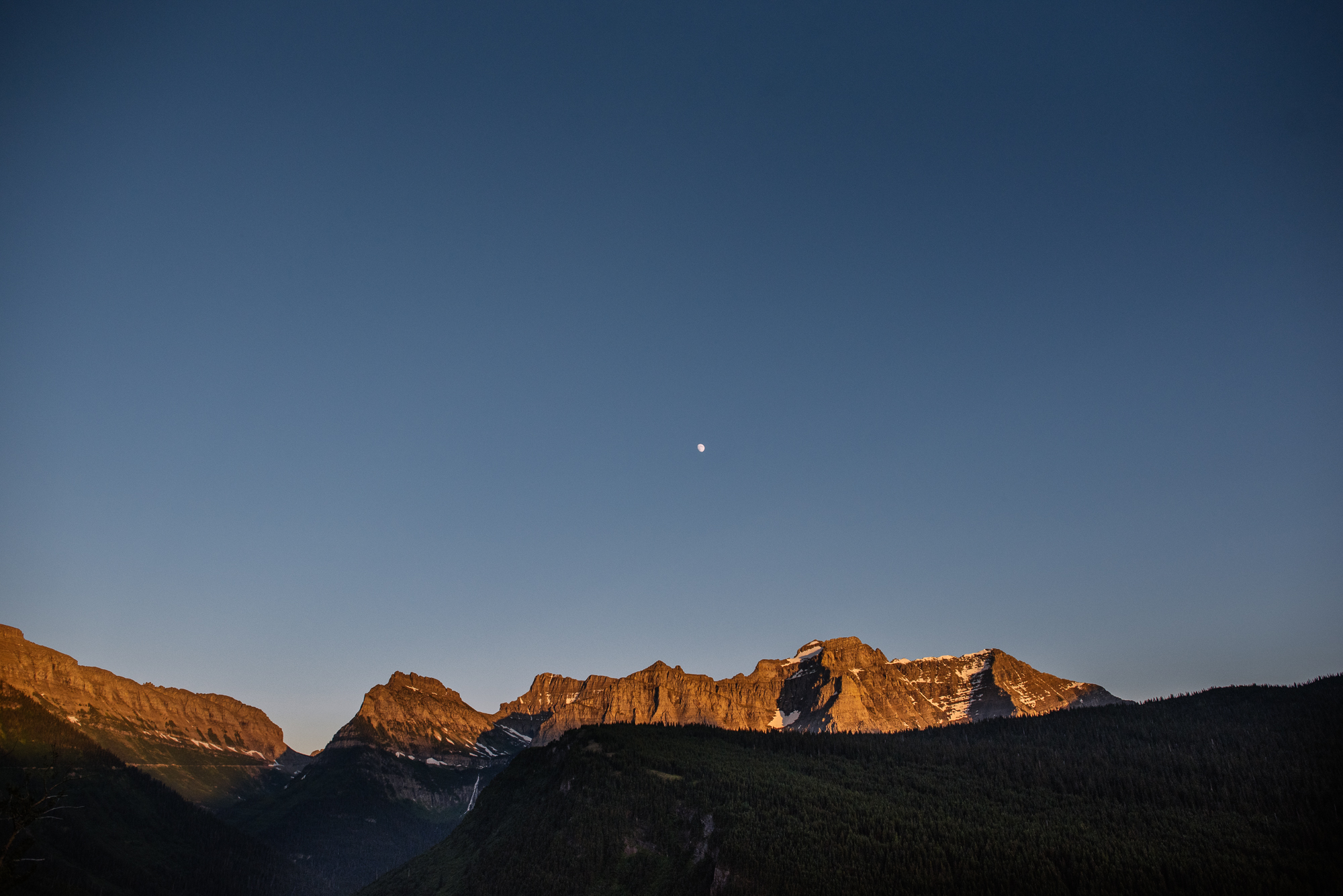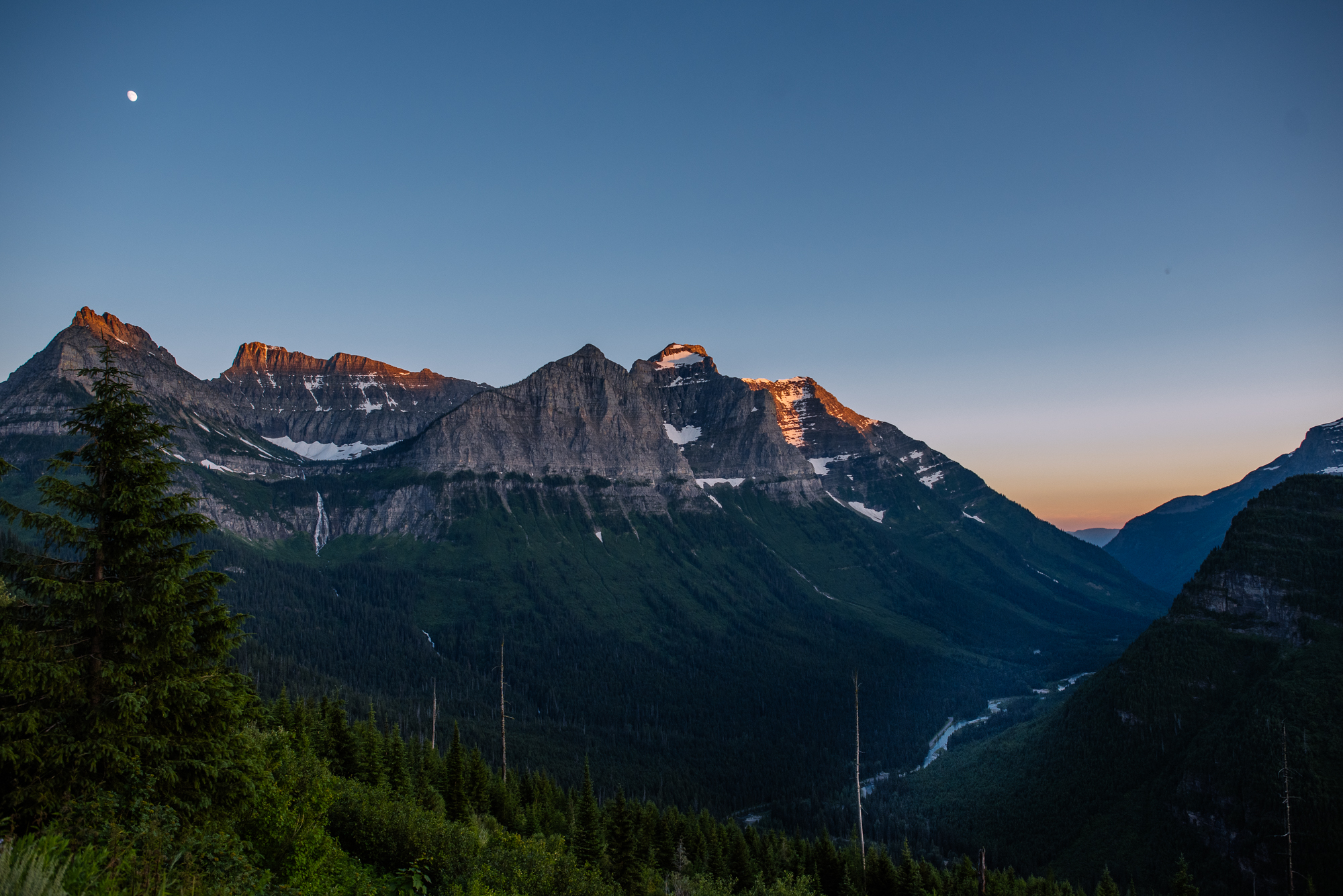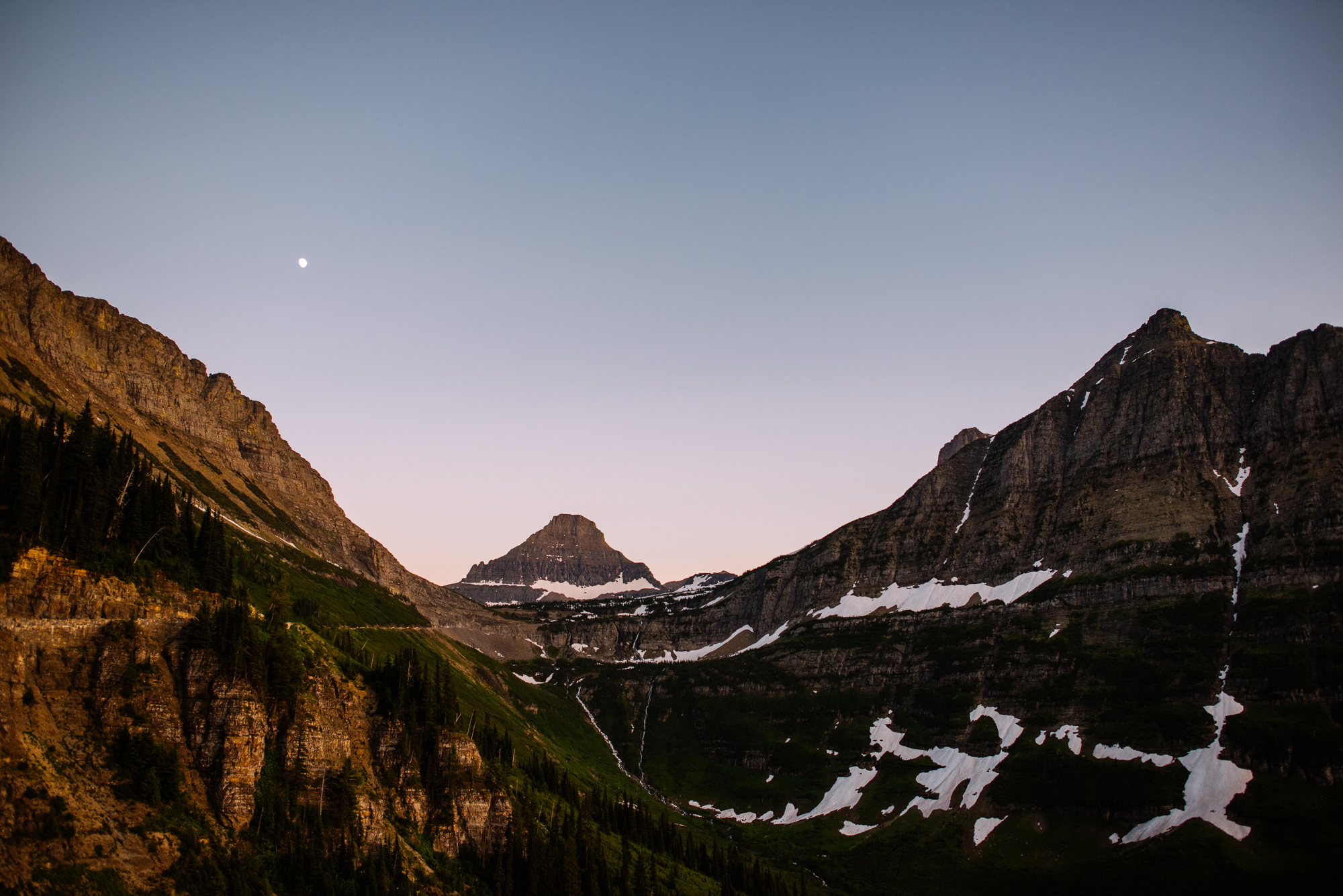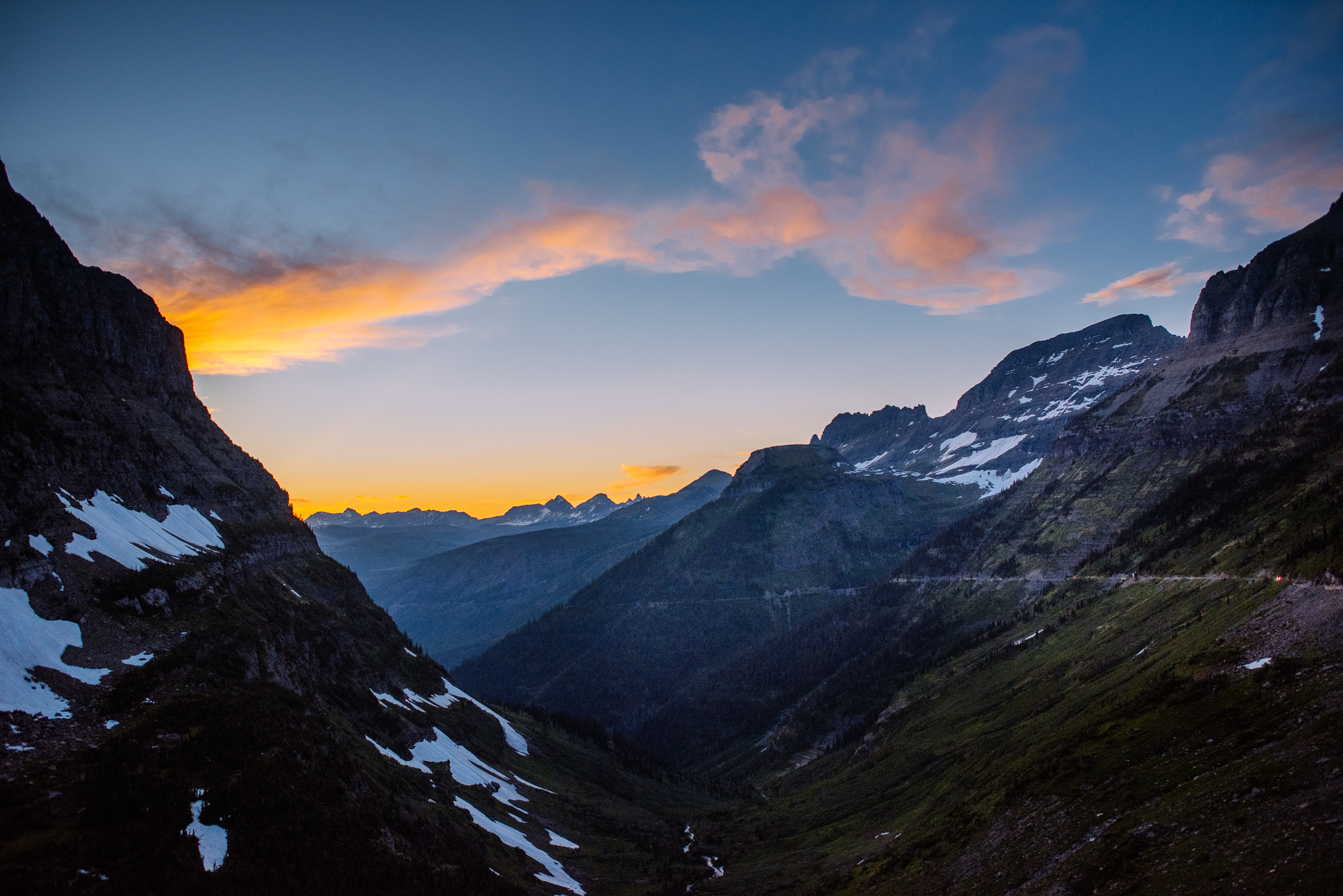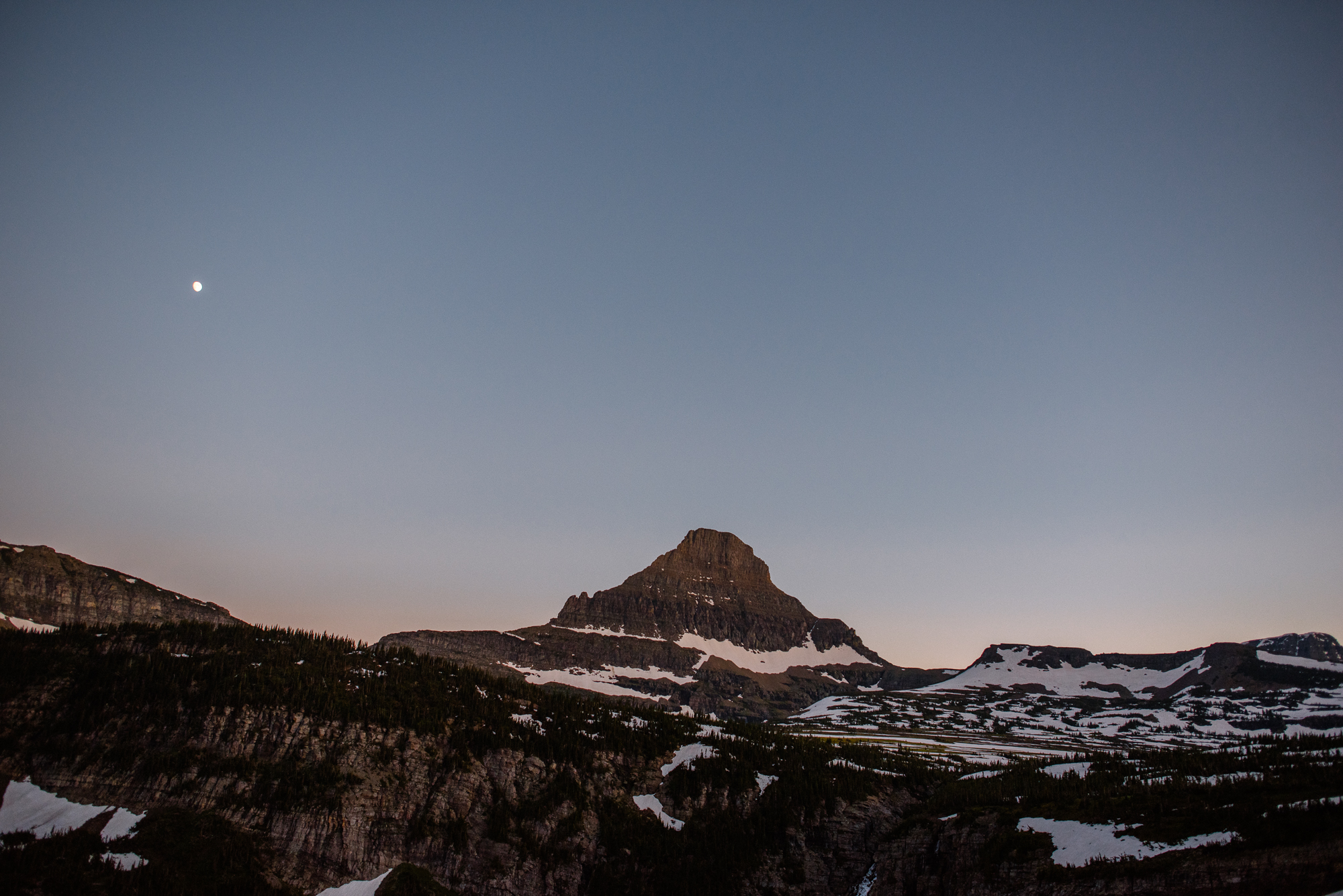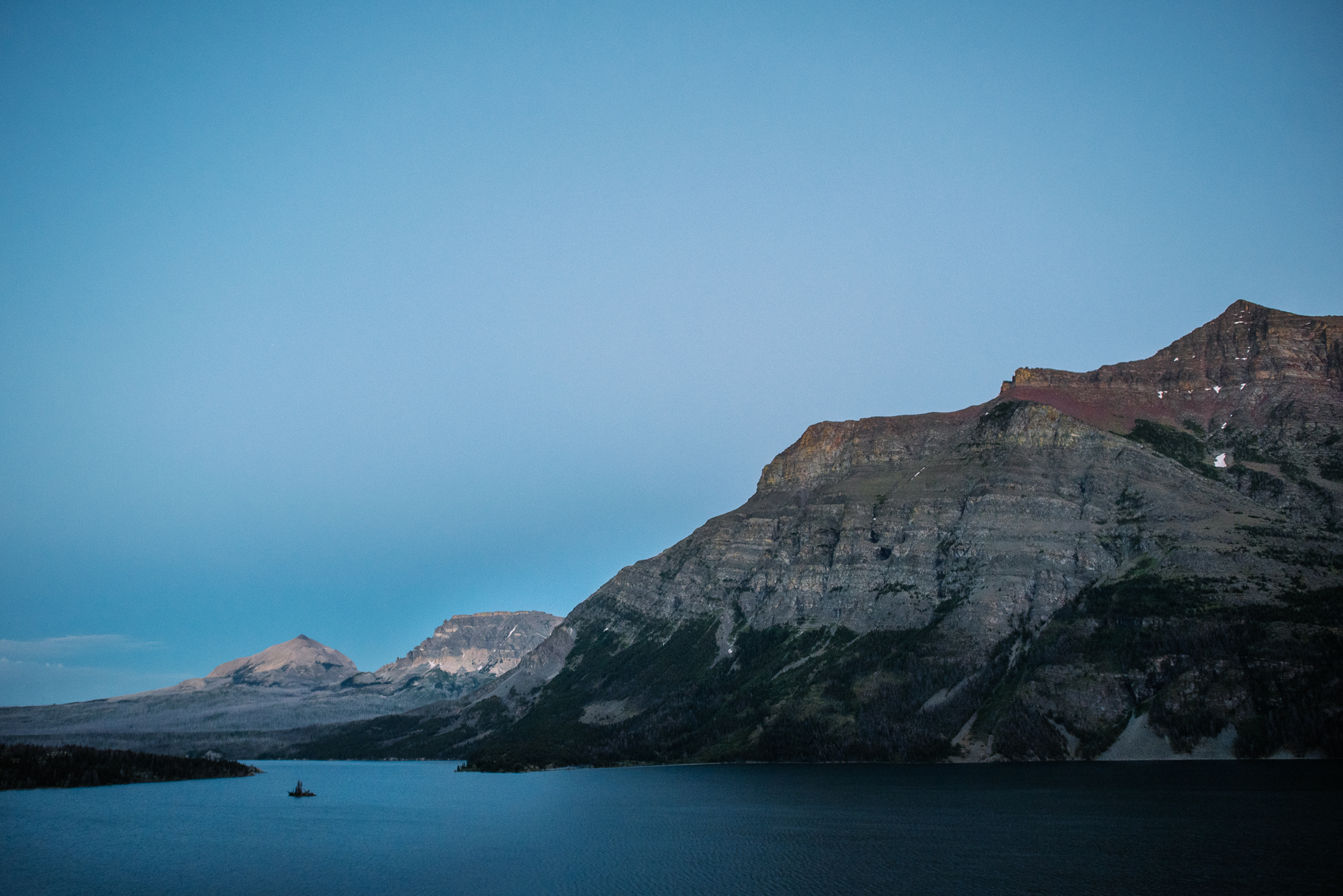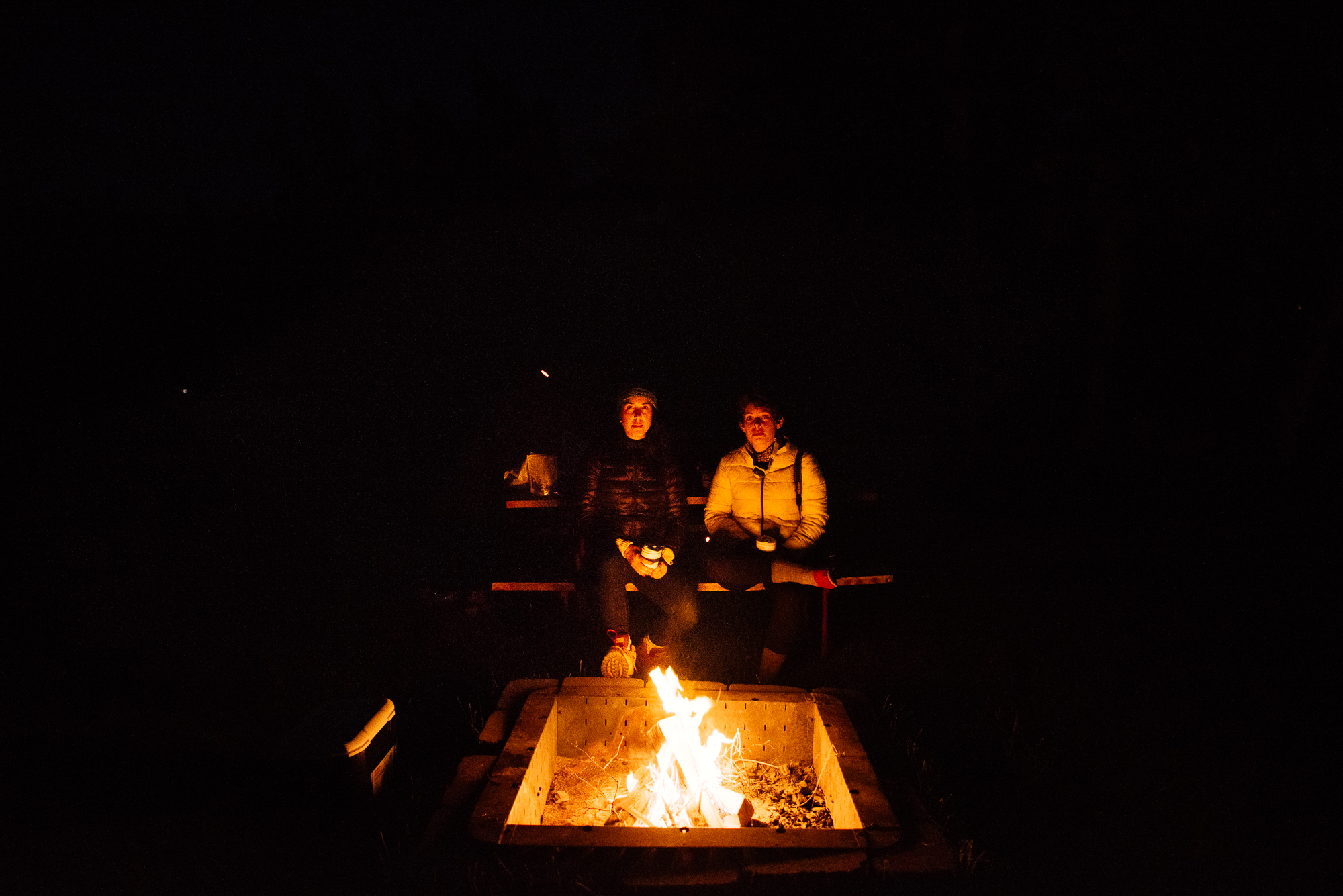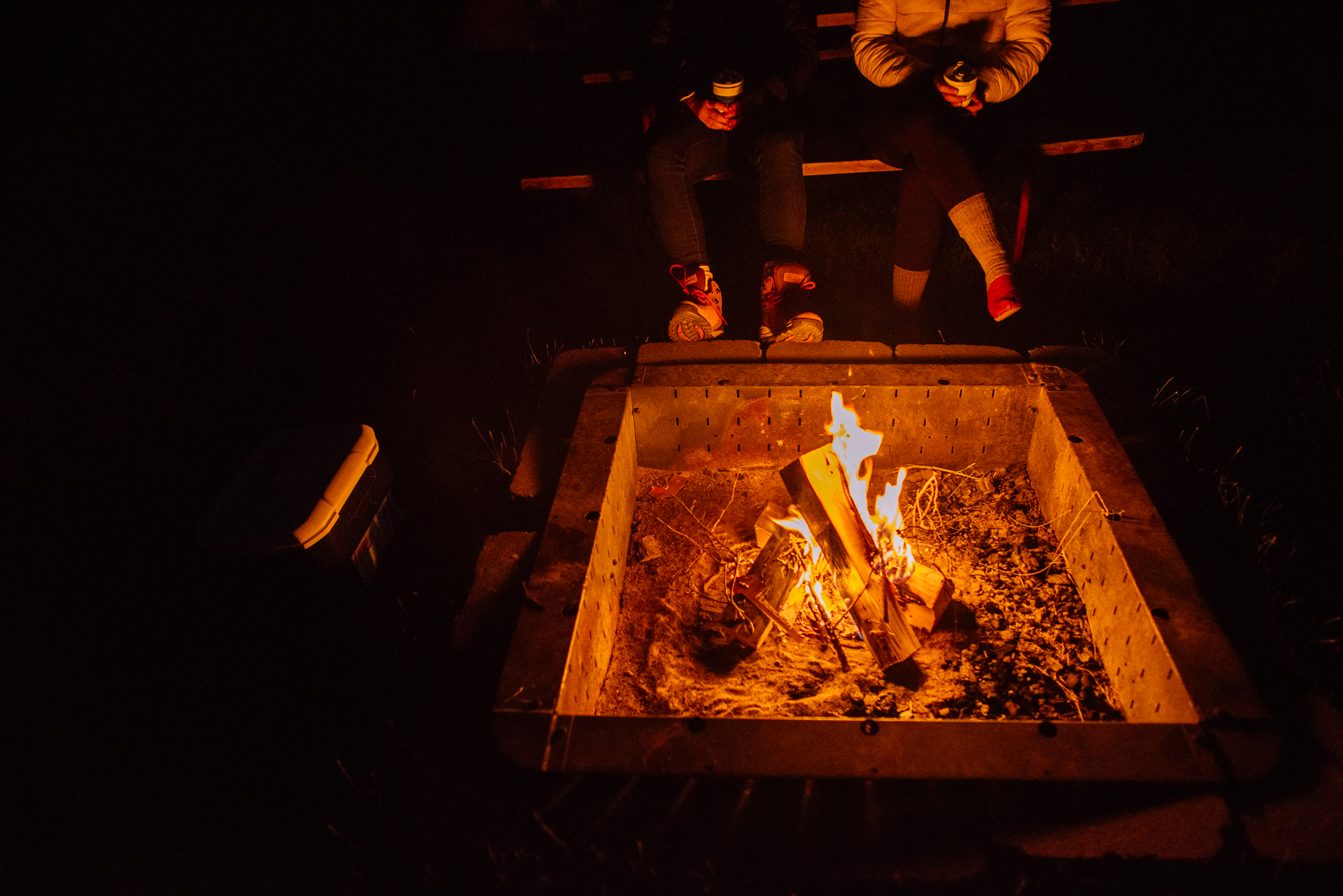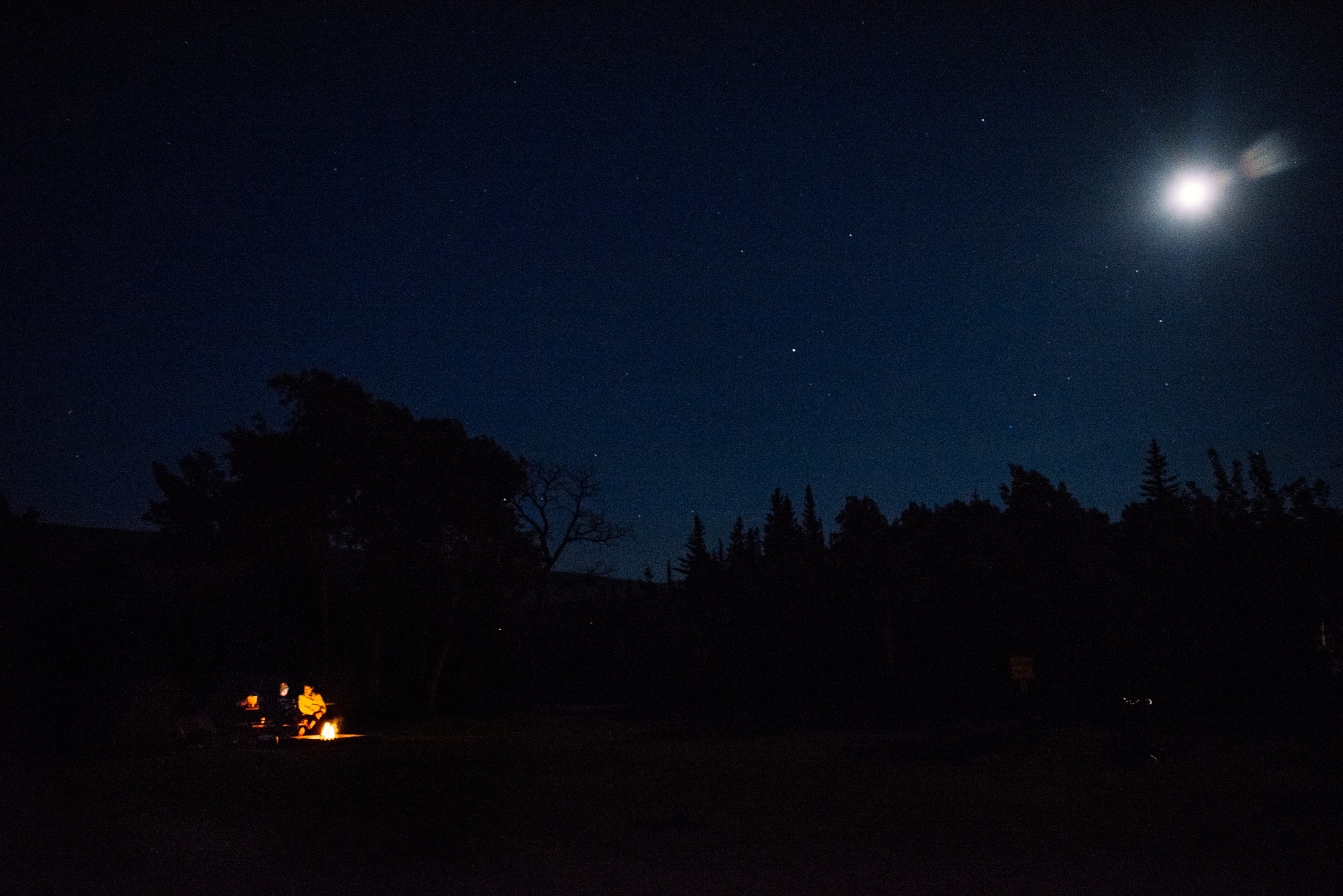 (Favorite, accidental, and most indicative selfie ever)
(7/5/17)
9:04a: Many Glacier Campground line, Glacier NP – The wait to reserve a campsite is long and intense. We've been sitting for an hour in the car and are now first in the queue. I am always impatient to be hiking. Jess scrolls through her phone and old photos, Erica reads, and I intermittently journal or get up and walk around the car, but at least we get to listen to the rangers' chatter. Bear talk; wildflower information; data about the campers who let their boyfriends sleep in past 9a on a beautiful day; where the moose roam. A group of CDT thru-hikers came through with ultralight looking packs and the long, lean gaits of people who walk for months, making me jealous. I want to be them, transient, living for the views between strong, scalding morning coffee and a final sip of whiskey at night. I feel lonely. I feel at home. I feel awed. I don't know how to sustain what I want.
UPDATE: The Grinnell Glacier Trail was a rainbow plethora of peaks, flowers, and varied waters from cobalt to aqua. I peeked under an ice shelf that closed the trail and let its icy water drip down my neck. We swam in Lake Josephine, frigid, but warmer than Moraine Lake (I didn't go numb or gasp for breath).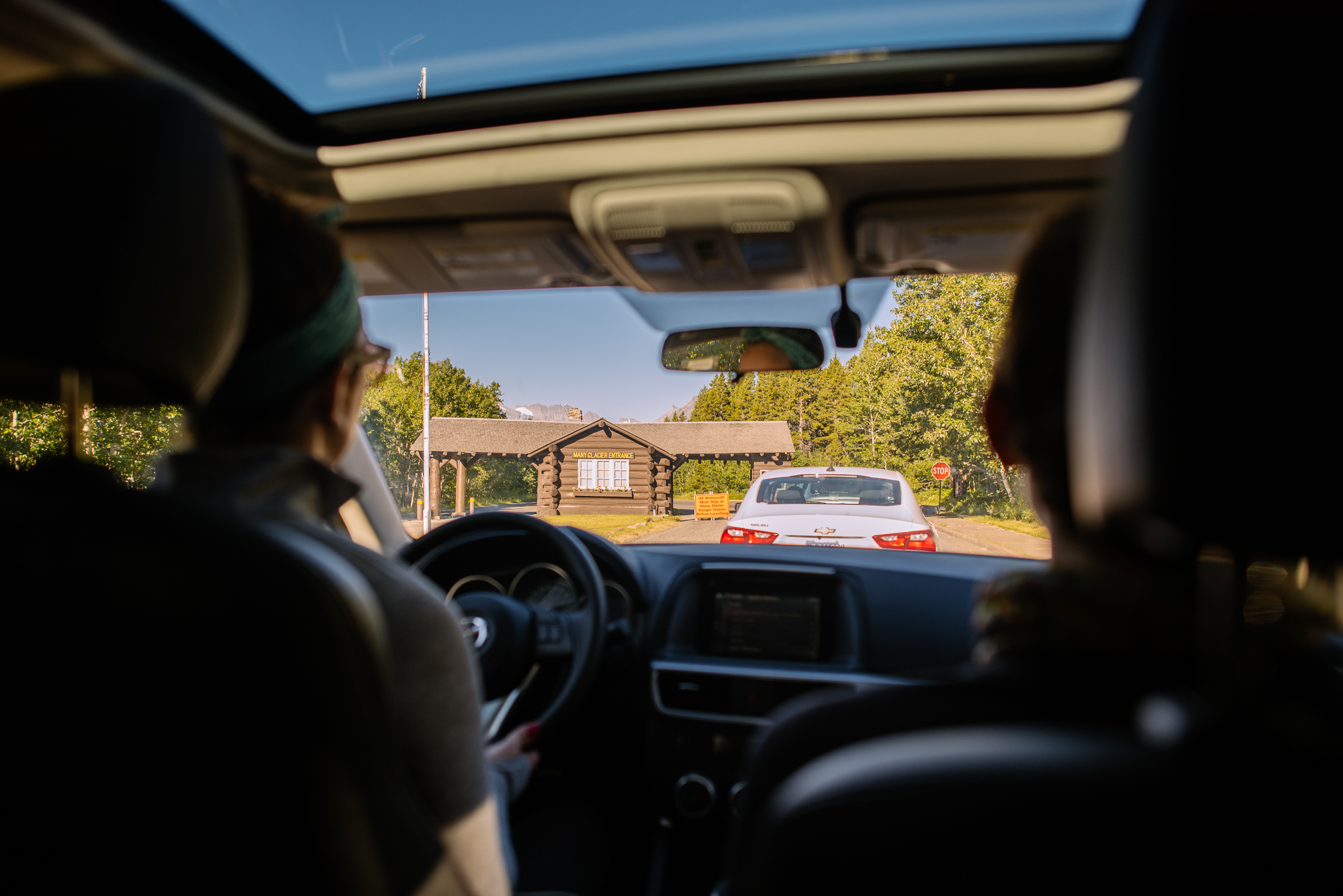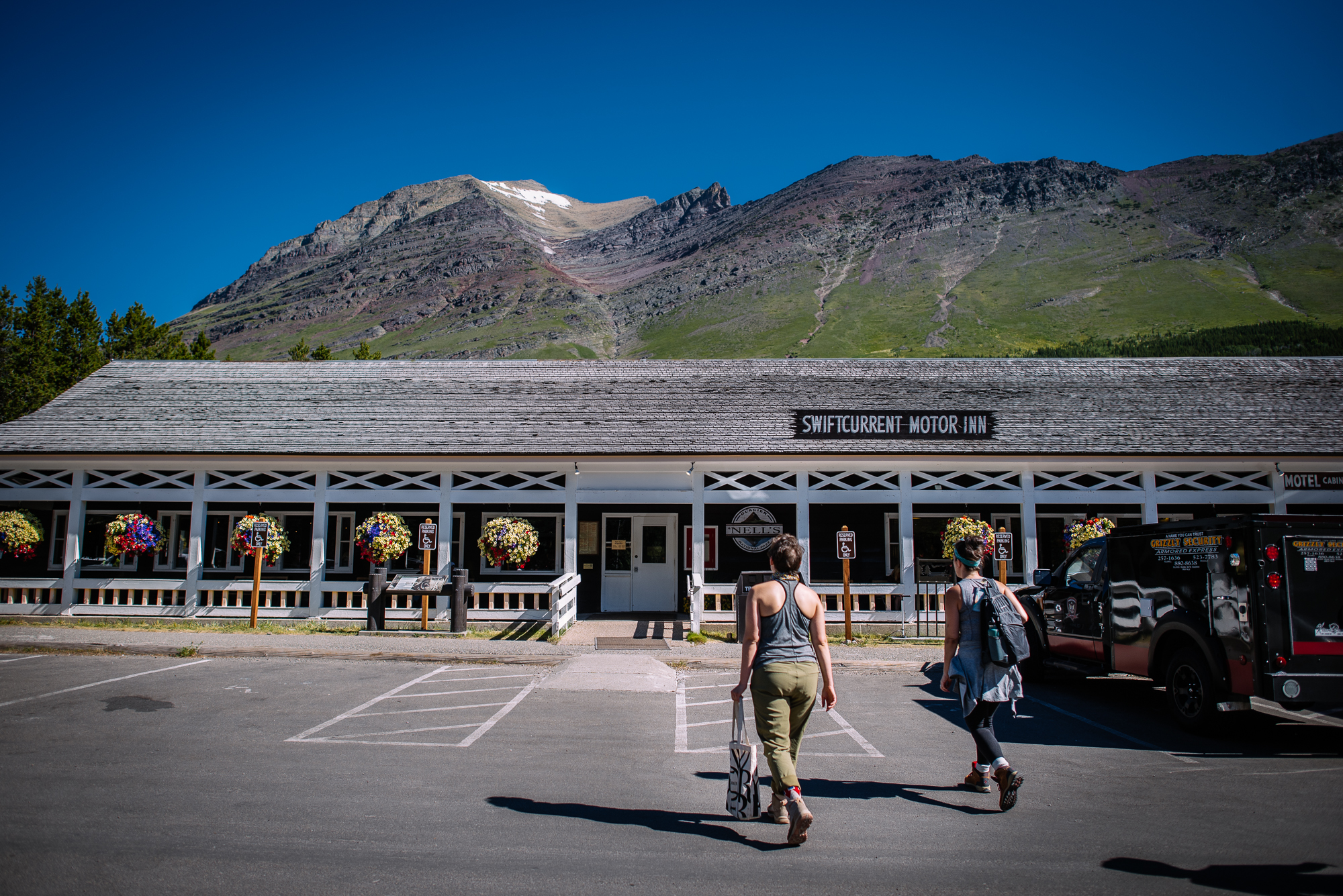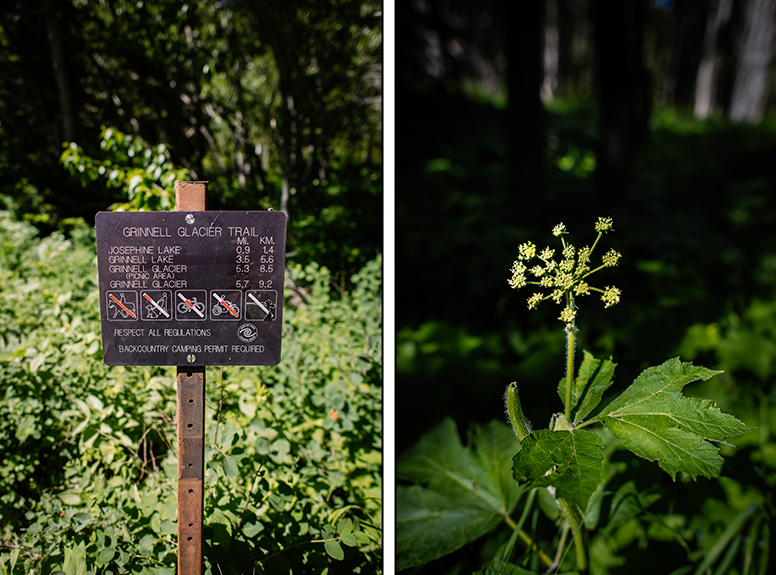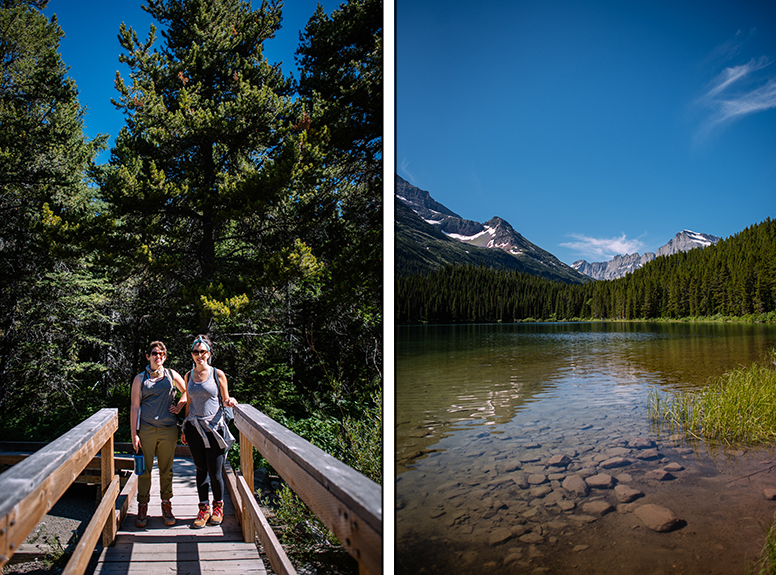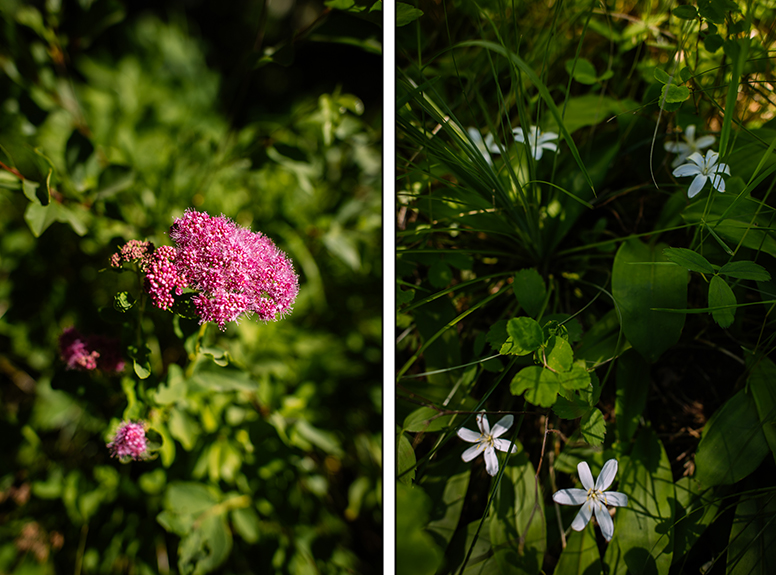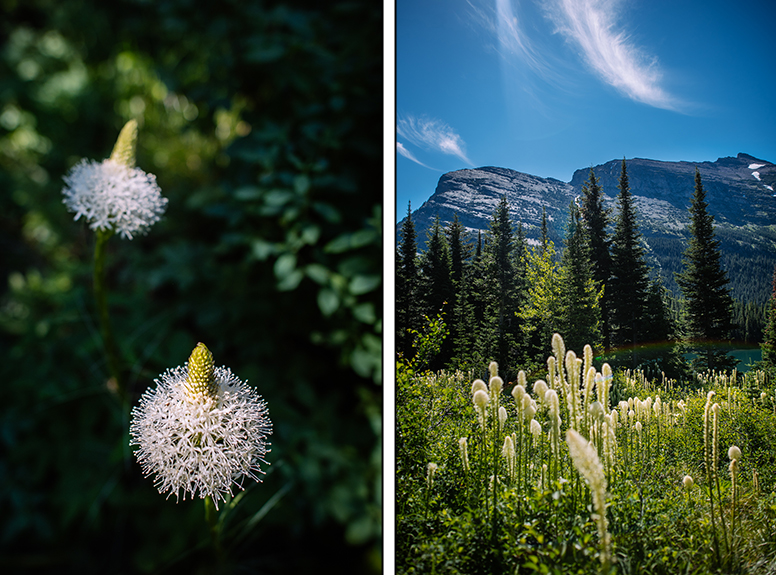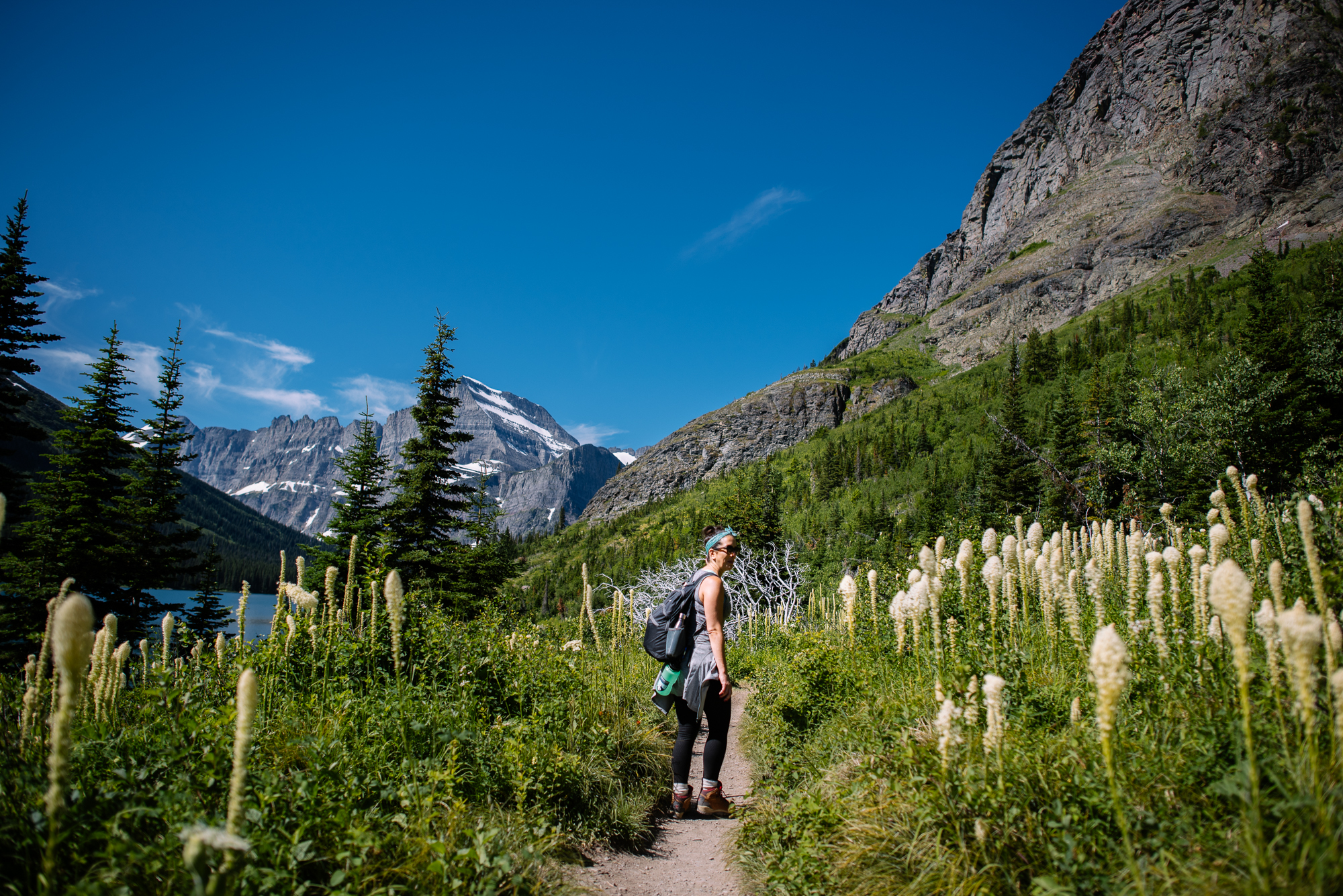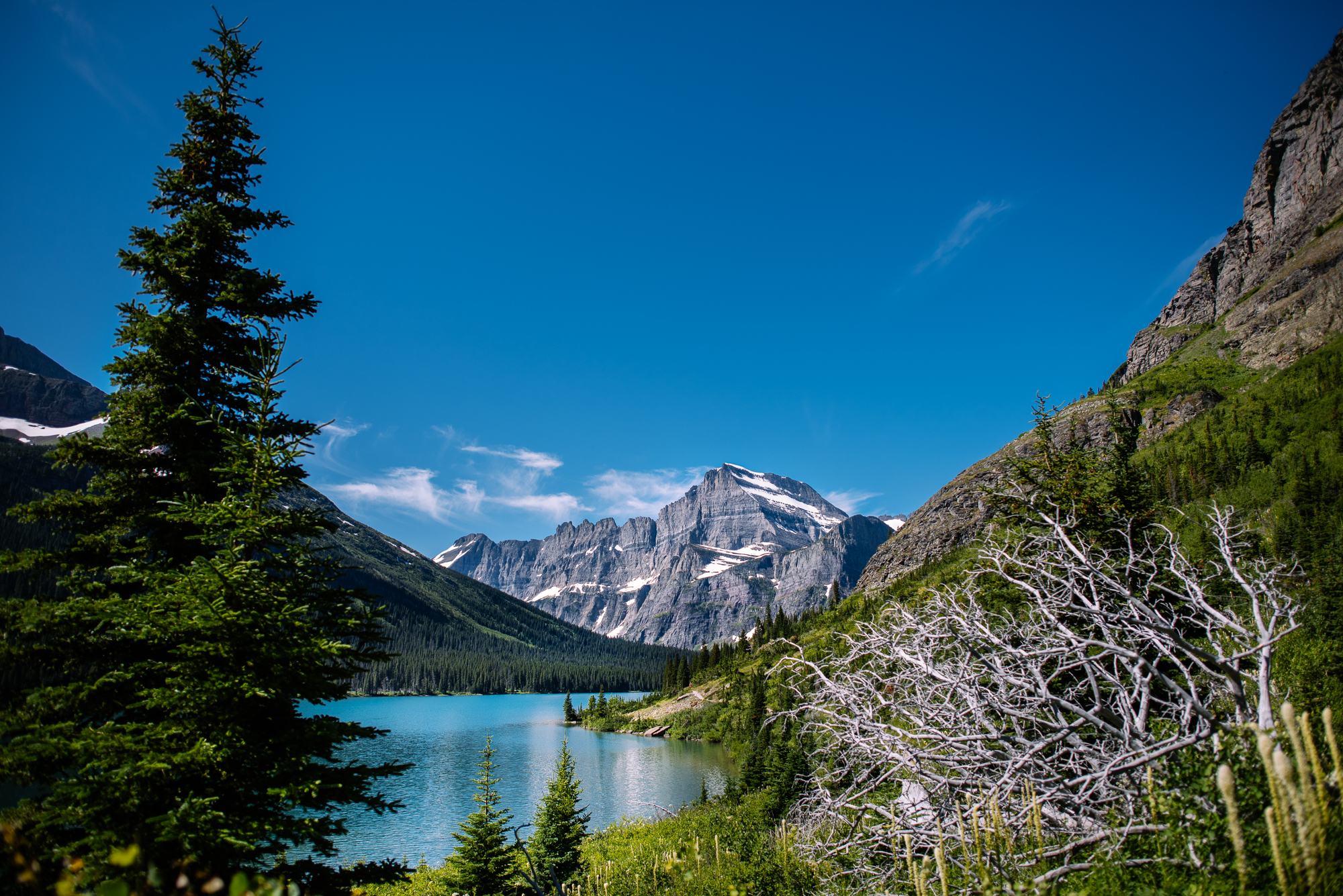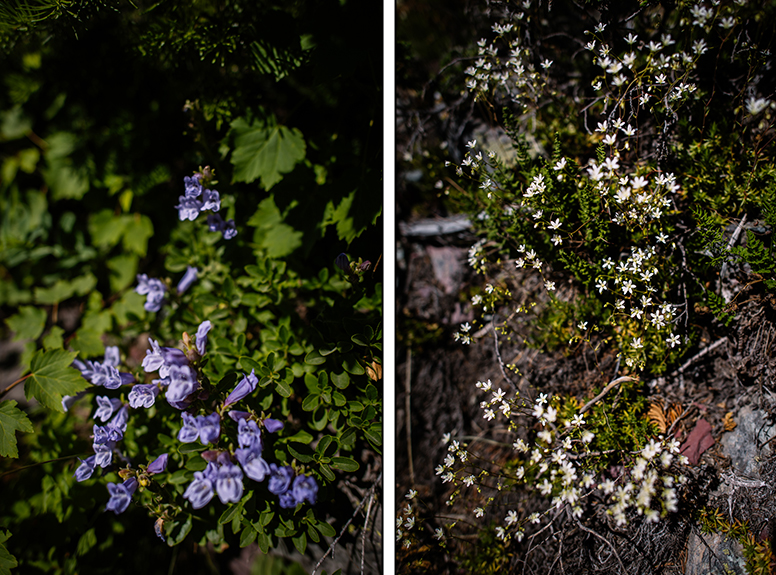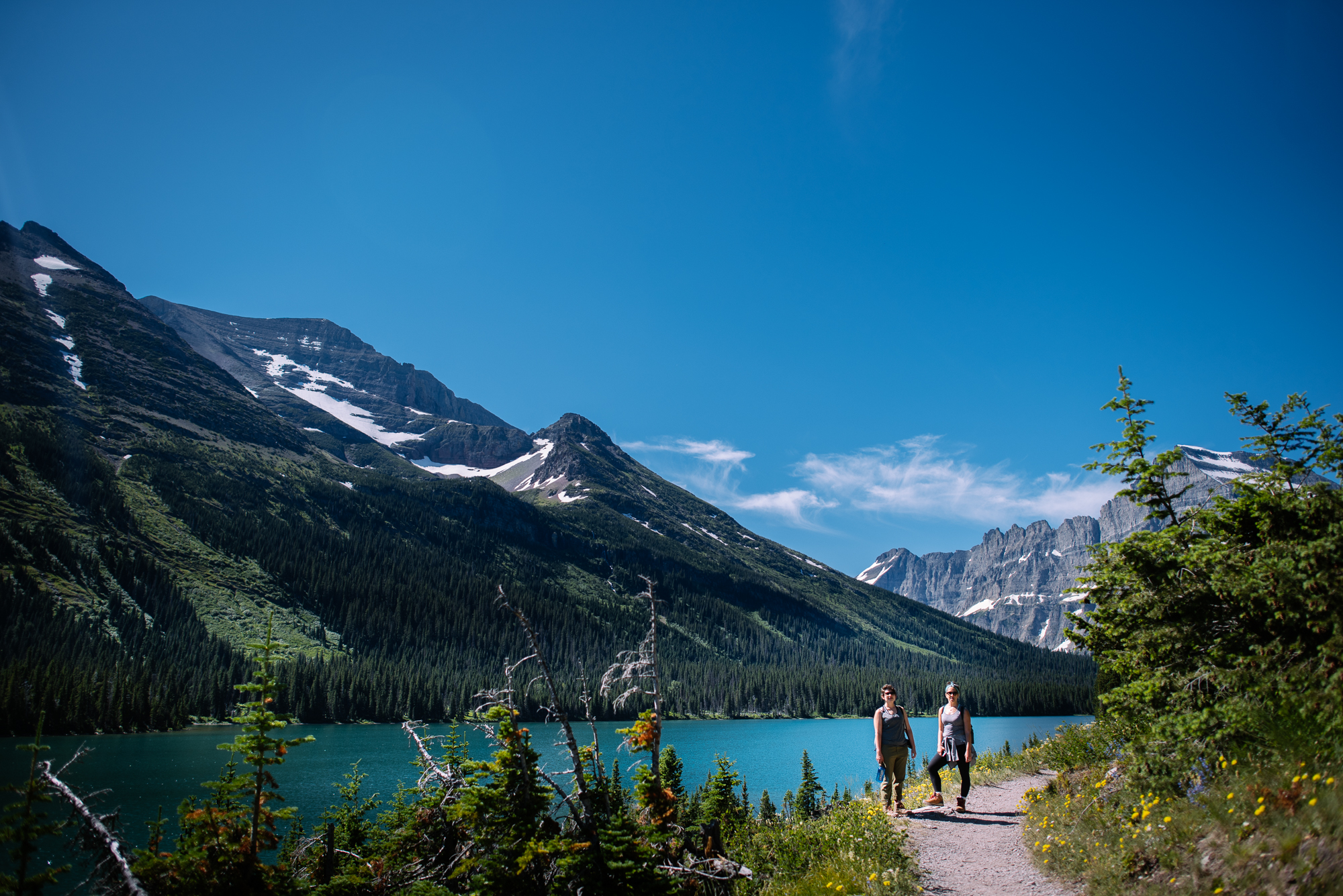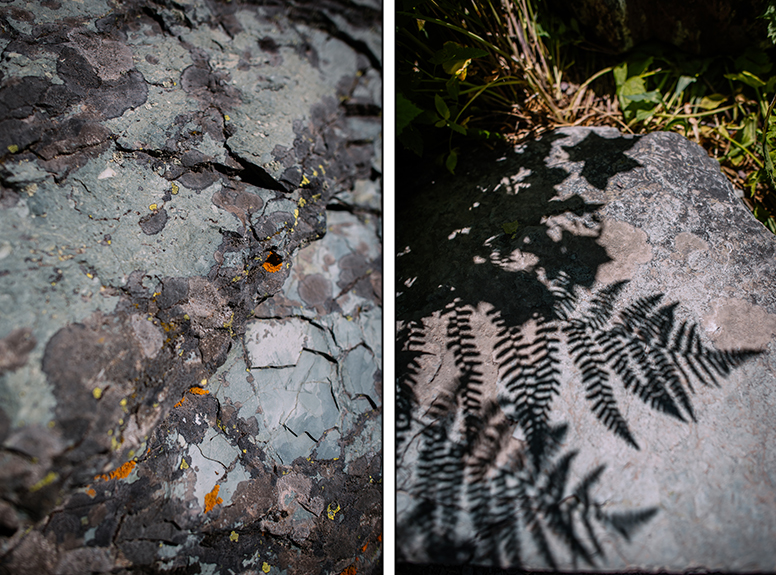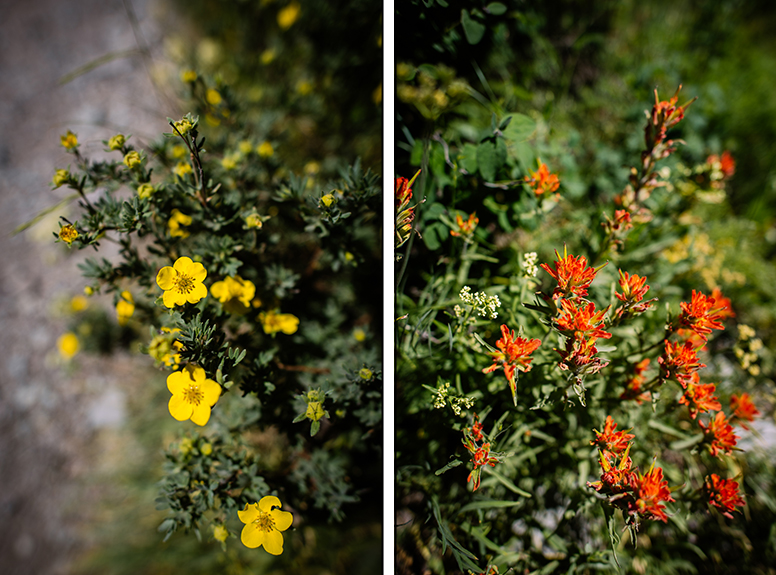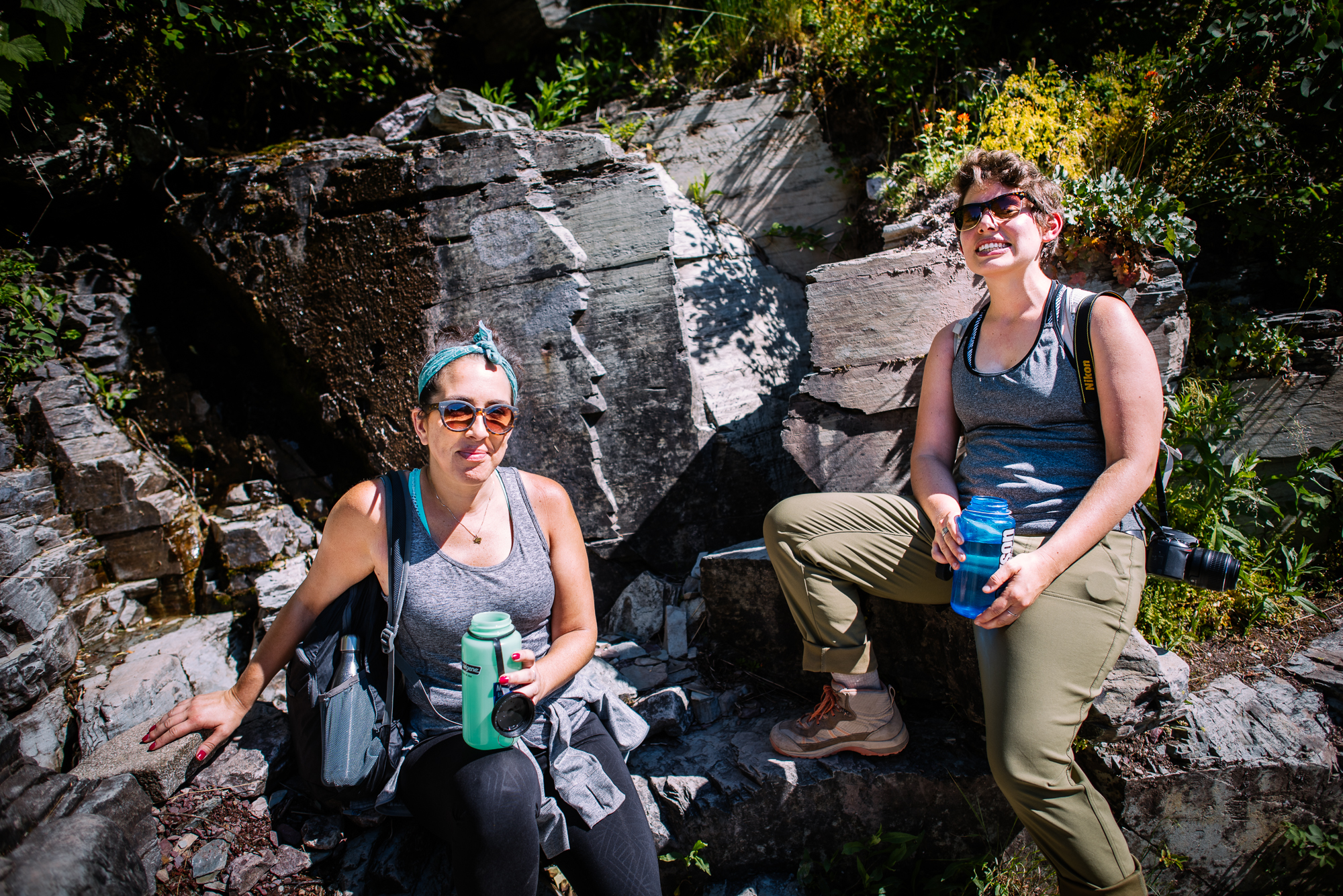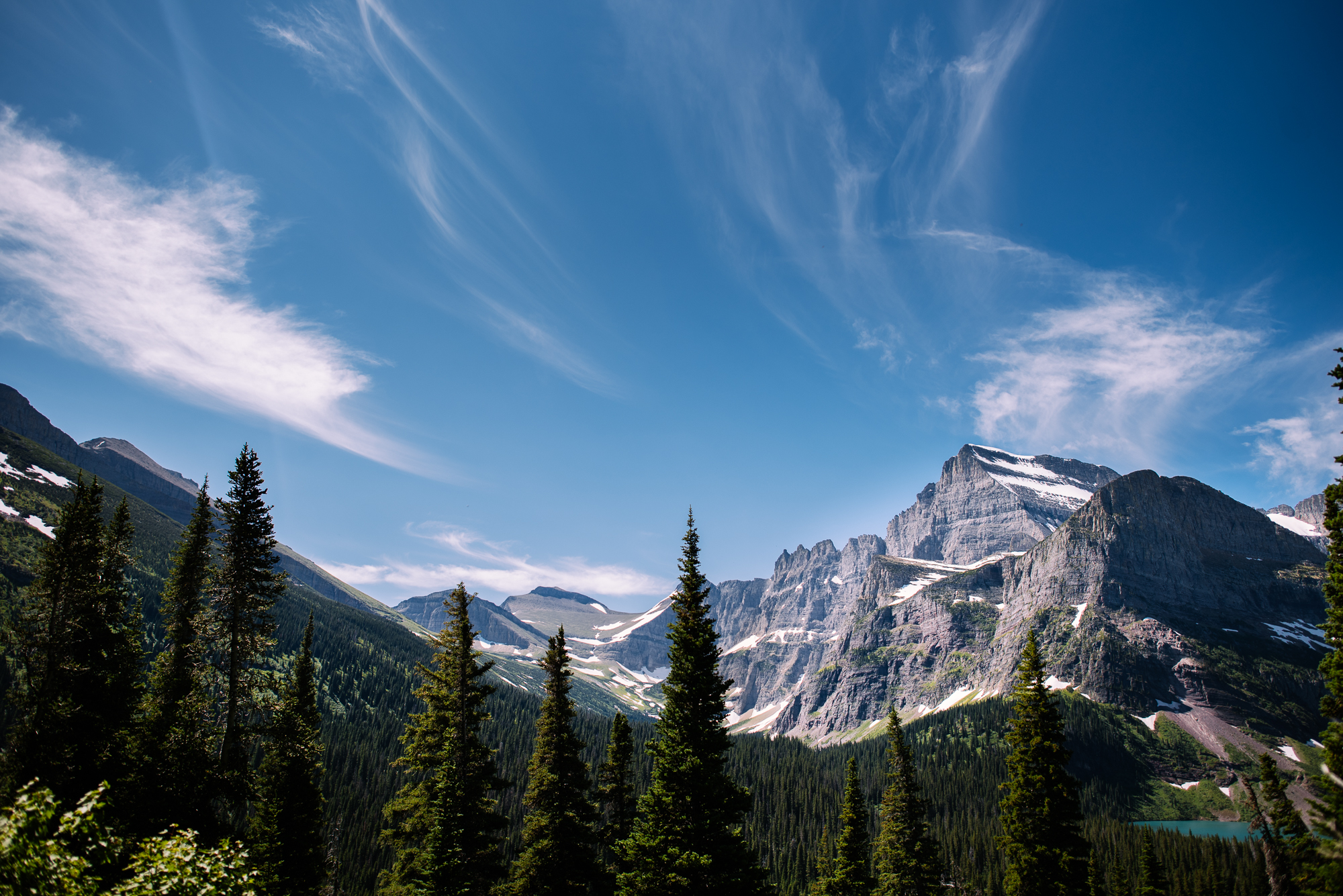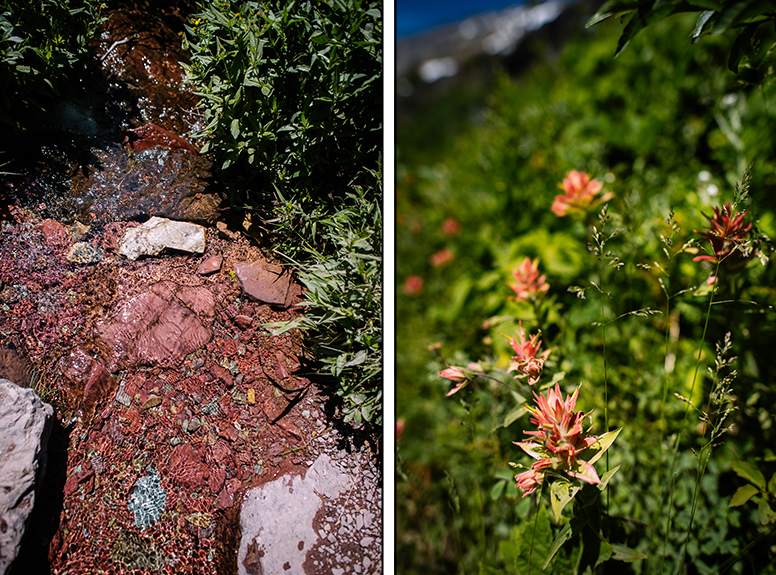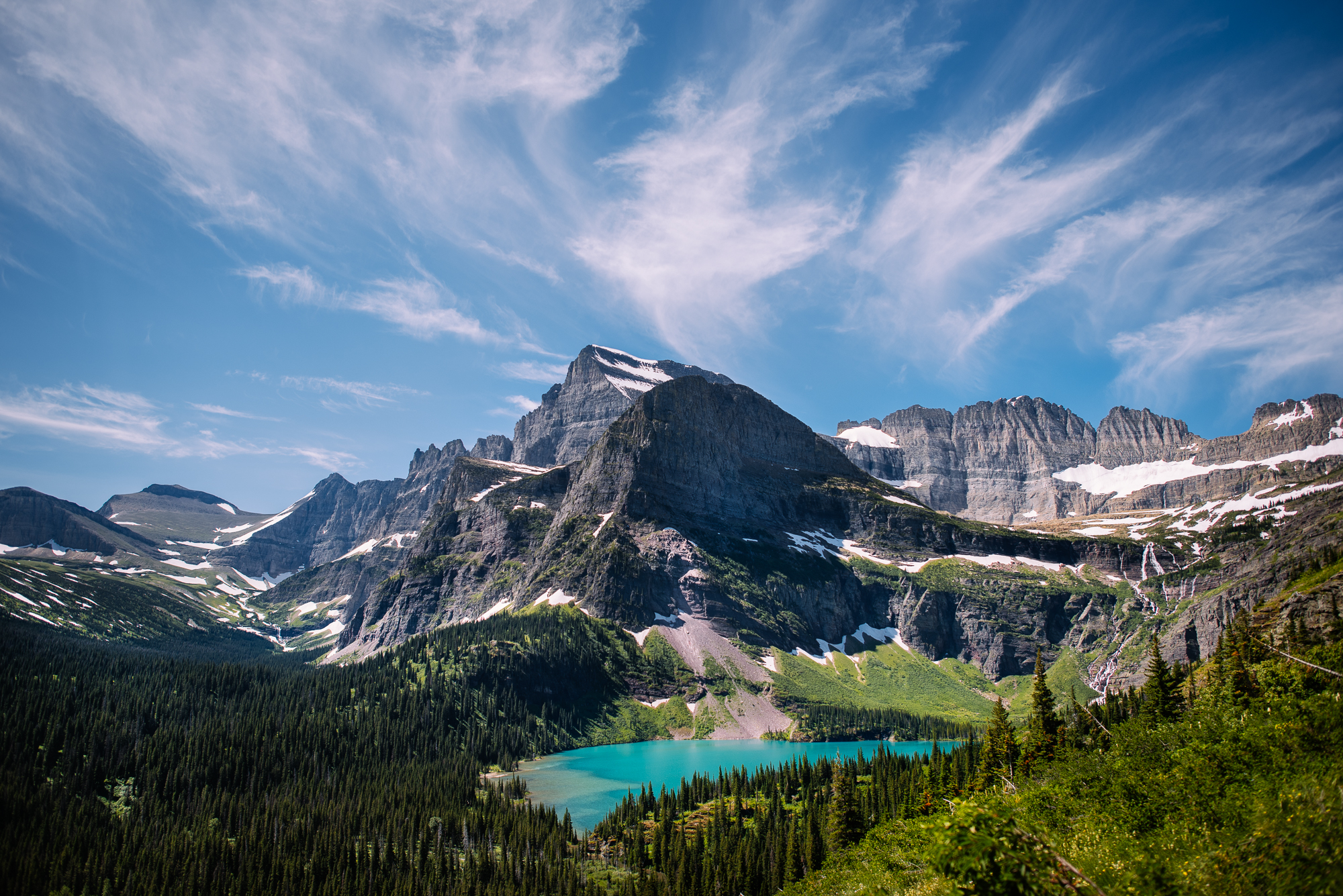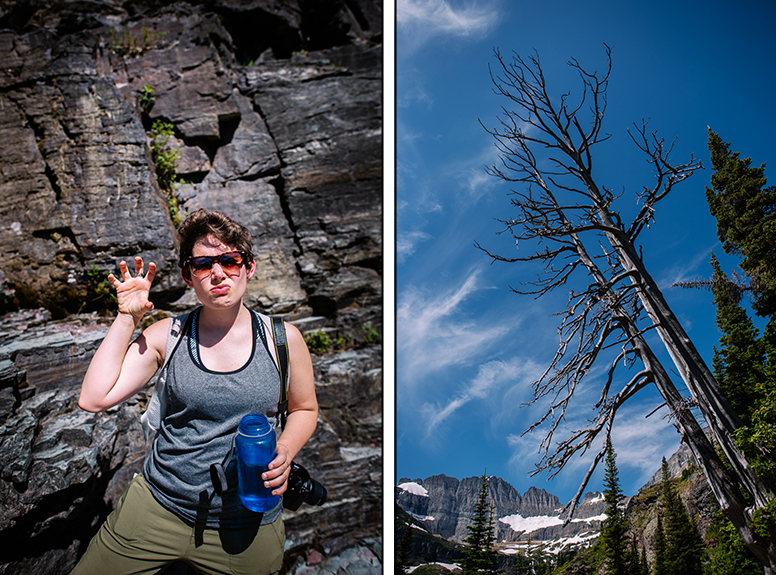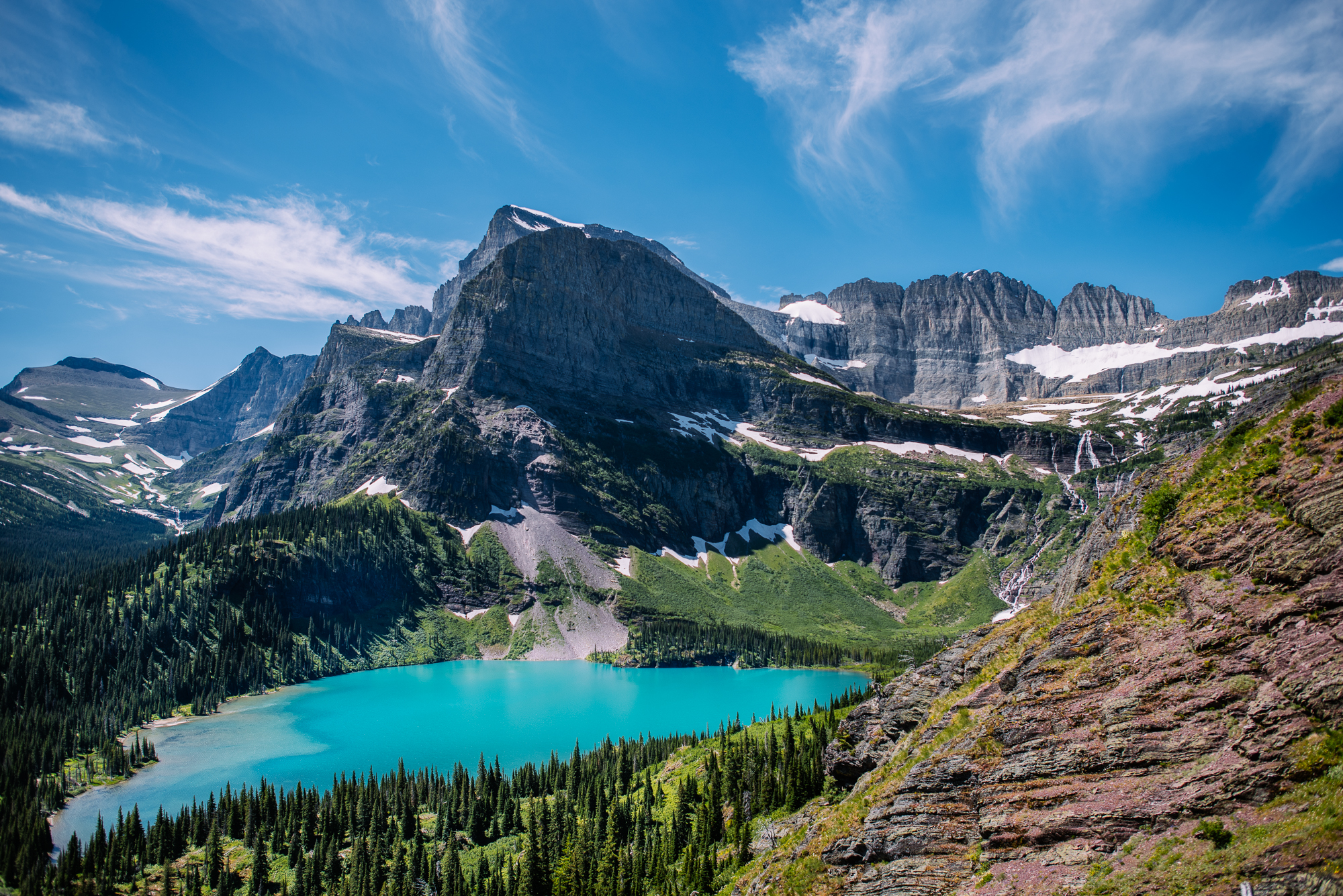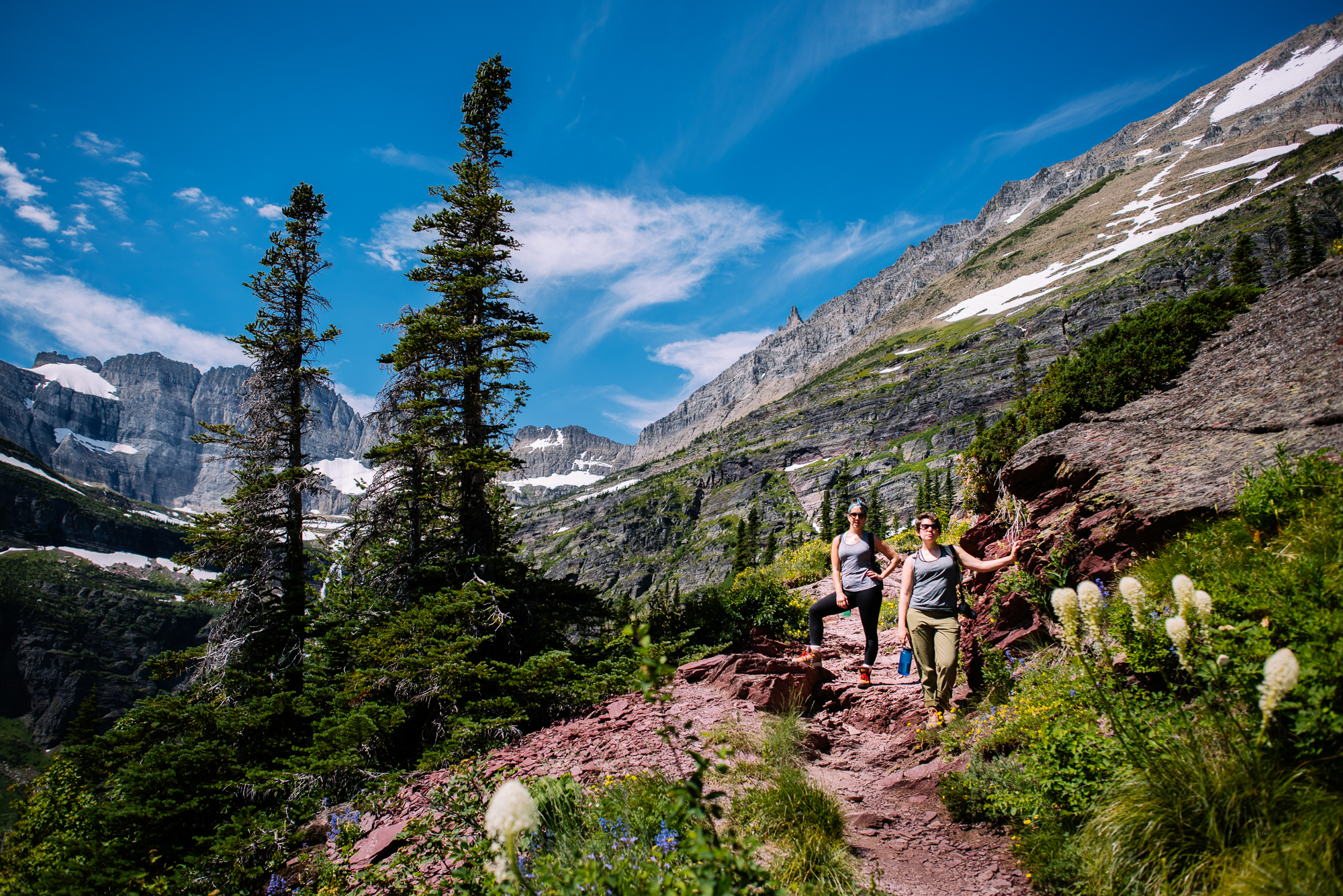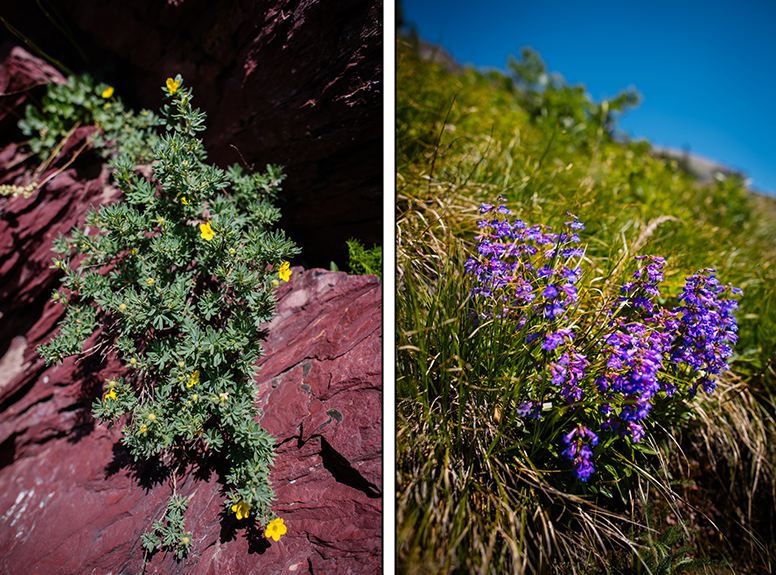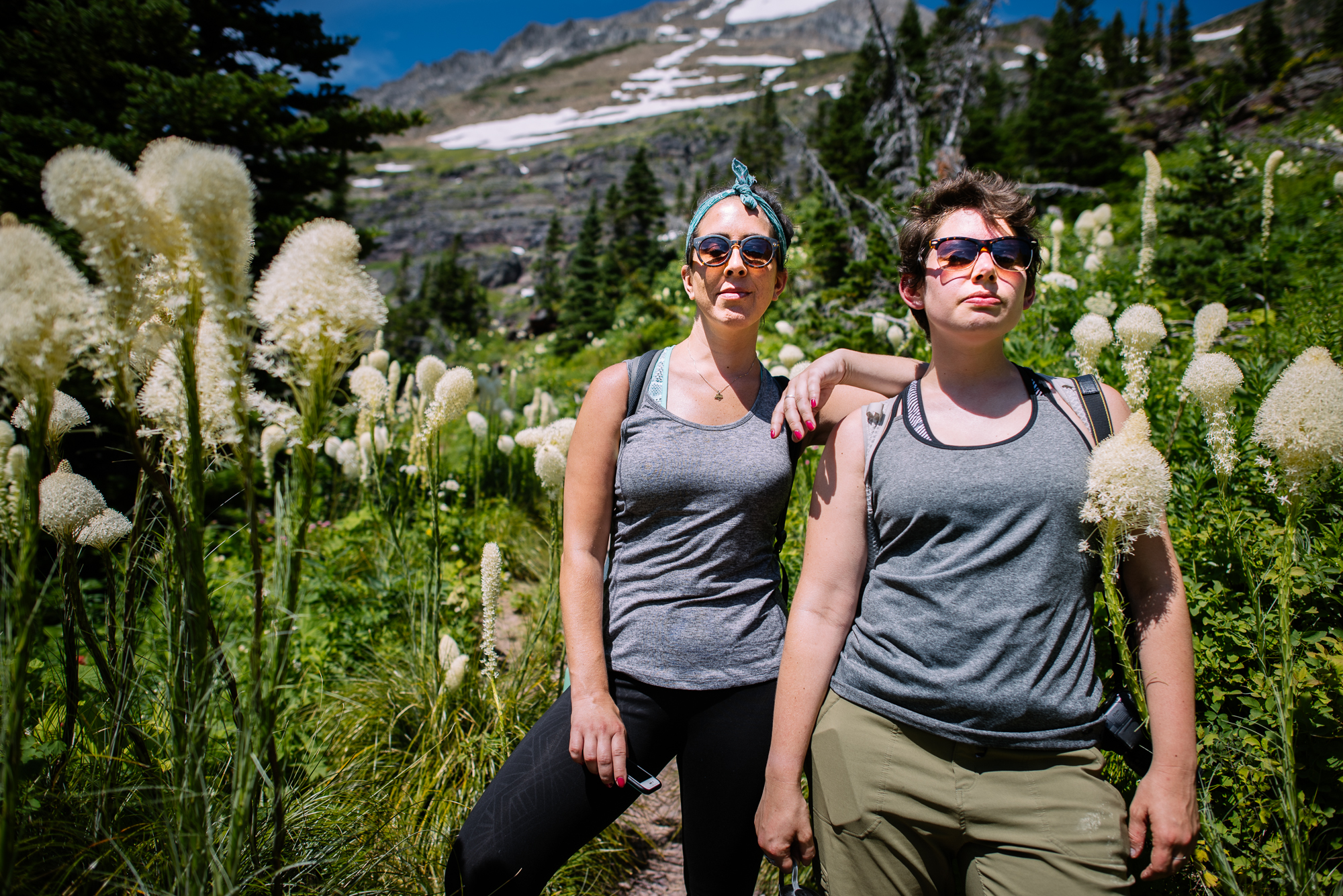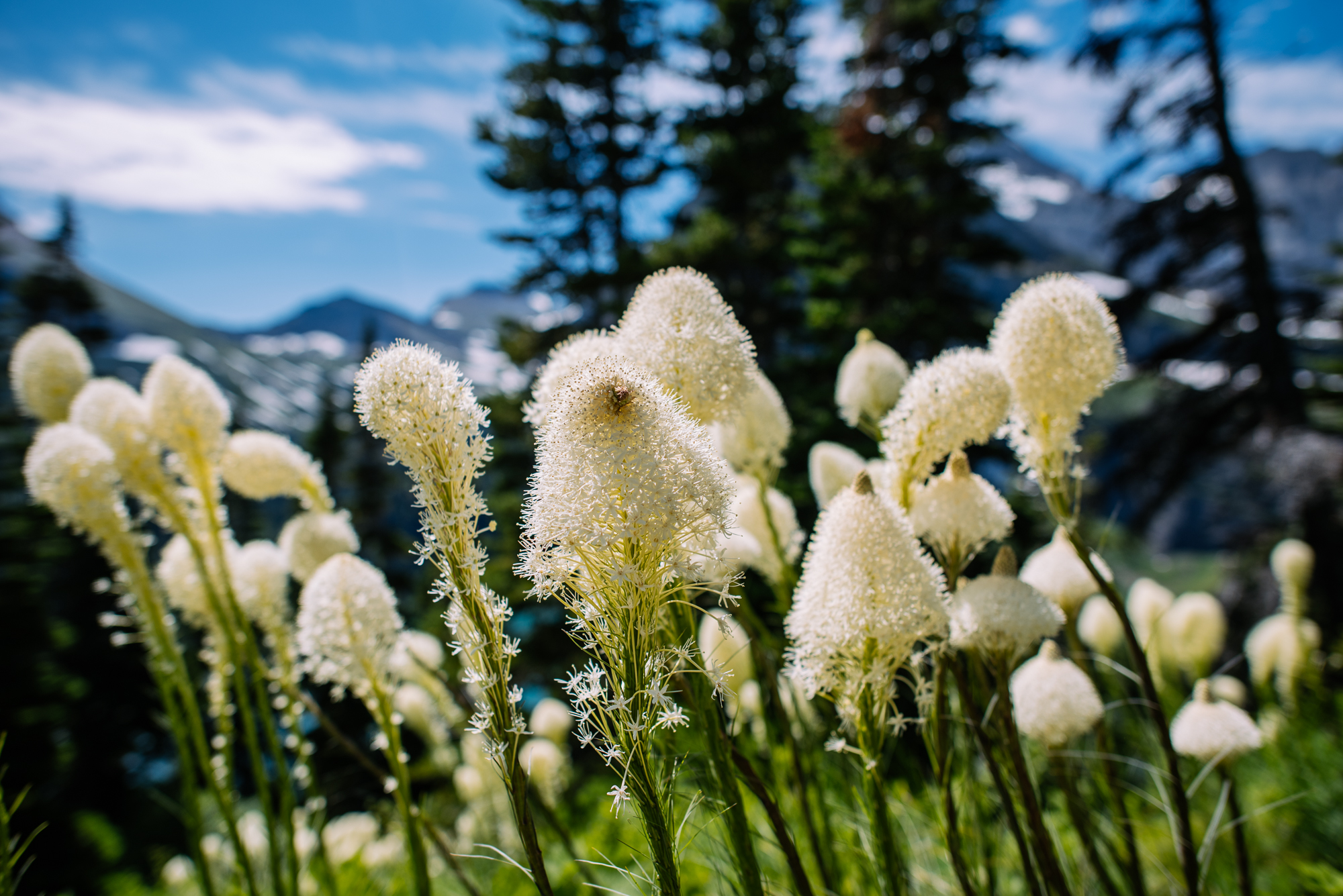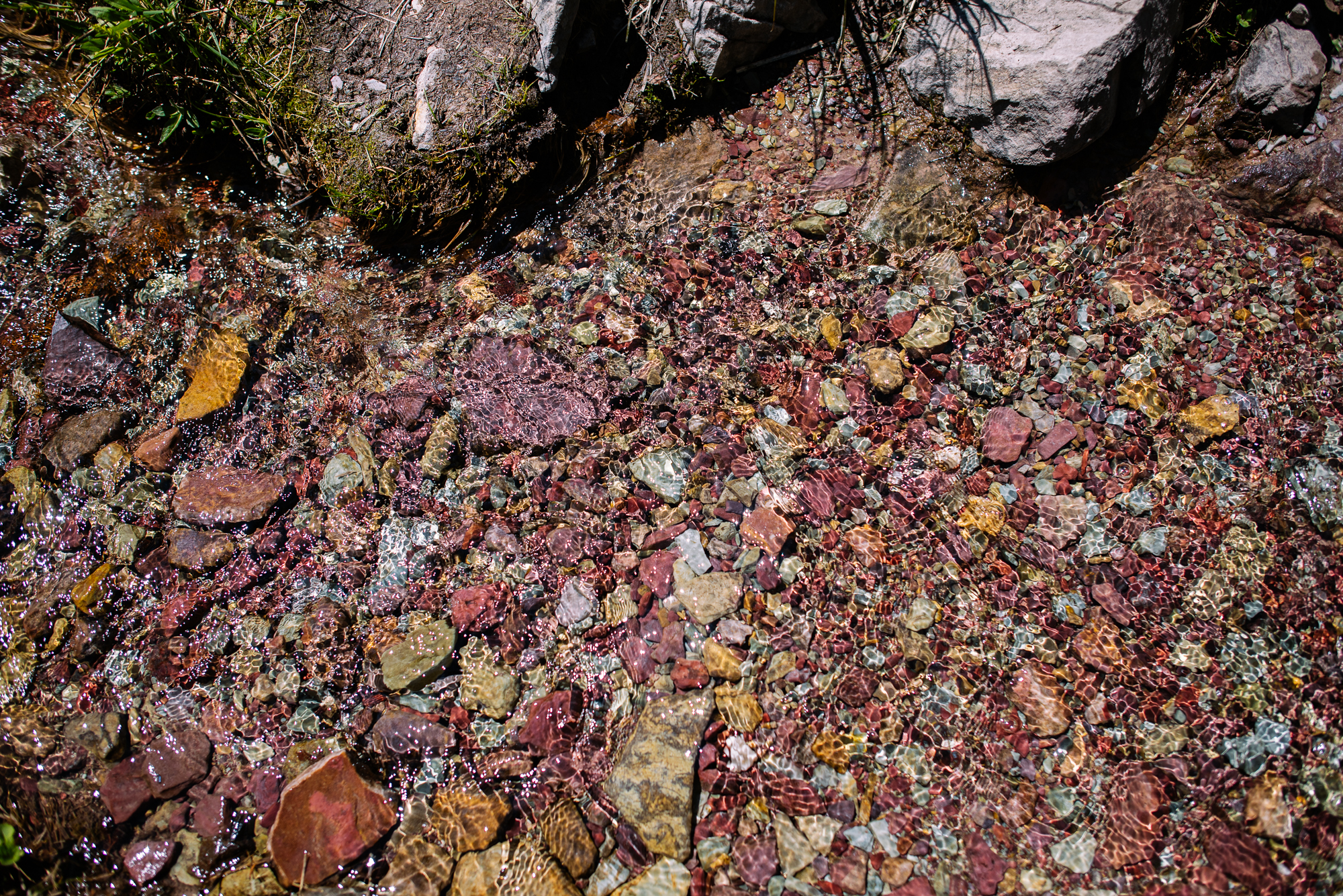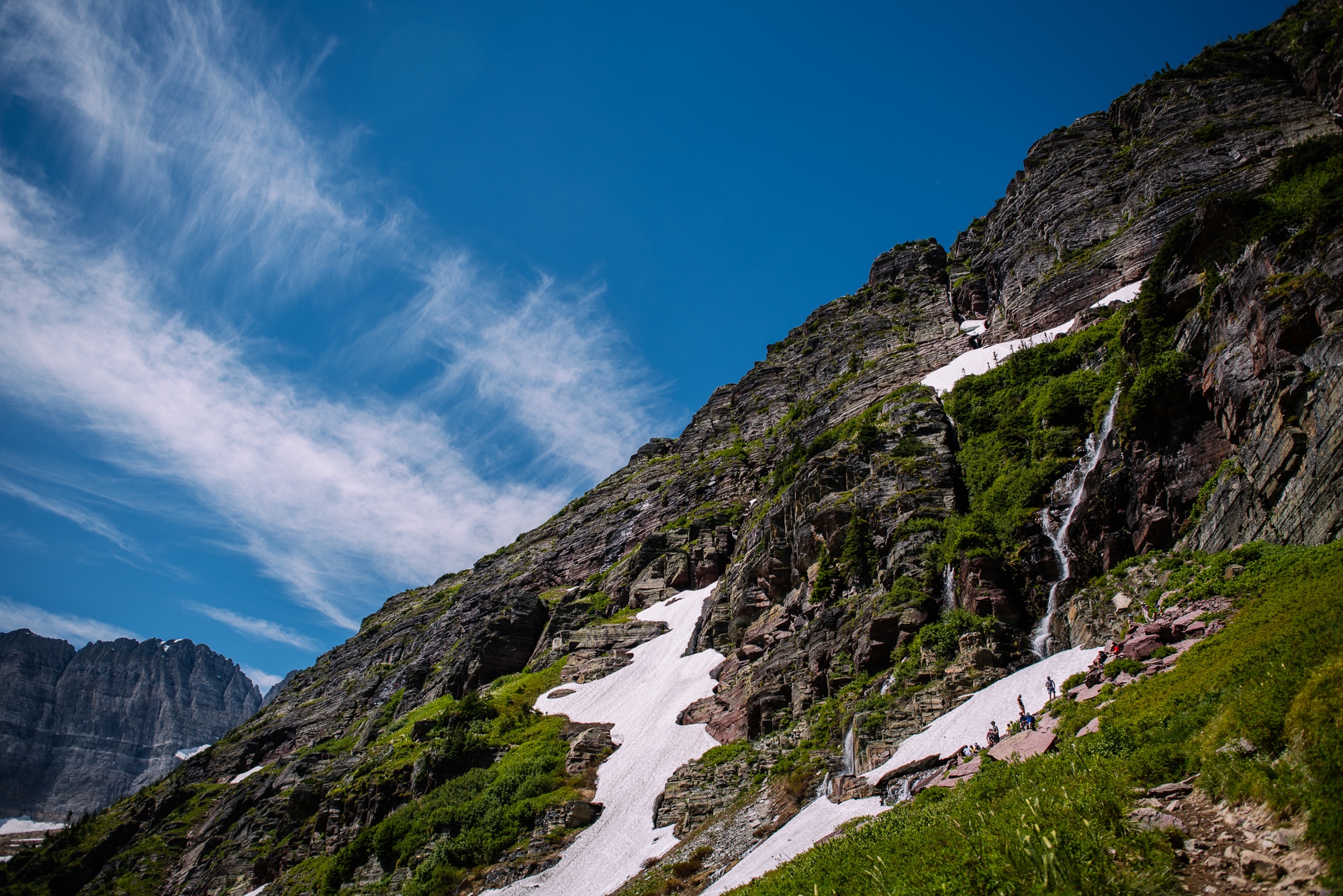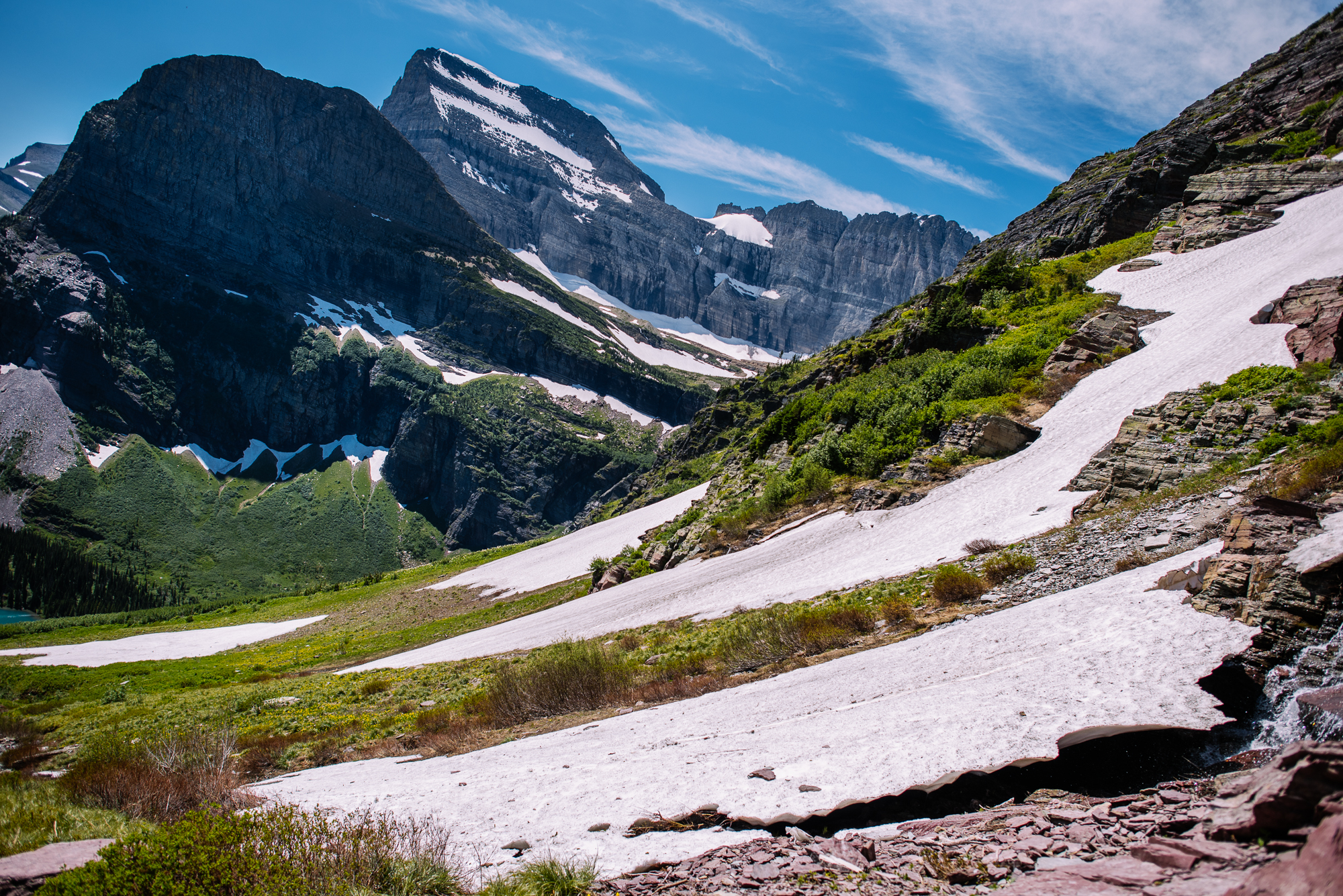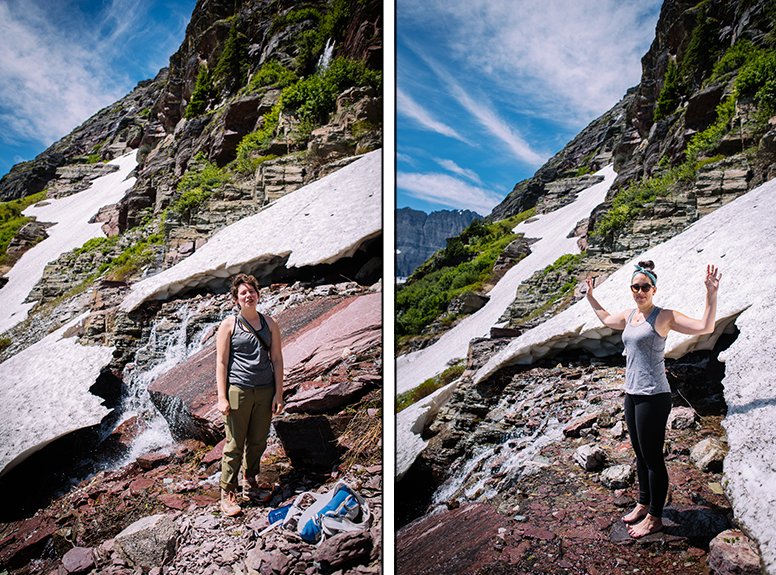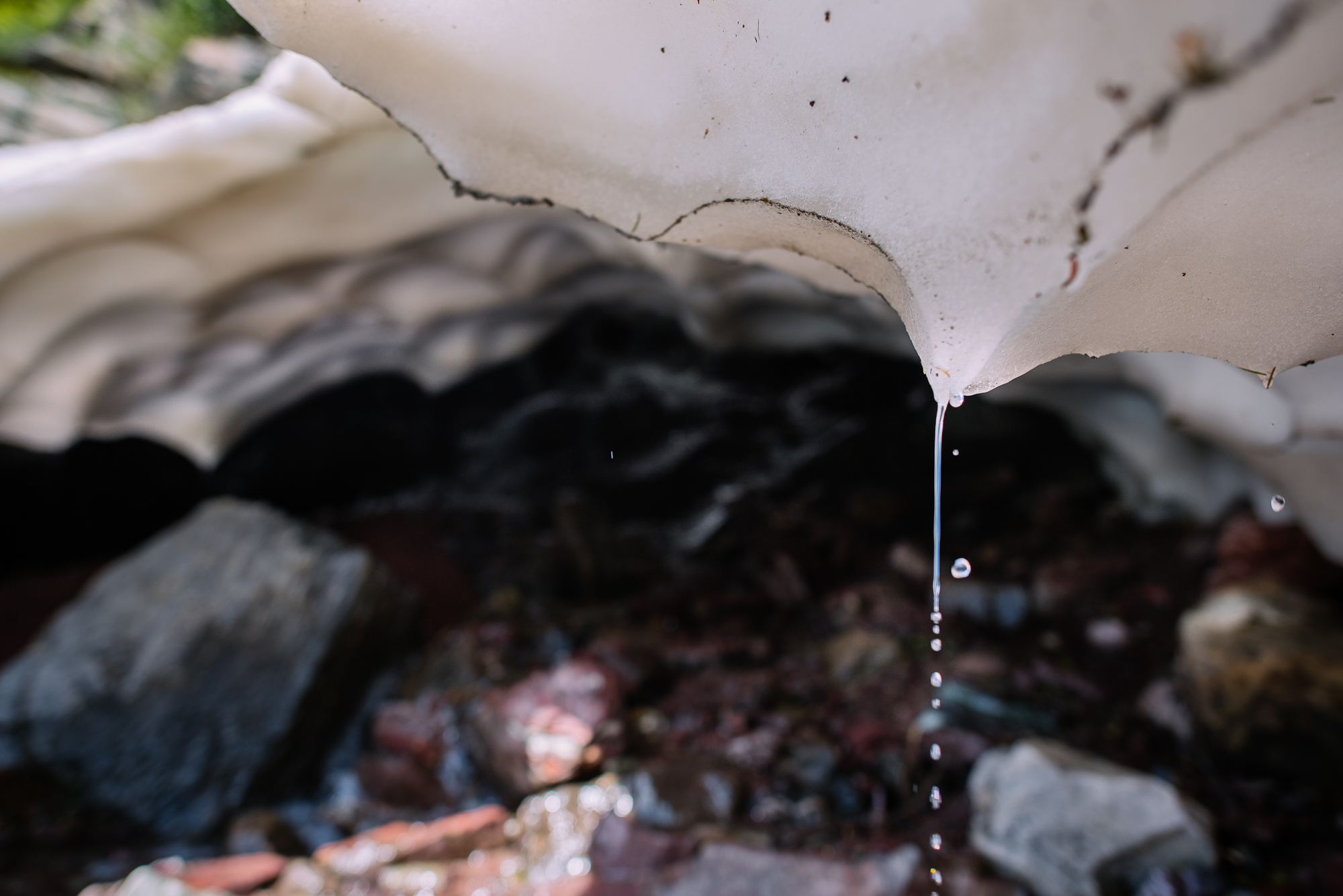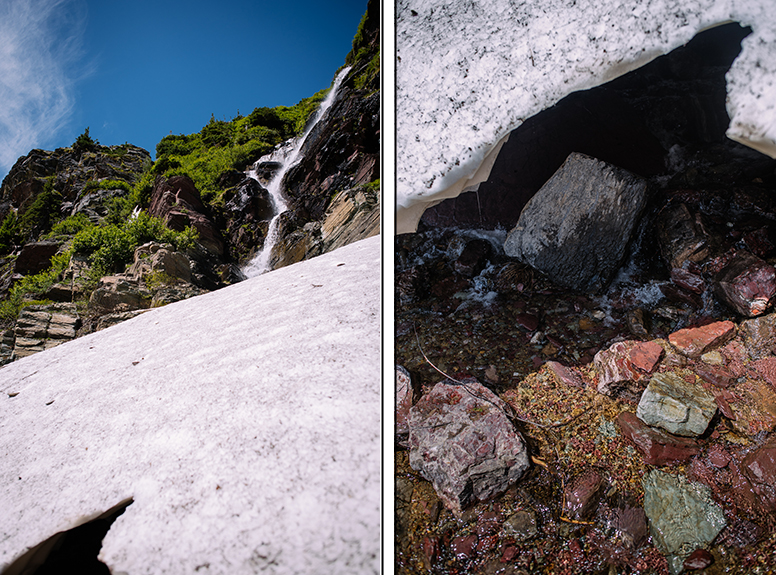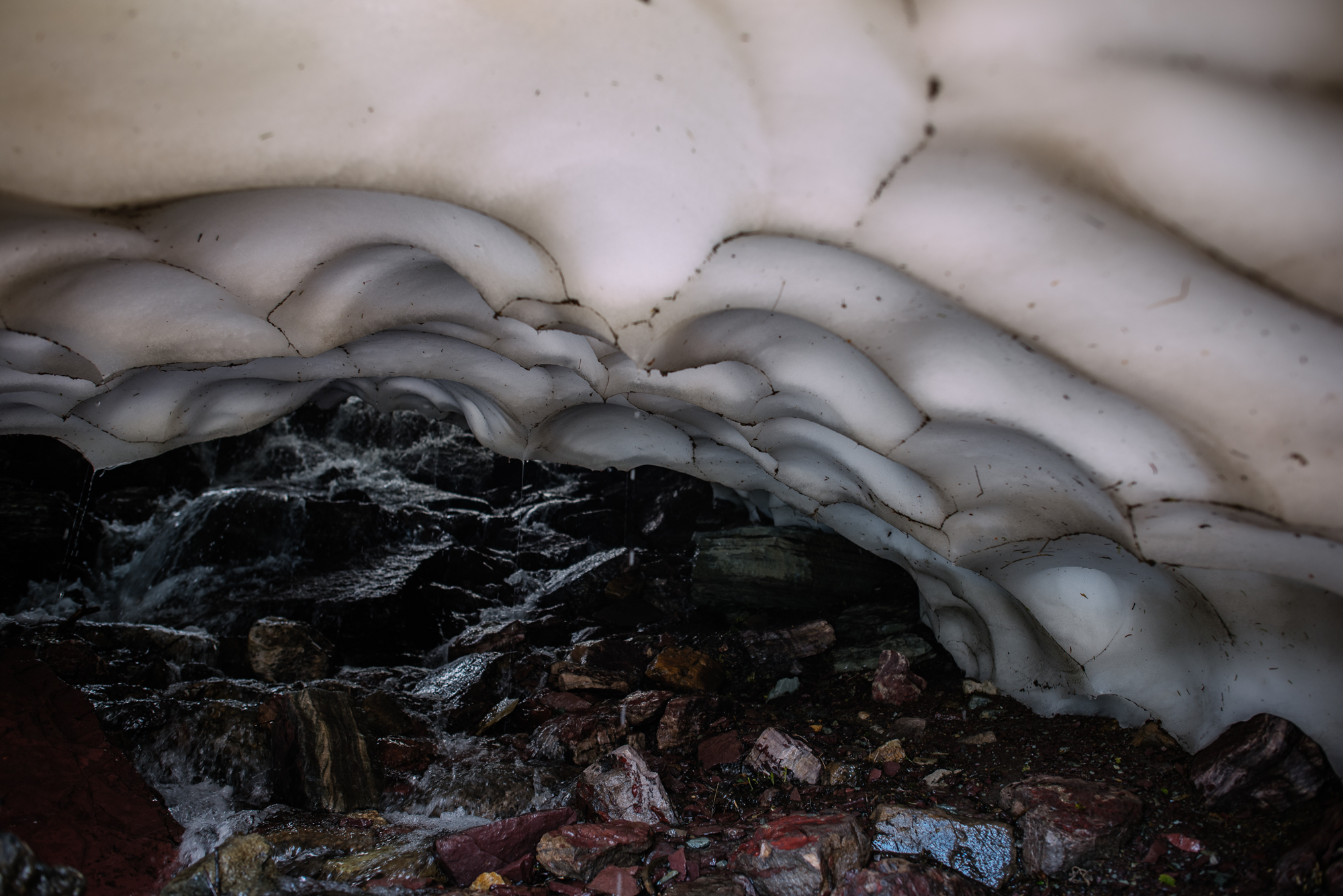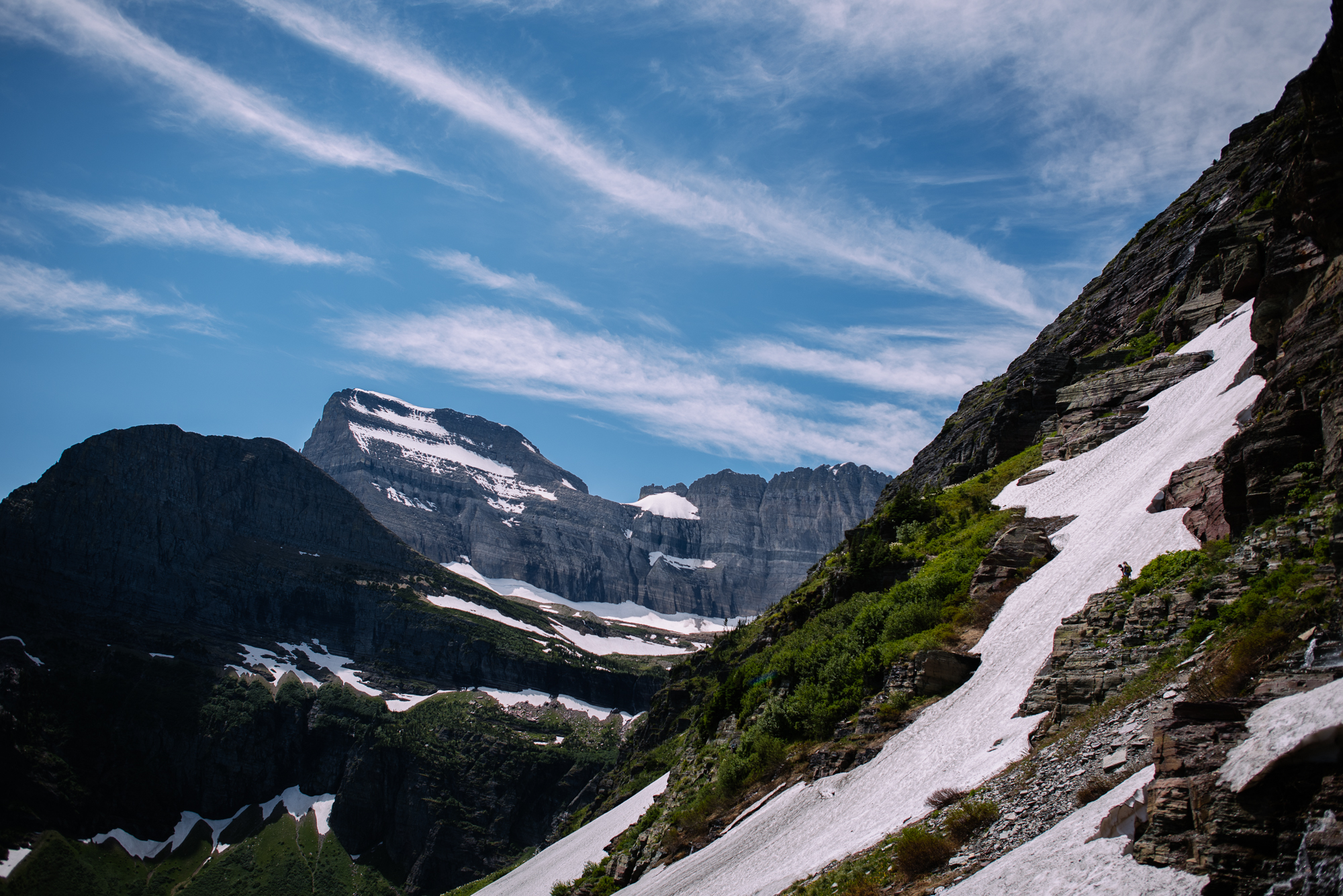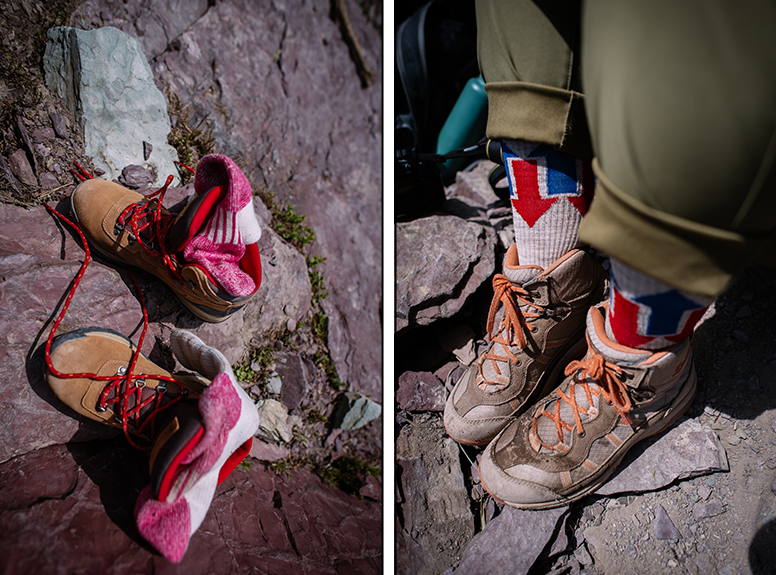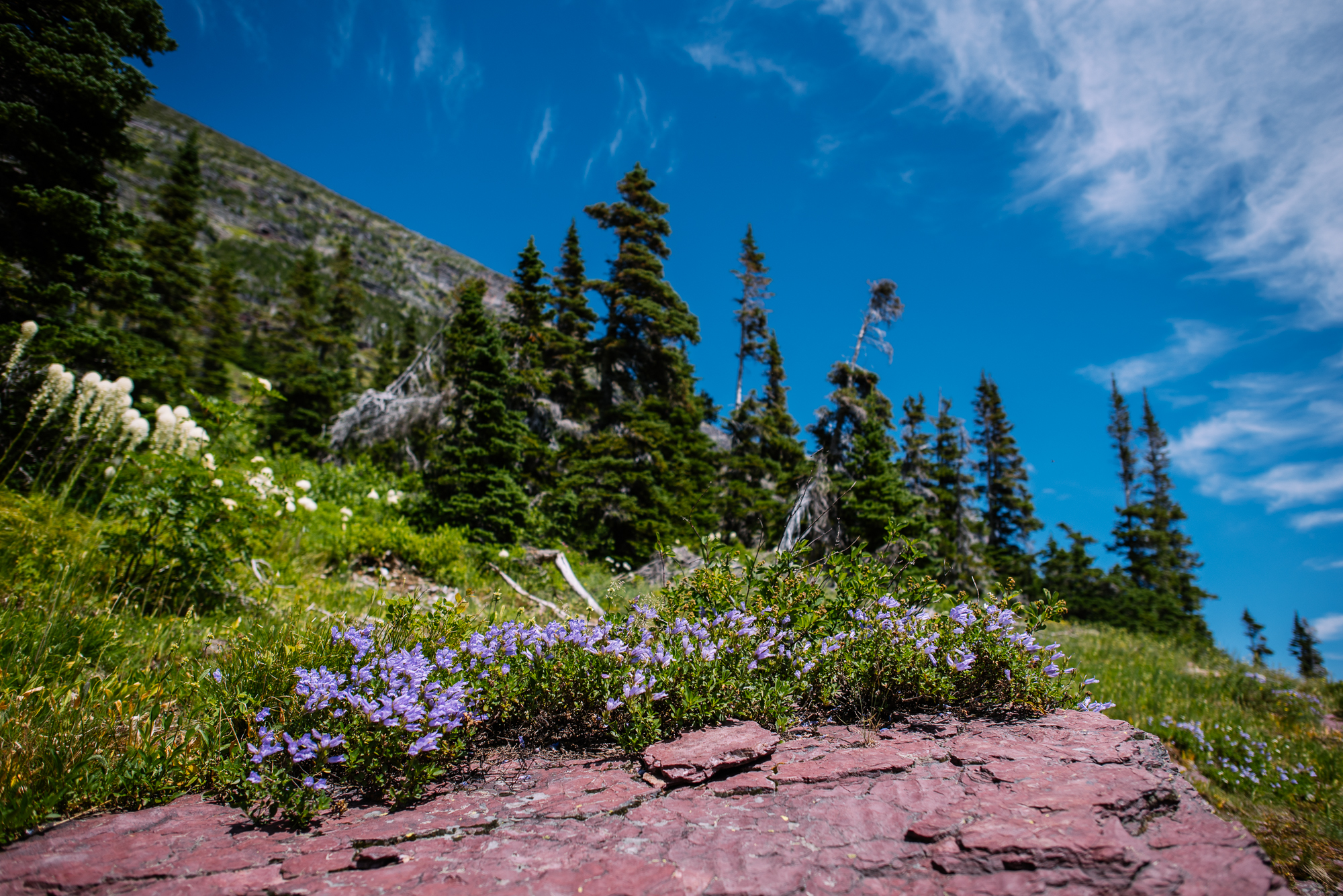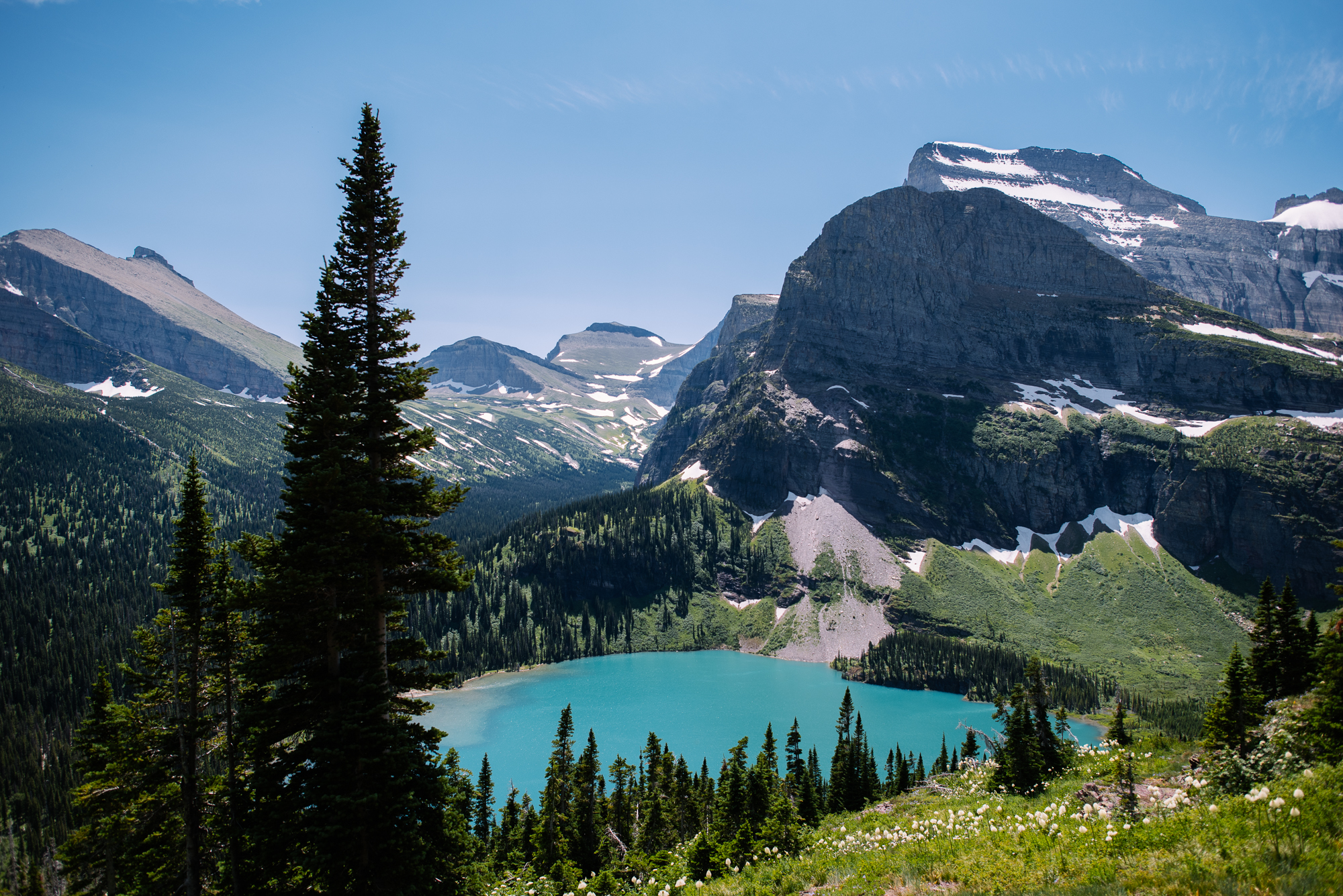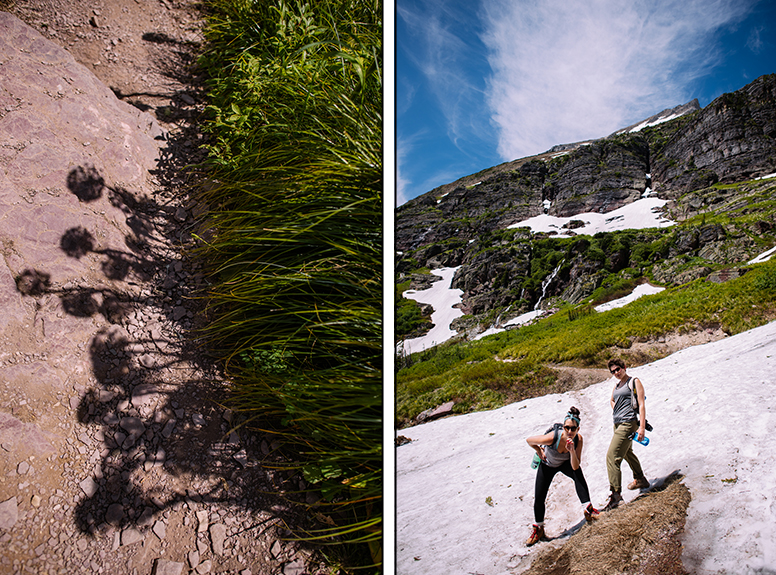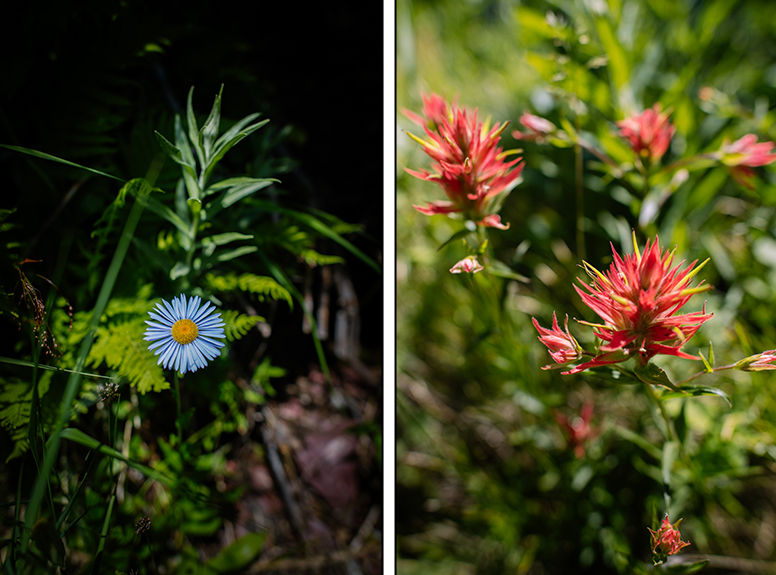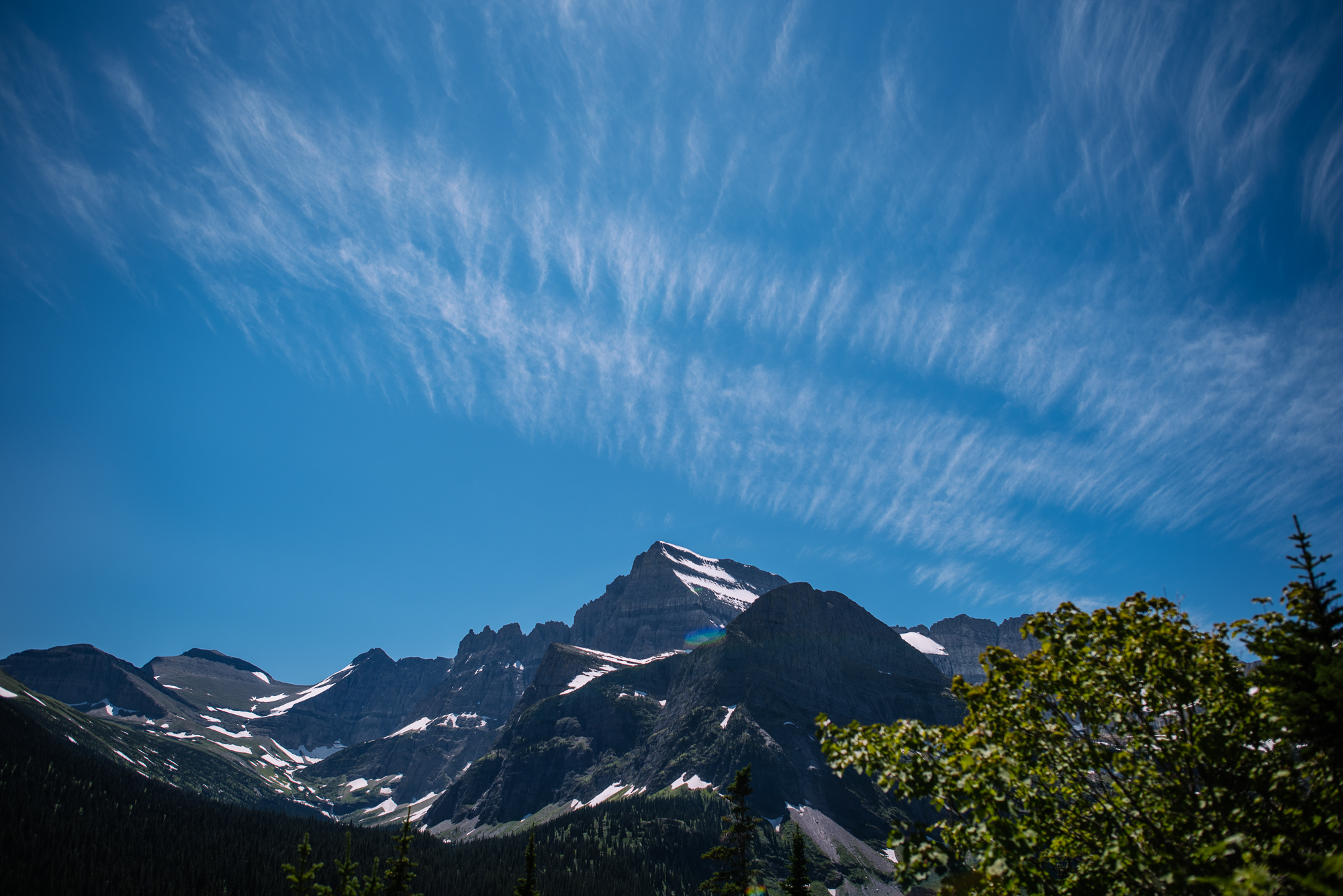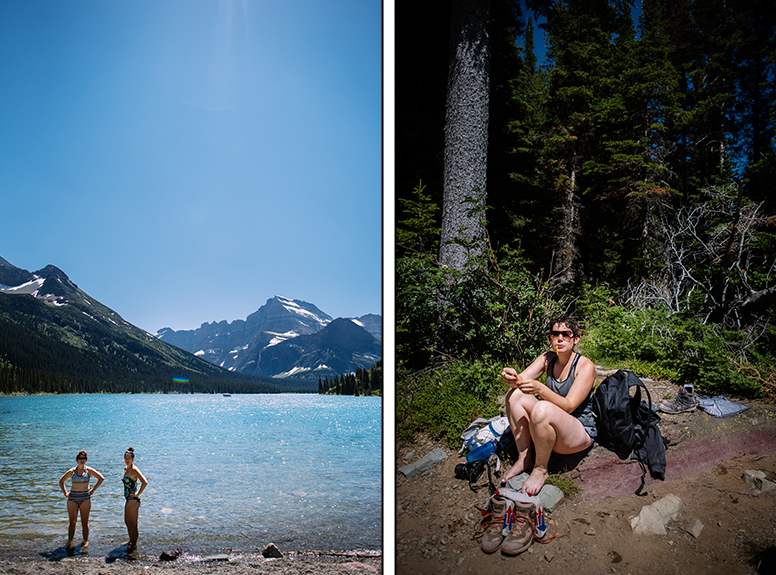 (7/6/17)
10:07a: Many Glacier Campground, Site 80 – Sleeping in till 9a was a delicious luxury. I only awoke then because the intense sun streaming into the tent began to make us restless, and we roiled our arms and legs, ruffling our sleeping bags in trying to cool off, boiling lobsters. It is a two-pot of coffee morning. And the weather is perfect. The mosquitoes of the north are fat and powerful, like linebackers, andvthey barrel through our walls of hair or fabric straight to the neck and thigh. DEET (which I hate and makes me cough) is our only defense. Today we plan to do the Iceberg Lake Trail, and we will stay here again tonight. I'm so glad we don't have to break camp. Now it's 10:51a, and we all sit around the picnic table, eating smashed-egg "omelette" from the same camp pot, one of us using a plastic fork, one the spoon-end of a spork, and me, the small, melted spatula (10 years old?) with which I cooked our breakfast. We will hang with the giant chipmunks (the lesser squirrel) until the last dregs of coffee are drank. Tina Turner's "What's Love Got to do with It?" is on repeat in my head.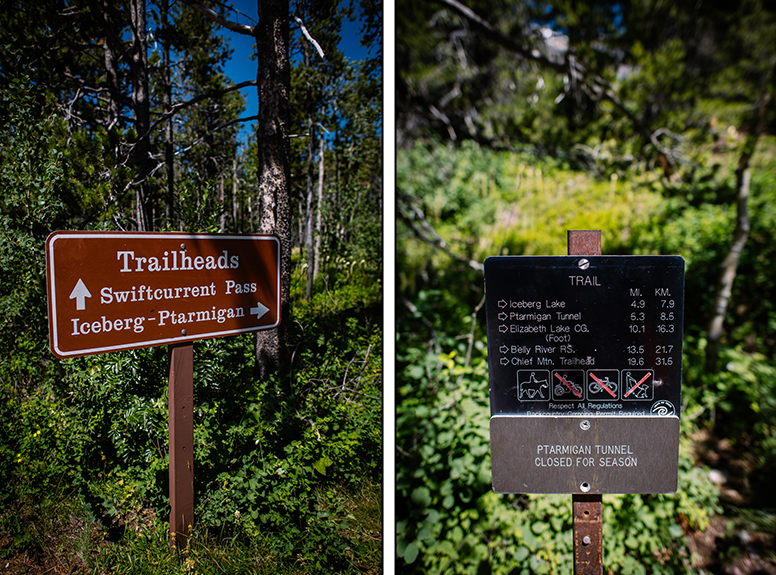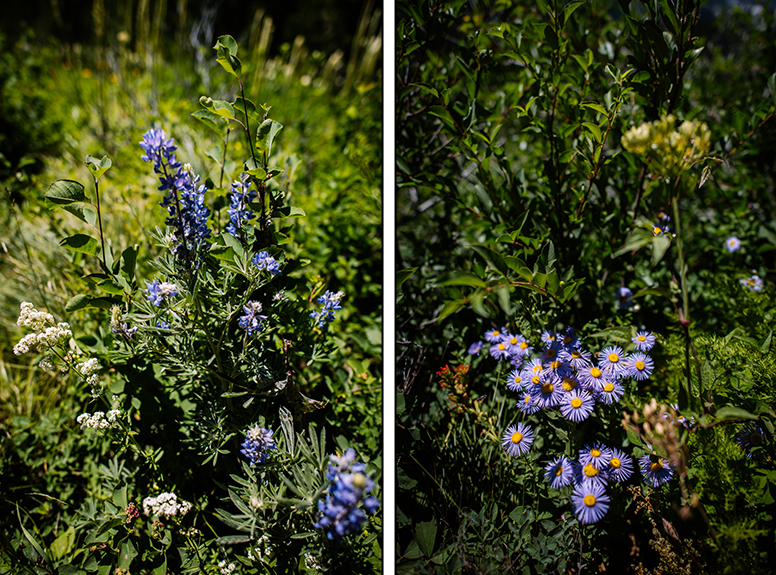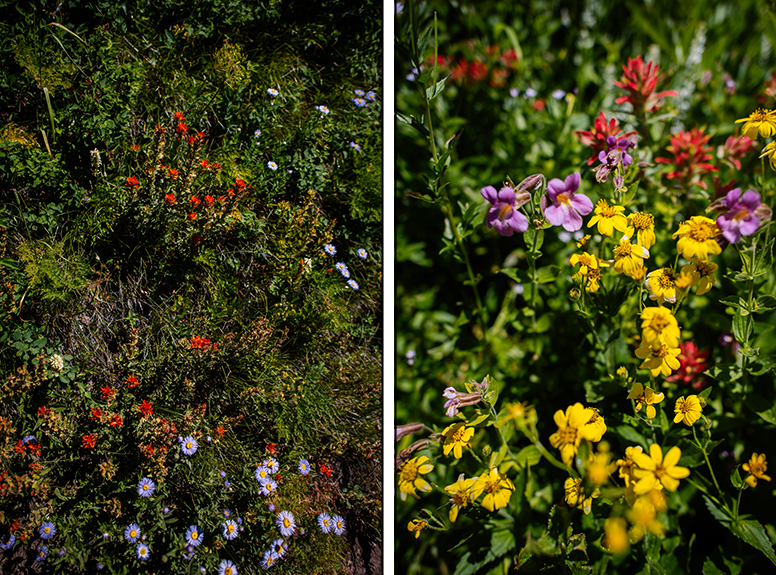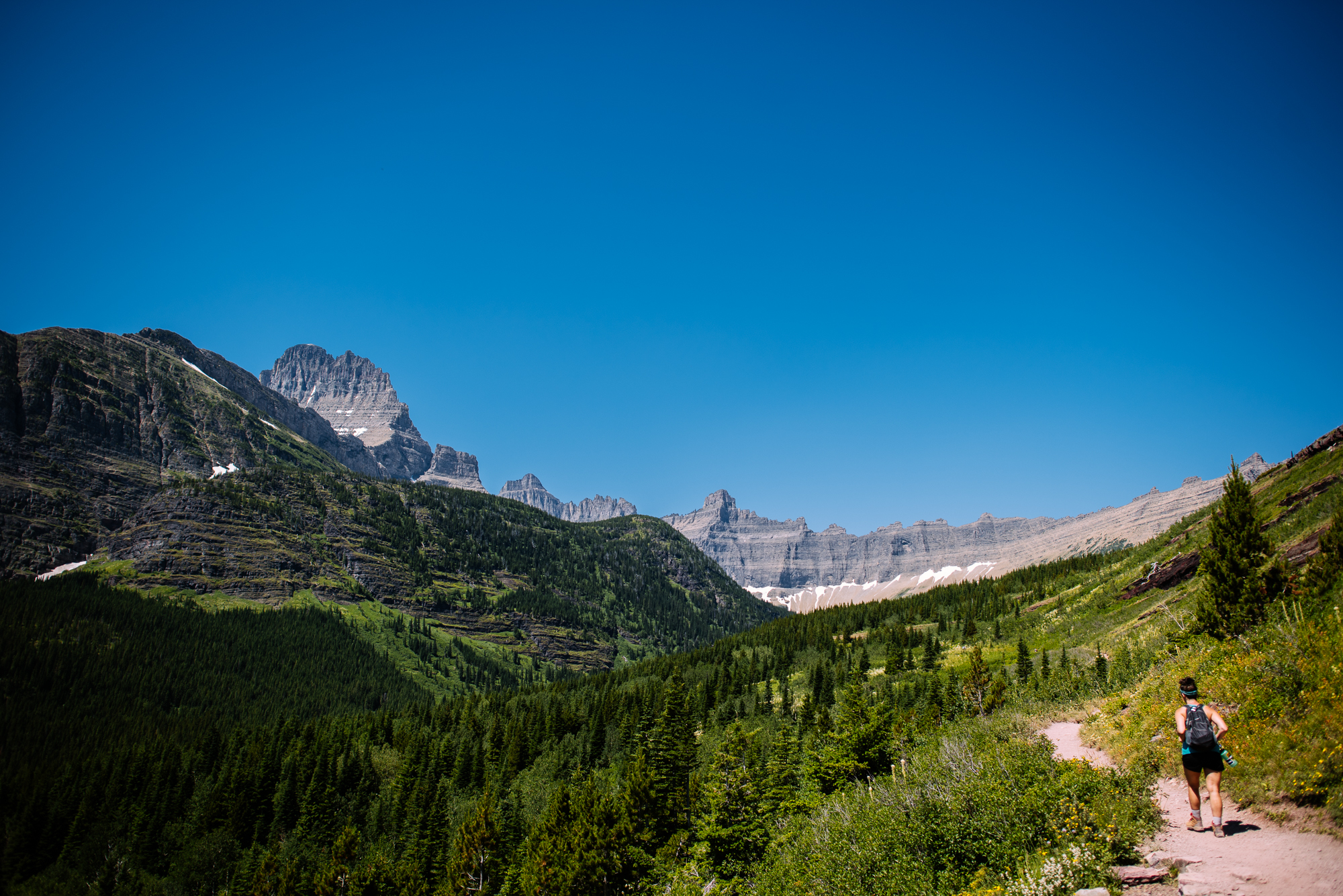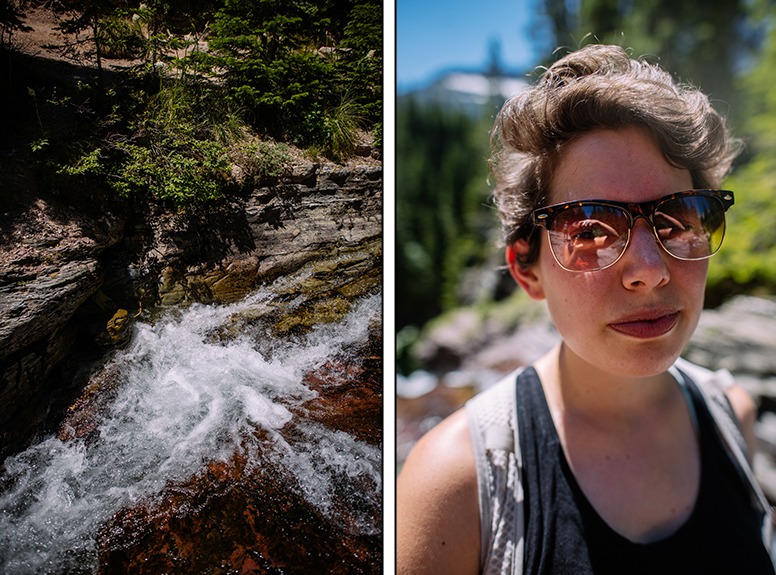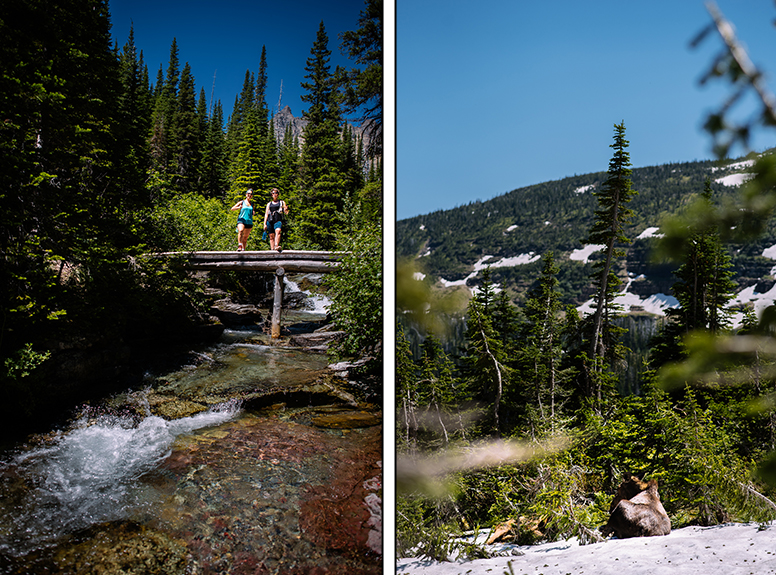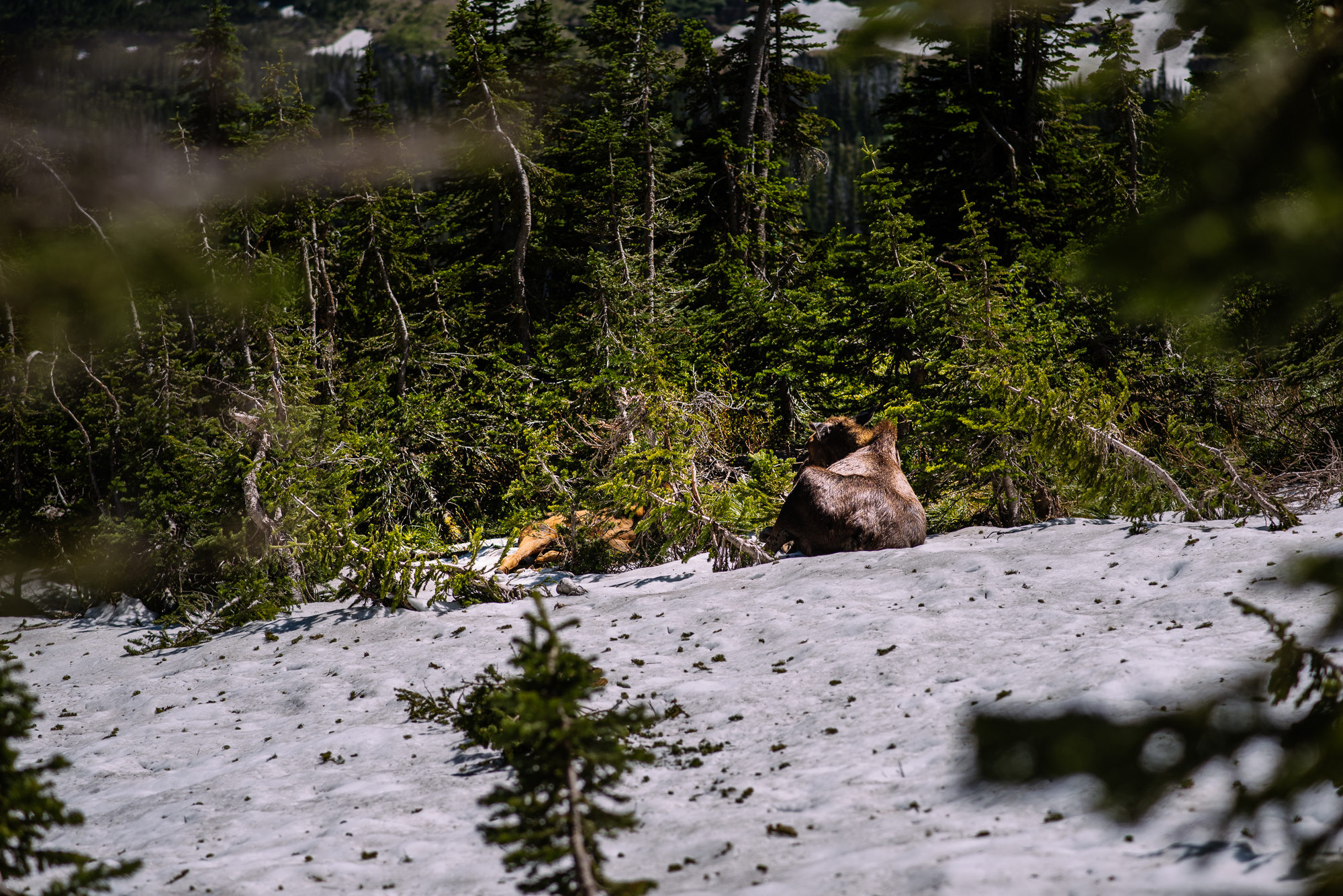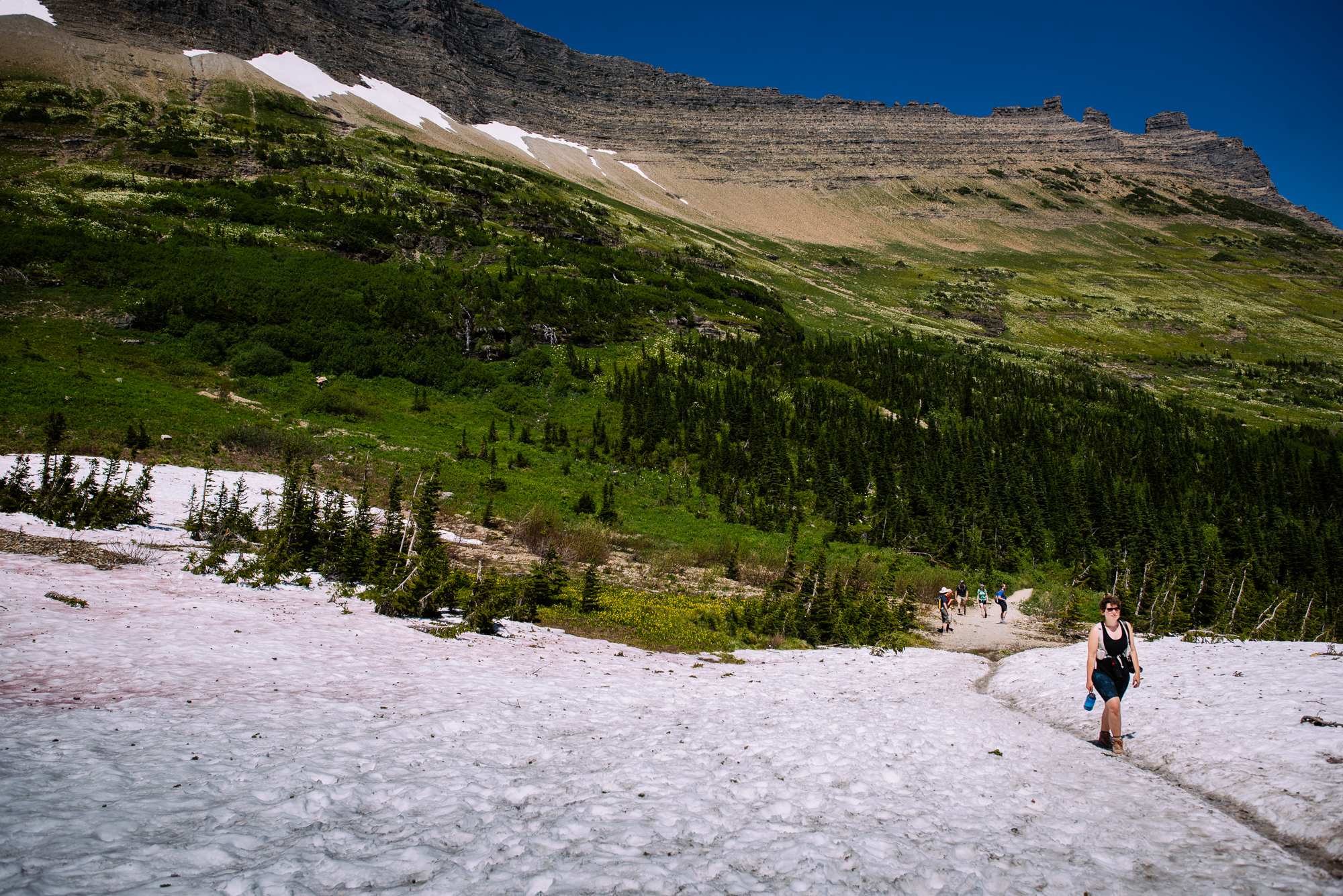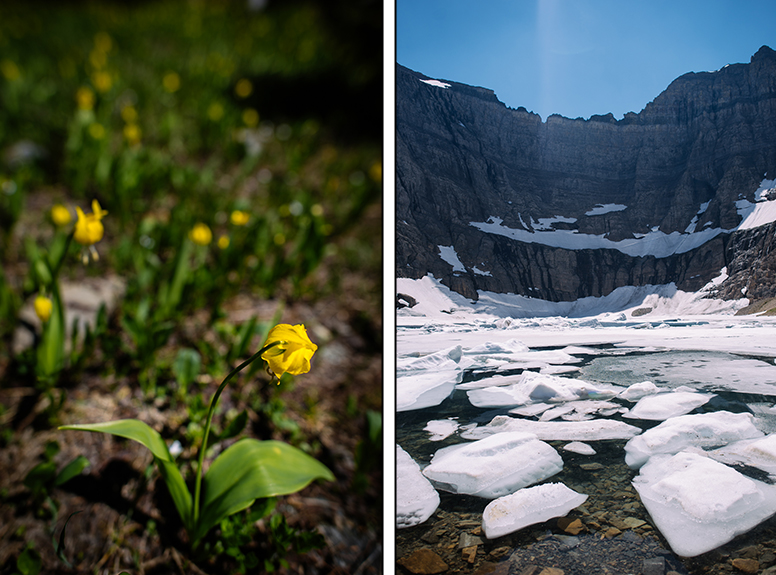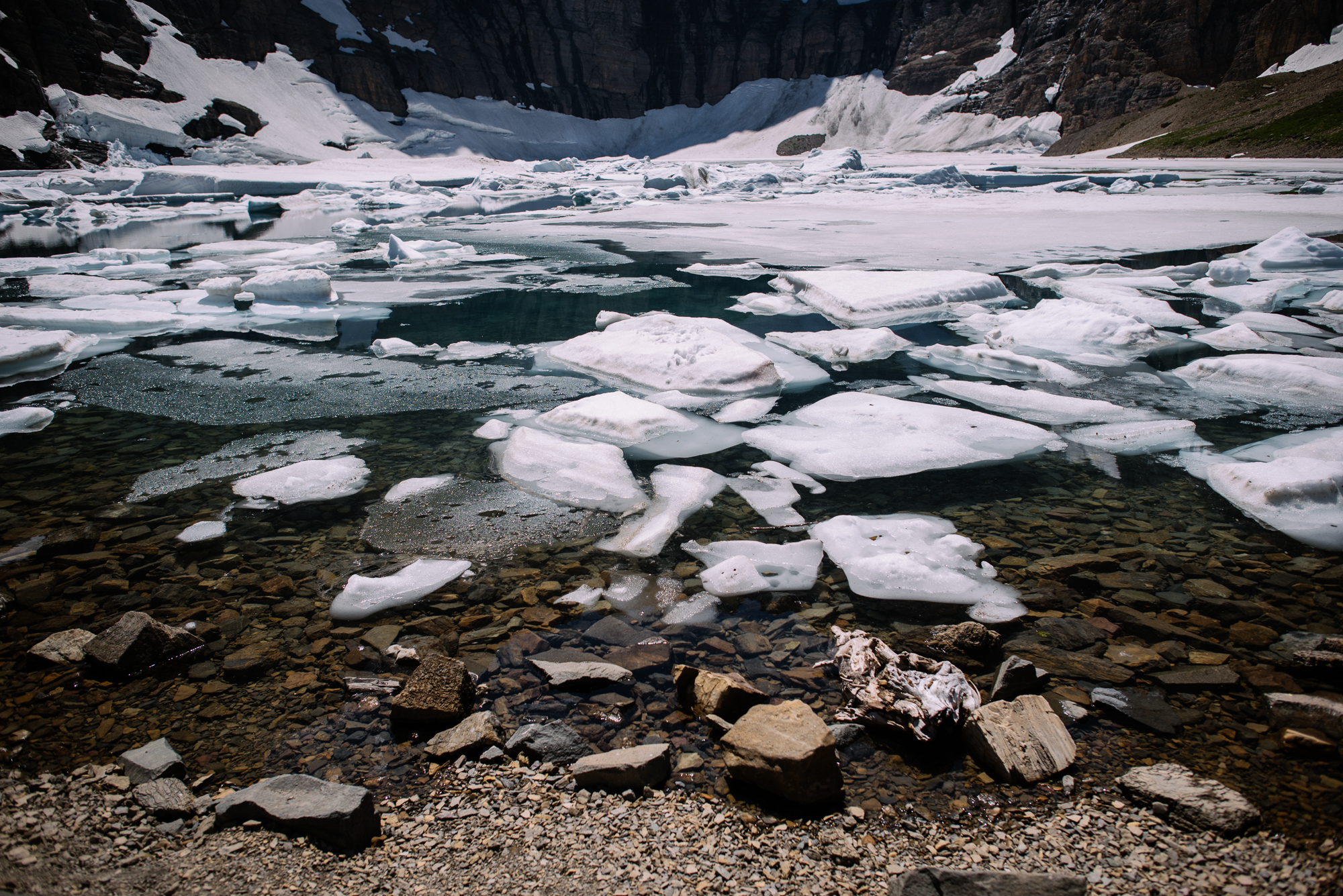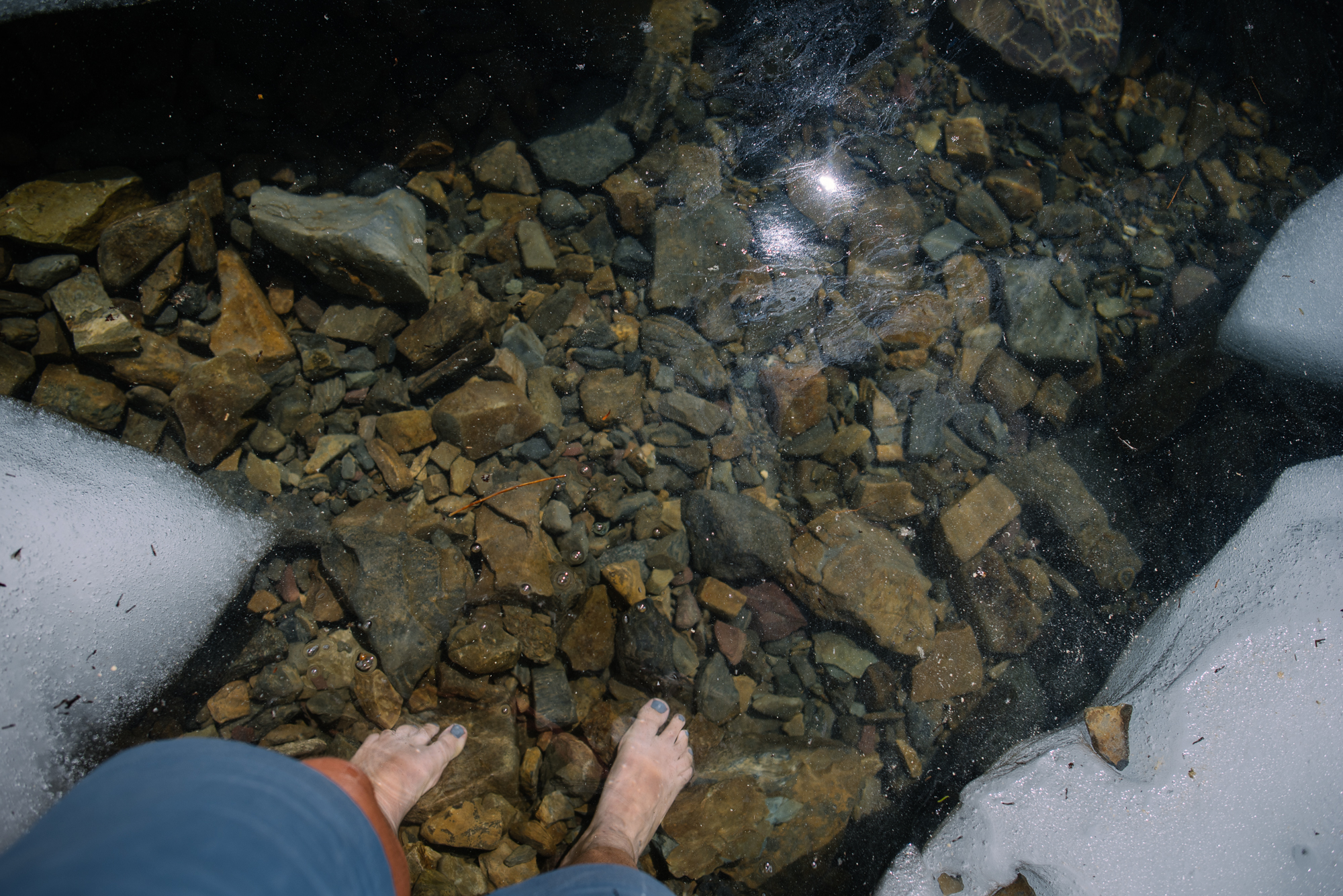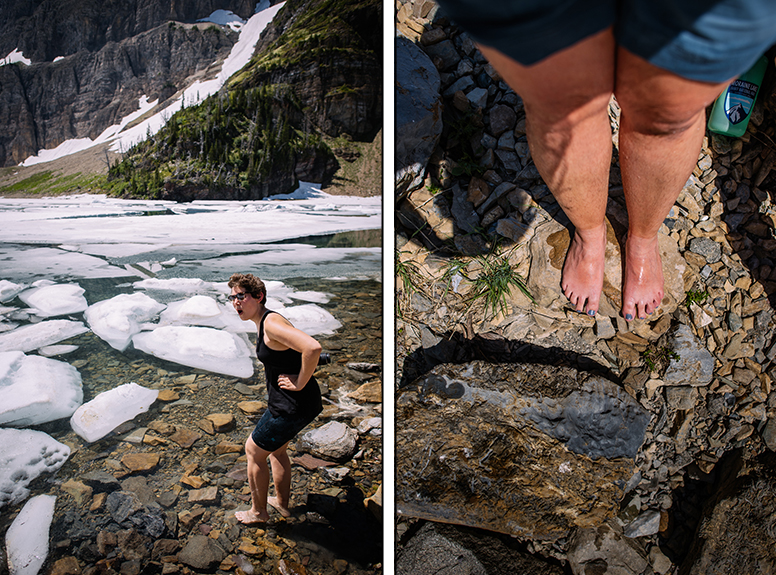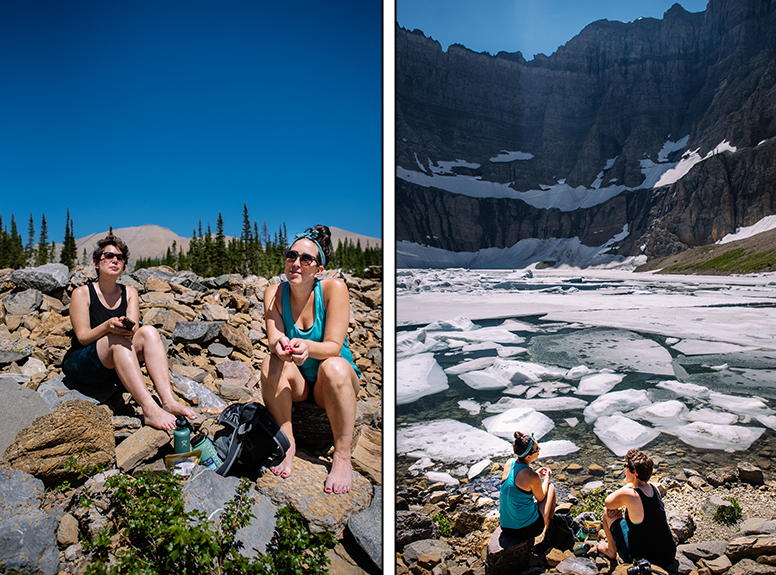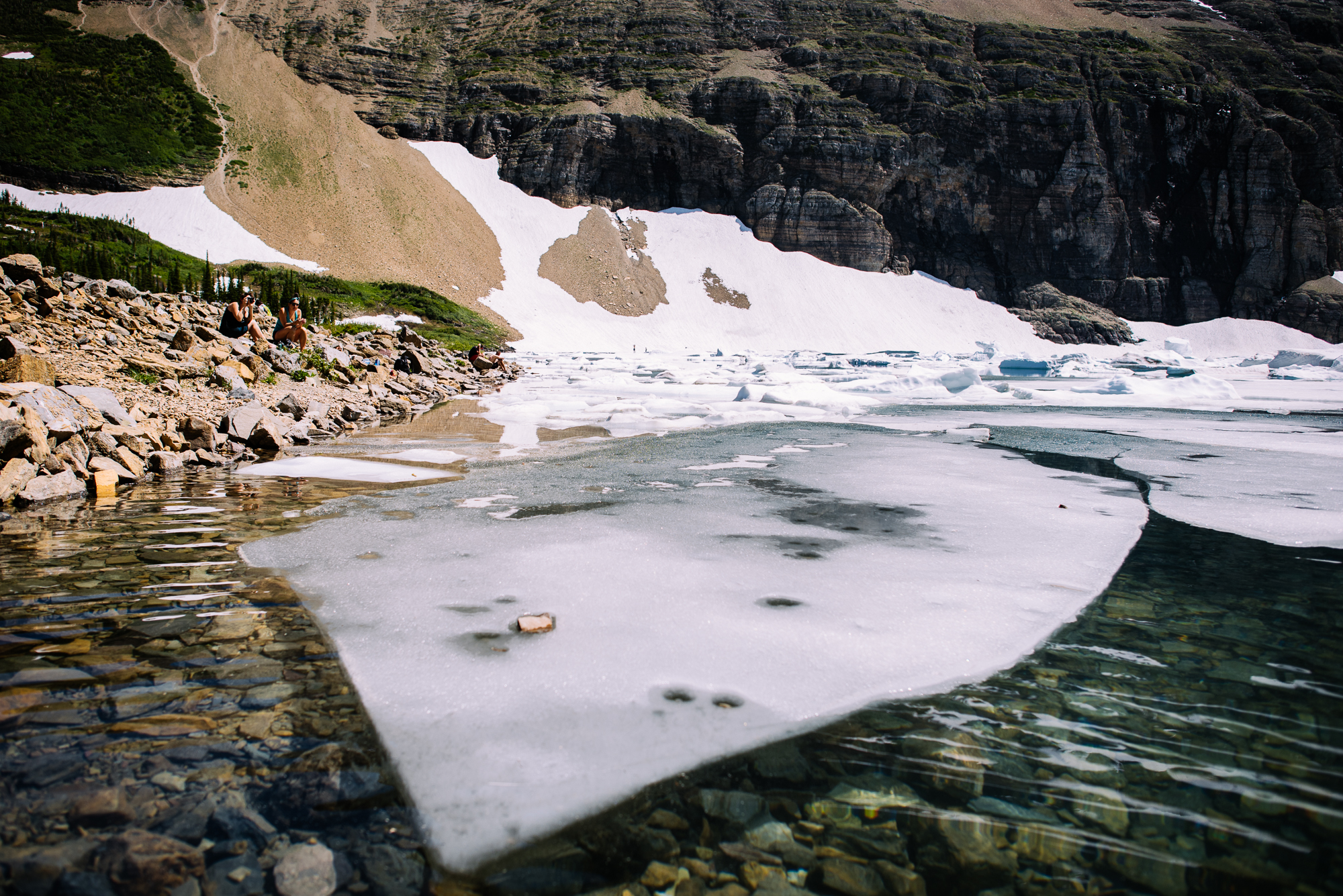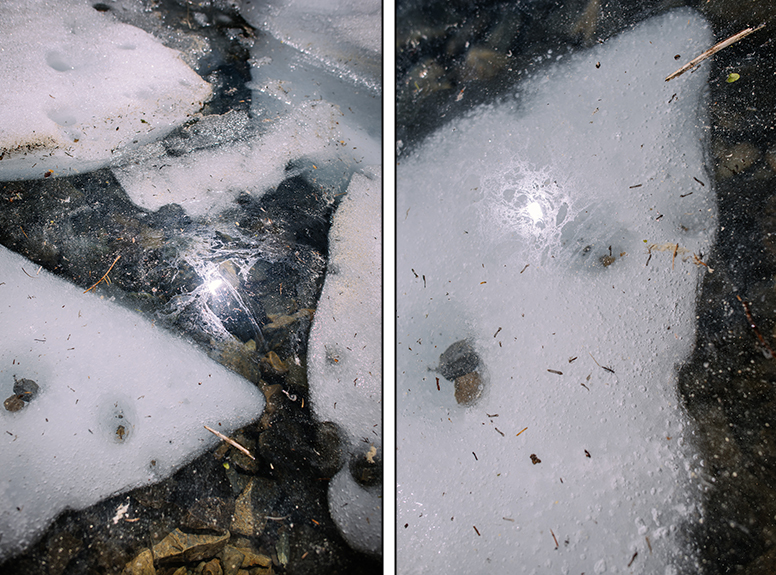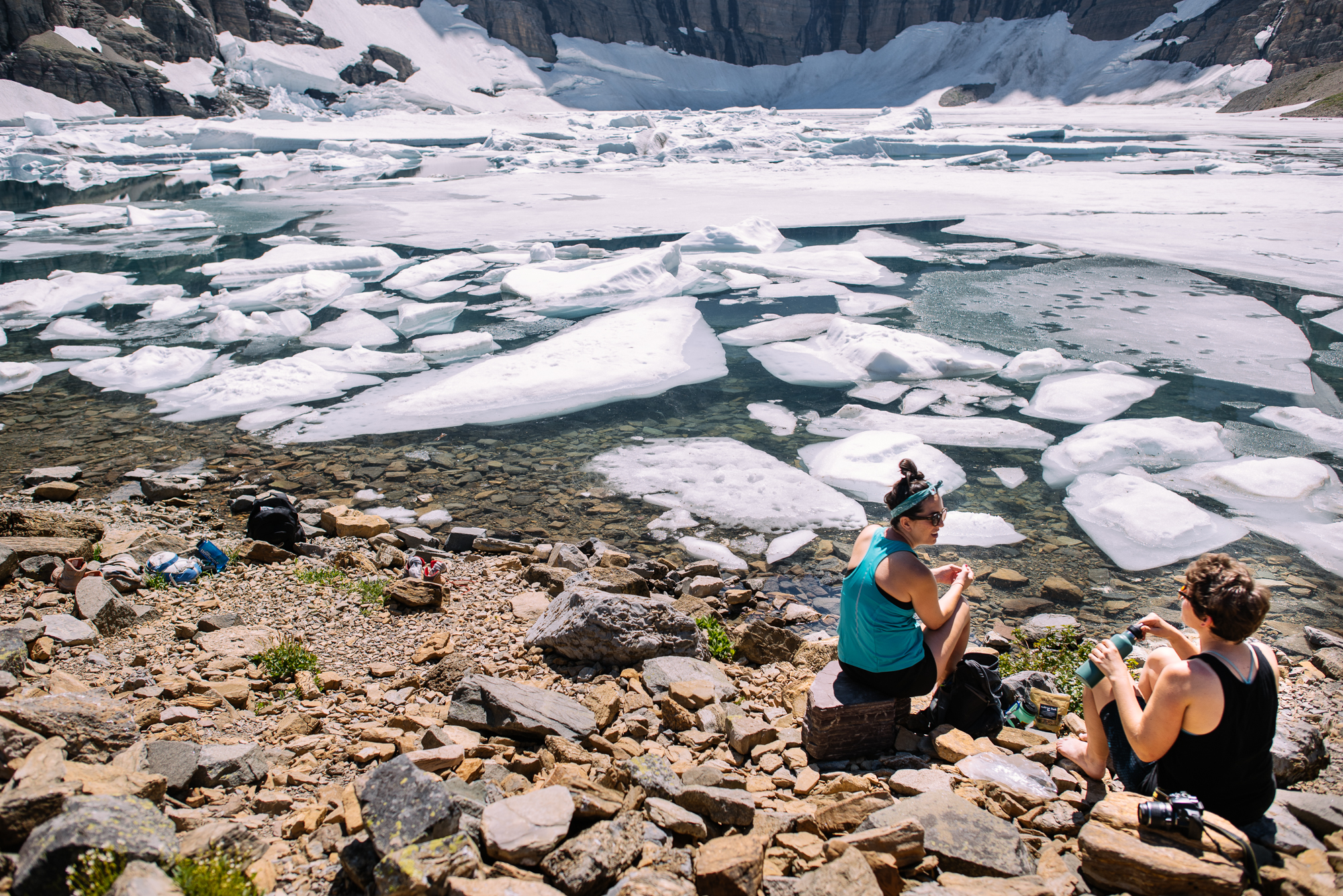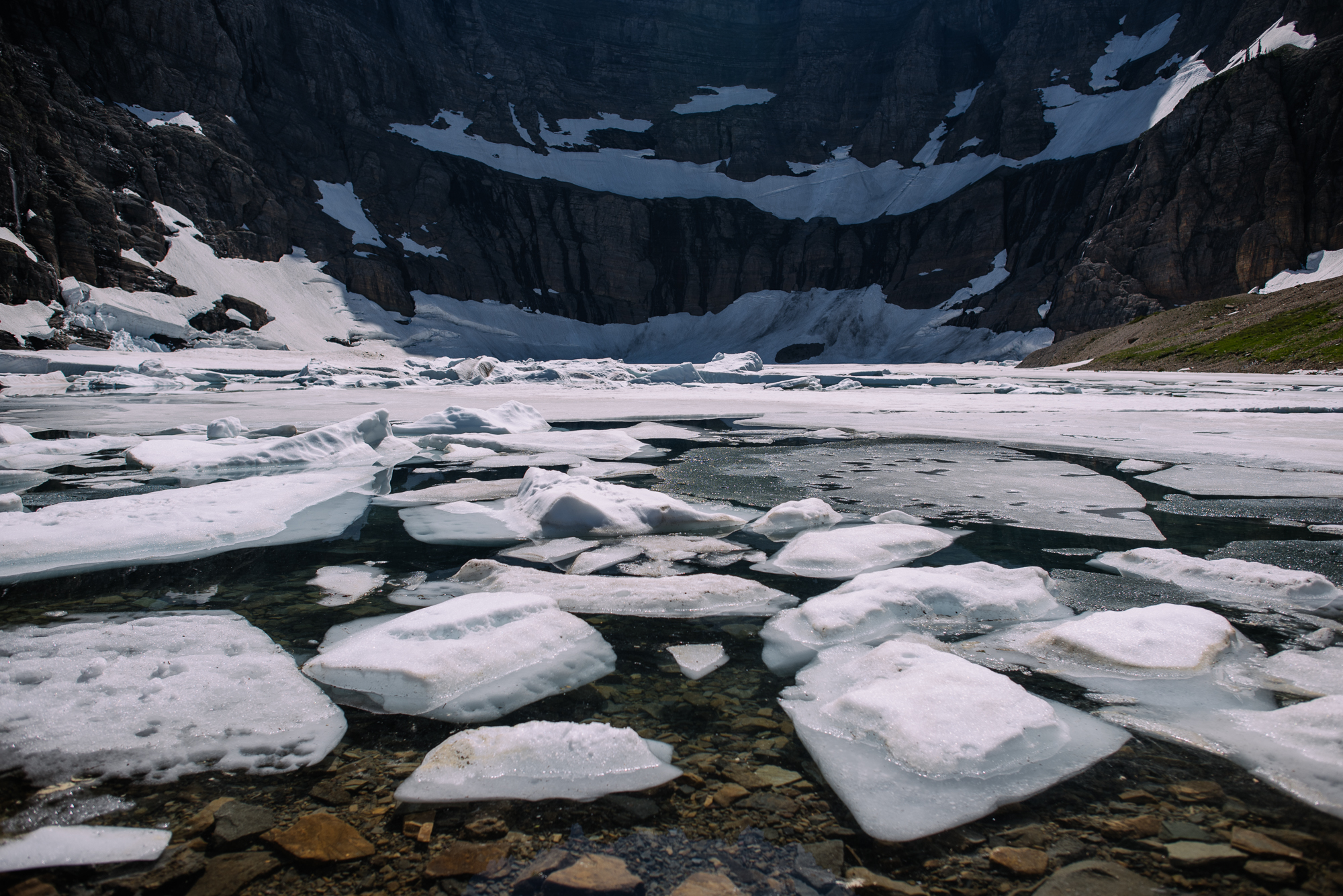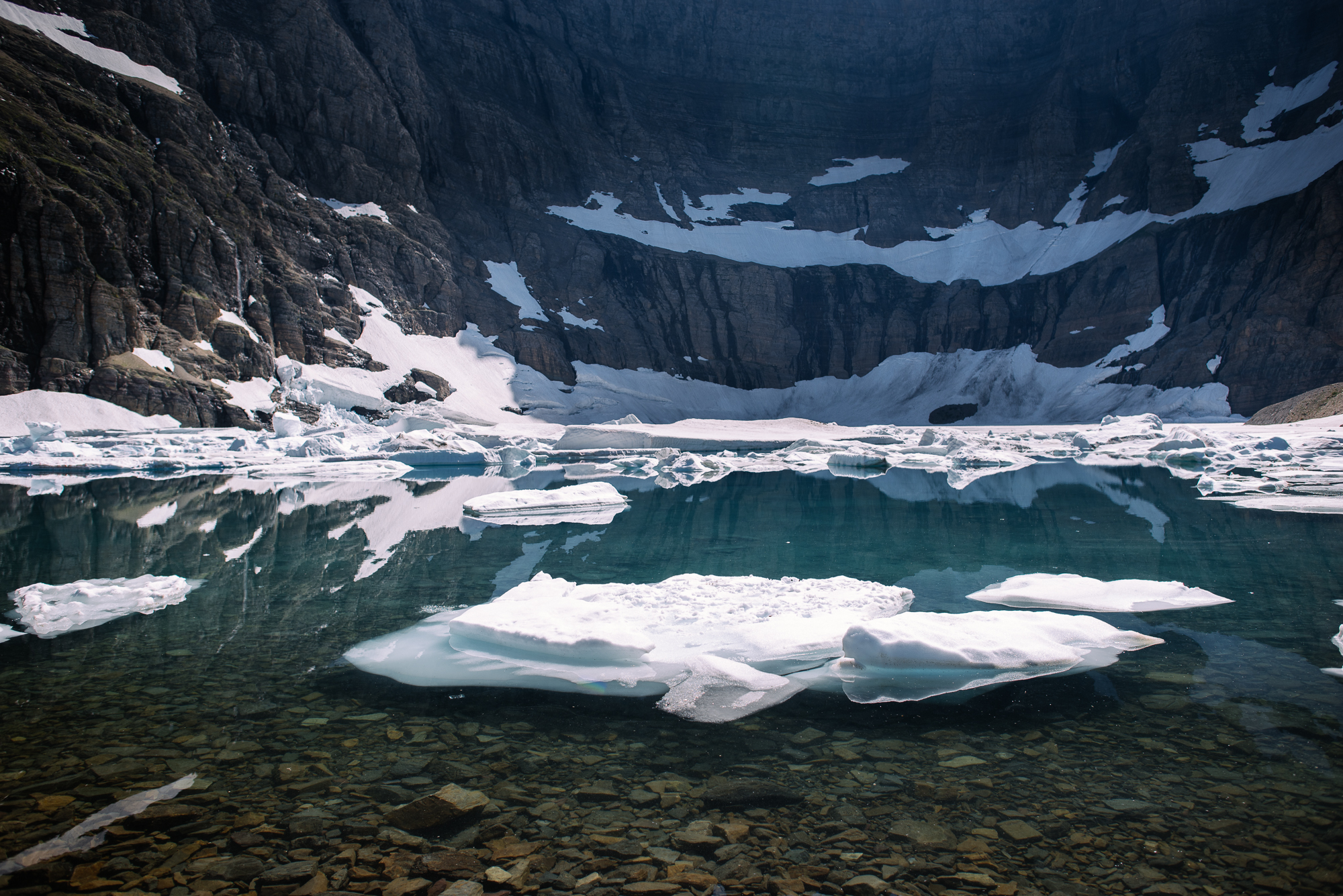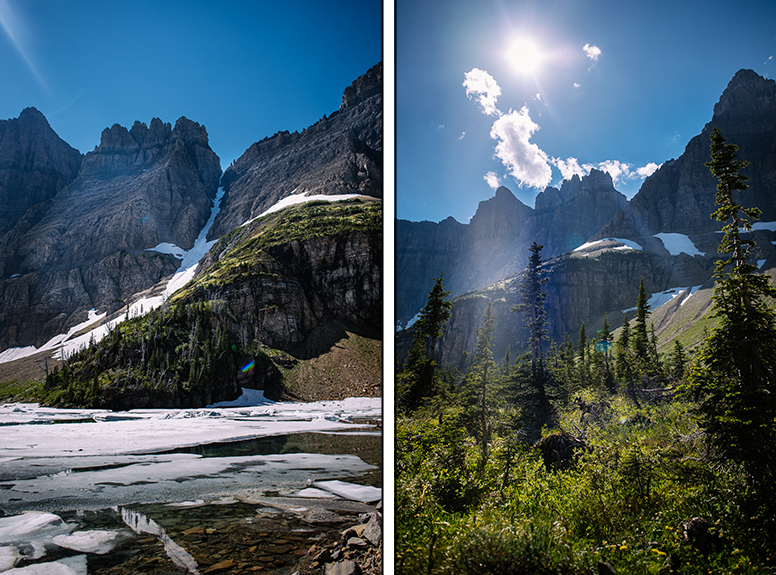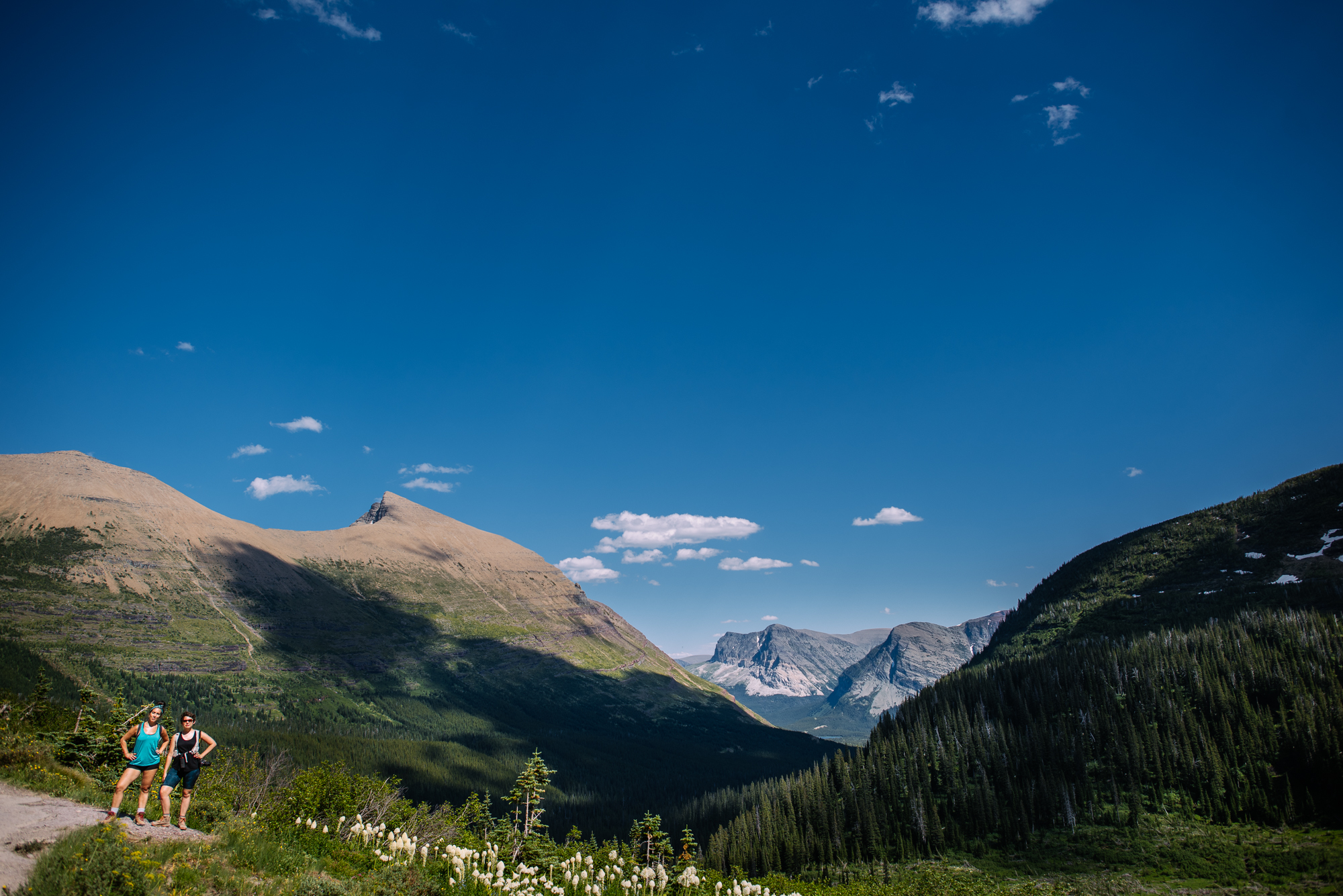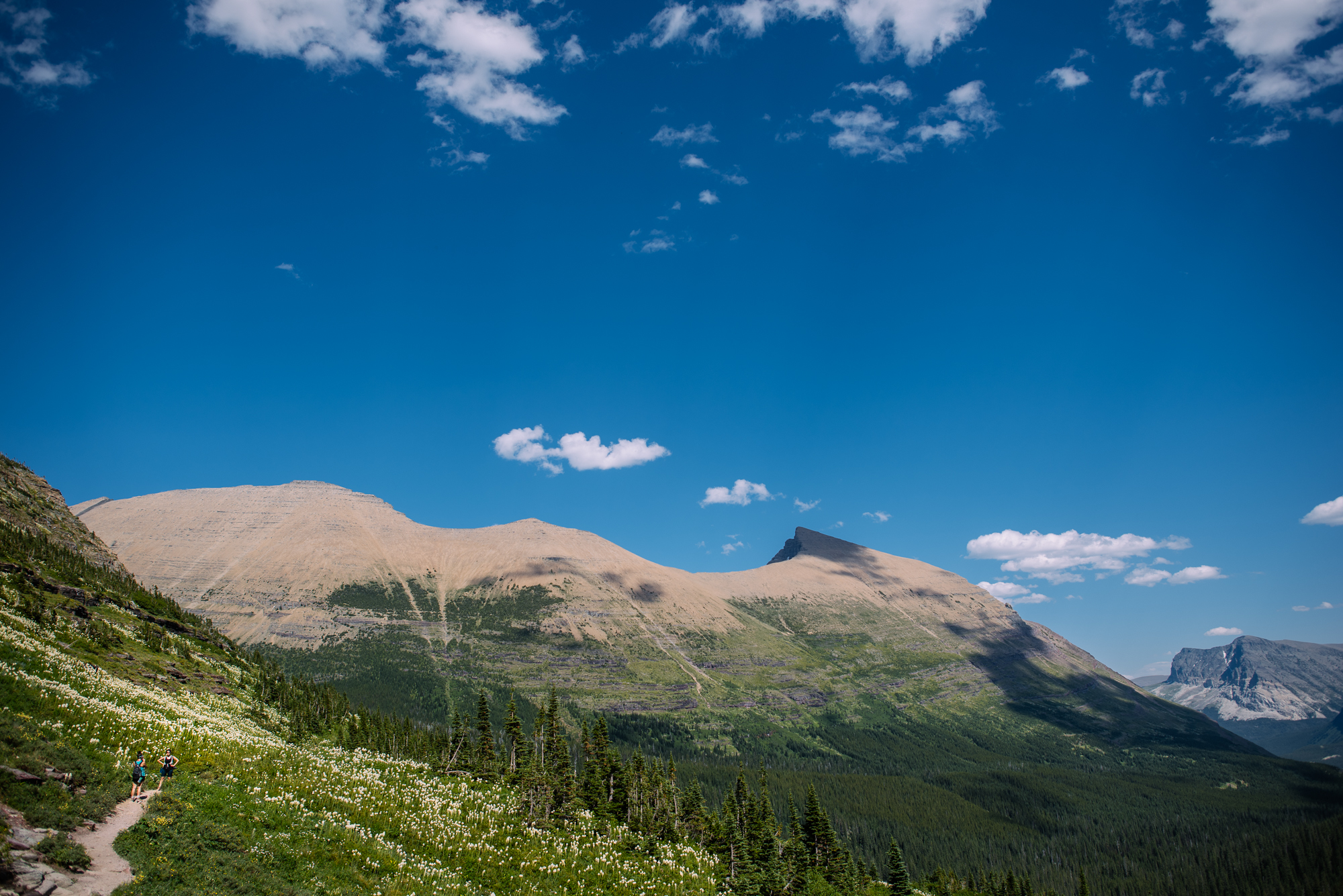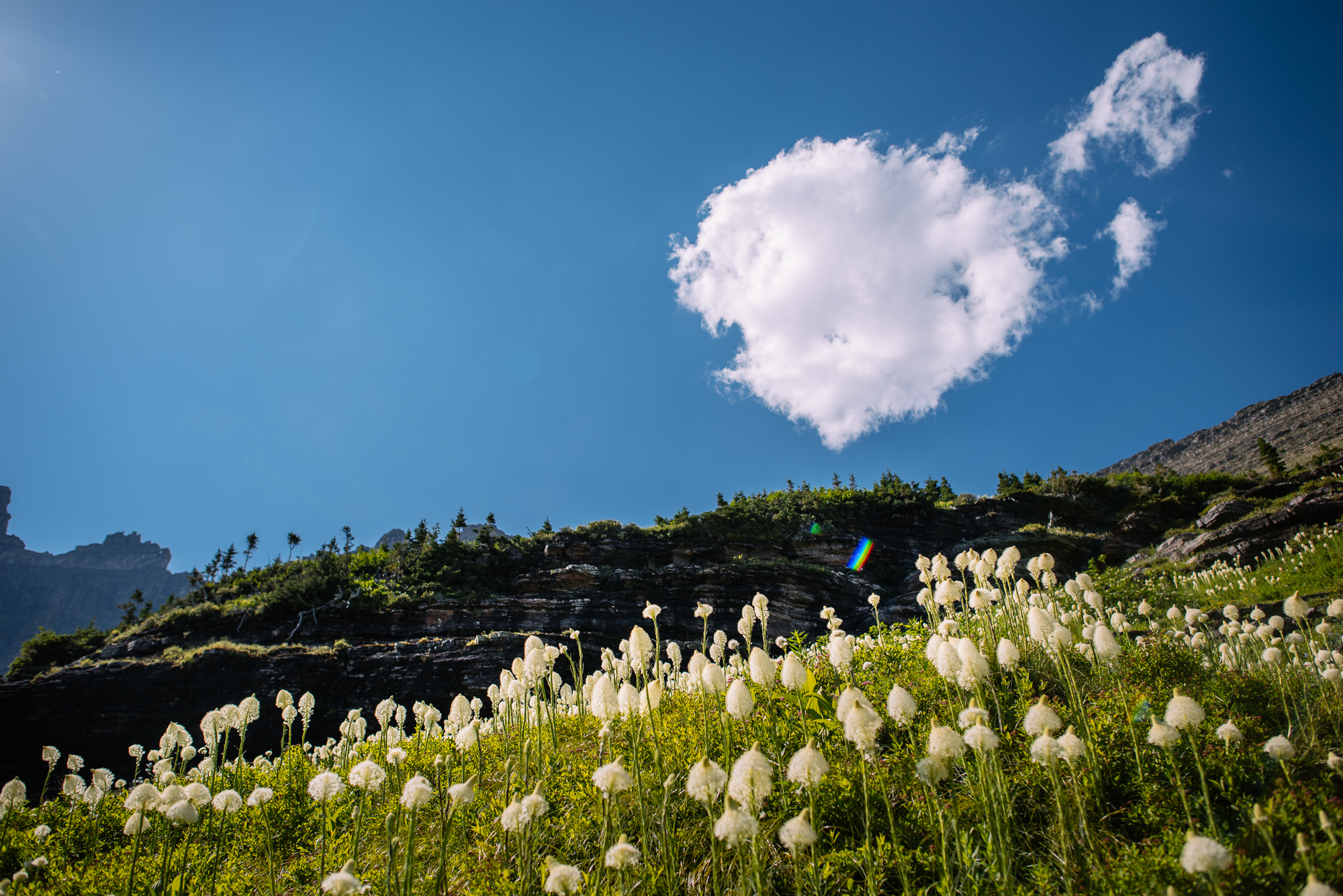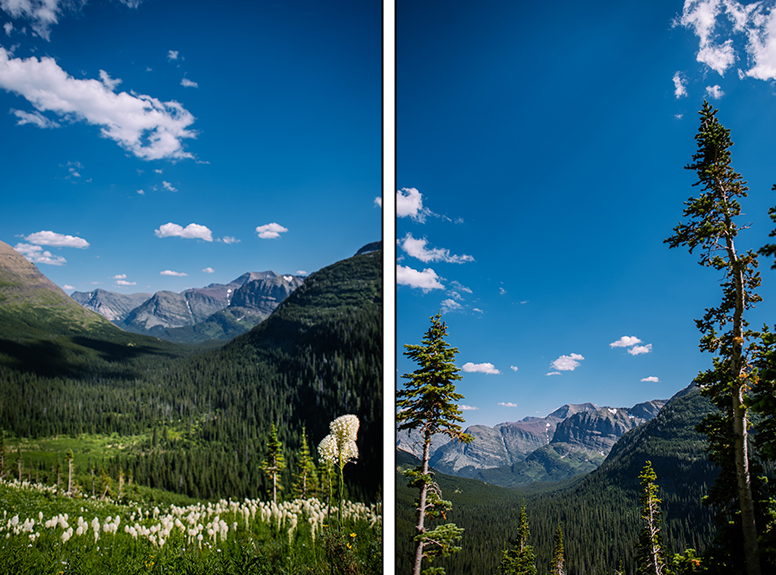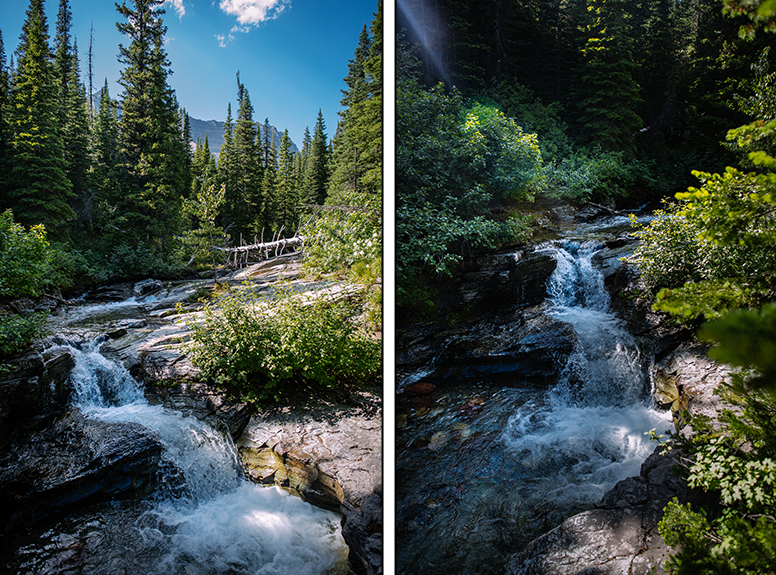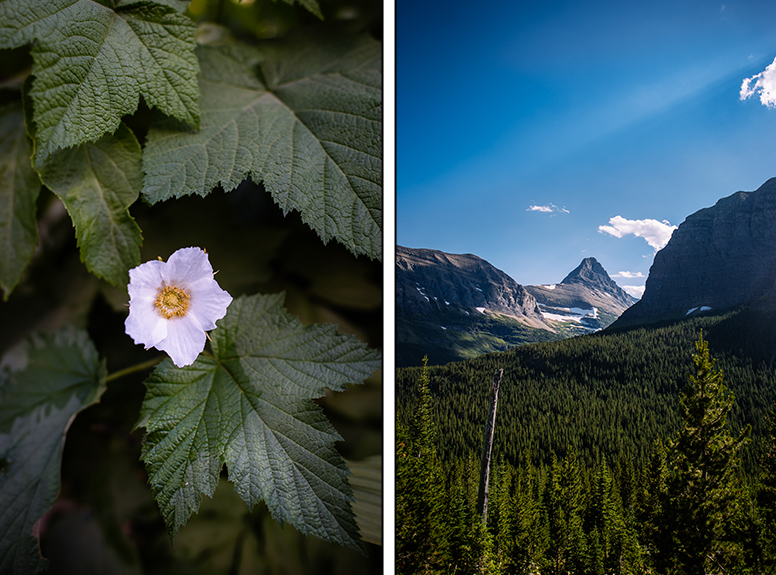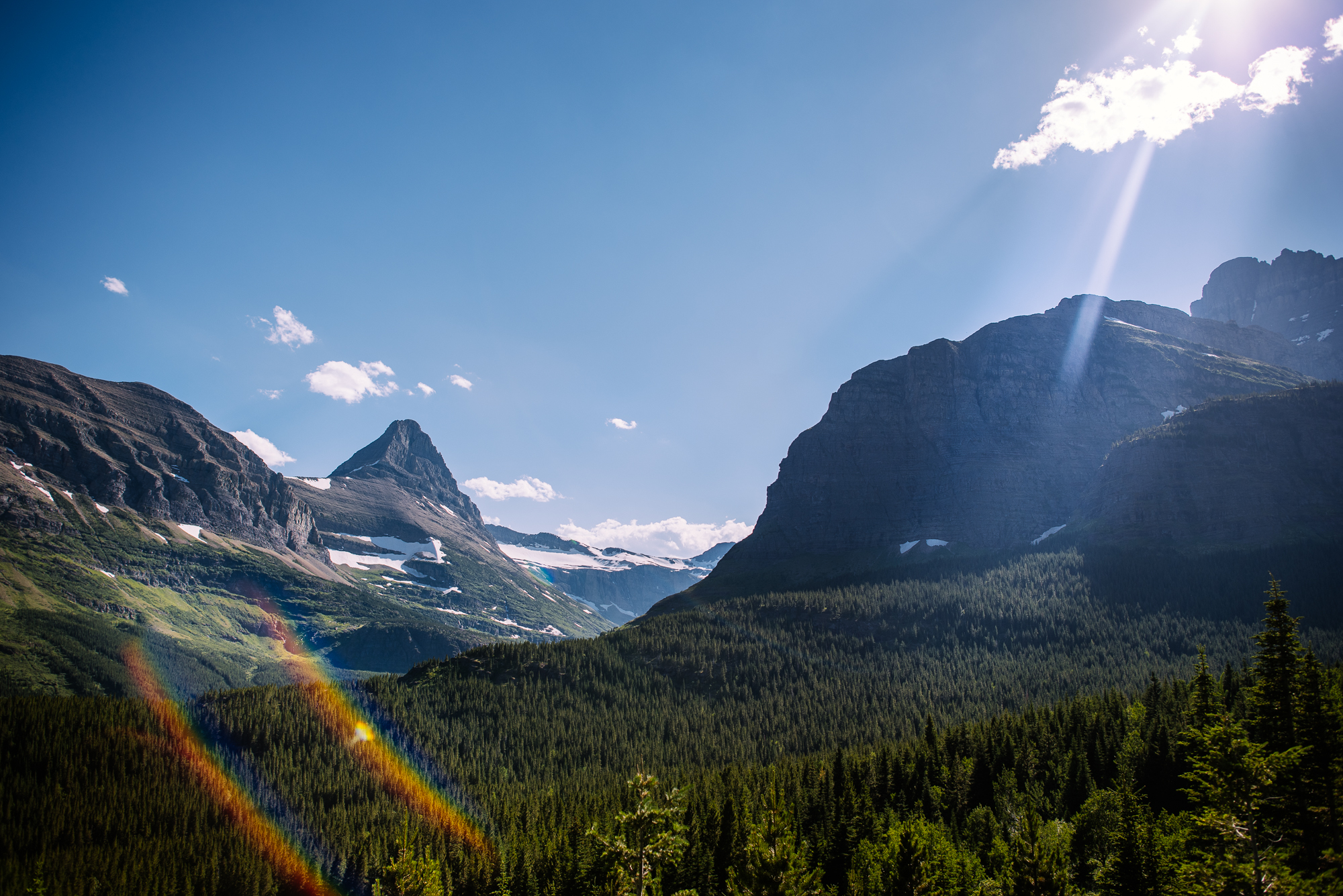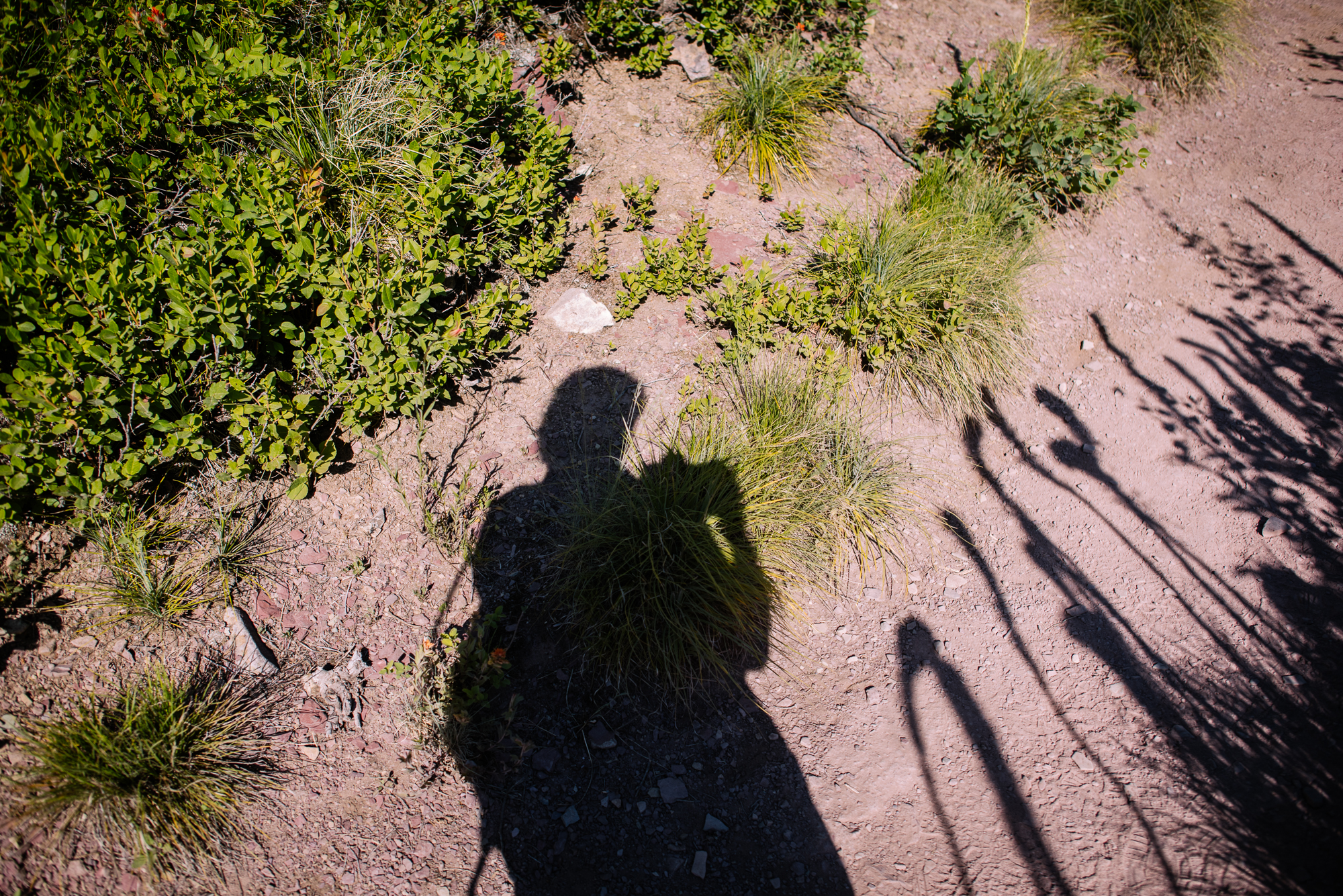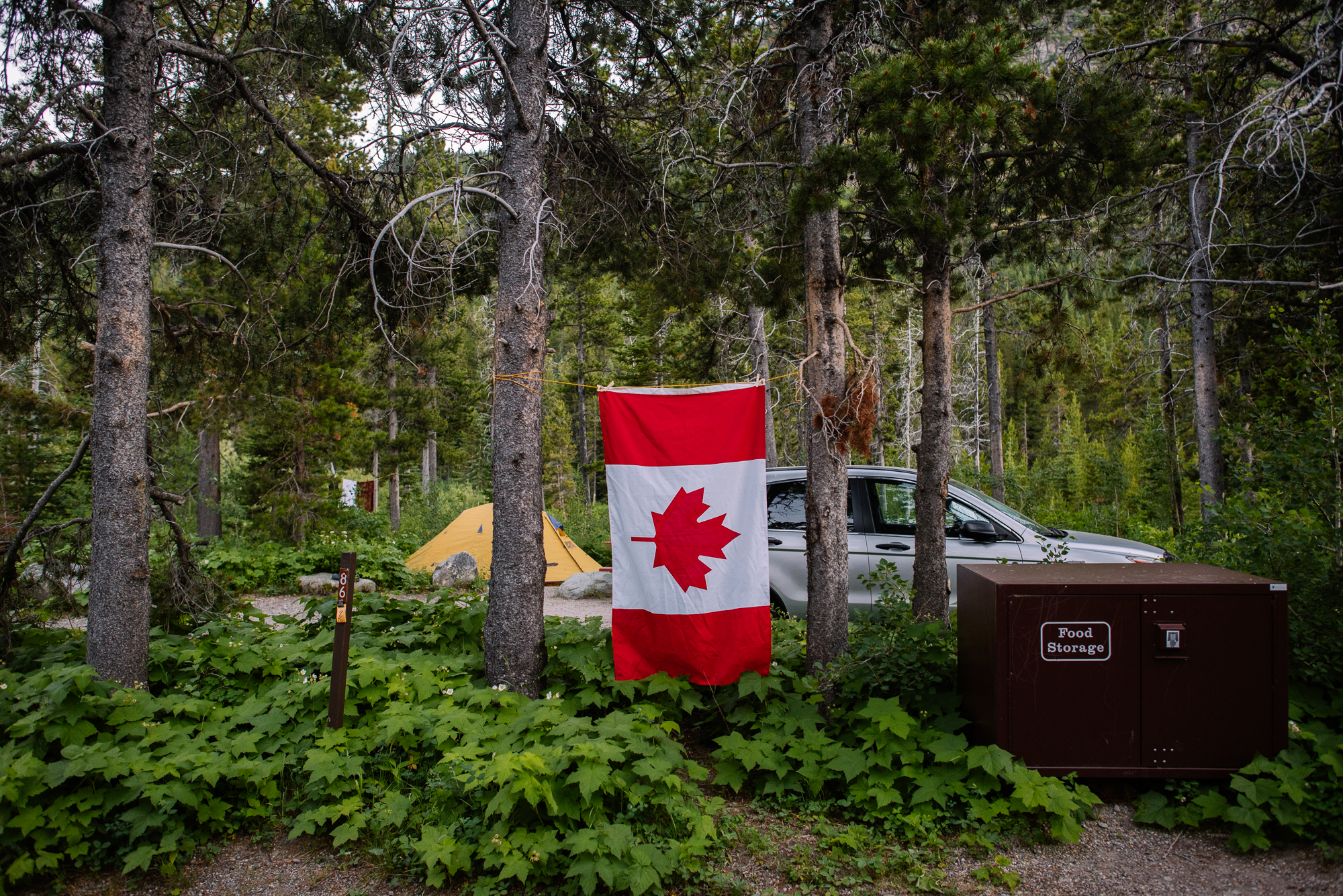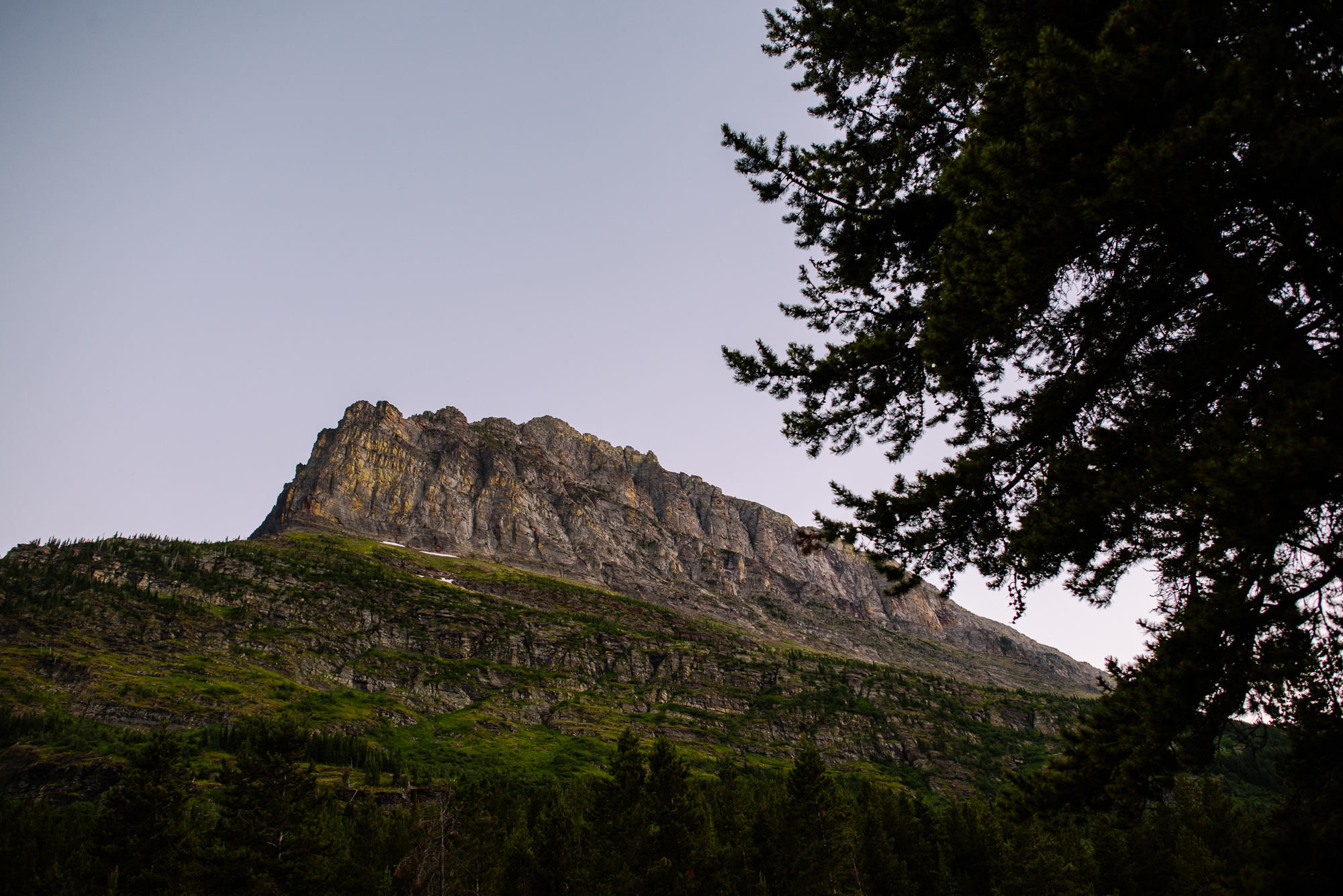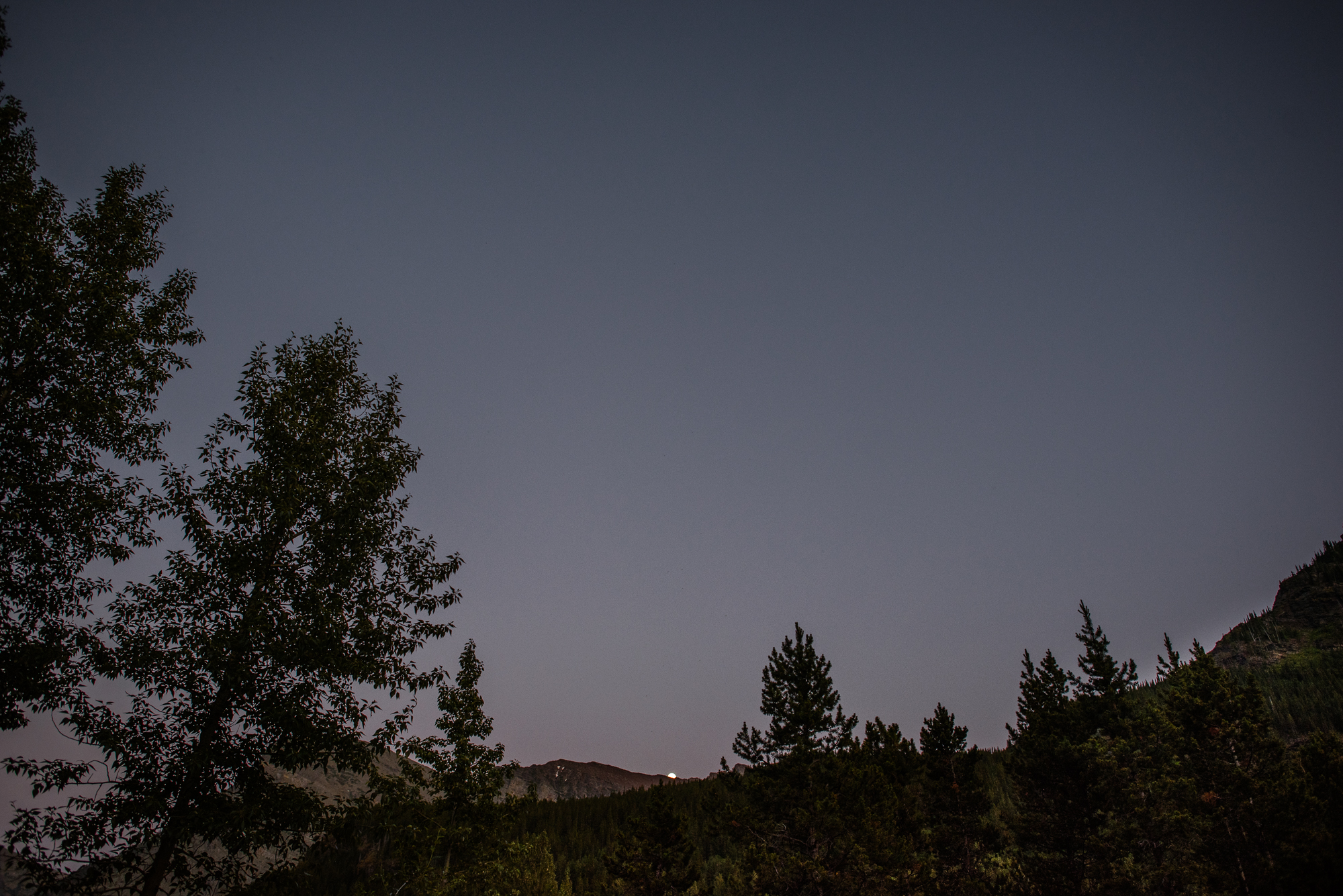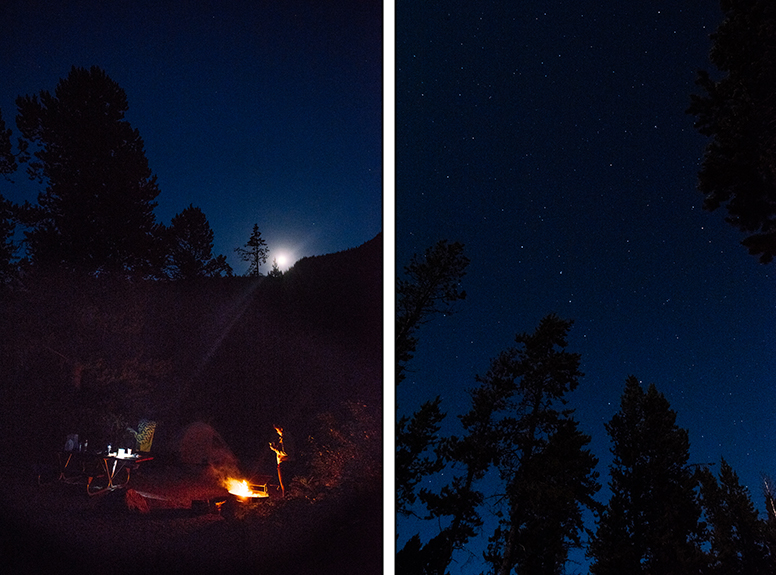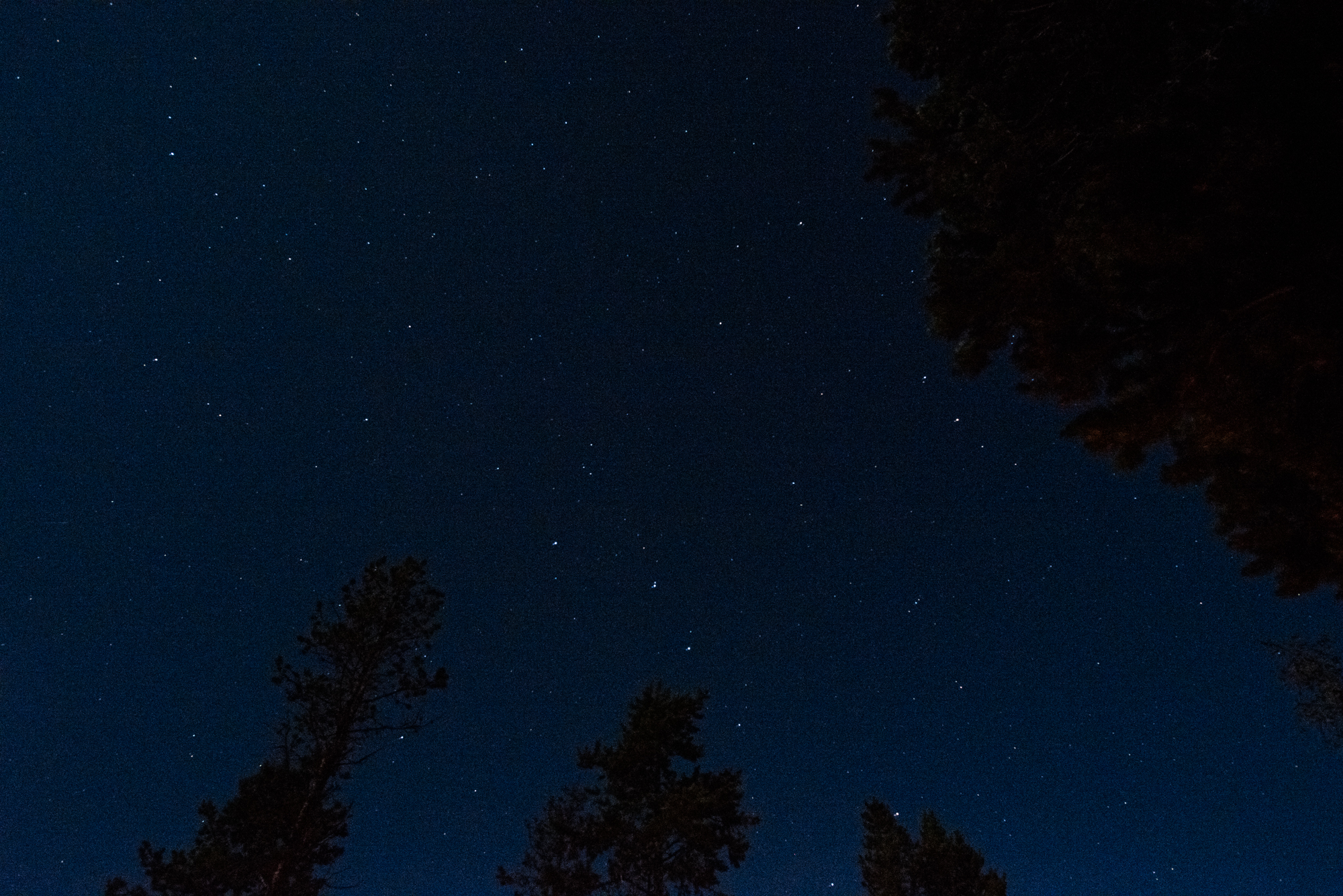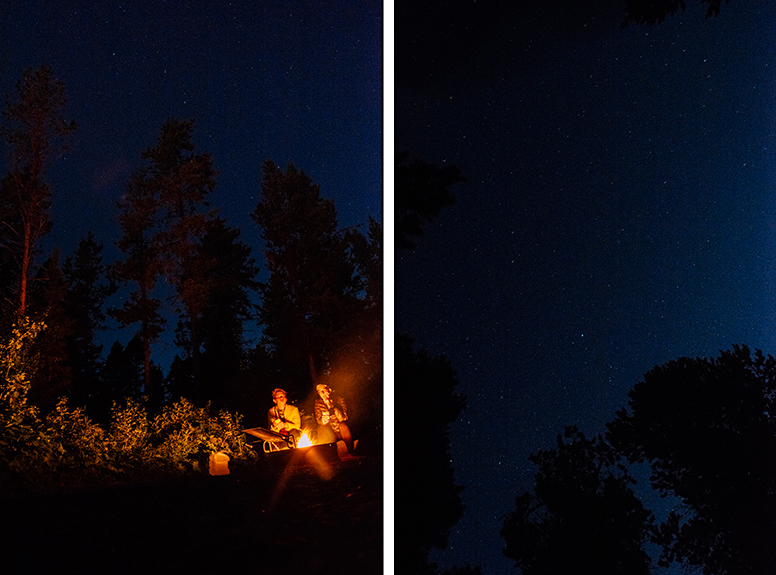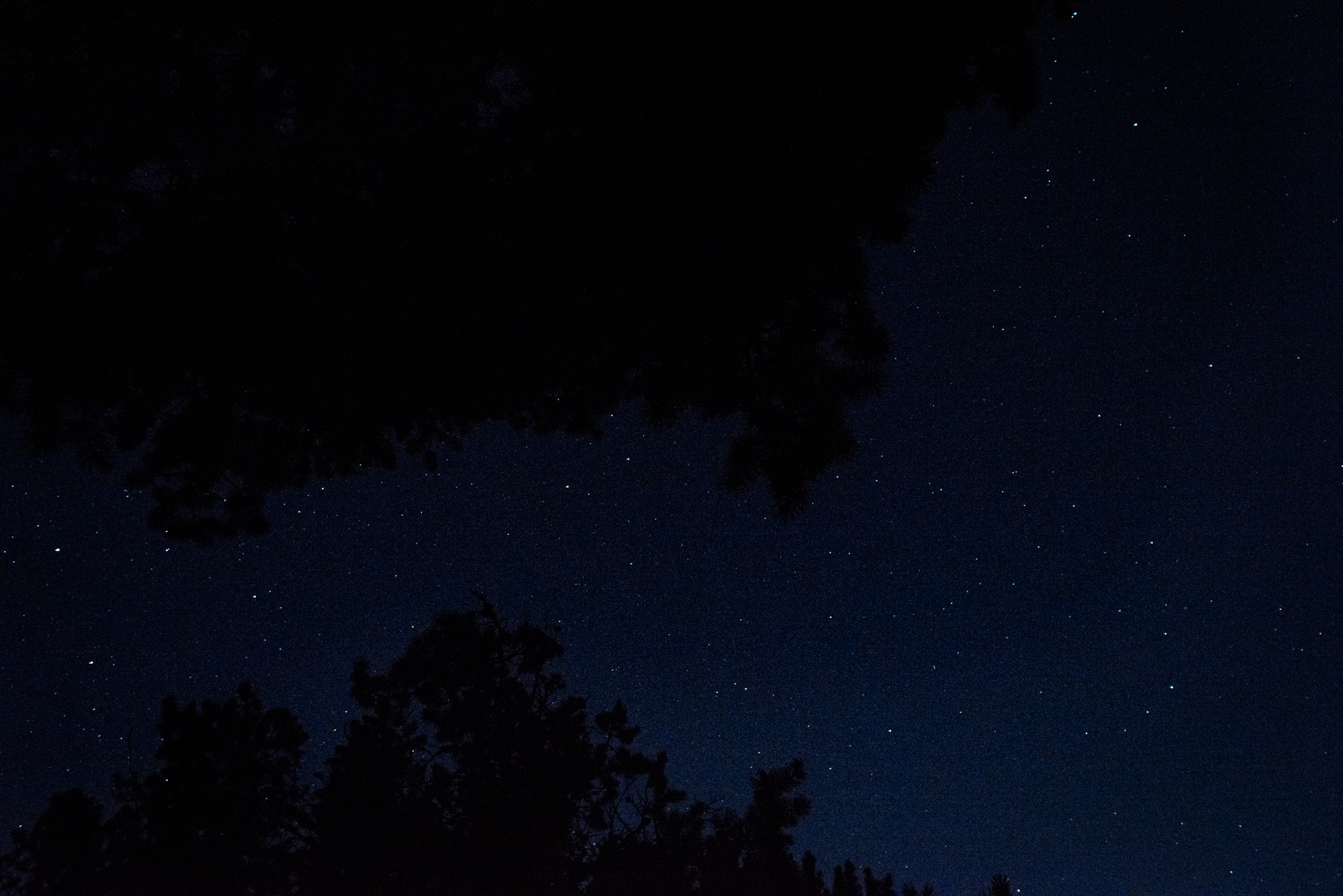 Time? – on its way to dark. So 10p? – Many Glacier Campground – The light is fading gold to white-blue, but it is still bright enough to write by, even at such a late hour. Today we did ten miles on the Iceberg Lake hike. It had even more exuberant wildflowers than yesterday, sloping up to rock faces painted rouge with a deep, purpled rust color. It was hot (record heat here – nearly 90), and just off the first snowy stretch of trail, a dark mama moose and caramel baby lay in the snowpack to cool off. They paid us no mind, and it was mesmerizing to watch the little one's ears flop and flicker, batting flies. Once we reached Iceberg Lake, it was . . . breathtaking. Literally. When they said that ice remains well into the summer, I imagined a few leftover chunks in the shade of the concave mountains. In actuality, the sheer cliffs striped with snow overlooked an expanse of teal, watery ice that stretched as far as the shore where everyone stood with mouths agape. We put our feet in, and I kept going as far as my knees, but after maybe two minutes in the water, it was too intensely painful to remain. I walked out, crippled by the cold, my feet and legs bright red and burning. It was incredible. We drank tequila spiked with lime and sat with our boots off for almost two hours at the edge of the lake, a cool, refreshing breeze blowing off the ice and dulling the searing, pine-scented air. Now the straight evergreens around us are silhouetted in the crystal-blue dusk. The nearly-full moon popped out from the giant ridge behind us to sneakily duck back behind its higher edges again. Tomorrow is our last full day, and I am not ready to come home. This life – of hiking every day, sleeping under stars, awaking to the warmth of the sun above you – is what. I. want. How to sustain??
– – – – – – – – – – – – – – – – – – – – – – – – – – – – – – – – – – – – – – – – – – – – – – – – – – – – – – – – – – – – – – – – – – – – – – – – –
Be well, my loves. Part 3 soon.